This homemade sardine dip recipe is so quick to make! It will become your go-to easy dip that is full of protein, healthy fat, and inflammation-fighting omega 3s.
This simple dip adds variety to your traditional hummus or veggie dip. It can also be used as a sardine spread for sandwiches or bagels. Or make it a sardine appetizer on crackers. It's so versatile!
I love fish – sardines, anchovies, canned tuna – you name it! However, a lot of individuals avoid sardines (without even trying them!) as they've been precondition to think they taste too fishy or can't stand the smell.
If you aren't a sardine lover but want to reap their benefits, this sardine dip recipe is a great way to get your feet wet.
Pin It Now & Make It Later!
Why Make A Sardine Dip?
Making this sardine dip recipe has several benefits. It:
uses a few simple ingredients that you can easily source
is full of inflammation-fighting omega 3s
has no sardine smell
easily disguises the sardines (if you are put off by the sight of them!)
and easy to make (nothing elaborate and totally do-able for any skill level)
Ingredients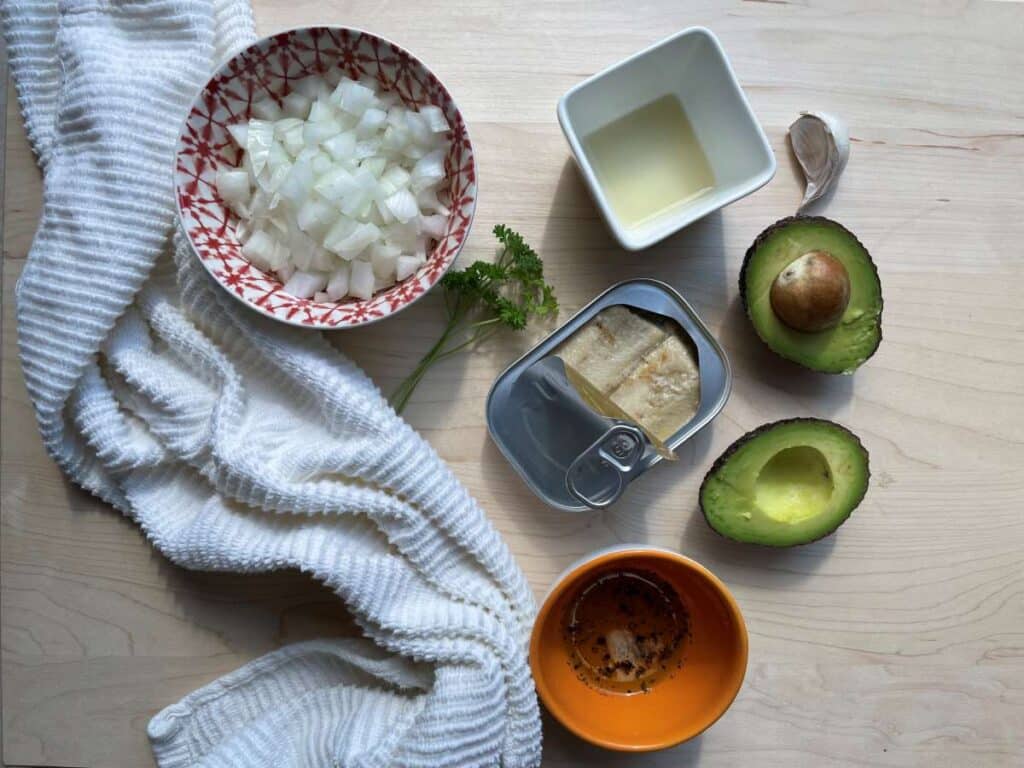 For this sardine dip, you will be using a variety of foods that unclog your arteries and lower your blood pressure. These foods are both nutritious and delicious.
Nutritional Benefits of Sardines
Sardines are the focus of this recipe, just like my sardine omelet recipe.
Sardines are jam-packed with good nutrition. They are full of inflammation-stopping omega 3 fatty acids. They are a great source of protein and calcium too.

Other beneficial nutrients found in sardines include magnesium and potassium. Two heart-healthy micronutrients that manage blood pressure.
The best thing about sardines is their low levels of mercury. They are small in size and have a short life span which means they don't have as long to accumulate mercury as bigger fish that require larger meals for a longer period of time.
How To Purchase Sardines
Sardines are usually found canned or frozen. I prefer canned sardines because they are convenient and inexpensive.
When purchasing canned sardines choose ones that are packed in olive oil or water. When possible, you want to avoid the ones packed in omega 6-rich fats like soybean oil, which may promote inflammation.
Some canned sardines have flavors like garlic, chili, and herbs. I used plain sardines packed in olive oil here because I knew I was adding flavor with the onions and tomatoes. I usually save the flavored sardines for on-the-go snacks where I eat them out of the can, but the choice is up to you!
How to Make This Sardine Appetizer
Well, the good news is that this sardine appetizer is easy to prepare.
Add the olive oil, avocado, lemon juice, and sardines into a blender.
Then add the chopped parsley, minced garlic, and diced onion. Stir to combine.
Voila.
How easy is that?
Leftovers
This sardine spread lasts in the fridge for 3-4 days.  It can be eaten cold or at room temperature. I prefer it cold. 


How To Eat It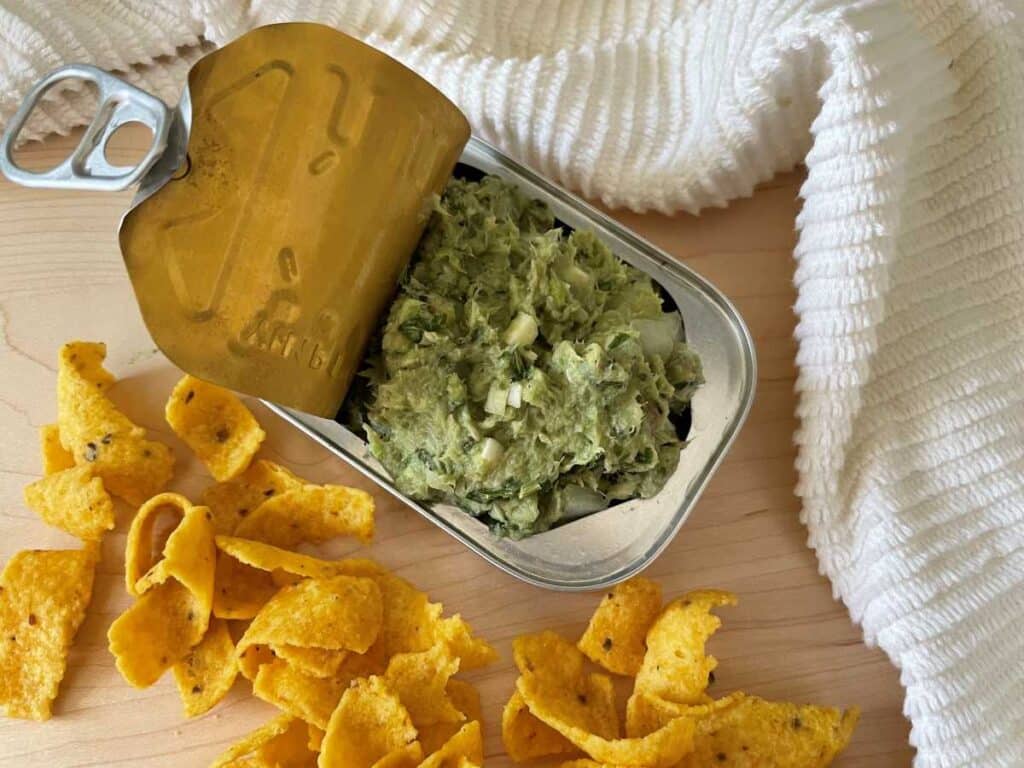 This recipe is keto, dairy-free, gluten-free, and paleo-friendly.
For Lunch or Dinner: Try this sardine spread on some baguette slices and serve it with a side salad and soup.
As an Appetizer: Serve it on a platter of healthy snacks like veggies (sliced peppers, cherry tomatoes, carrots), crackers, and/or corn chips.
Watch How To Make It
Need a visual? Watch how quickly it comes together.
Other Snacks To Try
Sardine Dip
OK, let's dive into this sardine dip recipe. You just need a good blender and the ingredients listed below.

Remember to buy sardines in water to be sure this stays an anti-inflammatory breakfast.
Even if you aren't a sardine lover, give these small fish a try for their nutritional value. This sardine spread is a fabulous way to consume them. You will be surprised that sardines are the main ingredient as the flavor is very mild.

Let's get cooking!
And if you LOVE this satisfying sardine dip and are interested in other heart-healthy recipes, subscribe to my YouTube channel to be updated when recipes are released.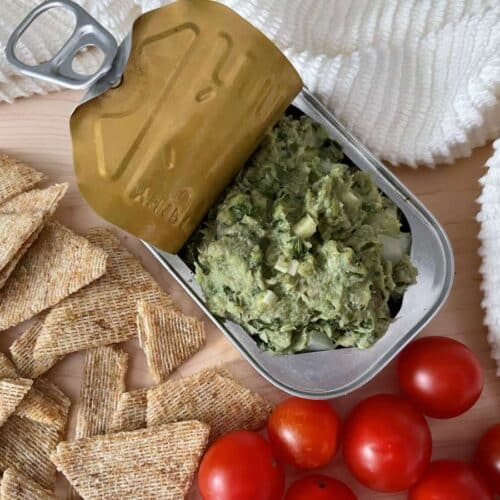 Delicious Sardine Dip
Even if you aren't a sardine lover, give these small fish a try in this easy sardine dip that can be used as a spread or appetizer.
Ingredients
1

can

sardines in water

1

medium

avocado

1

lemon

juiced

1

tbsp

olive oil

1

tsp

black pepper

¼

sweet onion

diced

¼

cup

curly parsley

1

clove

garlic

minced
Instructions
In a food blender (or processor), add the olive oil, black pepper, avocado, lemon juice, and sardines. Process until smooth.

Take out the mixture and add to a bowl. Add parsley, garlic and onions. Season according to taste.
Nutrition
Calories:
134
kcal
Carbohydrates:
10
g
Protein:
9
g
Fat:
7
g
Saturated Fat:
1
g
Polyunsaturated Fat:
2
g
Monounsaturated Fat:
4
g
Cholesterol:
44
mg
Sodium:
105
mg
Potassium:
290
mg
Fiber:
2
g
Sugar:
5
g
Vitamin A:
359
IU
Vitamin C:
24
mg
Calcium:
152
mg
Iron:
2
mg