Are you stuck in an oatmeal breakfast rut and looking for an alternative recipe? Something that is different, yet gives you the same comforting experience like a bowl of warm oatmeal?
If so, barley porridge may be a perfect addition to your breakfast roundup. A nutritious recipe that is easy to make and delivers a refreshing twist to start your day!
Recipe and article written by Abina Chandrakumar, Ryerson University Nutrition student. Edited/ reviewed by Veronica Rouse, MAN, RD, CDE
Barley Porridge
Barley porridge is a great alternative to your regular bowl of oatmeal. Barley porridge offers a creamy and nourishing experience – an aspect of oatmeal that many of us adore. A bowl of hearty, barley porridge will provide you with the energy to keep you satisfied until your next meal.
But that's not all! This recipe incorporates antioxidant-rich berries to increase the nutritional value of your breakfast.
What's The Difference Between Barley And Oatmeal?
Barley and oatmeal are two different kinds of cereals grown around the globe and are good choices for breakfast. However, they are unique in their nutritional value. Oats, although commonly used, do not overshadow barley.
To begin, oats and barley are good sources of energy but barley is the winner when it comes to fiber, with about 1.7 times more fiber than oatmeal (1,2).
Both are great sources of various B vitamins, with barley providing more vitamin B2, vitamin B3, and vitamin B6, and oats being rich in vitamin B1, vitamin B5, and vitamin B9 (1,2).
Finally both barley and oats are listed as the top 39 foods to unclog arteries.
In either case, variety is key to obtaining all essential nutrients from the diet, and adding both oatmeal and barley to your breakfast rotation is recommended.
Is Barley Breakfast Porridge Heart Healthy?
Do not make the mistake of underestimating barley's health benefits just because it's not as well-known as oatmeal.
Barley is one of two grains with the highest beta-glucan content. Beta-glucan is a form of soluble fiber with many health benefits such as lowering cholesterol for heart health (3).
Therefore consuming a bowl of warm comforting barley porridge is not only enjoyable but can prevent the development of chronic diseases like diabetes and heart disease.
How Many Calories In Porridge?
A quarter cup of dried, pearl barley provides about 200 calories (kcal). The addition of other ingredients will further increase the calories in this dish.
In this specific recipe, I chose to include soy milk (70 kcal), fresh raspberries (25 kcal), sesame seeds (50 kcal), and dates (55 kcal) in addition to the barley which makes this total breakfast dish around 400 kcal.
This is a perfect amount of calories for breakfast especially because each ingredient is nutrient-dense, providing nourishment and fuel that will keep you satisfied. In comparison, eating refined processed foods like a sweetened beverage and an on-the-go muffin offers the same amount of calories but lacks the nutrients.
Can Barley Porridge Be Eaten For Weight Loss?
Absolutely! Eating a healthy balanced breakfast is an excellent way to start off your weight loss journey. The high beta-glucan in barley forms a gel-like substance in your gut and slows down digestion, which helps reduce hunger and keeps you satisfied for long periods of time.  This action may reduce your total caloric intake throughout the day, assisting you in your weight loss journey.


Barley Breakfast Recipe Video
How to Make Barley Porridge
Barley porridge is a simple recipe that requires basic cooking skills. Most of the cooking time is hands free. Always keep an eye on the porridge so it doesn't boil over and stir occasionally to prevent sticking to the bottom of the pot!
Pro tip: Prepare the toppings while the barley cooks to make the best use of your time.
What Barley Should I Choose?
There are a few options when it comes to choosing barley for your breakfast porridge:
hulled barley
pot barley
pearl barley
There is a reason why I mentioned them in this order. Hulled barley is whole grain and is the least processed. Pearl barley goes through more processing, in which the bran layers of the grain are removed. Pot barley lies in the middle; it is more processed than hulled barley but offers more nutrients than pearl barley.
Keep in mind that the cooking time differs depending on the type of barley you choose. The more processed the barley, the shorter its cook time. If you choose to use hulled barley instead of pearl barley in this recipe, be sure to cook the barley for 20 minutes longer.
So which is the best barley for porridge? Even though hulled barley is less processed and therefore retains most of its nutrients, I chose pearl barley in this recipe as it offers a softer texture similar to oatmeal.
Batch Cook Barley Porridge To Save Time
Barley porridge takes some time to cook which may be a barrier to incorporating it into your regular breakfast routine. Most mornings are rushed as it is, without adding a long cooking grain to the mix.
But there is a way to work around that! Barley porridge can be stored in the refrigerator for up to 5 days and can be frozen for up to 6 months. Pick a day of the week to make the porridge in bulk, portion it in an airtight container(s), and put it in your fridge or freezer for easy storage.
When desired, simply reheat it on the stove or in the microwave significantly reducing the cooking time needed in the morning. I usually add extra liquid (water or soy milk) to thin it out as the barley tends to thicken when stored in the refrigerator.
Another way to save time in the morning is to make overnight barley porridge.
Overnight Barley
Planning ahead and making breakfast the night before with an overnight barley recipe leaves no room for error in nourishing your body for the day.
Making overnight barley involves soaking raw barley the night before in milk and water. This process has two additional benefits to saving time.
it improves digestion and increases absorption of nutrients, and
it reduces cooking time.
When making overnight barleys you still need to cook the barley the following day, but the time it takes to cook will be reduced.
Other Breakfast Barley Recipes To Try
Looking for overnight barley breakfast recipes? Try these dietitian-approved barley breakfast ideas:
Variations Of Barley Porridge
There are so many ways to go about making barley porridge that even those who enjoy eating something different every day will not get bored. This recipe fits many different dietary preferences. It is vegan and dairy-free.
Vary The Toppings!
The toppings are where you can personalize your barley porridge based on preference and cravings.
This specific recipe calls for berries, sesame seeds, and dates…a combination that provides antioxidants from the berries, healthy fats from the sesame seeds, and the dates offer sweetness to the tongue.
Get creative! Try switching up the toppings on your own; customize your porridge based on the season, if you enjoy sweet or savory dishes, or use what you have at home. You can include any types of nuts and seeds, fruits (dried or fresh), or even some dark chocolate.
Experiment to see which combinations you enjoy the most!
Barley Oatmeal
Can you make barley oatmeal using barley AND oatmeal? The simple answer is yes. But you will need to adjust the cooking time according to the type of barley and oats you choose to include.
Let's take the combination of pearl barley and steel oats as an example. Since pearl barley takes about 45-50 minutes to cook, I suggest cooking the barley in boiling water for about 25 minutes before adding the steel oats and milk.
Other Breakfast Recipes
If you try the recipe, would love to hear what you think! Leave a start rating or a comment below.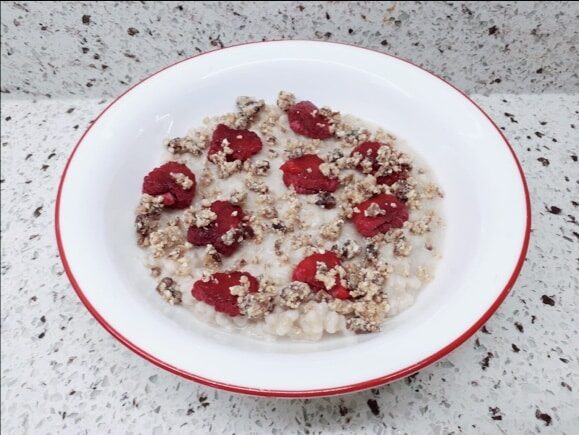 Homemade Barley and Sesame Porridge
Stuck in an oatmeal breakfast rut? Try barley porridge! The same comforting experience as a bowl of warm oatmeal with a refreshing twist.
Ingredients
Base
¼

cup

pearl barley

1⅓

cup

water

1

cup

soy milk

1

tsp

cinammon

¼

tsp

salt
Instructions
Add barley, water, milk, cinnamon and salt to a saucepan and cook on low-medium heat for about 45 minutes, stir occasionally

At the 45-minute mark, or once all the liquid has been absorbed and the barley has expanded in size, turn off the heat.

Top with your favorite fruit and nuts. Enjoy!
Notes
Raspberry, Sesame, Date Porridge:
If you are interested in adding toppings like the featured picture,

preheat oven to 400°F. Place 1/3rd cup of washed raspberries in a small oven-proof baking dish and bake for about 8-10 minutes.
Swap cinnamon for 1/4 tsp of cardamom spice and once its cooked top with 1 tbsp sesame seeds,1 chopped date and cooked raspberries. 
Nutrition
Calories:
246
kcal
Carbohydrates:
42
g
Protein:
12
g
Fat:
4
g
Saturated Fat:
1
g
Polyunsaturated Fat:
2
g
Monounsaturated Fat:
1
g
Trans Fat:
1
g
Cholesterol:
1
mg
Sodium:
672
mg
Potassium:
440
mg
Fiber:
9
g
Sugar:
2
g
Vitamin A:
11
IU
Calcium:
324
mg
Iron:
1
mg