Low-sodium instant pot recipes are a timesaving trick that cuts down your cooking time, makes cleanup way faster and easier, and helps you stay on track with a healthy eating pattern.
See for yourself, with one of these 21 Registered Dietitian approved low-sodium instant pot recipes.
Sodium And Health
Have you ever gone out to a restaurant and come back feeling dehydrated and bloated? That's likely because you may have overindulged in salty foods.
Salt is made up of two molecules, sodium, and chloride. This means eating salt, increases your intake of the mineral sodium.
Low-sodium instant pot recipes are a fantastic addition to your weeknight routine to help you manage health conditions like blood pressure, heart failure, kidney disease or just to stay healthy!
Most North Americans are consuming over 3400 mg of sodium a day (1, 2, 3). Depending on the person, you could be trying to aim for 2300 mg as the recommended intake suggests, 1500 mg to optimize heart health, or even need to restrict sodium to 800 mg a day (2, 3).
Everybody's sodium requirements are not the same. Be sure to check with your Registered Dietitian to see what is right for you, as some recipes may be higher than you're allowed.
How To Eat Low Sodium
Do you think the salt shaker is the main source of salt in the North American diet? It's a common misconception, but in fact, processed and restaurant food makes up 65-75% of the sodium North Americans eat (3)!
This means eliminating processed, frozen meals and restaurant foods by eating at home more often is more than half the battle.
Can't cook? That's where the instant pot comes in handy! It doesn't matter your skill level or motivation. The instant pot makes it easy to execute and results in tasty low-sodium foods.
Tips To Purchase Low Sodium Ingredients For The Instant Pot
You may be surprised to learn that it's not much work to bring dishes down to a reasonable amount of sodium.
When purchasing canned items looked for the words:
"low sodium" or
"no salt added"
on the food label.
Additionally, you can look for the words "salt" or "sodium" on the ingredient list. For example, monosodium glutamate or MSG, disodium phosphate, or sodium citrate all indicate sodium has been added to the product and therefore may be high in sodium.
This is a really important step you don't want to miss because some regular versions of canned products have sky-high sodium vs the low-sodium version. This can make quite the difference in staying on track with your health goals. For example, low-sodium canned salmon has 85 mg of sodium per serving compared to regular canned salmon which has 440 mg of sodium in the same serving size.
If you want to learn more about food labels, here is a great resource to learn how to read food labels.
Finally, if you do purchase full sodium canned products, do yourself a favor and rinse them first to cut the sodium by up to 40% (4).
And if you are looking for low sodium ingredients or shortcuts, check out my Epicure review for more information.
Instant Pot Is Better Than Take Out
So why do we buy takeout or reach for a frozen meal? Usually, because we are strapped for time. But these foods are almost always high in salt content.
And that's where the instant pot can help you. If you've never heard of an Instant Pot, it is a new-age pressure cooker.
It is your all-in-one appliance that can saute, slow cook, or quick cook.
Who Is The Instant Pot For?
busy parents
new cooks
want to be cooks, without the hassle
seasoned cooks
The instant pot is a versatile kitchen gadget for everyone!
The Instant Pot Can Make:
quick meals (I don't know about you but I have hours to spend cooking every day!)
healthy meals because it helps you use whole food ingredients
simple meals with minimal ingredients
a variety of dishes from meats to veggies to soups and staples like hard-boiled eggs
Basically, the instant pot helps you be more apt to cook more of your meals and snacks at home when it's so much faster and easier. And cooking at home is the best way to execute a low-sodium eating plan.
Some Reasons I Personally Love The Instant Pot
I can make weeknight meals in half the time
Steel-cut oatmeal is super easy to make in the instant pot
It's hands off, set it and forget it (I don't need to watch the stove to make sure water doesn't boil over)
less clean up because it is only one pot
makes meal prep a breeze

you can cook from frozen! no need to plan ahead and defrost chicken
Tips For Making Healthy Low-Sodium Instant Pot Recipes
Heavily flavored foods with herbs and spices. Not ones that have been sitting in your cupboard for more than a year. You want flavor!
Use low-sodium chicken stock, not broth, because the stock has a much richer taste and adds better flavor.
Opt for no salt or low-sodium canned items.
Choose unprocessed foods like fresh vegetables, fruits, meats, and fish. Frozen whole foods are also a great option, but be sure to check the ingredient list as the only ingredient should be frozen food and not any added salt.
Add dried beans and legumes because they are naturally low in sodium and quick to cook in an instant pot.
An important note: I do not recommend using salt substitutes because they often contain potassium chloride which can interact with blood pressure medication or cause complications for those with reduced kidney function. Instead focusing on including more whole foods into your daily intake and flavor with herbs and spices!
If you need some inspiration for what whole foods to include more often check out this list of 39 foods that can help lower blood pressure.
Pin It For Later!


21 Low Sodium Instant Pot Recipes
As a heart dietitian, I am constantly looking for nutritious and flavorful foods with a reasonable amount of sodium. Here are 21 fantastic instant pot low-sodium recipes to start cooking today.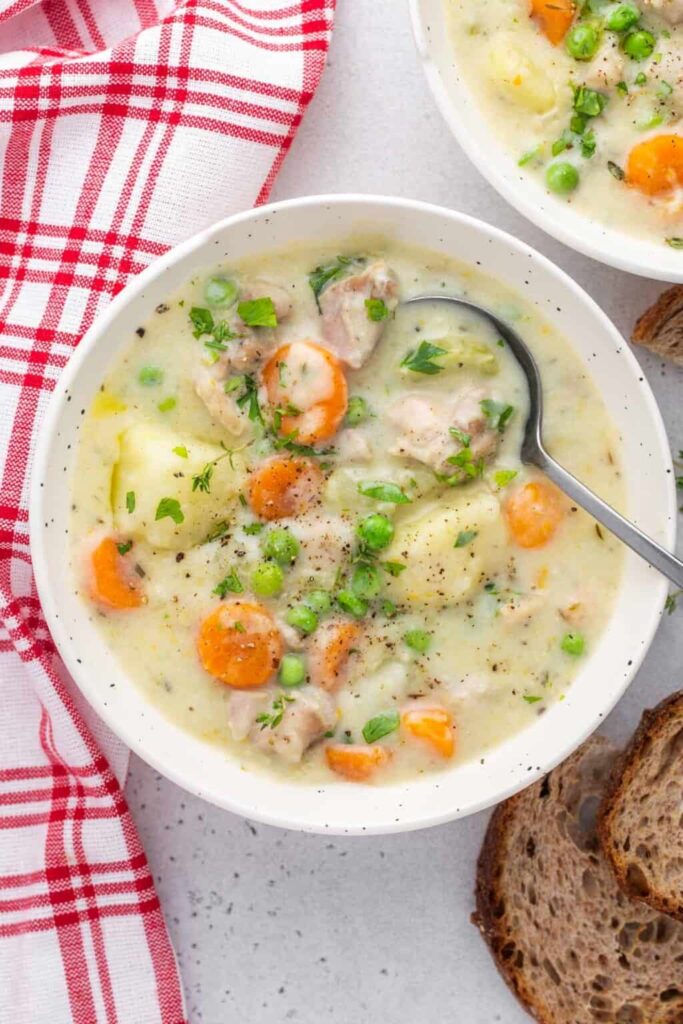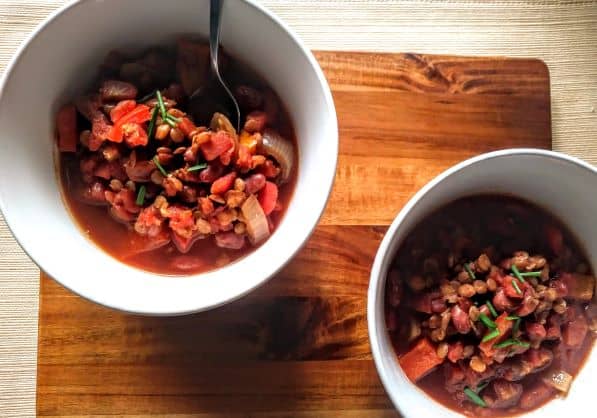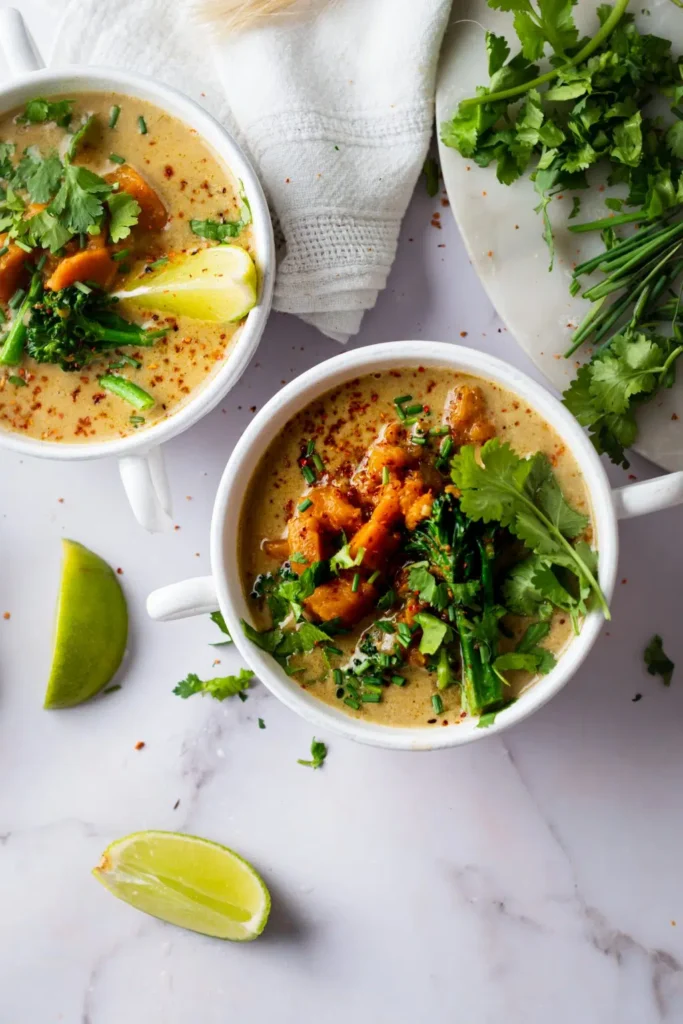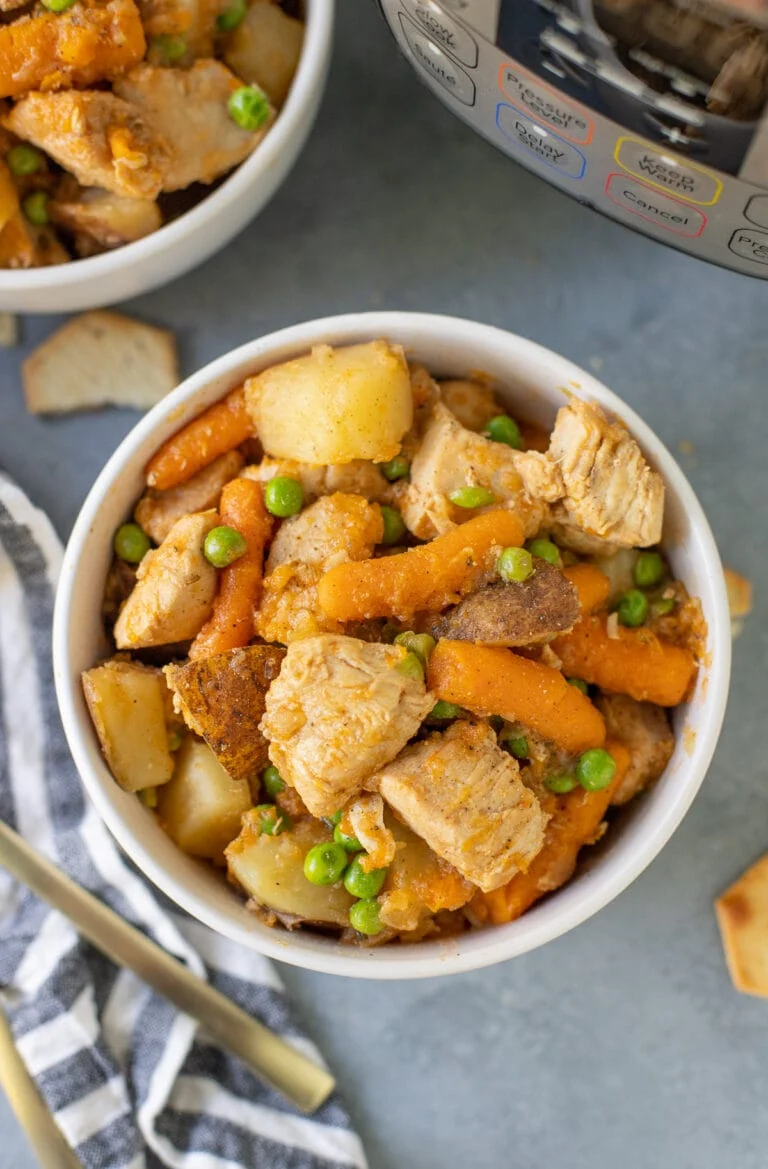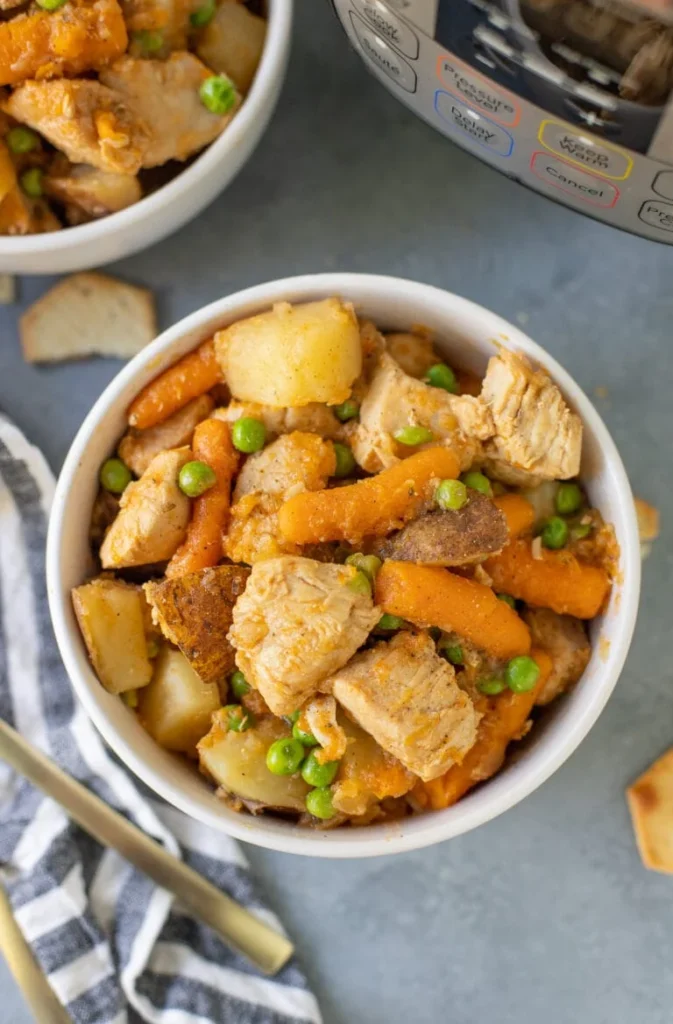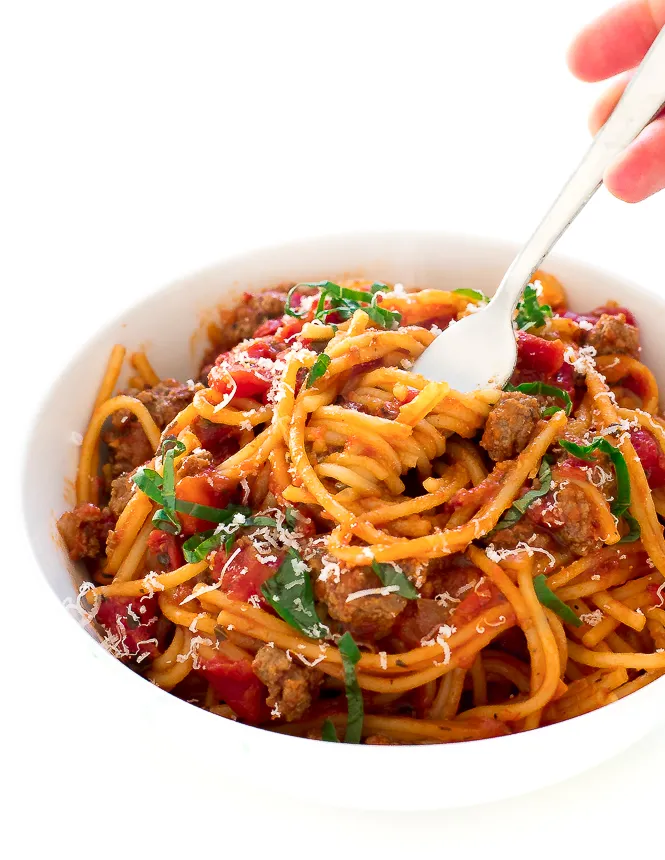 Vegetable Soup – Laurel Deininger, MS, RDN, LDN, CDCES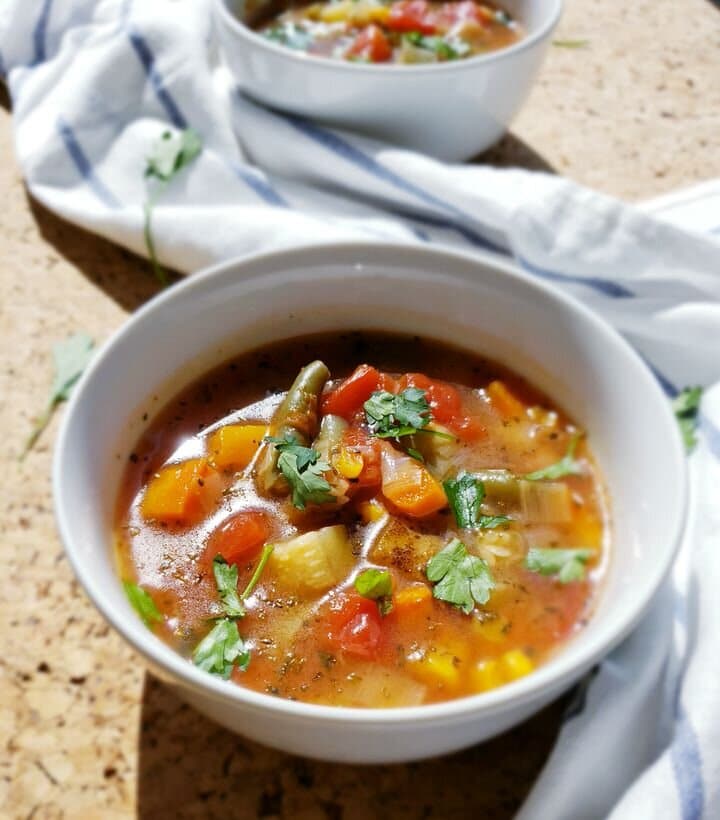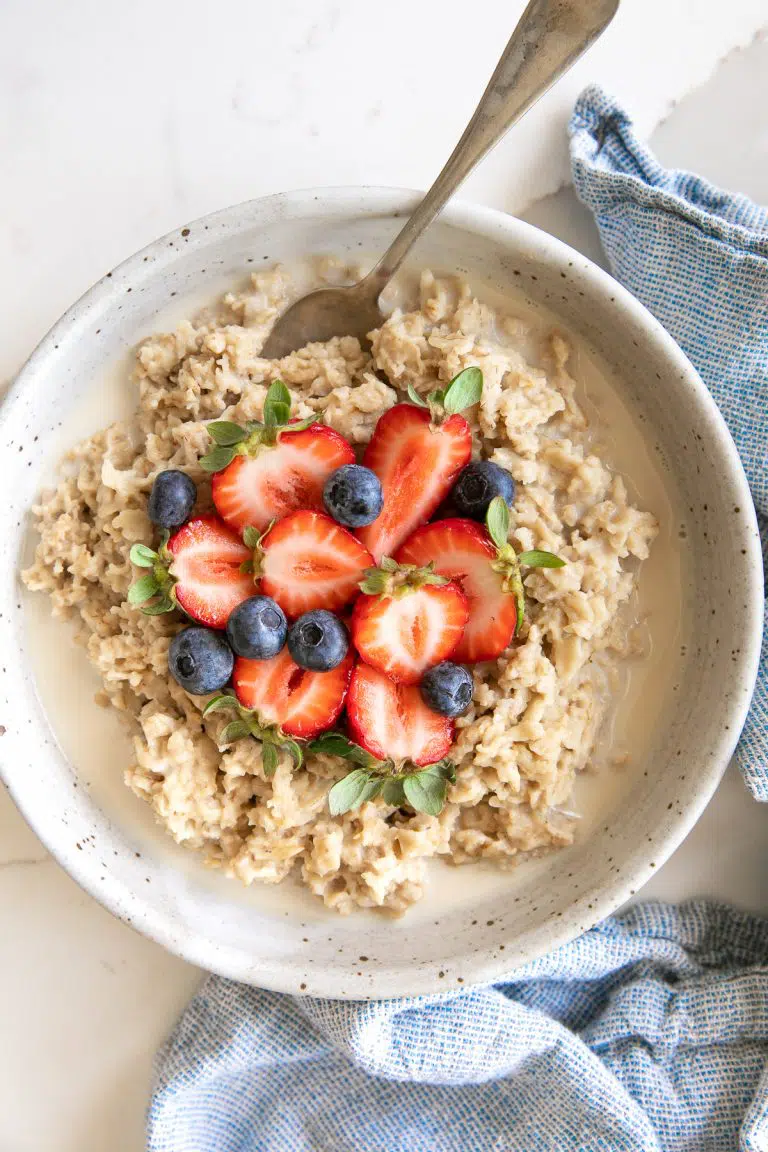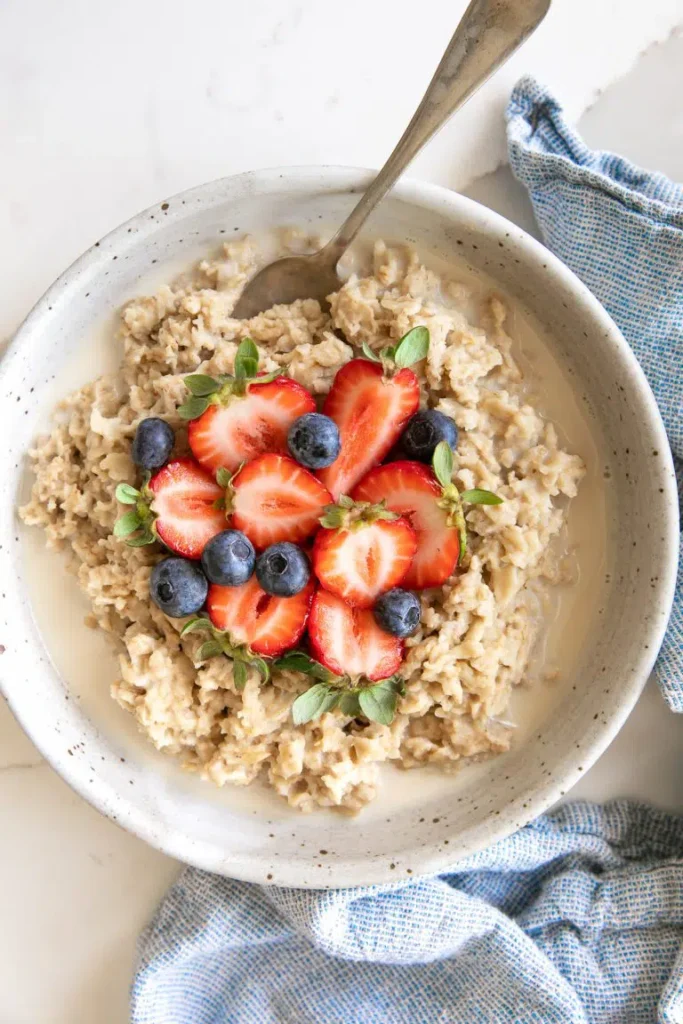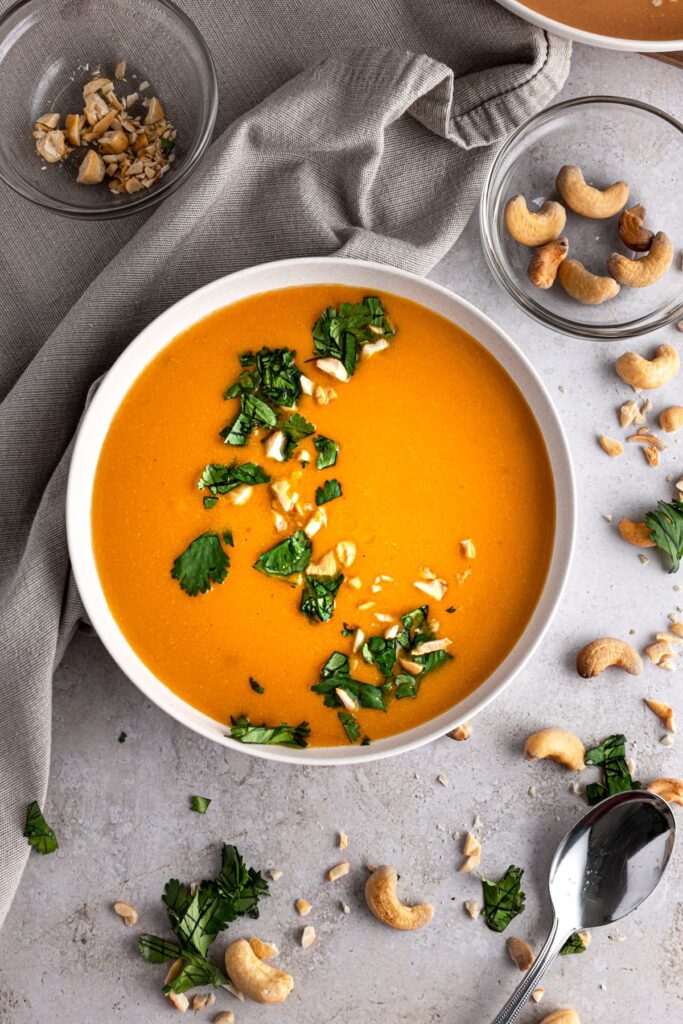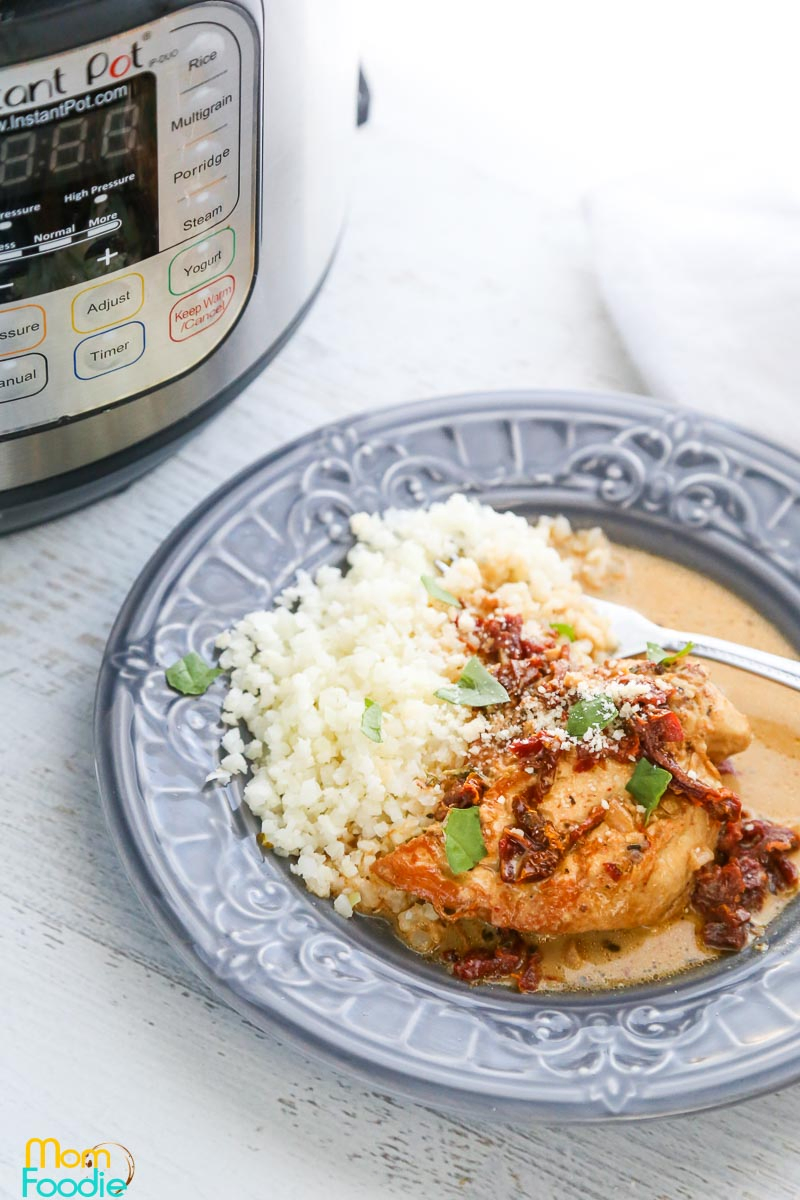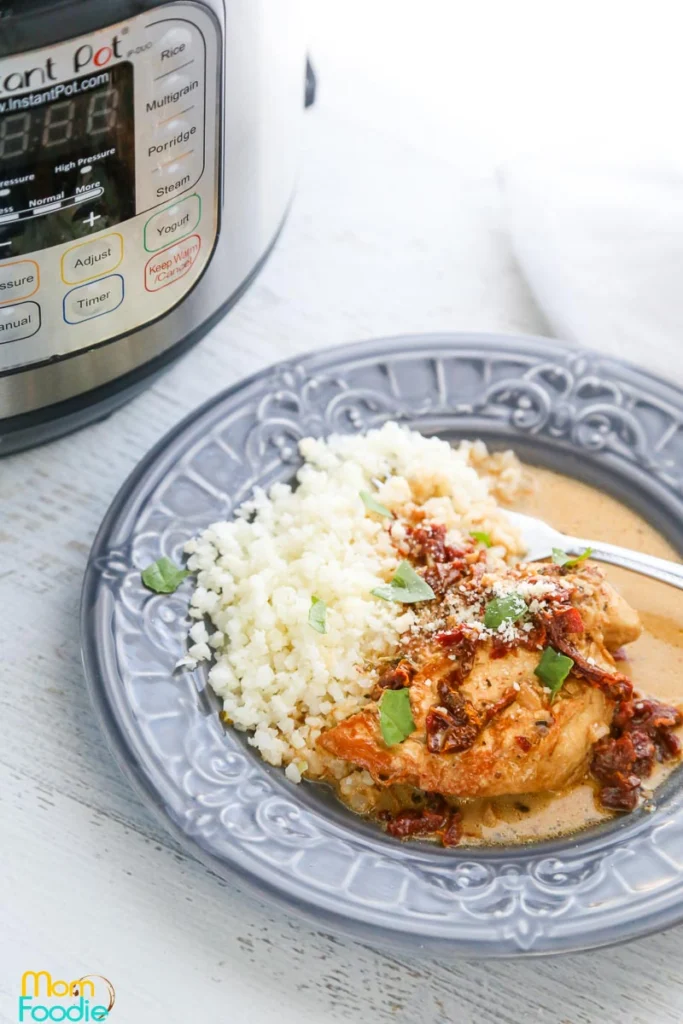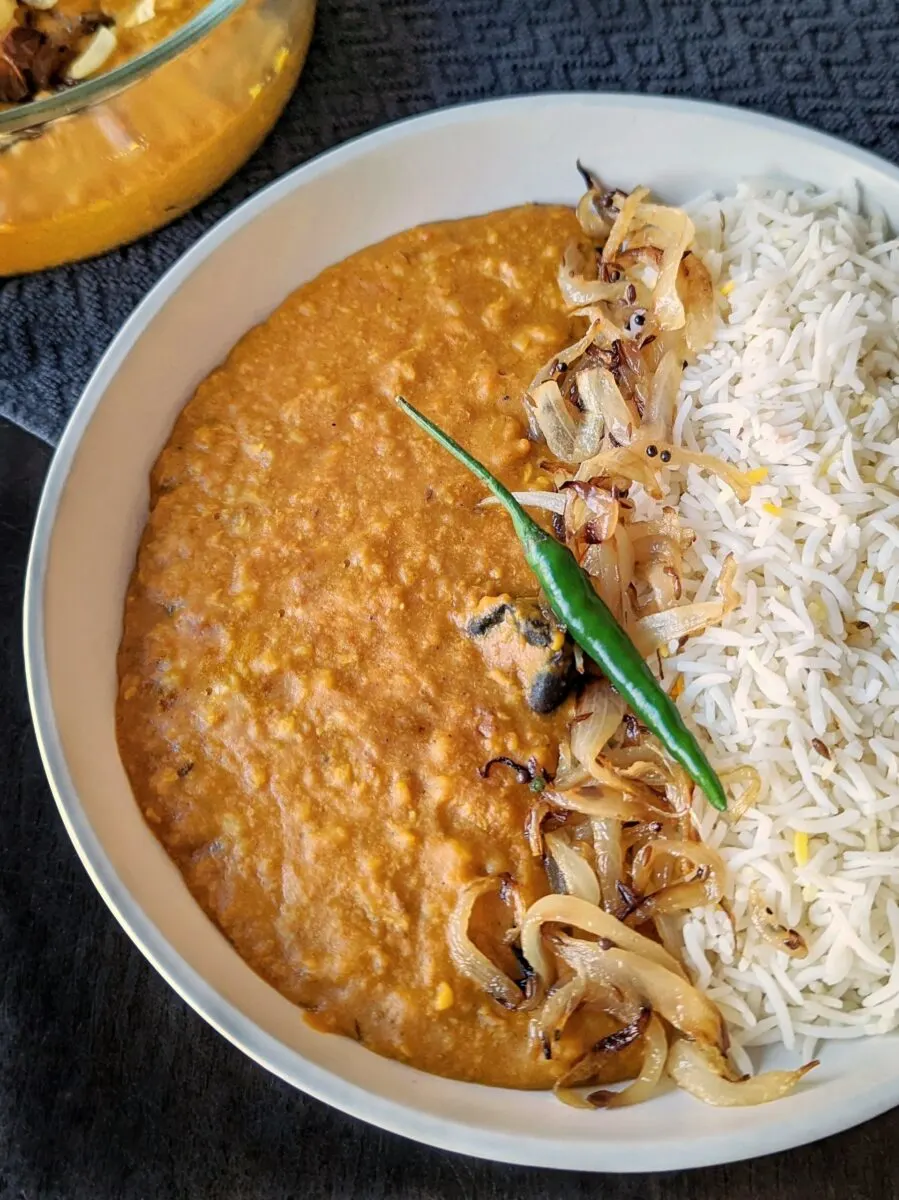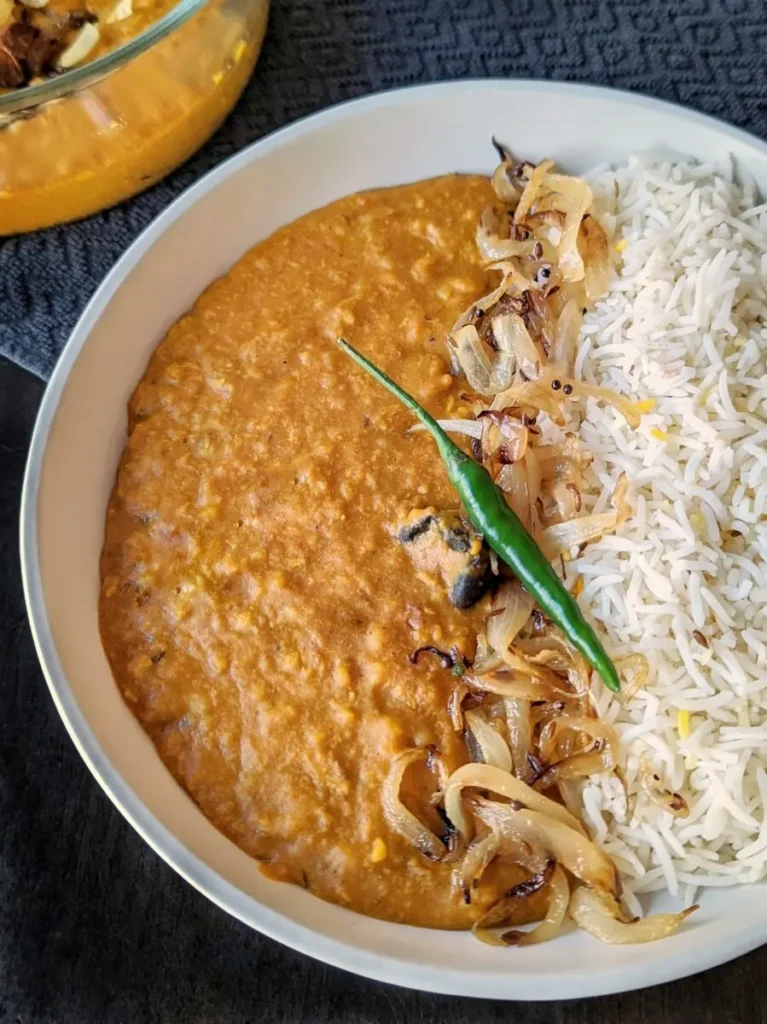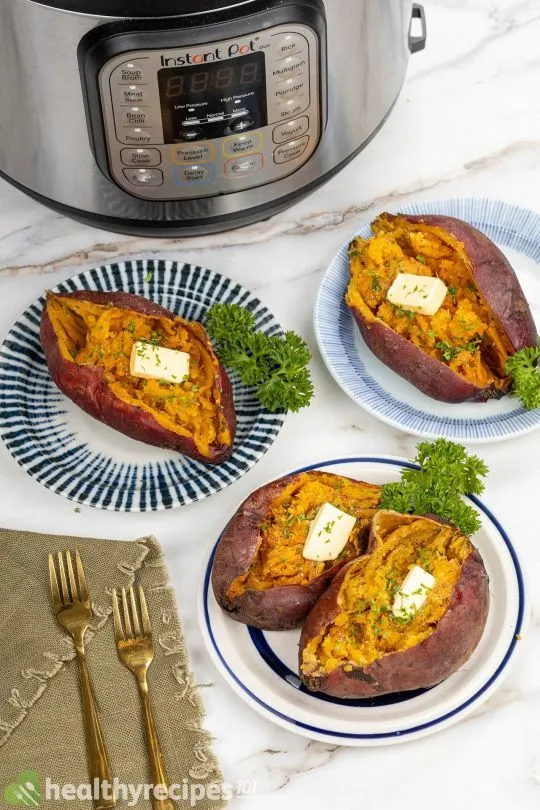 Final Thoughts
Instant pots make these homemade meals quick to execute, and easy on the clean up. Home cooked meals can be less intimating with the instant pot.
I dare you to try one of these instant pot low sodium recipes, and let me know what you think of using an instant pot for a low sodium diet.
If you need more inspiration for a low sodium diet, try these low sodium breakfast recipes, low sodium mayonnaise, low sodium breakfast ideas, low sodium lunch ideas, low sodium pasta recipes, low sodium bagels, low sodium tortillas, low sodium instant pot recipes, low sodium hot chocolate, low sodium marinara sauce, low sodium pancakes, low sodium salsa, low sodium hummus, low sodium taco seasoning, tofu bolognese and low sodium oatmeal recipes… to name a few.
And if you are looking for other heart-healthy meals? Subscribe to my newsletter for a FREE 7-day heart-healthy meal plan to get you started on lowering your blood pressure or cholesterol today.