Low-sodium oatmeal is an easy well-balanced breakfast. This delicious fall-inspired recipe is bound to be a hit in your home.
Mornings are busy! Sometimes I don't have time (or patience) to multitask and cook my oats on the stovetop just to have them boil over. That's when I started turning to the microwave.
I want to share with you a low sodium breakfast idea that is balanced with protein, fat, and carbohydrates and is cooked in 5 minutes or less. No planning ahead is necessary. And no reliance on those convenient instant oatmeal packages that are loaded with salt.
The first time I made this version of the recipe my son ate it before I even got to taste test it … and that's when I knew it was a winner.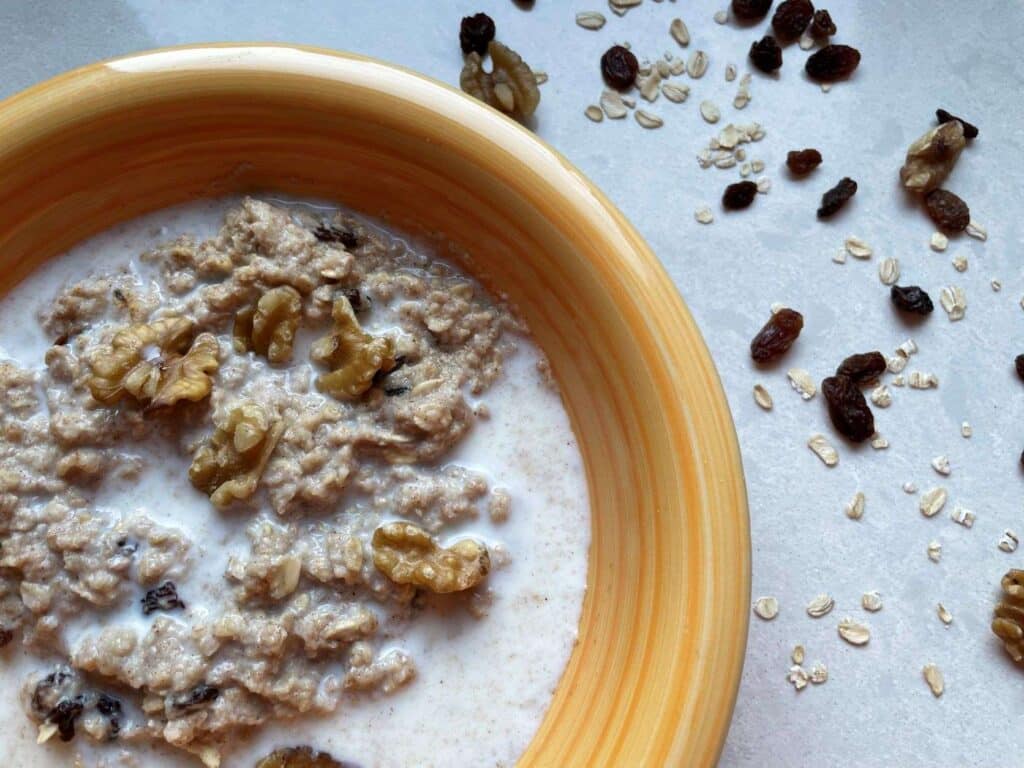 Sodium and Health
Salt free oatmeal recipes are a fantastic addition to your weekday routine to help you stay on track with your sodium budget. Eating the right amount of sodium can help you manage health conditions like blood pressure, heart failure, and kidney disease.
Everybody's sodium requirements are not the same. Be sure to check with your Registered Dietitian to see what is right for you, as some recipes may be higher than you're allowed.
Most North Americans are consuming over 3400 mg of sodium a day (1, 2, 3). Depending on the person, you could be trying to aim for 2300 mg as the Dietary Reference Intake suggests or 1500 mg to optimize heart health (2, 3).
This low sodium oatmeal only has 45 mg per serving. That's only 2% of a 2300 mg of sodium budget. This a fantastic way to start your day, while staying on track with your health goals.
Tips For Making Salt Free Oatmeal
Making your own oatmeal from scratch is an easy way to stay on budget with your sodium goals because oats are naturally low in sodium.
Regular, unprocessed oatmeal has 0 mg of sodium, while a packet of instant oatmeal has around 240mg of sodium per packet, and a lot less fiber.
Using whole rolled oats to cook in the microwave doesn't take much more effort than instant oatmeal, it's more nutritious and it's cheaper.
If you are worried about flavor, add spices! This low sodium oatmeal recipe has fall-inspired flavors like cinnamon, ginger, and nutmeg. It is also naturally sweetened with applesauce and raisins, so you won't miss the salt! Try it for yourself.
Why Make Low Sodium Oatmeal?
This microwave low salt oatmeal offers:
14 grams of protein from the soy milk, Greek yogurt, and egg
7 grams of fiber from the oats, applesauce, raisins, and walnuts
only 45 mg of sodium
This means it is a balanced meal that will keep you full until lunch! It's full of heart-healthy protein-rich, high-fiber foods that provide nutrients to lower your blood pressure and reduce your cholesterol.
As a bonus, it also tastes like a dessert. Think carrot cake flavors, without the carrots.
Ingredients
For this microwave oatmeal, you will be using a variety of foods that unclog your arteries and lower your blood pressure. These foods are both nutritious and delicious.
Oats: Oats are high in soluble fiber and a good source of vitamins and minerals
Egg whites: High in protein, low in cholesterol, calories, and fat
Applesauce: A natural sweetener full of B Vitamins and Vitamin C
Soy milk: Adds creaminess. Rich in calcium, plant protein, and Vitamin D
Raisins: A natural sweetener, high in potassium and fiber
Walnuts: Heart-healthy monounsaturated fats
Why Add Egg Whites To Your Oatmeal?
Adds protein
It's an affordable complete protein
Creates volume and fluffiness
Makes a creamier texture
Doesn't add flavor, and provides a neutral taste
How To Purchase Egg Whites
For this recipe of oatmeal with egg whites in the microwave, you will need to purchase egg whites. Two ways to do so include:
Separating your own egg whites from the yolk with an egg separator or slotted spoon.
For ease of use, you can also purchase store-bought egg whites. I find this an easier way to portion and measure. It also leads to less food waste. You can find egg whites in a carton in the fridge section next to the whole eggs.
Another bonus – I also find the egg whites from the carton to be thinner and mix easier than separated egg whites.
How To Make Salt Free Oatmeal
The best part about making microwave salt free oatmeal: it is so quick! The microwave does the work, and there is no messy pot to clean up afterward.
This recipe provides some ideas and inspiration but you can always switch up the ingredients for variety.
To make low sodium oatmeal you will be mixing oats, egg whites, and tasty add-ins for flavor.
Make sure you use a large bowl here because your oats are going to grow in size when microwaved. A large bowl will prevent it from bubbling over. AKA creating a big mess.
Once you mix your ingredients (oats, egg whites, apple sauce, spices), add the milk and raisins. Then you simply cover the microwave-safe bowl and put it in the microwave to cook.
Expert Tip
I recommend starting to cook it for one minute. Then stop and stir it. Then set it for another two minutes, but stop at thirty-second intervals to give it a quick stir to make sure everything is mixed together.
You don't want to miss this step – stirring at 30-second intervals is important to make sure the egg whites don't cook solid into lumps and instead are mixed evenly into the oatmeal. Creating a smooth creamy texture.
Like other microwave dishes, the edges cook faster than the inside. So mixing this microwaved egg oatmeal every 30 seconds helps keep it smooth. This can be done with a fork. No fancy equipment is required!
Basically, you will know it is done when most of the liquid is absorbed.
Finally, top with extra milk and nuts, and enjoy!
As you can see adding egg white to oatmeal in the microwave is a very easy recipe to execute.
Video Recipe Tutorial
Other Ways To Add Protein To Oatmeal
If you are looking for additional ways to add protein to oatmeal, try these:
Greek yogurt
cottage cheese
protein powder (*personally not a fan of this option!)
cooked egg on top of oatmeal
hemp hearts
peanut butter
nuts and seeds
*As I said, I'm not a fan of protein powder because it lacks nutrients and adds a grainy taste. Basically, protein powder is processed and therefore doesn't align with my nutrition philosophy of eating whole foods when possible.
Other Breakfast Recipes
Some other low sodium recipes include: low sodium mayonnaise, low sodium breakfast idea, low sodium lunch ideas, low sodium pasta recipes, low sodium bagels, low sodium tortillas, low sodium instant pot recipes, low sodium hot chocolate, low sodium marinara sauce, low sodium pancakes, low sodium oatmeal recipes, low sodium salsa, low sodium hummus, low sodium taco seasoning, DASH diet smoothies, DASH diet desserts, DASH diet soups, tofu bolognese, beet mac and cheese… to name a few.
Or check out these low sodium cookbooks and DASH diet cookbooks for inspiration.
Low Sodium Oatmeal
Now let's get to the recipe! If you aren't into fall flavors, any flavor combo will work well. I hope you enjoy this low sodium high protein breakfast.
Looking for other oatmeal recipes? Try these lists of oat bran recipes and oatmeal recipes. Or these individual recipes of protein baked oats, low sodium oatmeal, vegan protein oatmeal, chocolate avocado smoothie, smoothie to lower cholesterol, overnight oat bran, pecan pie overnight oats, pb2 overnight oats, turmeric energy balls, low sodium pancakes, pumpkin protein balls, turmeric oatmeal and blueberry cheesecake overnight oats.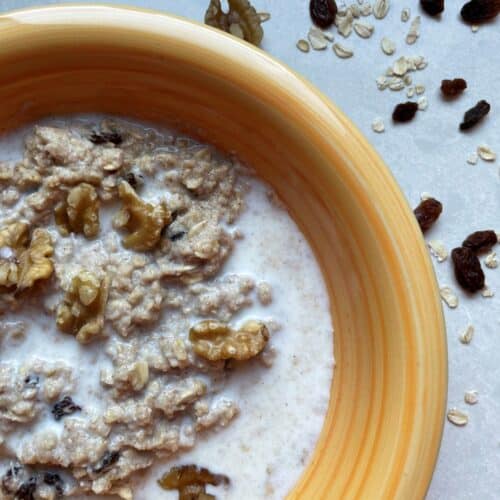 Low Sodium Oatmeal
Delicious low sodium oatmeal recipe. This fall inspired oatmeal recipe features apple and cinnamon flavors, instead of the salt!
Ingredients
½

cup

rolled oats

2

egg white

1

cup

soy milk

½

cup

applesauce

1

tsp

cinnamon

¼

tsp

ginger

⅛

tsp

nutmeg

¼

cup

raisins

¼

cup

walnuts
Instructions
Add oats, egg whites, applesauce, spices, raisins and milk to a microwave safe bowl.

Microwave on high for one minute. Then stir.

Micrwoave again for two to three minutes (depending on your microwave) until oats have absorbed the liquid .

Top with leftover milk and walnuts.
Notes
If you want thicker oatmeal, microwave for longer.
Or if you prefer it more wet and thinner, microwave it for a shorter amount of time.  
Nutrition
Calories:
291
kcal
Carbohydrates:
39
g
Protein:
9
g
Fat:
13
g
Saturated Fat:
1
g
Polyunsaturated Fat:
8
g
Monounsaturated Fat:
2
g
Sodium:
45
mg
Potassium:
488
mg
Fiber:
6
g
Sugar:
7
g
Vitamin A:
32
IU
Vitamin C:
2
mg
Calcium:
193
mg
Iron:
2
mg