Pecan pie overnight oats are a dessert for breakfast. Not only is this recipe delicious but maple pecan overnight oats are high in soluble fiber which can help lower your cholesterol and manage your weight.
Why Make Pecan Oatmeal
nourishing with heart-healthy oats and pecans
great meal prep addition – only takes 5 minutes to prepare
works well for busy mornings
great to try if you typically skip breakfast due to lack of time
satiating because it is full of fiber
no cooking required
gluten-free
yummy pecan pie flavors
Nutrition in Pecan Pie Overnight Oats
One serving has:
21 grams of protein
11 grams of fiber
great source of potassium and calcium that can help lower blood pressure
Pecans
According to the Portfolio diet, it is recommended to have 1/4 cup of nuts every day to lower your cholesterol by 5-10%.
Good news – pecans are nuts. They are full of healthy unsaturated fats, a good source of fiber, and rich in other heart-healthy nutrients like calcium, magnesium, and potassium. According to the DASH diet, these nutrients can lower blood pressure.
This study suggests after eating pecans every day for 4 weeks, cardiometabolic markers were improved reducing the cardiovascular risk of participants(1).
I personally like pecans, because they are naturally sweet.
Pecan Pie Overnight Oats Ingredients
This pecan oatmeal recipe is full of common foods that are likely already in your cupboard and will unclog your arteries:
rolled oats – full of cholesterol-lowering soluble fiber
soy milk – a rich source of cholesterol-lowering plant protein
almond butter- cholesterol-lowering unsaturated fatty acids
flaxseed – a great source of soluble fiber and omega-3 fatty acids
Greek yogurt – for extra protein to meet weight loss goals, and more calcium to lower blood pressure
cinnamon, nutmeg, maple syrup, vanilla extract – for that pecan pie flavor
How To Make This Pecan Oatmeal Recipe
The most important part of this recipe is to make sure the oat mixture is well combined. I recommend giving a good stir before it is chilled and right before eating.
Basic Steps
Here are the few steps needed to make these maple pecan pie overnight oats.
Mix the dry ingredients together. That includes the oats, flaxseed, and spices in a jar or bowl.
Add the wet ingredients. That includes the almond butter, maple syrup, vanilla extract, and soy milk in the jar or bowl.
Mix well!
Refrigerate it. Cover the container and let the flavors percolate, soak and cook in the fridge. This can be done overnight – hence the name pecan pie overnight oats.
Eat. Pour it into a bowl. You can eat it warm or cold. Add pecans for crunch, maple syrup for extra sweetness, hemp seeds for protein, and almond butter or yogurt for creaminess.
Other Expert Tips
Eat them cold or warm.
Lasts 3-5 days in the fridge. I usually make 4 servings and eat them from Monday – Thursday.
Will Nuts Get Soggy In Overnight Oats?
Yes, nuts will get soggy in overnight oats. It's a personal preference whether you stir the nuts into the oats before you go to bed to make it extra easy on yourself in the morning. Just be aware that like the oats, anything you add to the liquid is going to soak and soften so you'll be left with chewy nuts.
Video Tutorial
Recipe Variations
This pecan overnight oat recipe can be adapted to your needs, although it's important to note that the flavor will change as a result:
don't have pecans? Any nut will do
allergic to nuts? try seeds and seed butter.
apple pie spice or pumpkin spice work well
try coconut for crunch and flavor
don't like maple syrup? use brown sugar or honey for honey pecan overnight oats
add a banana for banana pecan oatmeal
try blueberries for blueberry pecan overnight oats
can't find soy milk? use almond milk
Gluten-Free
Gluten-free as is! All ingredients are naturally gluten-free, but you will need to ensure that your rolled oats have been processed and packaged in a gluten-free facility to ensure there is no cross-contamination.
What Else Can You Make With Pecans
mix into your muffins or pancakes
try them in your sweet potato recipes
they make an excellent salad topper
my favorite pairing is pecan and blue cheese on whole-grain crackers
Other Overnight Oat Recipes
Make healthy eating easier with overnight oats. If you are in need of a new flavor of overnight oats, try the following recipes:
And other oat recipes include: protein baked oats, low sodium oatmeal, vegan protein oatmeal, chocolate avocado smoothie, pb2 overnight oats, smoothie to lower cholesterol, turmeric energy balls, low sodium pancakes, pumpkin protein balls, turmeric oatmeal and a list of Registered Dietitian approved oatmeal recipes or oat bran recipes.
Pecan Overnight Oats Recipe
Who said you can't eat dessert for breakfast?
Follow the instructions below for our delicious pecan pie overnight oats recipe.
Enjoy and remember that eating for heart health doesn't have to be boring!
Recipe by Marissa Frodsham, Nutrition Student. Article was written by Veronica Rouse, MAN, RD, CDE.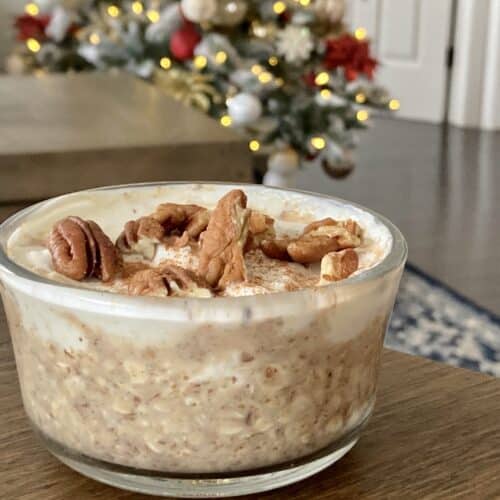 Pecan Pie Overnight Oats With Maple Syrup
Pecan pie overnight oats are a dessert for breakfast. Not only is this recipe delicious but maple pecan overnight oats are high in soluble fiber which can help lower your cholesterol and manage your weight. This recipe offers lots of opportunities for variations and flavors.
Ingredients
½

cup

rolled oats

1

tbs

ground flaxseed

2

tbsp

pecans

chopped

¾

tsp

cinnamon

⅛

tsp

nutmeg

1

tbsp

almond butter

2

tsp

maple syrup

½

tsp

vanilla extract

½

cup

soy milk

⅓

cup

vanilla Greek yogurt
Optional Toppings
2

tbsp

pecans

½

tsp

cinnamon
Instructions
In a small bowl combine oats, ground flax, pecans, cinnamon, and nutmeg and stir well until.

Add almond butter, maple syrup, vanilla extract and soy milk to the bowl and mix until combined.

Transfer the mixture into a small jar or container, and top with Greek yogurt.

Sprinkle additional pecans and cinnamon to top, and place in the fridge to chill for 3at least 2 hours or overnight.
Nutrition
Calories:
571
kcal
Carbohydrates:
57
g
Protein:
21
g
Fat:
31
g
Saturated Fat:
3
g
Polyunsaturated Fat:
10
g
Monounsaturated Fat:
15
g
Cholesterol:
3
mg
Sodium:
65
mg
Potassium:
665
mg
Fiber:
11
g
Sugar:
21
g
Vitamin A:
16
IU
Vitamin C:
0.3
mg
Calcium:
290
mg
Iron:
3
mg