This vegan protein oatmeal requires a quick stir of red lentils into your oats to boost its protein and fiber.
I'm excited by lentils because plant protein and soluble fiber are my jam. These nutrients will help you lower your cholesterol and keep you full for hours after your meal.
Lentil oatmeal is a high-fiber, vegan recipe for those who limit or avoid animal-based products. Or for those looking for more plant-based options.
Why Make Lentil Oatmeal
Includes a protein source for breakfast
Helps manage cholesterol and blood sugar
Satisfying and satiating (hungry by 10 am? not with this breakfast! )
Lentils are undetected in the oat mixture and disguised well (my husband didn't even notice!)
Is Lentil Porridge Heart Healthy?
This vegan protein oatmeal offers:
16 grams of plant-based protein from the soy milk, lentils, oats
13 grams of fiber from the lentils, oats, pumpkin
Packed with protein AND fiber, these vegan protein oats will keep you full for hours.
Protein
When it comes to breakfast, many people focus solely on carbohydrates (cereal, toast, etc). Carbohydrates aren't bad, but at each meal, we want a balance of the 3 macronutrients: carbohydrates, protein, and fat.
Protein Is Important Because It Helps:
blood sugar balance
keeps you full
helps with digestion (creates digestive enzymes)
muscle growth and maintenance
liver function
Other Ways To Add Protein To Oatmeal:
… or keep your protein oatmeal vegan with:
hemp seeds
high protein milk like soy
nuts
Ingredients In Protein Porridge
The two ingredients you need to know more about are lentils and steel-cut oats. Both ingredients can unclog your arteries and lower your blood pressure. The remaining ingredients are used for flavor and can be switched to your liking.
Lentils
As previously mentioned, lentils offer protein. One of my favorite things about this recipe is that it is high in protein without protein powder. I'm not a huge fan of the taste of protein powder, and the fact it is a processed food. Protein powder is expensive, and lentils aren't. So why not try it?
Other benefits of lentils are:
a low glycemic index food
gluten-free
a source of iron
rich in B vitamins, zinc, and magnesium
healthy for gut bacteria
EASY! purchase them in the dry form, and no pre-soaking is required
inexpensive
… should I go on??
Steel Cut Oats
Since lentils take a while to cook, I used steel-cut oats in this recipe instead of rolled oats. Steel cut oats are less processed (which means more nutrients for you!), and take the same amount of time as lentils to cook.
Additionally, steel-cut oats grainy texture looks like red lentils which keeps them easily disguised
How To Make High Protein Vegan Oatmeal
And to make it? Just add all the ingredients together, bring the protein porridge to a boil, then reduce it to a simmer for 25-30 min. Stir occasionally to prevent sticking, and then top it with your favorite nuts for heart-healthy fats!
Could it be any easier?
Vegan Protein Oats Recipe Video
Watch how easy it is to make protein oatmeal vegan.
Variations Of Lentil Oatmeal
For this recipe, I added pumpkin puree for a Vitamin A-rich vegetable, and pumpkin pie spice mix for flavor!
High protein vegan oatmeal is just as versatile as regular oatmeal, so any flavor combo will work well. Switch it up depending on what's in your pantry so you won't tire of it easily
Vegan
This recipe is vegan as is!
Gluten-Free
The ingredients in the recipe are naturally gluten-free, just be sure your oats are made in a certified gluten-free facility.
Heart Healthy Add-Ins
flaxseed (for more fiber)
chia seed (for more omega 3)
hemp seed (for more protein)
Try Adding Vegetables and Fruits
carrots (with carrot cake spices)
applesauce (with apple pie spices)
I've even heard of cauliflower or zucchini (although, I've never tried it myself)
Other Oat Recipes
And low sodium oatmeal, vegan protein oatmeal, overnight oat bran, pecan pie overnight oats, pb2 overnight oats, turmeric energy balls, low sodium pancakes, pumpkin protein balls, turmeric oatmeal, list of oatmeal recipes, list of oat bran recipes and blueberry cheesecake overnight oats.
Final Thoughts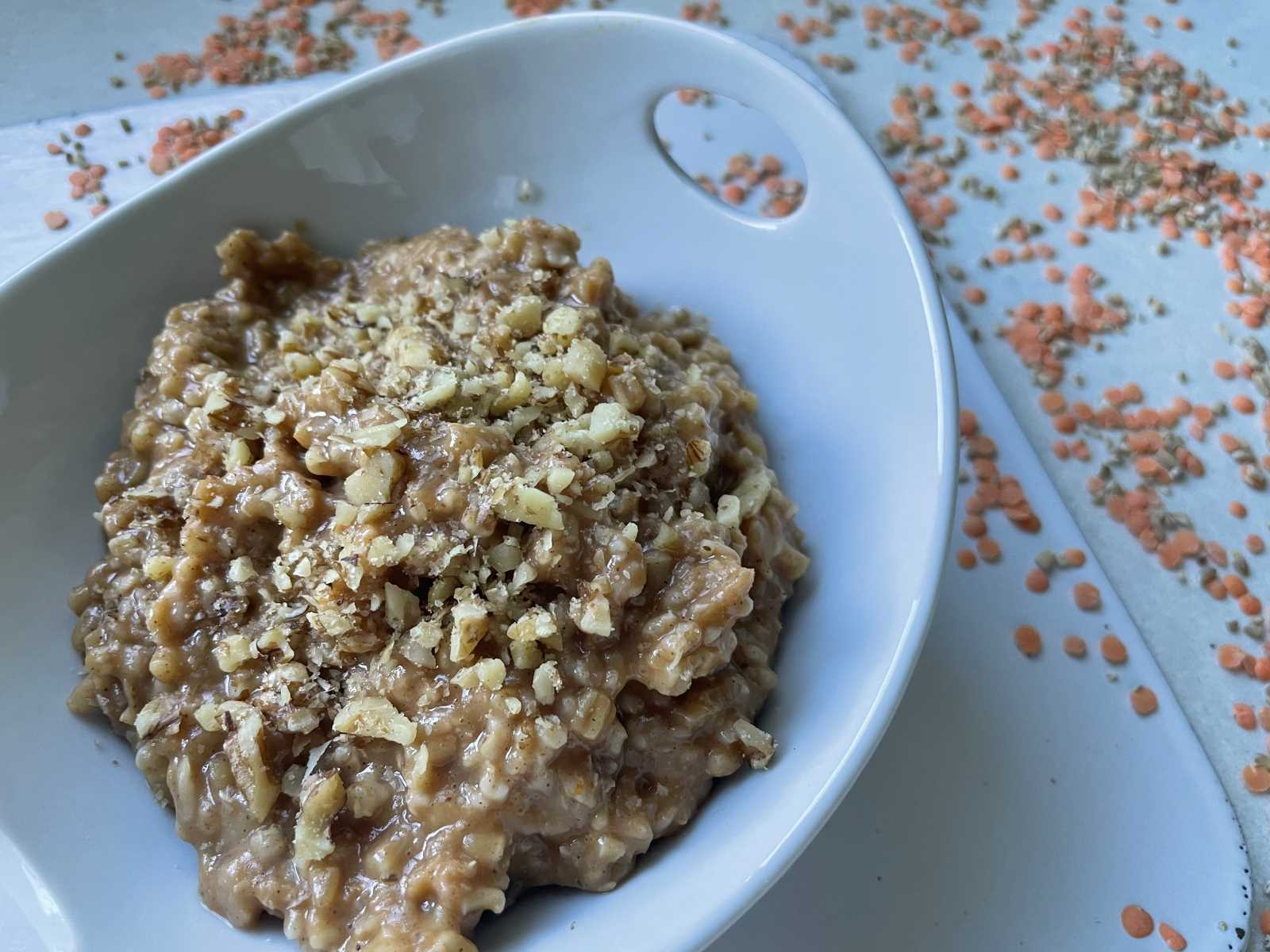 I hope you enjoy this lentil porridge as much as I do! The flavor options are endless for this protein-rich breakfast, so have fun with it!
And if you LOVE this recipe and are interested in other heart-healthy recipes, subscribe to my YouTube channel. I'd love to have you follow along to learn even more heart-healthy recipe ideas from yours truly! Click here to subscribe @theheartdietitian!
Vegan Protein Oatmeal (No Protein Powder)
This vegan protein oatmeal requires a quick stir of red lentils into your oats to boost its protein and fiber. 
Ingredients
1

cup

steel cut oats

¼

cup

pumpkin puree

½

cup

red lentils

sorted and rinsed

1½

cups

soy milk    

3

cups

water

¼

tsp

salt

1

tsp

pumpkin pie spice
Instructions
Add the water, salt, lentils and oats. Bring to a boil and stir.

Reduce the heat to medium, add the milk and stir well.

Cover and continue to cook 25-30 minutes, until the lentils and oats are cooked and most of the liquid is absorbed. Stir occasionally.

Once cooked, add the pumpkin and nuts.
Nutrition
Calories:
315
kcal
Carbohydrates:
44
g
Protein:
16
g
Fat:
9
g
Saturated Fat:
1
g
Polyunsaturated Fat:
4
g
Monounsaturated Fat:
1
g
Sodium:
183
mg
Potassium:
395
mg
Fiber:
13
g
Sugar:
2
g
Vitamin A:
2395
IU
Vitamin C:
2
mg
Calcium:
165
mg
Iron:
4
mg