Try this simple and easy whole food cholesterol lowering smoothie. It's made from nut butter, spinach, oats, flaxseed, milk, and berries.
The reason I love smoothies is they can be loaded with veggies, fruit, and other heart-healthy foods that individuals can't seem to fit into their day.  Smoothies create very little mess and come together in 5 minutes.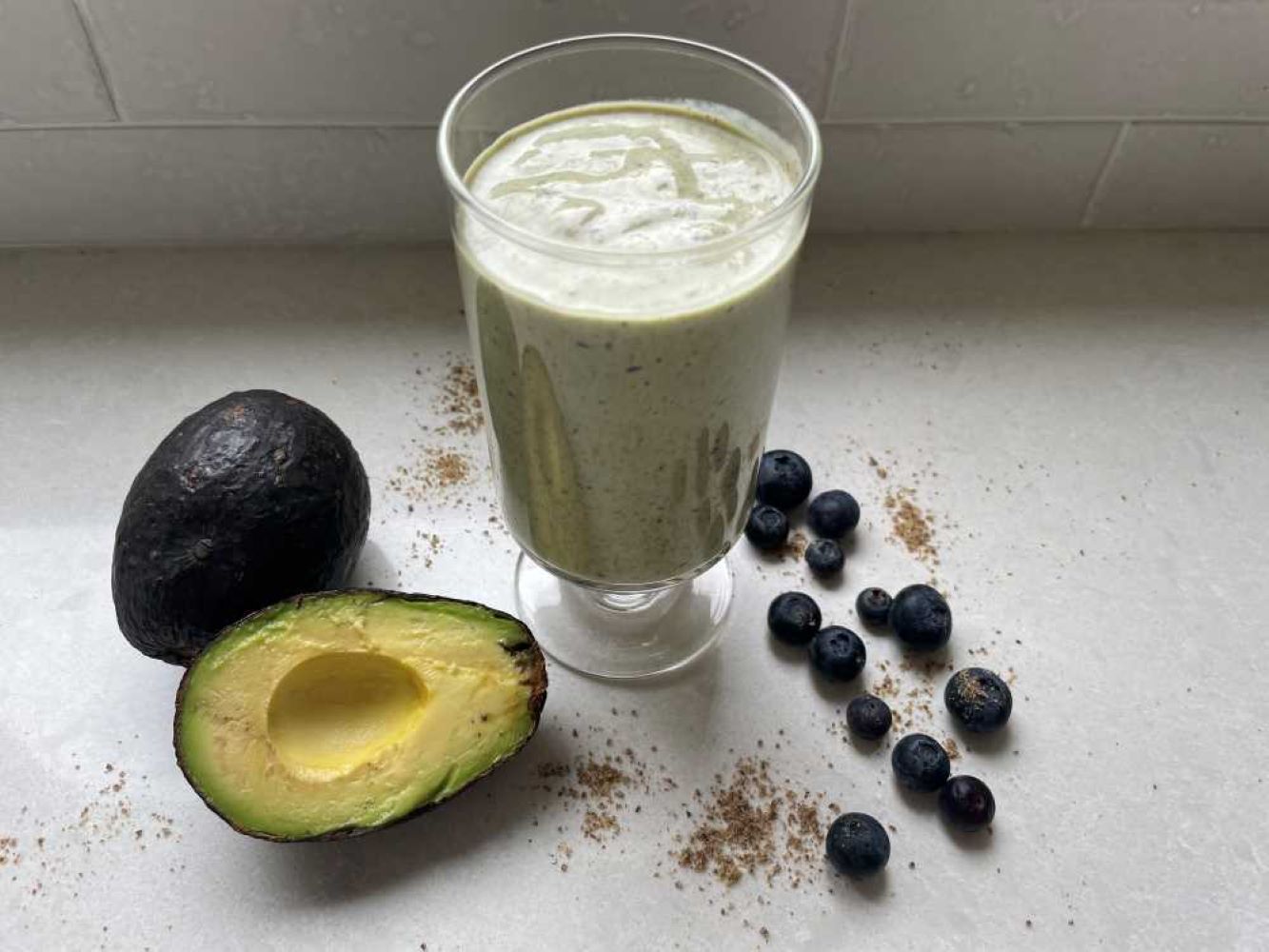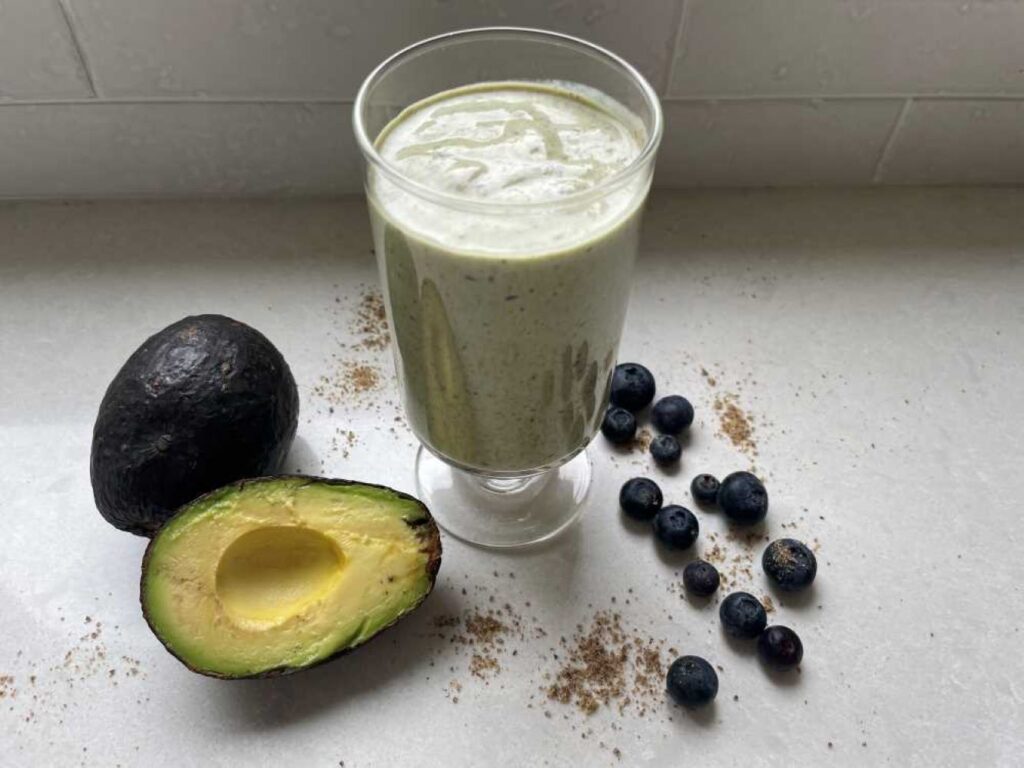 Why Make A Heart Healthy Smoothie To Lower Cholesterol?
This cholesterol reducing smoothie can reduce your risk of heart disease with a wealth of nutrients but it is also:
quick to put together (takes less than 5 minutes!)
uses a blender (very little mess)
requires no chopping (no knife or cutting board needed)

is portable (a fantastic way to ensure you eat breakfast)

a natural and tasty way to lower your cholesterol levels
Can Diet Improve Cholesterol?
Dietary choices can play a significant role in managing high cholesterol levels in the body.
Cholesterol is a waxy substance that is essential for the body to function properly. However, when there is too much of it in the blood, it can build up in the walls of the arteries and lead to heart disease.
There are two types of cholesterol: low-density lipoprotein (LDL) and high-density lipoprotein (HDL). LDL cholesterol is commonly known as "bad" cholesterol, as it can contribute to the buildup of plaque in the arteries which could cause heart attacks. On the other hand, HDL cholesterol is considered "good" cholesterol because it helps to remove LDL cholesterol from the bloodstream.
A diet rich in unsaturated fats can help lower LDL cholesterol levels and increase HDL cholesterol levels. Therefore, it is important to focus on a balanced diet that includes plenty of fruits, vegetables, whole grains, lean protein sources, and healthy fats such as nuts, seeds, and avocados.
Which is just what this smoothie offers!
Why Will This Smoothie Lower Cholesterol?
This recipe offers:
12 grams of plant protein
11 grams of fiber
If you find you're not eating the recommended amounts of plant proteins and fiber, a cholesterol lowering smoothie is a great way to meet those needs and boost your intake of nutrient dense foods.
According to the Portfolio dietary pattern – a diet that helps lower cholesterol – it is suggested to consume 50 grams of plant protein a day (1). This 12 gram smoothie meets 24% of this requirement with almond butter and soy milk.
The Portfolio diet also suggests that eating enough soluble fibers can reduce your cholesterol by 5-10% (1). The following ingredients in this smoothie: flaxseed and linseed, avocado, and oats are fantastic sources of soluble fiber to meet this requirement.
I've added other ingredients like almond butter as it contains significant amounts of monounsaturated fatty acids or healthy fats. Monounsaturated fats are found in food like olive oil. These types of fats can raise your "healthy" HDL cholesterol and lower your "lousy" LDL cholesterol.
Almond butter is also rich in Vitamin E, and when vitamin E is consumed in food it acts as an antioxidant that can help stop plaque buildup in the arteries.
Studies have shown that leafy greens like spinach can help your body make nitric oxide, which opens your arteries and can unclog them. Spinach has even been shown to lower blood pressure (2).
Blueberries are rich in antioxidants, particularly anthocyanins. These fresh fruit contain anthocyanins that help fight off free radicals and prevent LDL-cholesterol oxidation in arteries (3).
There is some research that cinnamon can directly prevent atherosclerosis (plaque in the arteries) and promote healthy cholesterol levels as it has the potential to lower platelet aggregation and better manage cholesterol levels in your blood (4).
This recipe is a testament to my nutritional philosophy of consuming whole foods that are mainly plant-based. It can be really difficult to fit in enough servings of vegetables and fruits to make a big difference in your heart health. This smoothie increases the consumption of produce, and also essential vitamins, minerals, fiber, plant protein, and antioxidants to lower cholesterol.
Ingredients In The Heart Healthy Smoothie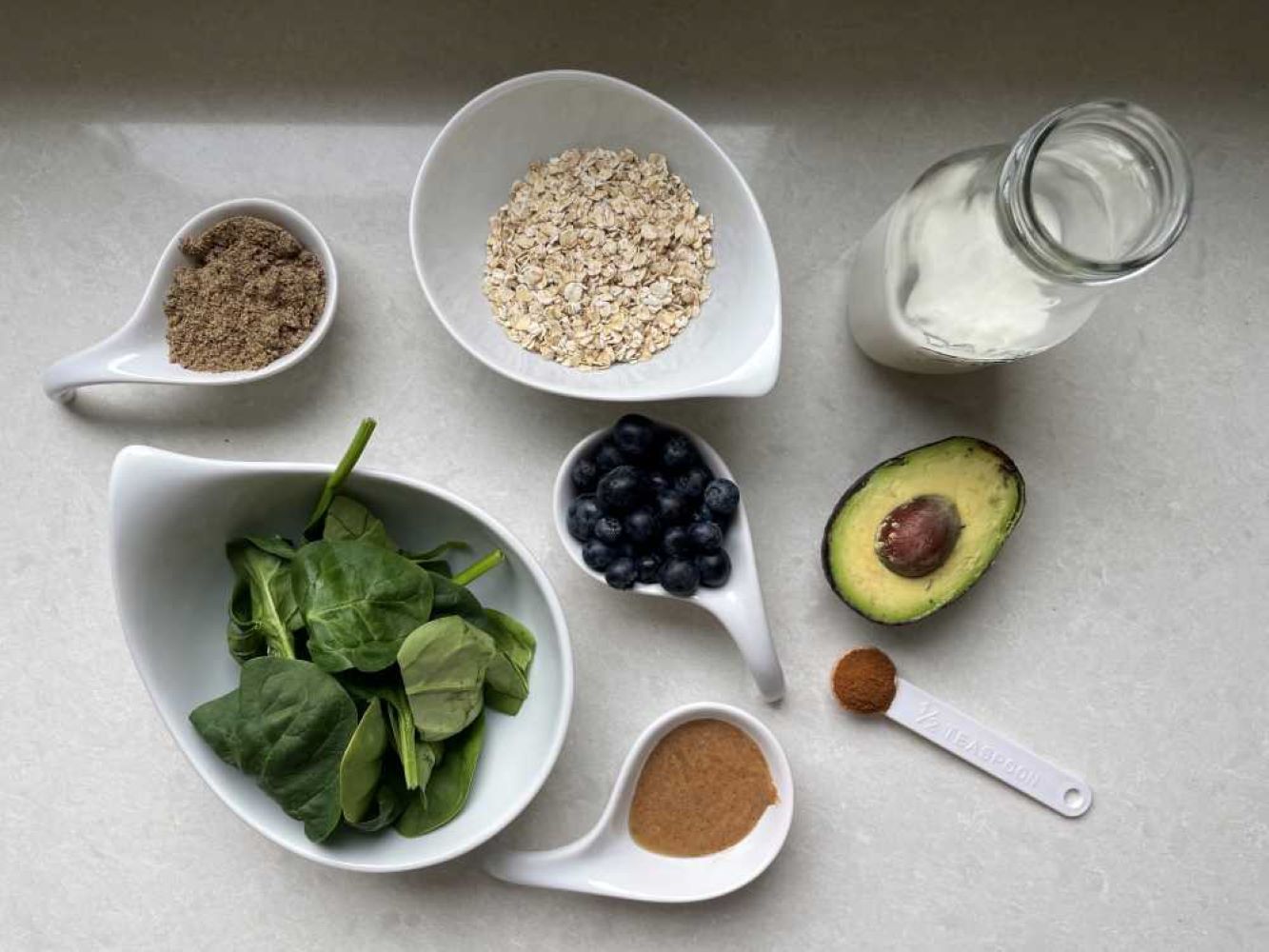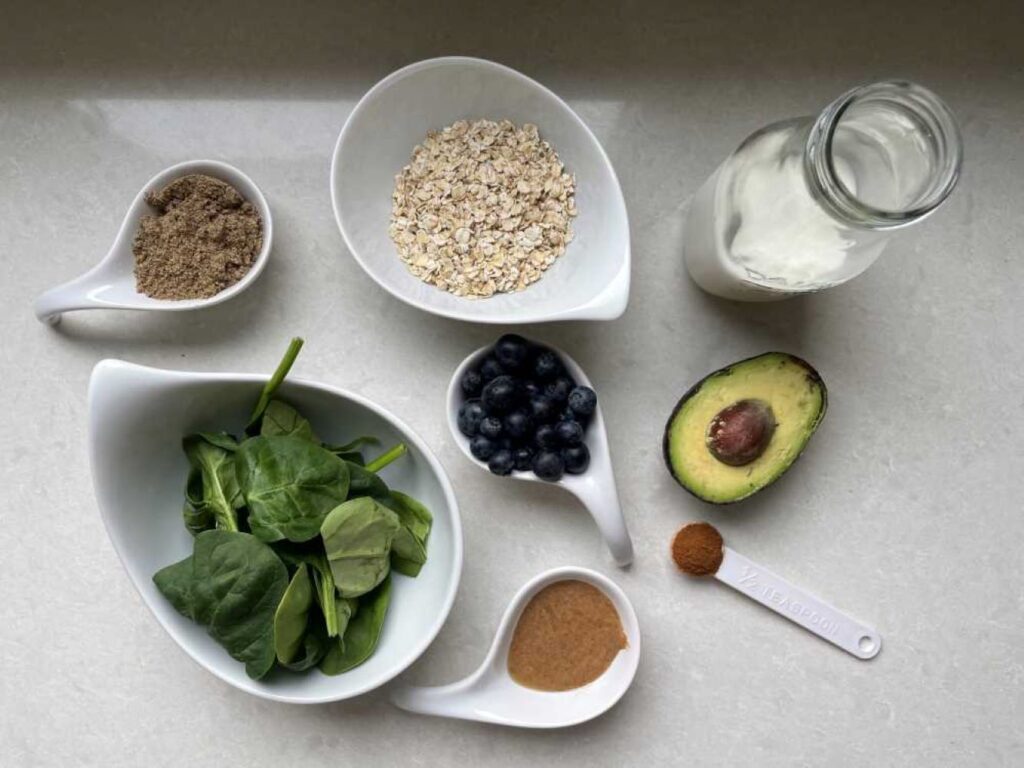 There are only 7 main ingredients needed for this recipe:
almond butter
spinach
rolled oats
ground flaxseed
soy milk
cinnamon
blueberries
Tips When Purchasing Heart Healthy Ingredients
Ensure you are purchasing cholesterol-lowering ingredients with these tips.
Consuming trans fat can increase your "bad" LDL cholesterol levels and reduce your "good" HDL cholesterol. In order to eat as little trans fat as possible be sure to purchase natural nut butter, where the only ingredient is the nut.
For example, when purchasing almond butter, the only ingredient on the list should be "almonds." This is the same for peanut butter, cashew butter, and so on.
Be sure to purchase ground flax seed instead of whole. Click here to learn more about linseed and flaxseed.
Instead of fresh blueberries, you can include frozen produce or ice cubes to give the final product the cool, icy consistency of a milkshake.
This cholesterol-lowering smoothie has no added sugar. Non-dairy milk like soy milk and some nut butters are potential sources of added sugar. Be sure to read the label to ensure there are no added sugars on the ingredient lists of these products.
How To Make A Smoothie To Lower Cholesterol
This recipe comes together so quickly. All you need to do is add the ingredients to the blender and blend until smooth. If it's too thick, add more soy milk. It's that easy.
If you like smoothies cold, try adding ice cubes, frozen blueberries and frozen avocado instead of fresh.
A Smoothie To Lower Your Cholesterol Recipe Video
When Should I Eat A Smoothie To Lower Your Cholesterol
Eating high fiber, whole grain snacks like this smoothie with a punch of protein is important to ensure you are eating enough nutrients to support your heart health.
Need a quick meal on the go? Double the smoothie for a high-fiber meal.
This heart-healthy smoothie is a much better option than skipping a meal or grabbing take-out. It is nutrient-dense, and the high fiber and protein will keep you full between meals, to reduce the likelihood you will overeat at your next meal.
Batch Cook To Save Time
Make Ahead: Freezer Method
If you love this smoothie, I would suggest making freezer smoothie packs. All you need to do is fill a Ziploc bag with smoothie ingredients (minus the milk). Then freeze the bags.
When you desire a smoothie to lower your cholesterol, remove a package from the freezer, place 1 cup of soy milk in the blender, blend and enjoy!
Since this smoothie uses fresh spinach, I'd be sure to keep it no longer than 3 months in the freezer. If you use frozen spinach you can store it for around 6 months.
Make Ahead: Pre-Blended
Another make-ahead option is to make the smoothie. Blend it in the blender, then pour the smoothie into freezer-safe containers, and freeze.
You can defrost the smoothie overnight in the fridge, or leave it on the counter for a few hours for a quick defrost. You can even pack it in your lunchbox and use it as an ice pack!
How To Store Leftover Smoothie
If you only need one serving of the smoothie simply make a smoothie, pour the smoothie into Mason jars or a container with a lid, and refrigerate. Smoothies will keep in the fridge for 1-2 days.
If separation occurs, which is likely after 12 hours, just stir the smoothie and enjoy! Additionally, you can also add ice and re-blend the smoothie.
Variations Of Smoothie To Lower Cholesterol
Vegan
This recipe is vegan as is!
Gluten-Free
All ingredients are naturally gluten-free. Be sure to check the nutrition label of the oats to ensure they are certified gluten-free to guarantee this turns out to be a gluten-free smoothie to lower cholesterol.
Switch Up The Flavor
Instead of spinach, try kale
Don't have blueberries? Try strawberries.
Enjoy peanut butter more than almond butter? Use that instead.
Choose your plant-based milk of preference like oat milk or almond milk
Don't like flaxseed? Try chia seeds
Lots of ways to switch up the flavor or use what's in your fridge. Need more ideas? Try some of these 39 foods that unclog arteries.
Other Healthy Smoothie Recipes To Lower Cholesterol
Try these delicious smoothie recipes on my website to lower cholesterol and high blood pressure.
Pin It Now & Make It Later!
Other Oatmeal Recipes
Protein baked oats, low sodium oatmeal, vegan protein oatmeal, overnight oat bran, pecan pie overnight oats, turmeric energy balls, low sodium pancakes, pumpkin protein balls, turmeric oatmeal, blueberry cheesecake overnight oats or these lists of Registered Dietitian approved oatmeal recipes and oat bran recipes,
The Smoothie To Lower Your Cholesterol Recipe
If you prepare this cholesterol reducing smoothie packed with nutrients, let me know if you like it! This fast smoothie can help you pack lots of beneficial ingredients in a tasty and practical format to lower cholesterol levels for good and improve your overall health!
And if you LOVE this satisfying cholesterol lowering smoothie, try these oat bran recipes or subscribe to my YouTube channel for other heart healthy recipe ideas. I'd love to have you follow along to learn even more heart-healthy recipe ideas from yours truly! Click here to subscribe @theheartdietitian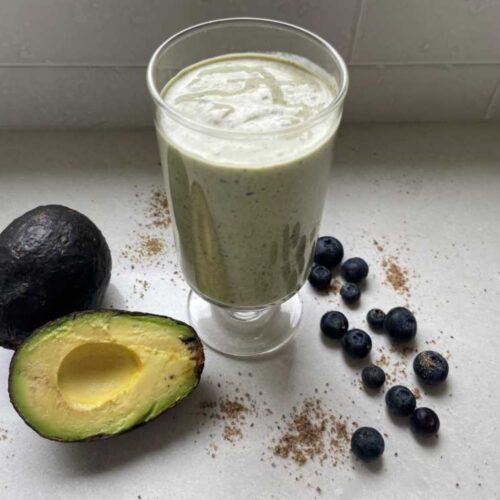 A Smoothie To Lower Cholesterol
A heart healthy smoothie to lower cholesterol that is loaded with veggies, fruit, and other heart-healthy foods that individuals can't seem to fit into their day.  Try this nutrient dense cholesterol lowering smoothie today!
Ingredients
⅓

cup

large flake oats

2

tbsp

flaxseed

ground

⅓

cup

spinach

packed

2

tbsp

almond butter

⅓

cup

blueberries

½

tsp

cinnamon

½

avocado

1

cup

soy milk
Instructions
Blend all ingredients in a blender until smooth to enjoy.
Notes
Add slightly more milk or water if you prefer a thinner consistency
Nutrition
Calories:
335
kcal
Carbohydrates:
25
g
Protein:
12
g
Fat:
23
g
Saturated Fat:
3
g
Polyunsaturated Fat:
7
g
Monounsaturated Fat:
12
g
Trans Fat:
1
g
Cholesterol:
1
mg
Sodium:
48
mg
Potassium:
693
mg
Fiber:
11
g
Sugar:
5
g
Vitamin A:
557
IU
Vitamin C:
9
mg
Calcium:
256
mg
Iron:
2
mg