If you're looking for gift ideas that will keep heart patients healthy and happy, look no further. This article compiled a list of 30 heart-healthy gift ideas for individuals who are conscious about their heart health.
Each section suggests gifts for recovering heart patients to improve lifestyle behavior known to help manage heart disease (1). From delicious treats to nifty gadgets, there's something for everyone on this list.
So why not give the gift of health this year? It's sure to be a hit!
This article was written by Chloe Camacho a University of Guelph Nutrition Student. Medically reviewed by Veronica Rouse, MAN, RD, CDE.
*Please note that this post contains clearly identified affiliate links. If you click on these links and choose to make a purchase, I may receive a commission (at no cost to you). As an Amazon Associate, I earn from qualifying purchases.
Physical Activity and Fitness
It is no secret that physical activity brings an abundance of health benefits, and among them is its ability to strengthen the heart muscles and reduce your risk of heart disease. It can also lower your blood pressure and aid in cholesterol management – there are simply too many benefits to name!
1. Fitness Watch
A fitness watch can be a great gift for heart surgery patients to stay on top of their fitness goals. Whether you're looking for a watch that is a smartwatch and a fitness tracker, or simply a fitness tracker alone, there are plenty of options out there to support your loved ones' needs.
Typically, a fitness watch will be able to track your heart rate (active and resting), your step count, the distance you've traveled, and your sleep. Be sure to check out which features are available for each fitness watch because they are not all the same.
Two I recommend are:
2. Running Shoes
Gifting running shoes can be a way of encouraging movement of any kind! Making sure your loved one can move comfortably in running shoes will make physical activity an easier part of their daily life.
Running shoes come in all different colors, shapes, and sizes. I recommend going to a specialty running shop (not a big department store) to find a shoe that best fits your needs.
3. Workout Clothes
Similar to running shoes, workout clothes may be a great gift for recovering heart patients to provide motivation they need to get their body moving.
Choose clothing that is breathable, lightweight, and moisture-absorbing, as these are all features that will help them be comfortable if they get sweaty during their workout.
4. Home Exercise Equipment
As with the other ideas listed in this section, giving exercise equipment as a gift for heart attack patients may just be the nudge they need to engage in physical activity. It doesn't need to be a treadmill, but it could be as simple as an exercise mat, a subscription to an online workout app, or even resistance bands.
Again, try to tailor what type of equipment you gift by thinking about what type of physical activity your loved one likes most. It could be running, yoga, strength training, or walking, as they will be more likely to use it if it is something they enjoy.
Activities For Enjoyment
In this section, you will find the gift of quality time. These are heart-healthy gift ideas that not only help one participate in a new activity but also gain pleasure that comes from spending time with them.
5. Hiking Trip
Does your loved one enjoy getting outside and going for a walk? Well then, a hiking trip would be the perfect heart patient gift. Not only is it a cost-friendly option, but it can be an intimate experience and you can plan out this trip however you see fit.
To get started all you need to do is find the nearest hiking trail or park. Explore your neighborhood, you will be surprised what may be hiding right under your nose!
Bonus – pair this activity with another activity. Maybe bring food to enjoy a picnic together while overlooking new scenery, or you could even time it to watch the sunset.
6. Lessons For A Sport
If your loved one is an adventurous type, then gifting them lessons for a sport they have always wanted to try out would be a great idea.
Engaging in a sport is a fun way to get their body moving. Salsa dancing, tennis, swimming, yoga, or aquafit classes are just a few examples.
7. Ball
If your loved one enjoys any sport that involves a ball, then it may be time they are gifted a fresh, new, shiny ball in place of an old one they own.
This includes basketballs, tennis balls, or footballs. In the case that your loved one does not enjoy sports involving a ball, try gifting them a frisbee instead.
With this gift, you and your loved one can toss around the ball together, keeping you both up on your feet.
8. Cook Your Own Meal Kit
There are a variety of cook-your-own meal kits available. This is a great gift for heart attack patients who may not have the time to plan and shop for their meals, or for someone that wants to start learning how to cook.
A cook-your-own meal kit can also turn into an activity. Research suggests that cooking meals together can strengthen your relationship. It provides time for you to share, bond, and work towards creating something.
You can even make your own kit by buying the ingredients for a heart-healthy recipe yourself and putting it all together in a basket or box.
9. Grocery Store Gift Card
A grocery store gift card can be an excellent get well gift for heart attack patients by helping them with some of their expenses. This can be a gift of encouragement for them to shop for fruits and vegetables, try new products and also cook their meals at home. A little can go a long way.
10. Gym Membership
Gym memberships can be quite expensive, and what better way to make a gift heart-healthy than by giving them the opportunity to access the gym? Most gyms offer gift cards that can count towards paying the membership fees. This is a way to help your loved one meet their fitness goals.
11. Cookbook
Another way of encouraging your loved ones to be more heart-healthy is to encourage them to cook their own food with health in mind. Whenever possible, find a cookbook that was written by a Registered Dietitian. Here are a few examples:
If you want to get creative, you can even craft a handmade cookbook to gift your loved one and include recipes from the Internet or your own heart-healthy meal ideas.
12. Book About Heart Health
Why not give the gift of knowledge? This is perfect for the loved one that is worried about their heart health or wishes to understand more about the subject, it can really help them make more informed choices.
When looking for books on this subject, ensure that you are checking the credibility of the authors.


Food
Who doesn't love receiving food as a gift? This section contains a variety of easy recipes you can make at home as well as foods that can be bought at your nearest grocery store. These foods were chosen with heart health in mind.
Giving warm, freshly baked muffins is an easy way to someone's heart. Oats and lentils have been shown to be lower levels of total and LDL cholesterol levels – the "bad" fats.
This is because oats contain beta-glucan, which is a soluble fiber that is known for its cholesterol-lowering ability (2). They are one of 39 foods that can unclog arteries.
14. Seeds
Seeds such as flaxseed, linseeds, chia seeds, and hemp seeds are great sources of omega 3 fatty acids. Omega 3s protect your heart in many ways. They are anti-inflammatory, reduce blood clot formation, they are able to prevent plaque formation, and improve lipid levels (3). They are also one of 39 foods that can lower blood pressure.
This gift can be given as part of a gift basket. Ideas on how to craft a heart-healthy gift basket, is covered in a later section of this blog post!
15. Nuts
Nuts are a rich source of unsaturated fats, that when eaten frequently, can contribute to reducing your risk of cardiovascular disease (4). When purchasing nuts, buy the unsalted variety to make this gift a low sodium option.
You can buy a set of different nuts as a prepackaged tray, or do-it-yourself by buying different nut varieties individually and packaging these yourself – whichever is the best option for you.
16. Pumpkin Protein Balls
These pumpkin protein balls are the perfect homemade gift for heart surgery patients, as they are easy to craft up, but also sweet and heart-healthy.
The recipe uses foods that unclog arteries such as almond butter, flaxseed, oats, and pumpkin – all of which have properties that help lower your risk of cardiovascular disease.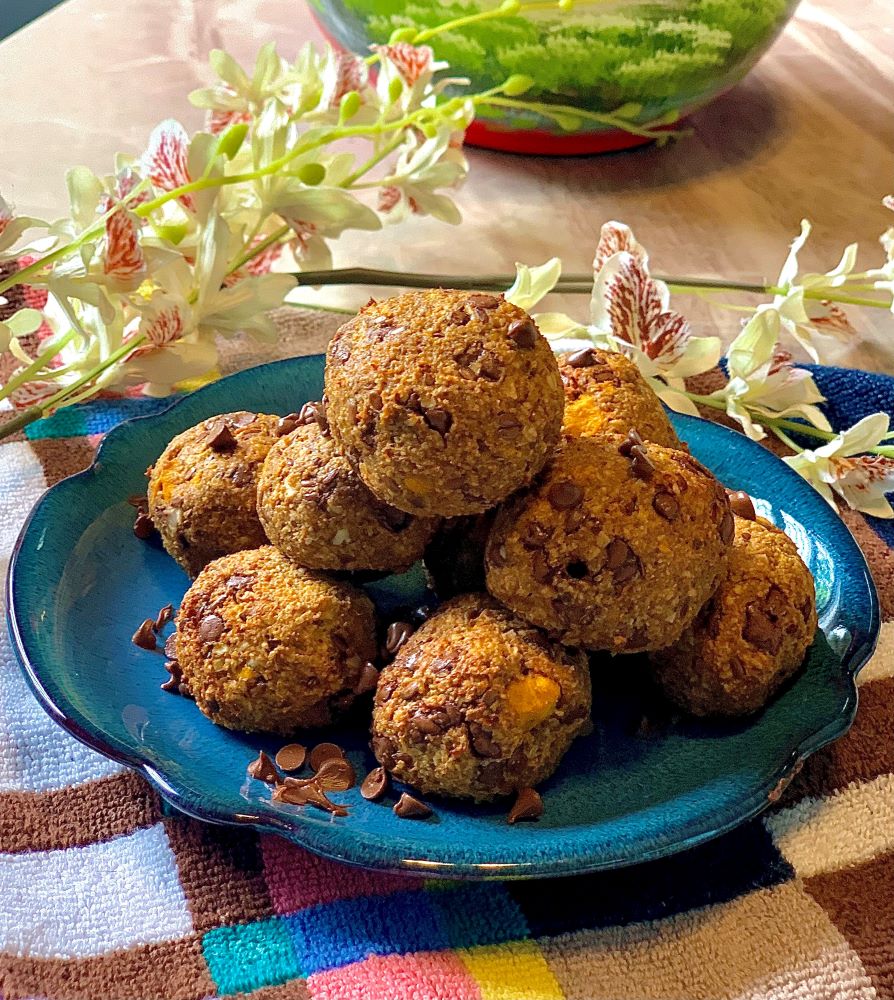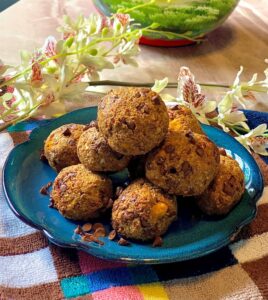 These chocolate-covered chickpeas not only satisfies a sweet tooth but also contribute to your daily cholesterol-lowering legume intake.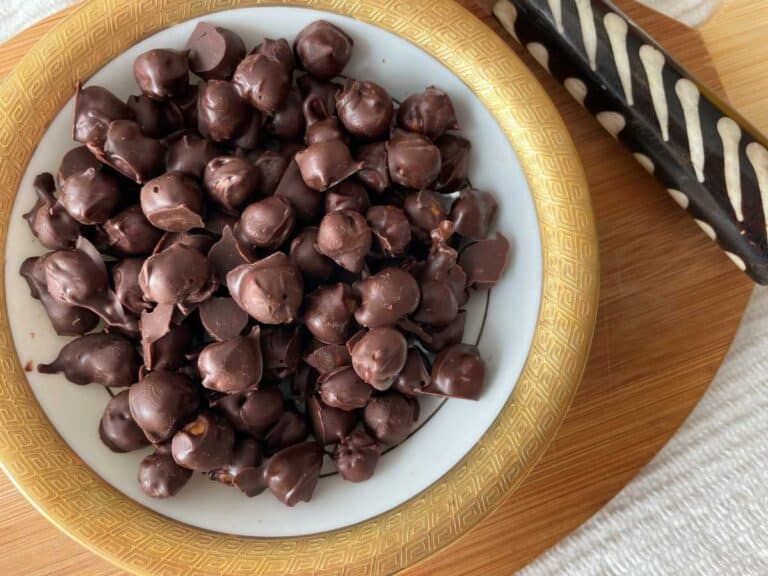 Low sodium salsa is a fantastic get-well gift for heart attack patients because it is so versatile. It can be enjoyed alone, shared with others, added to salads, or even served as a dip for veggies. Pair this gift with vegetables such as celery and carrot sticks.
Increased vegetable intake has been linked to reduced cholesterol levels, blood pressure, inflammation, and improved vascular function (5).
19. Plant-Based Brunch At A Restaurant
Individuals who eat a plant-based diet had a lower body weight, reduced blood pressure, and reduced levels of the "bad" LDL cholesterol (6). Treat your loved one to brunch at a local plant-based restaurant to opt for something new!
Ensure that the menu offers options that are balanced and follow the plate model (7). This means roughly having half of your plate filled with vegetables and fruit, a quarter filled with protein sources, and a quarter filled with whole grains.
20. Fruit Skewers
Go to the grocery store and pick up fresh fruit that your loved one enjoys, chop them all up into even cubes, and thread them onto skewers. Almost any fresh fruit can work but try to avoid canned fruit that contains a lot of added sugars.
It is no secret that fruits are nutrient-packed with fiber, vitamins, minerals, and antioxidants, all of which work to protect the heart. Fruit intake decreases cholesterol levels, blood pressure, and improves vascular function (5).
21. Trail Mix
Another wonderful homemade recipe idea is trail mix. Experiment and come up with your own based on your loved ones preferences. To make trail mix all you need to do is mix whole grains, dried fruit, unsalted nuts, and seeds, to make a yummy and heart-healthy snack.
Combination ideas may include:
Raisins, unsalted cashews, and sunflower seeds
Unsalted peanuts, unsweetened banana chips, and unsalted almonds
Whole grain chex, dried cranberries, and unsalted pecans
Kitchen Supplies
There is no doubt that taking steps to improve your overall diet starts in the kitchen. Gifting these items will help your loved ones experiment freely with their meals, while also making cooking an easy and enjoyable task.
22. Seasoning Set
For loved ones looking to go low-sodium in their meals, this is the perfect heart-patient gift idea. Spices and herbs can really provide interesting flavors and aromas to a dish to substitute for salt, making their meals more delicious and yummier while keeping blood pressure levels low.
I'd recommend looking at Epicure low-sodium seasonings. I am a consultant for this company because of their use of high-quality spices to use in their blends which helps keep sodium content low, and flavor high.
They also have a better than takeout line that helps one create favorite restaurant meals at home with less sodium.
There are so many to choose from you may want to make your own heart-healthy low-sodium gift basket.
23. Instant Pot
This gift is for that loved one that always seems to be too busy! An instant pot can be a great addition to a kitchen for those looking for a low-maintenance and convenient way to make food. This can be a motivating gadget for the loved one who wants to cook more and eat less takeout.
Check out 21 low-sodium instant pot recipes to pair with this gift.
24. Blender
Increasing fruit and vegetable intake can be made simpler with a blender, all your loved one needs to do is add their favorite fruits and vegetables, press the button to blend, and it's ready to drink.
Check out The Heart Dietitian's recipes page for smoothie ideas you can share with your loved one! A fan favorite is the avocado oat smoothie.
Blenders help your loved ones get creative and confident to make their own smoothie recipes. In addition to the fruits and vegetables in their smoothie, advise them to add oats and nuts to increase their fiber content and make it a more heart-healthy, filling drink.
25. Salad Tosser
The salad tosser or salad spinner makes cleaning your lettuce a breeze. It helps you drain the water with ease when washing your leafy greens (my clients report washing lettuce as the biggest barrier to salad consumption).
This will encourage your loved one to make more salads and thus eat more leafy green vegetables. Eating more leafy greens has been associated with a lower risk of coronary heart disease, strokes, and cardiovascular disease (6).
26. Infusion Pitcher
An infusion pitcher will have a designated compartment for the fruit to sit in the water for an easy pour.
Gifting an infusion pitcher to your heart patient is a simple but effective way to encourage them to drink more water and stay hydrated in a fun way. Staying hydrated makes it easier for the heart to pump blood (9).
To get started, be sure to try this ginger cucumber lemon infused water recipe.
Stress Relief
An aspect of health that can sometimes be neglected is the idea of stress management. Stress is a risk factor for heart disease and stroke, which is why it is important to prevent it from becoming chronic for your loved ones.
These are gifts heart patients can use to help them cope with the daily stresses of life.
27. Scalp Massager
These spider-like contraptions are meant to be used on your head. The scalp massager can help a loved one after a long day to de-stress and massage their own head instantly, which can be done by themselves or with the help of someone else.
28. Yoga Class
Yoga can be a great activity to help manage your loved one's stress. A modest but significant effect in reduced blood pressure was observed in participants that practiced yoga (10).
This practice may not be for everyone, but it can be worth a shot for a loved one who is interested in trying it out. Plus, they get the benefits of participating in physical activity.
29. Weighted Blanket
When talking about relaxation, you cannot miss out on including a cozy and warm blanket as part of the list. A weighted blanket may just be the perfect heart patient gift to improve their sleep quality. Some people describe the use of weighted blankets like a warm hug!
30. Gift Card For A Massage
What better way to relax than a good ol' massage? Get your loved one a gift card at the nearest spa for them to treat themselves to a massage after a long day.
Make Your Own Gift Basket
Want to figure out how to craft a heart-healthy gift basket for heart attack patients? Here are some ideas with items or activities from the above list that complement each other:
Budget-friendly gift basket

Trail mix
Scalp massager
Jump rope
Hiking at a park together

Food frenzy gift basket

Pumpkin Protein Balls
Fruit Skewers
Unsalted nuts (of any kind)

Heart healthy low sodium gift basket

Unsalted nuts
Heart healthy cookbook

Crafty cooking gift basket

Blender
Healthy smoothie recipe book
A gift card to the grocery store
Seeds (of any kind)

Relaxation and fun gift basket

Gift card for a massage
Weighted blanket
Basketball/soccer ball/ football/frisbee

A little bit of everything gift basket

Yoga mat
Oatmeal raisin cookies
Heart-healthy cookbook
Infusion pitcher
Gift card to the gym
Final Thoughts
When making your own gift basket for heart attack patients, it is important to think of which aspect of your loved one's health you want to help improve.
When focusing on gifting food, emphasize providing low-sodium, low-saturated fat, high unsaturated fat, and high fiber foods to keep it heart-healthy. Try to gift meals and treats that are rich in nutrients, vitamins, and minerals, such as fruits and vegetables.
If possible, you can consider including an idea from each section: physical activity, enjoyment, food, kitchen supplies, and stress relief, to emphasize the importance of making overall healthy living choices to protect their heart.
I'd would love to hear if you have anything to add to the list. Let me and other readers know which heart patient gifts would be helpful for your success on your heart health journey.