Chocolate-covered chickpeas are the perfect mid-day treat. This recipe is a delicious twist on a classic snack that is full of protein and fiber wrapped up in chocolate. Try it for yourself!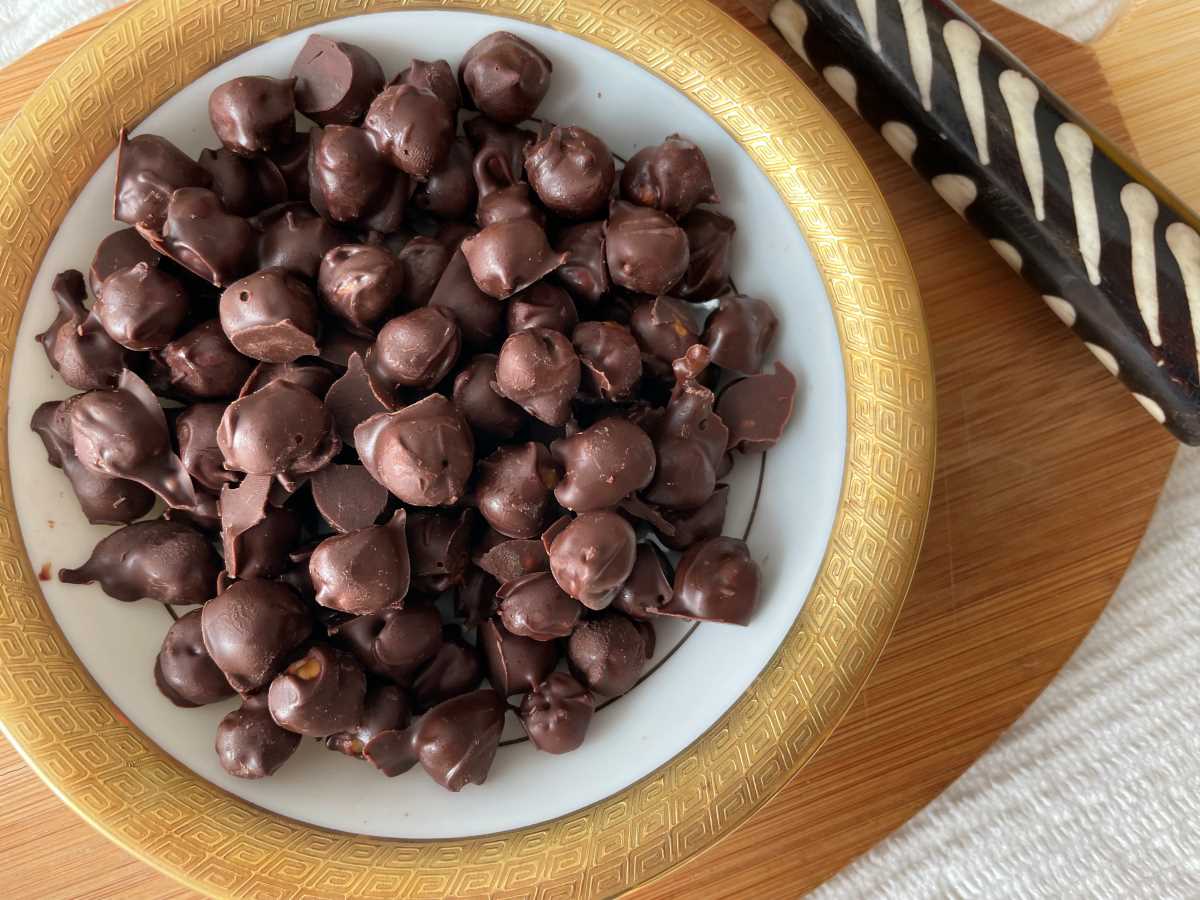 Why Make Chocolate Chickpeas
Stress-free preparation
Mouth-watering treat
Few ingredients
High in protein and fiber
Family-friendly
Is it Heart Healthy?
The main ingredient of this recipe is chickpeas, which is a heart-healthy food that can lower cholesterol, regulate blood sugar and manage blood pressure!
Chickpeas are rich in soluble fiber. Soluble fiber absorbs water in our gut and forms a gel-like web that helps slow digestion down. The end result is that it helps us feel more full and allows our body to better manage our blood sugar and cholesterol levels.
It is well known that the DASH diet can help lower blood pressure, mainly because this eating pattern is rich in potassium, magnesium, and calcium. Well, guess what? Chickpeas are also a fantastic source of potassium, which is the reason they are a great addition to your eating pattern if you are looking to manage your blood pressure.
Ingredients
Chickpeas
Chickpeas are types of legumes and make for excellent snacks as they are small and have a nutty taste that is all the more suited for being dipped in chocolate! Chickpeas are also full of protein and soluble fiber making them an excellent heart-healthy addition to your day.
For this recipe, you can purchase no added salt canned chickpeas, or make chickpeas from scratch.
Avocado Oil
Avocado oil is known as a "healthy fat". Why? Because it is made of monounsaturated fatty acids and has a low saturated fat content. Indeed, avocado oil has shown that it could have heart-health benefits as a study shows that it may improve our HDL cholesterol levels, also known as the "good" cholesterol (1).
Avocado oil also has a high smoke point, meaning that it can be used for cooking that requires high temperatures. This means that the oil won't easily break down and cause unwanted flavors or change the nutrient profile of the oil (1). It is a great substitute for olive oil.
Chocolate Chips
Believe it or not, chocolate chips can prove to be a heart-healthy food. Most chocolate comes from cocoa. Cocoa is high in polyphenols that help maintain the elasticity and function of our blood vessels. A study indeed shows that cocoa can help lower our blood pressure (2).
The chocolate chips in this recipe will get melted and eventually be coated onto the chickpeas to add a tasty twist to your regular chickpea snack.
Any type of chocolate can be used here.
Purchasing Tips
Chickpeas, also known as garbanzo beans, can be sold dry or canned. Both are great and healthy options and it is your choice whether you prefer dry or canned.
This recipe calls for canned chickpeas as they are already pre-cooked and are more quick and convenient if you're looking for the fastest preparation time. On the other hand, dried chickpeas require them to be soaked and drained beforehand. Chickpeas can be found in the beans section of the grocery store.
Chocolate chips come in various types. Dark chocolate chips are a great option. Dark chocolate-covered chickpeas provide magnesium and flavonols that help manage blood pressure by helping to widen our blood vessels (3).
But any chocolate that you can get your hands on will do for this recipe! That can include regular chocolate, milk chocolate or even white chocolate.
While walking through the aisles of the grocery market, you may see other products similar to this recipe, such as chocolate-covered almonds or nuts, which are healthy snacks as well. The one thing that this chocolate-covered chickpea recipe has over commercial products is that it is homemade. In other words, it doesn't have additives and contains minimal ingredients.
How To Make Chocolate-Covered Chickpeas
Now on how to prepare this savory snack! It is so easy to make chocolate-covered garbanzo beans. Follow the steps in the recipe card and you'll be feasting on these chocolate chickpeas in no time!
Three tips I want to bring to your attention are:
1. You probably want to roast the canned chickpeas for the crunch, but you can definitelytry coating the chickpeas in chocolate without it being cooked. If you do decide to bake them (like the recipe suggests), an optional step is to coat them with a thin layer of avocado oil to achieve an extra crunchiness.
2. If using the microwave to melt the chocolate be sure to do so in 15 second intervals and stir in between sessions. Don't skip this step. This will prevent the chocolate from burning.
3. If you like the sweet and salty combination of flavors, sprinkle some sea salt on the chickpeas before the chocolate hardens. You're welcome.
Watch How It Comes Together
Leftovers
Find yourself having leftovers or want to package the final product up as a gift, you can place them into an airtight container and leave them in the fridge or a cold room. This is to ensure that the chocolate won't melt.
Chocolate-Covered Chickpea Nutrition
This chocolate snack offers 2 grams of fiber and 2 grams of plant protein. They fit within the DASH eating pattern because they offer 123mg of potassium and 30 mg of calcium with only 114 mg of sodium.
Frequently Asked Questions
Are Dark Chocolate Chickpeas Good For You?
Absolutely! Dark chocolate chickpeas are full of healthy nutrients, such as fiber and magnesium, that promote a healthy and strong heart. Dark chocolate-covered chickpeas also have polyphenols from cocoa that help manage our blood pressure (2).
Do Chickpeas Need To Be Soaked Before Roasting?
Canned chickpeas do not need to be soaked beforehand as they are pre-cooked and only require you to drain and rinse them before placing them into the oven.
However, dried chickpeas are a different story. You will want to soak your dried chickpeas before you start cooking them. Soaking them will result in a more soft and plump chickpea, which will start you off on just the right note.
How Many Calories Are In Chocolate-Covered Chickpeas?
A serving of these chocolate-covered chickpeas offers 180 calories.
Are Roasted Chickpeas Healthy?
Yess, roasted chickpeas are a healthy snack. Roasted chickpeas will provide you with plant protein and fiber, and better yet, when covered in chocolate, it will make it taste so good that you can't stop eating it!
Can You Eat Chickpeas Straight From The Tin?
Absolutely! Canned chickpeas are pre-cooked and thus you can eat straight from the tin. I do recommend draining and rinsing the chickpeas first before you prepare or eat them.
Do Dried Chickpeas Need To Be Cooked Before Roasting?
Dried chickpeas do not need to be cooked before roasting. All you need to do is soak them in water overnight, drain and then dry them. After that, you're ready to use your chickpeas for this recipe!
Are Roasted Chickpeas Still Good For You?
Roasted chickpeas are a great snack and or treat. Especially when topped with healthy fats such as olive oil!
Why Are My Roasted Chickpeas Chewy?
If your chickpeas end up chewy instead of crunchy, there may have been excess moisture trapped. To avoid this, ensure that you completely dry off the chickpeas after you have drained them. Another tip is to pour some oil onto the chickpea before roasting to ensure you get some extra crunchiness.
Can Any Chocolate Be Used?
Yes. Your chickpea chocolate can be anything you want! That includes bittersweet, semi-sweet, milk, or dark chocolate chickpeas.
Can I Make Chocolate Chickpea Clusters?
Chocolate chickpea clusters are so easy to make if you follow this recipe! To make clusters follow all the steps until you get to the freezing stage.
Before you freeze them, instead of placing each chocolate-coated chickpea onto the pan, scoop a couple of chickpeas at once, creating a cluster, and place them onto the pan. Ensure that each cluster is separated by a thumb distance to avoid clusters joining together and getting one big pile of chocolate chickpeas.
Then, following the steps again, freeze for 15 minutes.
How Do I Store These Chocolates?
Leftover chocolate-roasted chickpeas can be placed in an airtight container and stored at room temperature for about 2 weeks.
Other Legume Recipes
Interested in trying other legume recipes? Listed below are three yummy bean and lentil recipes.
Pin It Now & Make It Later!
Final Thoughts
Chocolate-covered garbanzo beans are the perfect snack to enjoy yourself or make for loved ones. Give this easy and simple recipe a try, as it is a mouth-watering and addictive treat that is also a great source of plant protein and fiber.
Simple Chocolate Covered Chickpeas
Chocolate covered chickpeas are a delicious twist on a classic snack, This crunchy snack is high in protein and full of fiber.
Ingredients
1

cup

chickpeas

½

cup

chocolate chips

1

Tbsp

avocado oil
Instructions
Preheat the oven to 425°F

Open the can of chickpeas, drain under a sieve and rinse them under water. Shake the sieve to remove excess moisture.

Spread the chickpeas on a kitchen towel and pat them dry. Remove any loose skins, and lay out on baking sheet covered with parchment paper.

If some skin peels off of the chickpeas, remove them before baking.

Bake chickpeas in oven for 20-30 minutes, until crispy. Ovens can vary, if your chickpeas are not crispy enough, keep going until they are!

Let cool before dipping in chocolate.

Line another baking sheet with parchment paper. Set aside. 

Place chocolate chips in microwave and heat. Stir at 15 second intervals to prevent chocolate from burning.

When the chocolate is almost completely melted, remove from microwave and stir to finish melting.

Add avocado oil to the melted chocolate and mix well.

Combine the chickpea in the melted chocolate and stir to completely coat the chickpea with the melted chocolate.

Using a fork transfer the evenly coated chocolate chickpea to parchment paper one by one and in a single layer, keeping them separate. Remove as much excess chocolate as possible.

Continue in this manner until all the chickpeas have been transferred. 

Transfer to freezer for 15 minutes to harden.

Once removed from freezer, individually remove them from parchment paper to consume. Store in fridge for 5 days,
Nutrition
Calories:
180
kcal
Carbohydrates:
20
g
Protein:
2
g
Fat:
11
g
Saturated Fat:
5
g
Polyunsaturated Fat:
1
g
Monounsaturated Fat:
3
g
Sodium:
114
mg
Potassium:
123
mg
Fiber:
2
g
Sugar:
13
g
Vitamin A:
6
IU
Vitamin C:
0.04
mg
Calcium:
30
mg
Iron:
1
mg