Looking for a protein shake without protein powder? Well, this red bean smoothie is for you!
I love eating the way nature intended us to eat (with whole foods vs. processed powders) because we get bonus nutrients that work in synergy to support our health. Not only is this kidney bean smoothie rich in protein, but fiber, and potassium too.
Enjoy this smoothie for breakfast, as a sweet snack, or after-dinner dessert.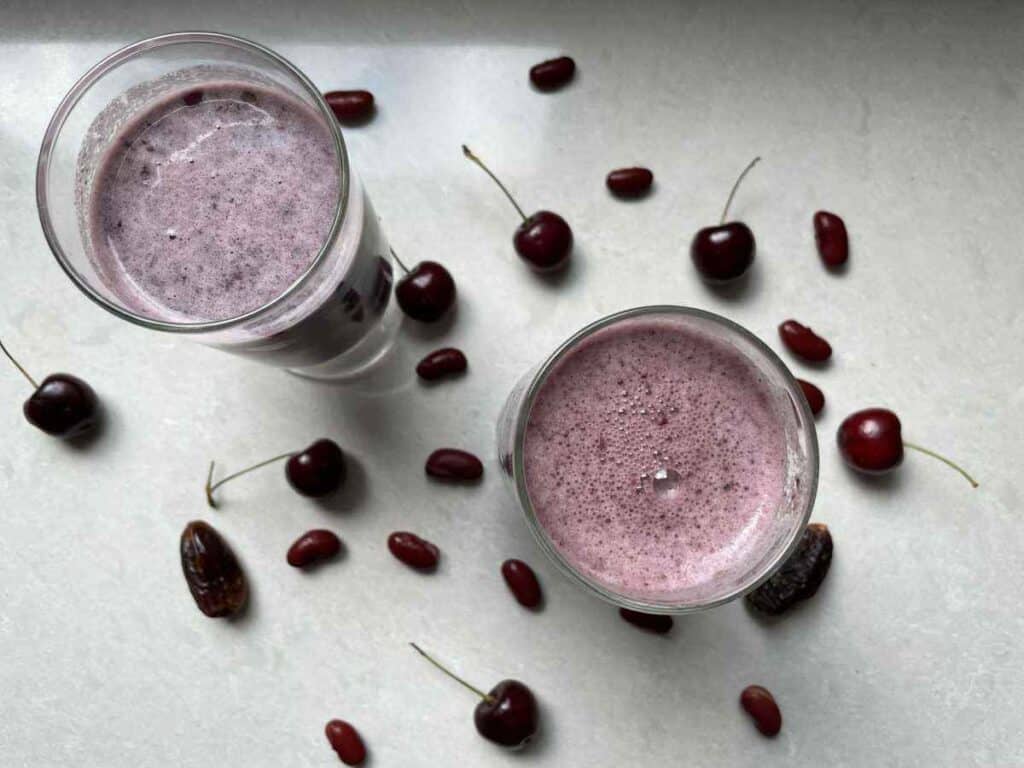 Why You Should Make a Red Bean Smoothie
My clients are always looking to add protein to their shakes. I'm not totally against using protein powder, but I do know the value of eating whole foods and therefore I created this protein-rich drink using red kidney beans!
Whole food smoothies are great because they can pack in a lot of good for you ingredients. This drink is:
nutrient dense
easy to drink
quick to prepare
has little cleanup
is super tasty
This smoothie is well balanced with carbohydrates, protein, and fat to keep you full and satiated until your next meal. It is also vegan, gluten-free, and dairy-free. Suitable for most diets.
Health Benefits Of A Red Bean Smoothie
This red bean smoothie recipe makes 2 servings, each has:
9 grams of protein
6 grams of fiber
Double it for a satisfying meal.
Plant-Based Protein
Many breakfast meals, snacks, or desserts are low in protein, which is why this protein-rich red bean smoothie is a satisfying replacement.
Additionally eating plant-based protein like red beans will keep you on track to lower your cholesterol in accordance with the portfolio diet.
I also like eating beans as a protein because they are an affordable alternative to animal-based protein.
Soluble Fiber
Furthermore, the soluble fiber found in these red beans help you meet the recommended fiber in the cholesterol lowering Portfolio diet.
Soluble fiber is known to reduce cholesterol, but it can help keep you full.
Potassium
This smoothie is loaded with potassium. Potassium is beneficial for heart health because it can helps manage blood pressure by relaxing blood vessels.
Potassium's role is the opposite of sodium in the body. It is well known that we need to reduce our sodium intake to manage blood pessure, but not as well known that adding potassium can serve a similar function.
Why not try this potassium rich drink and give it a shot?
Other Benefits
Because of their high fiber content, red beans can help improve blood sugar control, they are also beneficial for gut health and can promote colon health (a great step in colon cancer prevention!).
Kidney Bean Smoothie Ingredients
The few ingredients in this recipe are vegan, gluten-free, and dairy-free.
Red Kidney Beans
The star ingredient of this red bean smoothie is red kidney beans.
A red bean smoothie can be confused for an Asian style prepared sweet treat. This smoothie isn't the traditional Japenese style prepared beans, also known as red bean (anko) paste or prepared sweet bean (yude azuki). It is simply red kidney beans.
When purchasing red kidney beans, you can buy them canned or dried. It will be cheapest to purchase them dried and cook them yourself. Although, buying canned or frozen isn't too much more expensive for the convenience/ease of use, and no pre-planning is needed.
If you are buying canned red beans, I'd suggest purchasing ones with the "no salt added" nutrition claim on the front of the package. This keeps the overall dish low in sodium (helpful if you are managing high blood pressure).
If you can't find the no salt added version of canned black beans, be sure to rinse the regular canned version very well to remove excess sodium.
Check out this terrific resource if you are interested in cooking red kidney beans from scratch.
Soy Milk
I chose soy milk in this recipe because it is rich in cholesterol-lowering plant protein and its creamy texture. You can keep this recipe vegan by using other dairy-free beverages like fortified oat milk. Soy milk is listed as a food that can unclog arteries.
Dates
When choosing plant-based beverages be sure to choose no sugar added versions, as it is recommended to limit added sugar for overall health (1). I have added dates to this smoothie to sweeten this drink without added sugar like maple syrup or honey.
Cherries
I chose cherries as my fruit of choice because they will keep the smoothie red. I love frozen cherries because they are already pitted, and ready to go.
Greens
Finally, I added a handful of mixed greens for added nutrients. Add whatever you have in the fridge, spinach or kale would work well. Spinach is listed as one of 39 foods that can lower blood pressure.
How To Make a Red Bean Smoothie Recipe
The reason I love smoothies is they couldn't be easier to whip up. You dump the ingredients into the blender and hit liquefy.
Before you ask, no you don't need a fancy blender. I have a hand-me-down blender that works just fine. Call me basic, but my mission is to make healthy eating doable and that requires affordable equipment.
1) Begin by rinsing the canned kidney beans (if using them from a can), or if you are making them from scratch go ahead and do that here. If you can believe it, this is actually the hardest step.
2) Then just throw the remaining ingredients into a blender.
3) Add ice if you like it cold, or add yogurt or oats for a thicker consistency.
4) Blend, pour into your glass of choice and enjoy. I recommend drinking it immediately before it separates.
Watch How It Comes Together
Take a minute to watch how quickly this recipe can come together.
What Does The Red Bean Smoothie Taste Like?
This is a sweet treat. Sweetened with cherries dates and not the typical banana. Not having a banana alters the texture a little, making it more watery than thick. If you like a thicker smoothie, I'd suggest adding 1/2 cup of plain yogurt or 1/4 cup of rolled oats to achieve this consistency.
Surprisingly, there is no rough texture from the beans, it blends smoothly.
How To Store Leftover Smoothie
This red bean smoothie recipe makes 2 servings.
If you only need one serving of the smoothie simply make a smoothie, pour the remaining smoothie into Mason jars or a container with a lid, and refrigerate. Smoothies will keep in the fridge for 1-2 days.
If separation occurs, which is likely after 12 hours, just stir the smoothie and enjoy! Additionally, you can also add ice and re-blend the smoothie.
Variations
Don't have cherries? You could also try other fruit like strawberries to keep the red color
Add more omega 3 with ground flaxseed, hemp, or chia
Choose your liquid of choice – any milk would work here, just be cautious as some plant-based milk are not a huge protein source
Other Smoothie Recipes
Final Thoughts
If you are looking to add more plant-based protein and soluble fiber to lower your cholesterol …
Or maybe you are looking for a quick and tasty sweet treat to increase satiety and also nourish your body…
… then you gotta try this red bean smoothie today!
And if you LOVE this recipe and are interested in other heart-healthy recipes, subscribe to my YouTube channel.
A Sweet Red Bean Smoothie
This 5 ingredient sweet red bean smoothie is packed with protein and nutrients which leaves you feeling full and satisfied.
Ingredients
½

cup

red kidney beans

rinsed

1

cup

frozen pitted cherries

½

cup

spinach

1

cup

soy milk

3

dates
Instructions
Add all ingredients into a blender and pulse until completely smooth.

Serve while cold and enjoy!
Notes
For a thicker smoothie add 1/2 cup of Greek yogurt or 1/4 cup of rolled oats
Choose no salt added red kidney beans if watching sodium intake
Nutrition
Calories:
166
kcal
Carbohydrates:
31
g
Protein:
9
g
Fat:
2
g
Saturated Fat:
0.3
g
Polyunsaturated Fat:
1
g
Monounsaturated Fat:
1
g
Sodium:
42
mg
Potassium:
592
mg
Fiber:
6
g
Sugar:
17
g
Vitamin A:
748
IU
Vitamin C:
8
mg
Calcium:
183
mg
Iron:
2
mg