If you want to meet your weight loss goals with a filling breakfast or snack, this is the smoothie for you. It's packed with fiber, healthy fats and will keep you full for hours.
Pin It Now & Make It Later!
Why You Should Make An Avocado Weight Loss Smoothie
Wondering why you should choose this oatmeal avocado smoothie for weight loss? It's a filling satisfying breakfast that will keep you full.
It's also a no-cook, fast to prepare breakfast or snack when you are in a hurry.
This recipe is vegan, gluten-free, dairy-free, and nut-free. Suitable for most diets.
Health Benefits Of An Avocado Oat Smoothie
This recipe contains healthy fats and is a very good source of fiber.
In fact, this smoothie contains:
Fat: 29 grams
Fiber: 14 grams
Fat
I know what you are thinking, how is this high-fat, avocado oat smoothie going to help me with weight loss?
Well, the combination of high fat and high fiber will keep your stomach busy for hours. Thus, you'll be less likely to respond to hunger cravings between meals with processed snacks that contain refined sugar, unhealthy fats, or little fiber. Eating adequate fat prevents overeating by keeping you satiated.
This avocado oatmeal smoothie is full of monounsaturated fats from the avocado and nut butter. This specific type of fat will not only keep you full but has also been shown to help reduce your cholesterol levels and inflammation (1).
Still think I'm crazy? The Dietary Reference Intake (DRI) developed by the Institute Of Medicine suggests adults should consume 20-35% of their caloric intake from fat (2). That is about 44 grams to 77 grams of fat per day when consuming a 2000 calorie diet (2).
My final plea, don't be afraid of calories and fat when trying to lose weight.
Fiber
Fiber also has a DRI. It is recommended to eat 25 grams of fiber a day for women, and 38 grams of fiber a day for men (3). This 14 grams of fiber avocado and oats smoothie make a significant dent in that daily target.
Eating enough fiber will control your blood sugar and prevent spikes of insulin, which ultimately helps manage your appetite. Fiber also slows digestion, aiding in weight management.
Avocado and oatmeal help to meet your quota for fiber. In fact, both foods are fantastic sources of soluble fiber which plays an important role in lowering your low-density lipoprotein cholesterol (LDL-chol) or "bad" cholesterol. Oats and avocados are listed as one of the 39 foods that can unclog arteries and lower blood pressure.
Finally, fiber helps move stool throughout your body, aiding in gut health. The fiber in this recipe helps to increase the weight of your stool, and can actually soften it, making it easier to pass.
Focus On Fuelling Your Body
Instead of focusing on weight loss as a goal, try to meet your daily intake for nutrients like fat and fiber to ensure you are fuelling your body to improve your health and live a longer life.
In fact, research is suggesting that if you achieve weight loss through eating more whole foods instead of fasting or dieting, you will more likely keep the weight off (4).
This means, there is no need for fancy expensive powders to achieve a healthy life or weight loss. Whole foods high in fiber and healthy fat, like this avocado oatmeal smoothie, will keep you full and healthy.
A Balanced Meal
This weight loss avocado smoothie is a balanced meal. According to Canada's food guide and America's MyPlate, a balanced meal includes vegetables and fruits, whole grains, and protein foods (5, 6).
This smoothie has the right balance of these food groupings, creating a meal that fits within a healthy eating pattern and can improve your health.


Ingredients In The Oatmeal Avocado Smoothie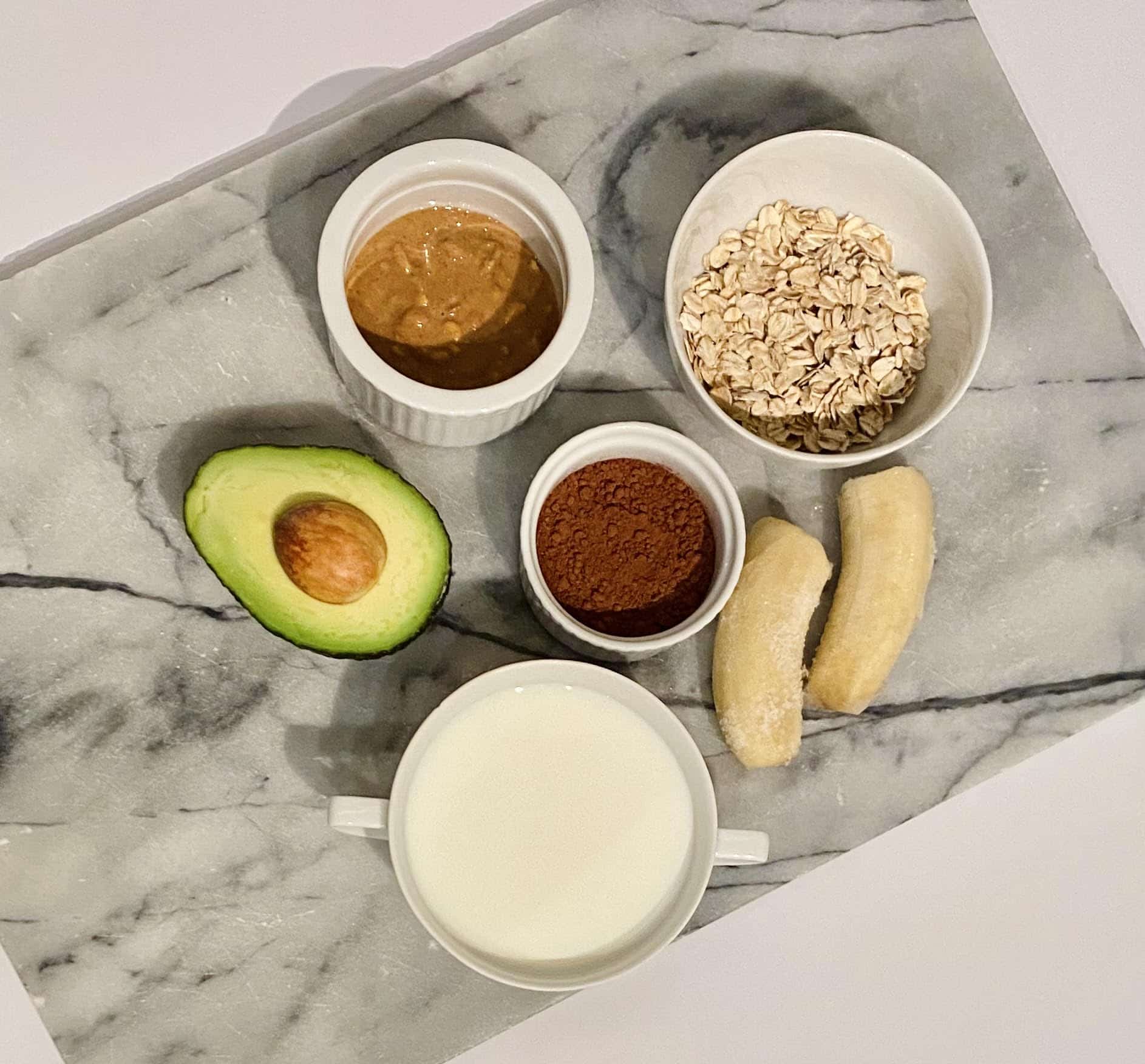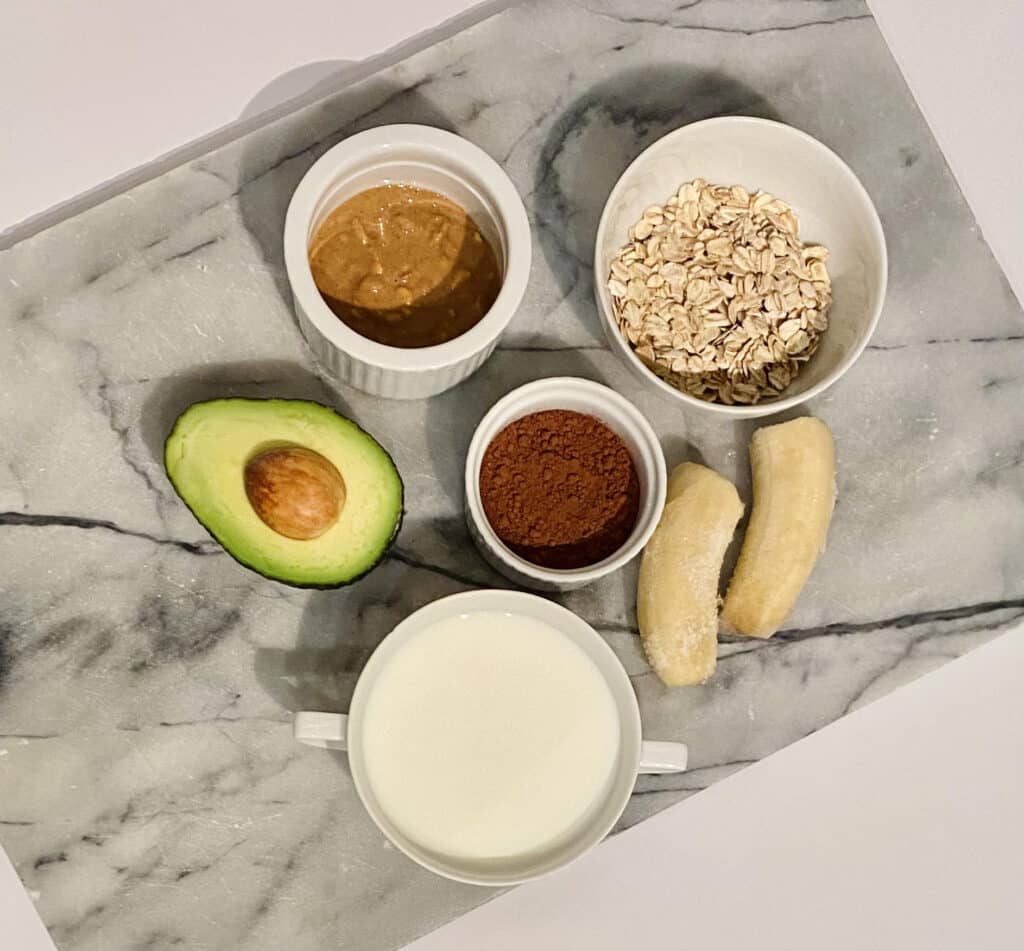 The few ingredients in this recipe are vegan, gluten-free, dairy-free, and nut-free.
I chose soy milk in this recipe because it is rich in cholesterol-lowering plant protein. You can keep this recipe vegan by using other dairy-free beverages like fortified oat milk.
When choosing plant-based beverages be sure to choose no sugar added versions, as it is recommended to limit added sugar for overall heath (7). If you prefer to sweeten your avocado oat smoothie, try naturally sweetening it with wholes dates instead of using added sugar like maple syrup.
Oats are naturally gluten-free. However, oats are often processed in the same facilities as gluten-containing grains like wheat, rye, and barley which can contaminate them. Check for a gluten-free label when purchasing oats, if you are following a gluten-free diet.
How To Make An Avocado Smoothie For Weight Loss
The reason I love smoothies is they couldn't be easier to whip up. You dump the ingredients into the blender and hit liquefy.
Before you ask, no you don't need a fancy blender. I have a hand me down blender that works just fine. Call me basic, but my mission is to make healthy eating doable and that requires affordable equipment.
Video: Avocado Smoothie Recipe for Weight Loss
Take a minute to watch the video where I show you how quickly this recipe can come together.
What Does The Avocado Oatmeal Smoothie Taste Like?
Chocolate and peanut butter for breakfast? Yes, please! This cocoa powder and peanut butter combination are simply meant to be together, and why not eat it for breakfast?
This avocado oatmeal smoothie is naturally sweetened with a banana.
The addition of avocado and soaked oats turn this drink into a rich and creamy treat.
Can It Be Made Ahead?
This recipe takes 10 minutes to execute if you don't pre-soak the oats in milk.
However, if you enjoy the rich creamy texture that this step offers, but haven't planned 30 minutes in advance to make this happen, then you can definitely make this ahead of time.
Batch Cook
The recipe below makes one serving. It can easily be doubled or tripled and saved in the fridge for later consumption.
Storage
Once blended, the oatmeal avocado smoothie can keep in the fridge for 2-3 days. I would recommend re-blending the mixture with ice right before consumption to obtain a fresh, chilly texture.
Freezing premade avocado and oats smoothie is also an option. It can be stored for up to 3 months in the freezer. Once defrosted, just stir and enjoy. I recommend defrosting in the fridge or at room temperature, as microwaving doesn't lead to great results.
Other Oatmeal Recipes
Protein baked oats, low sodium oatmeal, vegan protein oatmeal, smoothie to lower cholesterol, overnight oat bran, pecan pie overnight oats, turmeric energy balls, low sodium pancakes, list of Registered Dietitian approved oatmeal recipes, a list of Registered Dietitian approved oat bran recipes, pumpkin protein balls, turmeric oatmeal and blueberry cheesecake overnight oats.
Final Thoughts
If you are looking for a quick and tasty solution to slow digestion, maintain satiety and also nourish your body, try this filling and healthy smoothie today!
Don't have time to make it today? Pin it for future meal planning.


Chocolate Avocado Weight Loss Smoothie
If you want to meet your weight loss goals with a filling breakfast or snack, this is the smoothie for you. It's packed with fiber, healthy fats and will keep you full for hours.
Ingredients
4

tbsp

large flake oats

1

cup

soy milk

1

banana

frozen

½

avocado

1

tbsp

peanut butter

natural

1

tsp

cocoa powder
Instructions
*Optional step* soak the oats in the cup of milk 30 mins before making the smoothie.

Add all ingredients into a blender and pulse until completely smooth. If more liquid is needed, add a tbsp of milk at a time until desired consistency is achieved.

Serve while cold and enjoy!
Notes
If you choose the optional step to soak the oats in the cup of milk 30 mins before making the smoothie, it will result in the creamiest texture.
Use less liquid to make a smoothie bowl.
Naturally sweeten smoothie by adding 2 dates. 
Nutrition
Calories:
561
kcal
Carbohydrates:
64
g
Protein:
17
g
Fat:
30
g
Saturated Fat:
5
g
Polyunsaturated Fat:
7
g
Monounsaturated Fat:
15
g
Sodium:
197
mg
Potassium:
1435
mg
Fiber:
14
g
Sugar:
23
g
Vitamin A:
1150
IU
Vitamin C:
37
mg
Calcium:
370
mg
Iron:
3
mg