These pumpkin protein balls are delicious no-bake treats, contain NO PROTEIN POWDER, and come together in 5 minutes. This easy recipe is a fantastic snack or dessert to improve your heart health.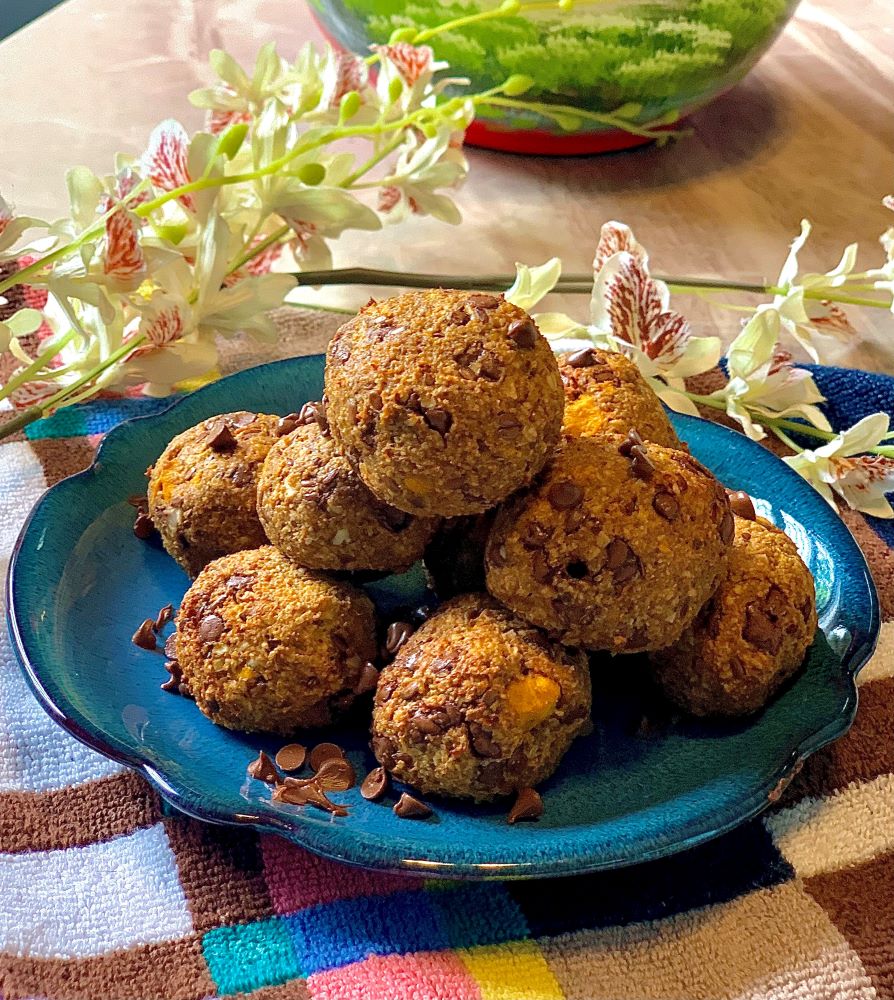 Recipe by Wesley Mai, Ryerson University Nutrition Student. The article was written by Veronica Rouse, MAN, RD, CDE.
Pin It Now & Make It Later
Why Make Pumpkin Protein Balls?
This healthy recipe can be a dessert or snack. They:
are quick to put together (takes less than 10 minutes!)
use only one bowl (very little mess)
require no chopping (no knife or cutting board needed)
are a no-bake recipe (great for summer cooking!),
are grab and go (a fantastic way to reduce your processed snack intake)
have endless variations (customize it to your palate!)
Are Pumpkin Spice Protein Balls Heart Healthy?
This recipe offers:
4 grams of protein
3 grams of fiber
Which makes it a fantastic well-balanced snack, or a healthy dessert to satisfy that sweet tooth.
Almond butter contains significant amounts of monounsaturated fatty acids or healthy fats. Monounsaturated fats are found in food like olive oil. These types of fats can raise your "healthy" HDL cholesterol and lower your "lousy" LDL cholesterol.
Almond butter is also rich in Vitamin E, and when vitamin E is consumed in food it acts as an antioxidant that can help stop plaque buildup in the arteries.
Flaxseed is rich in soluble fiber which helps to reduce "bad" LDL cholesterol, but also high in insoluble fiber to help with satiety, constipation, and weight management. Flaxseed is a great source of omega 3, as well as an antioxidant called ligan. Read more about the benefits of flaxseed and linseed and how they can unclog arteries.
Pumpkin is a great source of fiber, Vitamin A, Vitamin E, magnesium, and potassium which helps lower not only your cholesterol levels but your blood pressure levels too. These no-bake energy balls are not just for pumpkin season, but can be made year round!
Oats are full of satiating insoluble fiber, but also beta-glucan fiber which is a form of soluble fiber that helps lower LDL cholesterol levels. Be sure to use rolled oats or old fashioned oats (instead of quick oats) for this recipe as they are less processed and offer more fiber. Oats are known to help lower blood pressure.
The best part, this recipe contains NO protein powder.  Even though a lot of my clients aren't consuming enough protein at breakfast or snack time, I don't like recommending protein powders due to their grainy texture, and additives like sugar or fillers.  This recipe is a testament to my nutritional philosophy of consuming whole foods first. 


Ingredients In Healthy Pumpkin Protein Balls
There are only 5 main ingredients needed for this recipe:
almond butter
pumpkin puree
rolled oats
ground flaxseed
honey
Here are some tips when purchasing these ingredients:
Consuming trans fat can increase your "bad" LDL cholesterol levels and reduce your "good" HDL cholesterol. In order to eat as little trans fat as possible be sure to purchase natural nut butter, where the only ingredient is the nut.
For example, when purchasing almond butter, the only ingredient on the list should be "almonds." This goes the same for peanut butter, cashew butter, and so on.
Be sure to purchase ground flaxseed instead of whole. Click here to learn more about linseed and flaxseed.
Don't purchase canned pumpkin pie mix – this is an easy mistake! Instead, be sure to buy real pumpkin puree. The can should read "pure pumpkin puree" or you can check the ingredient list to ensure the only ingredient is pumpkin. This product is typically found in the baking section of the supermarket.
The other ingredients used to flavor these pumpkin pie protein balls include:
ginger
nutmeg
salt
chocolate chips
These spices can be switched out for other flavors of preference.
How To Make Healthy Pumpkin Protein Balls
This recipe comes together like a cookie recipe, without the baking! First, you mix the dry ingredients in a large bowl, then you add the wet ingredients, and finish by folding in the chocolate chips.
No need for a fancy mixer or food processor here, it can be done with a simple wooden spoon.
Once everything is mixed, it's time to form the balls. This is the most labor intensive step, but it is over in 5 minutes or less. Don't get overwhelmed with this step. The honey helps everything stick together nicely so that the balls are uber easy to form. The only downside is your hands WILL get messy. Nothing a little water can't fix.
The ball rolling is essential because they make this snack super easy to grab and go when you are in a hurry or reaching for a processed snack. If you really want to skip this step, try pressing it in a baking dish and cutting them into bars as an alternative.
You can try chilling the dough before rolling it into balls. This may make it less messy to handle, but I found rolling them at room temperature allows them to stick together well enough without waiting 30 minutes for the mixture to chill. This also means you can consume them right away, the best part of no-bake recipes (in my opinion!).
Pumpkin Protein Balls Recipe Video
Need help understanding how to roll the mixture into balls? Watch the video here.
When Should I Eat Pumpkin Protein Balls
These pumpkin spice protein balls are a delicious after-meal dessert or an easy snack between meals.
Eating high fiber, whole grain snacks with a punch of protein is important to ensure you are eating enough nutrients to support your heart health.
These pumpkin balls are a much better option than grabbing a granola bar for a snack and they will also keep you full between meals, to reduce the likelihood you will overeat at your next meal. Honestly, they are one of my favorite snacks.
If you eat these pumpkin pie protein balls as a dessert, they have minimal sugar, yet still, satisfy the sweet craving. They are basically a (healthy) pumpkin chocolate chip cookie. They are also full of fiber which helps prevent a spike in blood sugar.
You can even eat them for breakfast- although I would up the serving to two or three balls to ensure it will keep you full until snack time. Pair it with a yogurt or smoothie bowl to create a balanced meal.
Batch Cook To Save Time
How To Store Pumpkin Protein Balls
In order to keep these pumpkin protein balls fresh, store them in an airtight container and leave it in the refrigerator for 5 days (but if your house is anything like mine, they won't last more than a day).
They are also freezer friendly! So if you want to double the recipe to make extra to freeze, I'd recommend it. They can be stored in the freezer for up to 3 months. For the best flavor, I would recommend allowing the pumpkin spice protein balls to reach room temperature before serving. I store mine in a Ziploc bag which helps maintain their texture.
Variations Of Pumpkin Protein Balls
Vegan
This recipe is not vegan because it includes honey. You can switch out honey for pure maple syrup to obtain the same sweet taste, but the balls will be a tad stickier than if you were using honey.
Additionally, it's important to note that not all chocolate chips are vegan. Always check the ingredient list to be sure they don't include milk-based additives.
Gluten Free
All ingredients are naturally gluten free. Be sure to check the nutrition label of the oats to ensure they are certified gluten free to guarantee these turn out to be gluten free protein balls.
Switch Up The Flavors
As mentioned above, you can switch out the spices for your preference. Other sweet spices that go well with pumpkin are:
cinnamon
cloves
vanilla extract
If you are looking for other savory spices, I'd try
cayenne
turmeric
cumin
rosemary
thyme
As for the mini chocolate chips, they have been added here to make this recipe more of a sweet treat. You can use dark chocolate chips here if you prefer. If you are looking for other heart-healthy add-ins try:
chopped dried apricots
chopped dried figs
chopped dried prunes
as these dried fruits offer soluble fiber, and soluble fiber helps lower your "bad" LDL cholesterol levels.
Or add more omega 3 fatty acids by mixing in:
Finally, you can replace the creamy almond butter with any nut or seed butter that you have in your fridge.
Other Breakfast Recipes
Other Oat Recipes
Or check out other oatmeal recipes which include: low sodium oatmeal, vegan protein oatmeal, chocolate avocado smoothie, smoothie to lower cholesterol, overnight oat bran, pecan pie overnight oats, pb2 overnight oats , turmeric energy balls, low sodium pancakes, pumpkin protein balls, turmeric oatmeal, oat water and blueberry cheesecake overnight oats.
And be sure to check out the list of Registered Dietitian approved oatmeal recipes and a list of Registered Dietitian approved oat bran recipes.
The Pumpkin Protein Ball Recipe
If you try this deliciously satisfying and healthy snack, can you please take a minute to rate the recipe or leave a comment? This helps increase my visibility so I can continue to make great content for you to enjoy! Thanks in advance.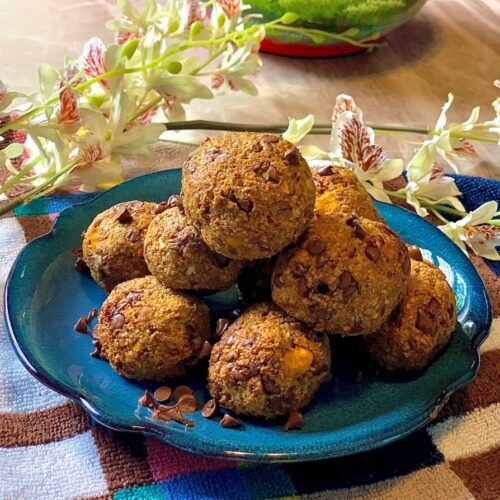 No Bake Pumpkin Protein Balls
These pumpkin protein balls are delicious no-bake treats, contain NO protein powder, and come together in 5 minutes.
Equipment
1 Mixing Bowl

1 Wooden Spoon
Ingredients
½

cup

almond butter

1

cup

rolled oats

3

tbsp

flaxseed

ground

¼

cup

pumpkin puree    

3

tbsp

honey

1

tsp

cinnamon

½

tsp

ginger

½

tsp

nutmeg

⅛

tsp

salt

3

tbsp

chocolate chips
Instructions
In a large bowl, add the oats, flaxseed, cinnamon, ginger, nutmeg, and salt. Use a wooden spoon to mix well.

Add the almond butter, pumpkin puree, and honey. Mix until all the ingredients are combined.

Add in the chocolate chips. Roll the mixture into small balls. Serve immediately or store in a refrigerator for up to 5 days. Enjoy!
Nutrition
Calories:
132
kcal
Carbohydrates:
13
g
Protein:
4
g
Fat:
8
g
Saturated Fat:
1
g
Polyunsaturated Fat:
2
g
Monounsaturated Fat:
4
g
Cholesterol:
1
mg
Sodium:
27
mg
Potassium:
138
mg
Fiber:
3
g
Sugar:
6
g
Vitamin A:
795
IU
Vitamin C:
1
mg
Calcium:
50
mg
Iron:
1
mg