This easy and delicious overnight oat bran is high in soluble fiber. It can help lower your cholesterol and manage your weight. This recipe offers lots of opportunities for variations and flavors.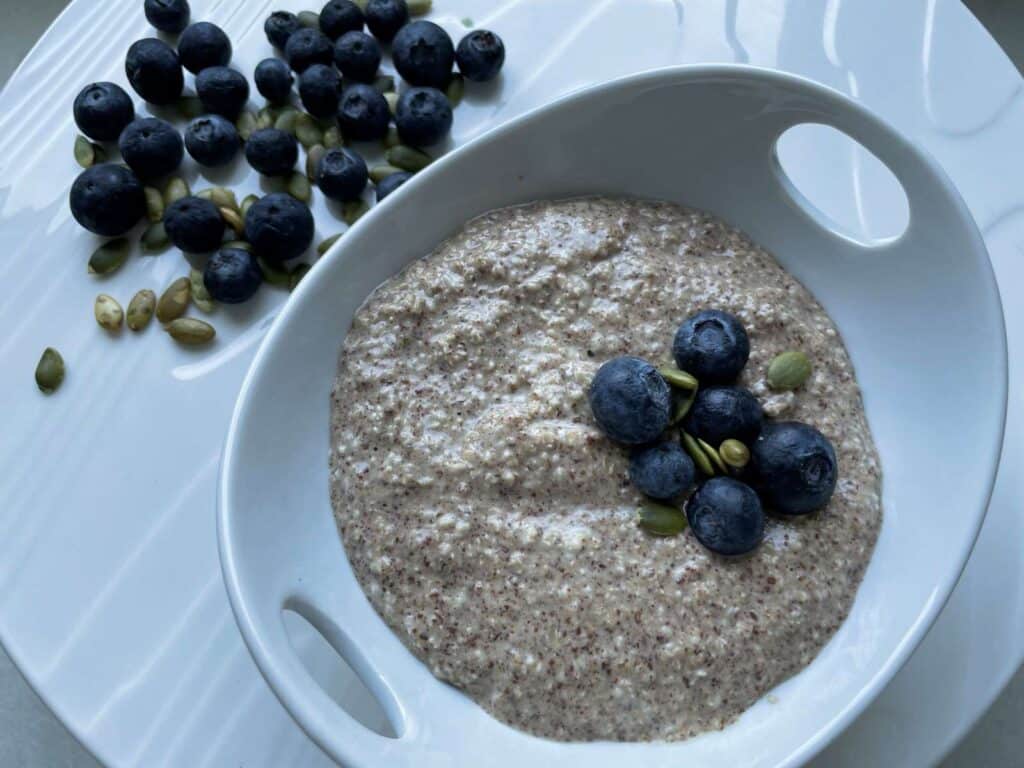 Why Make Oat Bran Overnight Oats
great meal prep addition
saves you time in the morning
works well for people with a busy schedule
great to try if you typically skip breakfast due to lack of time
full of fiber – you will be full until lunch!
more cholesterol-lowering nutrients than oatmeal
unlimited nutrient-dense toppings
Oat Bran vs Oatmeal
Good news – if you like oatmeal, you will like oat bran. Their taste is very similar. However, they do differ in texture as oat bran is smoother and oatmeal has a chewier texture.
Oat bran is slightly superior to oatmeal nutritionally. When you eat rolled oats, you consume the entire oat groat in flattened form. However, oat bran is made up of only the outer shell of the oat (this is actually where most of the nutrition lies).
As you can see in the table below, oat bran is higher in fiber, and protein and is lower in calories.
| | | |
| --- | --- | --- |
| | Oat bran | Oatmeal |
| Serving Size | 1/2 cup (40 g) | 1/2 cup (40 g) |
| Dietary Fiber | 6 g | 4 g |
| Soluble Fiber | 3 g | 2 g |
| Protein | 7 g | 5 g |
Table 1: Key nutritional differences between oat bran and oatmeal
Oat Bran vs Bran Flakes
Bran cereal like bran flakes is different than oat bran because bran flakes are processed, which means they are stripped of many good nutrients like fiber, vitamins, and minerals.
Difference Between Oat Bran Porridge And Overnight Oat Bran
Both oat bran porridge and oat bran overnight oats can be served in a similar way. These dishes are usually served for breakfast with fruits, nuts, and seeds.
However, unlike oat bran porridge, overnight oats with oat bran do not involve any cooking. Instead of boiling the oat bran on the stovetop, this overnight oat bran recipe is mixed with milk, and left overnight in the fridge, allowing the oat bran to hydrate.
Thus the difference is that oat bran porridge requires cooking, while overnight oats with oat bran absorbs liquid overnight to soften and make it edible. This hydration is the cooking process and (bonus!) it also assists digestion by reducing phytic acid. If you have had problems digesting oat bran in the past, soaking them overnight may be a good solution.
Oat Bran Porridge Ingredients
This recipe is full of foods that will unclog your arteries:
oat bran – full of cholesterol-lowering soluble fiber
soy milk – a rich source of cholesterol-lowering plant protein
almond butter- cholesterol-lowering unsaturated fatty acids
hemp seeds – a great source of plant protein and omega 3 fatty acids
How To Make Overnight Oat Bran Recipe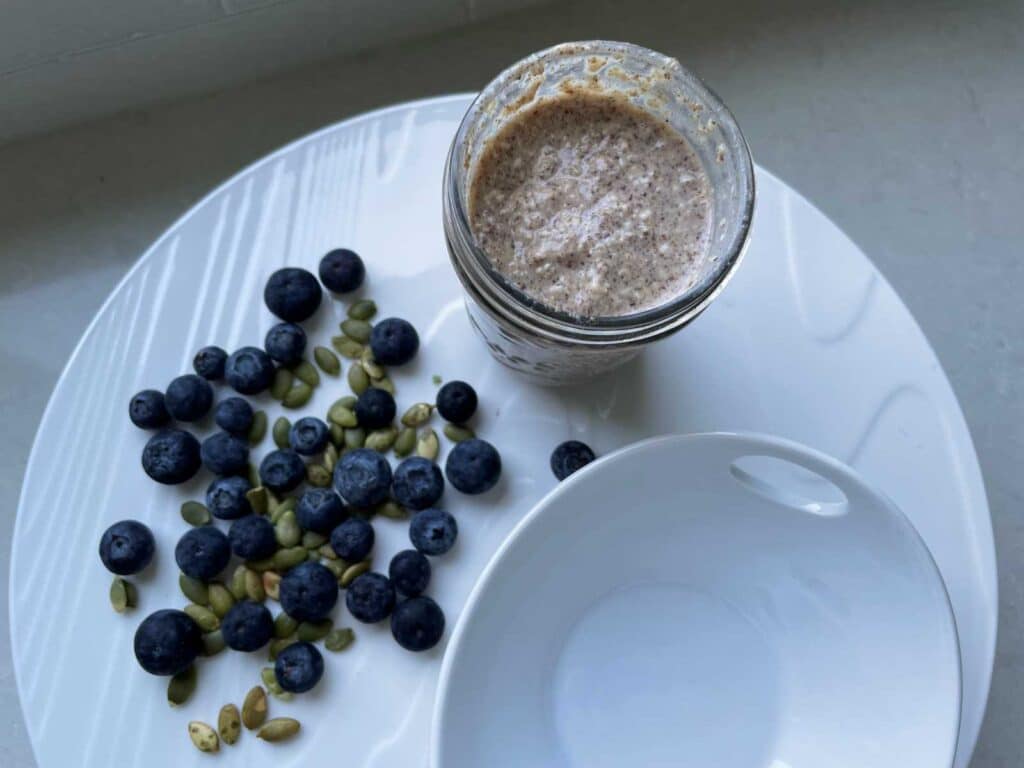 The most important part of this recipe is the ratio of oat bran to milk to achieve an optimal thickness and consistency. If you like your oat bran overnight thinner… add more milk, and if you like it thicker … add more oat bran.
Once you achieve your desired texture, the only limit on this overnight oats with bran is your imagination!
Please note that oat bran absorbs more water than oatmeal. So ratios may be different than traditional overnight oats.
Basic Steps
Into a jar, add your oat bran, milk, and any optional toppings.
Shake or stir.
Pop a lid on the jar and place it in the fridge overnight.
Other Expert Tips
Eat them cold or warm.
Lasts 3-5 days in the fridge depending on the mix-ins you use.
Video Tutorial
Recipe Variations
I love that this recipe is so versatile. While the recipe as listed is delicious and jam packed with heart-healthy nutrition, you might get bored if you follow the same recipe every time you eat it. You can easily add ingredients to this oat bran for variation.
Try These Add-ins
fruits – fresh, frozen, dried
nuts or nut butter – like peanut butter
seeds – chia seeds
flavor – chocolate chips or chia jam
Some of my favorites are peanut butter overnight oat bran or chocolate overnight oat bran.
Vegan
Vegan as is!
Gluten-Free
All ingredients are naturally gluten-free, but you will need to ensure that your oat brans have been processed and packaged in a gluten-free facility to ensure there is no cross-contamination.
What Else Can You Make With Oat Bran
mix into your muffins or pancakes
hot cereal (one part bran, 2 parts hot water)
add it to your yogurt parfait
blend into smoothies
replace breadcrumbs in meatballs
Other High Fiber Recipes
Other Oatmeal Recipes
Low sodium oatmeal, vegan protein oatmeal, pecan pie overnight oats, turmeric energy balls, low sodium pancakes, pumpkin protein balls, turmeric oatmeal, blueberry cheesecake overnight oats or a list of Registered Dietitian approved oatmeal recipes and oat bran recipes.
Oat Bran Breakfast Recipe
Bon Appétit! Follow the instructions below for our delicious oat bran breakfast recipe. Enjoy and remember that getting soluble fiber doesn't have to be boring!
Also, one quick request: if you love how this recipe looks or tastes, please leave me a 5-star rating and a nice comment. Ratings help more people find my recipes which helps me keep providing them! Thank you!
Overnight Oat Bran
This easy and delicious overnight oat bran is a rich source of soluble fiber that can help you lower your cholesterol and manage your weight.
Ingredients
⅓

cup

oat bran

⅔

cup

soy milk

1

tbsp

almond butter

2

tbsp

hemp seed

½

tsp

cinnamon
Instructions
Add your oat bran, milk, and any optional toppings into a jar.

Pop a lid on the jar and place it in the fridge overnight.
Nutrition
Calories:
443
kcal
Carbohydrates:
35
g
Protein:
28
g
Fat:
29
g
Saturated Fat:
3
g
Polyunsaturated Fat:
16
g
Monounsaturated Fat:
9
g
Trans Fat:
1
g
Cholesterol:
1
mg
Sodium:
73
mg
Potassium:
650
mg
Fiber:
10
g
Sugar:
3
g
Vitamin A:
159
IU
Vitamin C:
1
mg
Calcium:
430
mg
Iron:
7
mg