Did you know that blueberry cheesecake overnight oats is a healthy dessert to have for breakfast?
Yes, this sweet, creamy, crunchy treat hits the spot when you want to indulge in something sweet. And the best part is that it's ready when you wake up!
This berry cheesecake overnight oats recipe is full of heart-healthy ingredients to unclog your arteries, lower your blood pressure and feed your brain.
Pin It Now & Make It Later
Why Make Blueberry Cheesecake Overnight Oats?
This cheesecake porridge is
full of fiber
rich in protein
keeps you full until lunch
perfect grab-and-go meal for busy mornings
adds flavor and texture to traditional overnight oats
has more nutrients than most overnight oat recipes
full of unlimited nutrient-dense variations
Nutrition
This oatmeal cheesecake recipe is jam-packed with nutrition. One serving has:
16 grams of protein
12 grams of fiber (48% of the daily value for women, and 32% of the daily value for men)
436 mg potassium (9% of potassium needed for the day)
194 mg of calcium (19% of calcium daily value for adults between 19-51 years old)
and it's low in sodium and cholesterol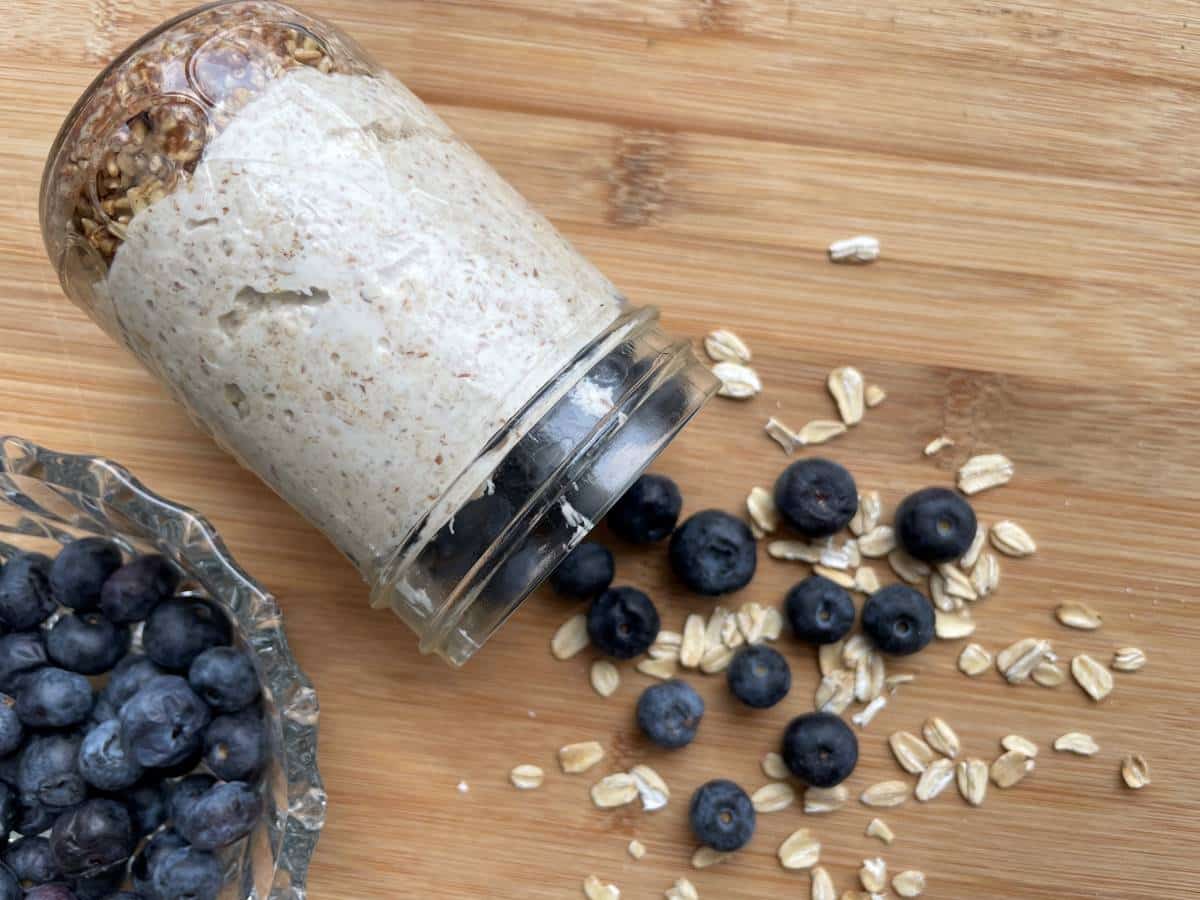 What Exactly Are Overnight Oats?
Overnight oats are a no-cook method of making oatmeal. Instead of heating up the oatmeal on the stove or in the microwave, the liquid in the recipe softens or 'cooks' the oats overnight, so it's ready to eat the next morning.
Are Steel Cut Oats Better For You Than Rolled Oats?
Check out the table below to see that steel-cut oats and rolled oats are very similar nutritionally, but steel-cut oats offer more fiber, and thus keep you full longer.
The difference is that rolled oats are the entire oat groat in flattened form, and steel-cut oats are the entire groat without being flattened. Thus, steel-cut oats are less processed, which results in a slightly lower glycemic index than rolled oats. Like steel cut oats, oat bran is another food that has a low glycemic index, and is high in fiber..
The Glycemic index is a scale that ranks food by how quickly it raises blood sugar after it has been eaten. The lower the ranking means the body digests and absorbs the food more slowly, leading to a slower rise in blood sugar.
Thus, steel-cut oats can provide a slower release of sugar into the blood which can help manage blood sugar. For this reason, steel-cut oats may be the best choice for those looking for better control of their blood sugar.
As you can see in the table below, steel-cut oats are higher in fiber and have a lower glycemic index.
| | | |
| --- | --- | --- |
| | Steel Cut Oats | Rolled Oats Or Old Fashioned Oats |
| Serving Size | 1/2 cup (40 g) | 1/2 cup (40 g) |
| Dietary Fiber | 6 g | 5 g |
| Glycemic Index | 52 | 55 |
Table 1: Key nutritional differences between steel-cut oats and rolled oats (1, 2)
This oatmeal with cream cheese contains both rolled oats and steel-cut oats for lots of fiber, nutrients, and ease of cooking.
Steel-cut oats provide the chewy textured crust, and the rolled oats blend up nicely to offer the cheesecake consistency of this recipe.
Ingredients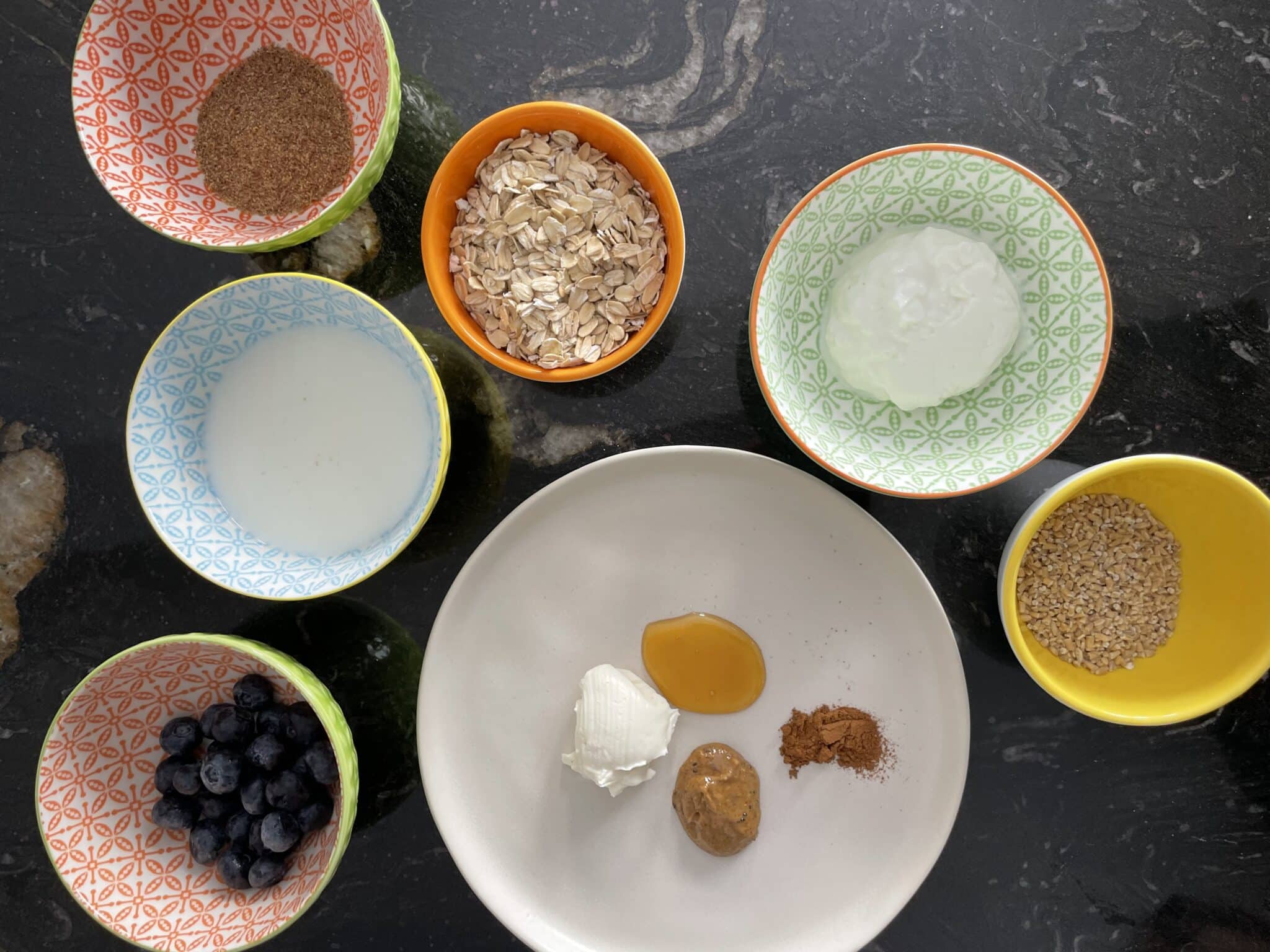 Oats – Both steel-cut and rolled oats are used in this recipe. Steel cuts are the least processed oats used for a crunchy crust to your cheesecake porridge. Rolled oats make up the largest part of this recipe as it acts as the cheesecake filling.
Soy milk – I prefer this non-dairy beverage of its high protein content, and soy isoflavones for lowering cholesterol, but any milk beverage will work here
Flaxseed – for more satiating soluble fiber than can lower cholesterol. It also helps thicken up the cheesecake oat mixture.
Unsweetened Greek yogurt – for added protein and the tangy cheesecake flavor
Cream cheese – By incorporating cream cheese in porridge, it adds a thickness and specific taste that isn't easily replicable.
Cinnamon, Honey and Vanilla – For flavor. You can use maple syrup or add lemon to switch it up.
Blueberries – fresh or frozen blueberries would work here
For this berry cheesecake overnight oats recipe, the crust is made from steel-cut oats which is so much healthier than a crumbled cookie and just as chewy.


Frequently Asked Questions
What Are Steel Cut Oats Good For?
Steel-cut oats are the texture of a grain like barley or rice. They are less processed and require a lot more cooking time to soften. Because they are less processed, steel-cut oats offer more protein, fiber, and minerals than other processed oats which can benefit heart health, lower cholesterol, reduce blood pressure, can help with weight loss, blood sugar management, and digestion.
Is Overnight Oats A Healthy Snack?
Yes, overnight oats are a healthy snack because it has a great balance of protein, fat, and carbohydrates. It nourishes your body and keeps you full until your next meal.
What Is the Secret To Overnight Oats?
The secret to overnight oats is perfecting the liquid-to-oats ratio. Too much liquid makes the overnight oats soggy and not enough liquid makes the oats chewy.
How To Make
1) First make the crust. Simply combine the steel-cut oats, honey, cinnamon, almond butter, and soy milk in a small bowl. Then make a layer in your container of choice.
2) Then it's time to make the blended oats mixture.
The biggest mistake I see when it comes to making overnight oats is the fact that the oats are not stirred well enough. If the oats and milk are not mixed thoroughly, the oats won't be able to soften overnight which leads to an "uncooked" chewy oatmeal texture.
So this time, I decided to blend my oats with the blender. Did it ever do the trick.
So to make the oat cheesecake mixture, place the remaining ingredients into the blender, and mix away. This results in a thoroughly combined oatmeal cheesecake end product. You don't want to miss this step!
Layer this oatmeal with cream cheese over the crust you created in the first step.
3) Finally top with blueberries. The blueberries, or any berry, can be frozen or fresh, the choice is yours!
4) Cover for at least 2 hours in the fridge for the flavors to mix and oatmeal to cook, but waiting overnight is best.
5) In the morning top with more berries, and it can be warmed up if desired.
Expert tip – when eating them, transfer them to a separate bowl in order to be sure a little bit of crust, blueberries, oatmeal and cream cheese are all on the same scoop for an ultimate flavor burst.
Storage
You can usually store these overnight oats for up to 3 days in the fridge. I don't recommend freezing them.
Video Tutorial
Recipe Variations
lemon zest and lemon juice would transform this recipe into a lemon blueberry cheesecake overnight oats recipe
adding other berries would make this a berry cheesecake overnight oats dish
you could add chia seeds for more fiber
add hemp seed for more protein
switch up the nut butter
add crunch with coconut flakes
use protein powder if desired
and if you don't like soy milk, try almond milk
Vegan
This berry overnight oat cheesecake recipe is not vegan. Switch out the dairy yogurt for coconut yogurt, try maple syrup instead of honey and omit the cream cheese to make this recipe vegan.
Gluten Free
All ingredients are naturally gluten-free, but you will need to ensure that the oat products have been processed and packaged in a gluten-free facility to ensure there is no cross-contamination.
What Else Can You Make With Steel Cut Oats
Add it to your cookie-baking mix
Make warm porridge with it
Other Oat Recipes
… low sodium oatmeal, vegan protein oatmeal, smoothie to lower cholesterol, pecan pie overnight oats, turmeric energy balls,pb2 overnight oats, low sodium pancakes, pumpkin protein balls, turmeric oatmeal, or list of Registered Dietitian approved oatmeal recipes and oat bran recipes.
Final Thoughts
Ready to try this satiating healthy blueberry cheesecake overnight oat recipe? I'd love to hear what you think in the comments below!


Recipe by Marissa Frodsham, Nutrition Student. Article was written by Veronica Rouse, MAN, RD, CDE.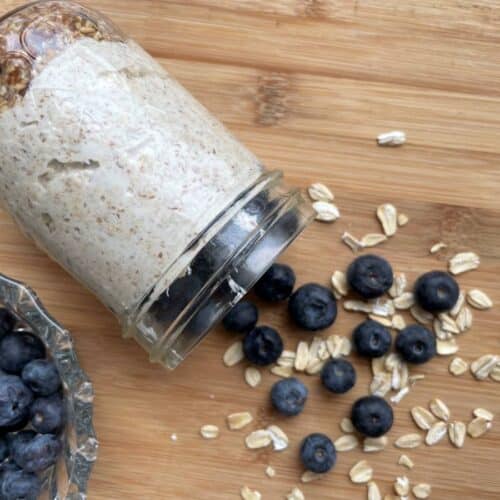 Blueberry Cheesecake Overnight Oats
This crunchy and sweet blueberry cheesecake overnight oats recipe is full of heart-healthy ingredients to feed your heart and brain.
Ingredients
For The Crust
2

tbsp

steel cut oats

½

tsp

honey

¼

tsp

cinnamon

1

tsp

almond butter

1

tsp

soy milk
For Oatmeal Cheesecake Layer
½

cup

rolled oats

¼

cup

soy milk

1

tbsp

flaxseed

1

tsp

honey

½

tsp

vanilla

¼

cup

plain unsweetened Greek Yogurt

1

tbsp

cream cheese

½

cup

blueberries
Instructions
In a small bowl, make your 'crust'. Combine steel cut oats, honey, cinnamon, almond butter, and almond milk. Mix with a fork or spoon until combined and in a small jar or container press the mixture along the bottom.

In a blender, prepare your oatmeal cheesecake mixture: combine oats, milk, flax, honey, vanilla, yogurt, and cream cheese and blend until smooth.

Pour the oat mixture over top of your crust, and top with blueberries.

Allow it to sit in the fridge to thicken for up to 1 hour, or overnight, and enjoy!
Nutrition
Calories:
470
kcal
Carbohydrates:
72
g
Protein:
16
g
Fat:
14
g
Saturated Fat:
3
g
Polyunsaturated Fat:
4
g
Monounsaturated Fat:
4
g
Cholesterol:
8
mg
Sodium:
81
mg
Potassium:
436
mg
Fiber:
12
g
Sugar:
18
g
Vitamin A:
124
IU
Vitamin C:
7
mg
Calcium:
194
mg
Iron:
4
mg