Check out these low sodium cookbooks that are perfect for helping you transition to a nutritious, low sodium diet!
If you are looking to make this way of eating part of your lifestyle, it helps to have some tested tips and tricks from books written by experts.
These low sodium diet cookbooks will help make the transition to the eating style much easier. All books listed below were written by a Registered Dietitian, your nutrition expert when it comes to healthy eating.
*Please note that this post contains clearly identified affiliate links. If you click on these links and choose to make a purchase, I may receive a commission (at no cost to you). As an Amazon Associate, I earn from qualifying purchases.
What Is A Low Sodium Diet?
A low sodium diet is a dietary approach that restricts the intake of sodium.
Sodium is a mineral found in many foods as it is a major component of salt (which is made up of two minerals – sodium and chloride).
The recommended daily intake of sodium for most adults is 2,300 milligrams (mg) or less, but many health experts suggest that people with certain health conditions, such as high blood pressure or heart disease, should aim for an even lower intake of 1,500 mg or less per day.
How Do You Eat A Low Sodium Diet?
Avoid or limit high-sodium foods such as processed or packaged foods
Limit fast food
Choose low sodium canned items like vegetables, soups, and sauces
Reduce foods that are naturally high in sodium, such as soy sauce, pickles, and olive
Choose fresh fruits and vegetables, lean proteins and whole grains
Read food labels
Look for terms "low sodium" or "no added salt" on the front of the package
Purchase a low sodium diet cookbook
Why Eat A Low Sodium Diet?
A low sodium diet can have several benefits for overall health and well-being. Such as:
Lowered Blood Pressure: Sodium can increase blood pressure, so reducing sodium intake can help to lower blood pressure levels. High blood pressure can increase the risk of heart disease, stroke, and kidney disease
Reduced Risk of Heart Disease: A low sodium diet can also help to reduce the risk of heart disease.
Improved Kidney Function: A low sodium diet can also improve kidney function in people with kidney disease. Sodium can cause excess fluid buildup, which can worsen kidney disease. A low sodium diet can help to reduce fluid buildup and improve kidney function.
Better Control of Fluid Balance: A low sodium diet can also help to maintain fluid balance in the body. Excess sodium can cause the body to retain water, leading to bloating and swelling. By reducing sodium intake, fluid balance can be better regulated.
Reduced Risk of Osteoporosis: High sodium intake has been linked to increased calcium excretion, which can lead to a loss of bone density over time. A low sodium diet may help to reduce the risk of osteoporosis by reducing calcium loss.
Improved Overall Health: A low sodium diet can help to promote overall health and well-being by encouraging the consumption of nutrient-dense foods. A diet that is low in sodium but high in fruits, vegetables, whole grains, and lean proteins can provide essential vitamins and minerals while reducing the risk of chronic diseases.
It is important to note that everyone's sodium needs may vary depending on age, health status, and other factors. It's best to consult a healthcare provider or a registered dietitian for personalized recommendations on sodium intake.
Best Low Sodium Cookbooks and Low Sodium Diet Books
By Nicole R. Morrissey MS RD CDE
This low salt cookbook contains 130 easy slow cooker recipes that require no pre-cooking. If you need to cook low-sodium meals fast, this is for you.
This book is for you if you only have 15 minutes to prep dinner.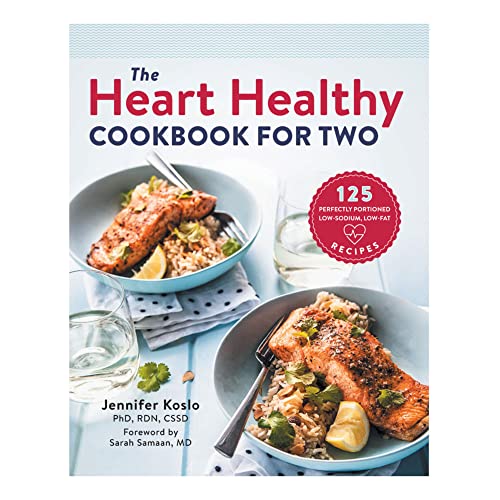 By Jennifer Koslo PhD RD CSSD
Providing the exact portions of heart healthy foods, and a four week meal plan provides you with all of the information you need to get started on low sodium cooking.
This book is for you if you find yourself cooking for one or two people most of the time and are searching for a low sodium recipe book!
By Cheryl Strachan, RD
This low sodium cookbook includes heart-healthy meals, which have reasonable sodium amounts.
This book is for you if you are interested in easy recipes that can be executed with limited kitchen skills. Cheryl uses everyday common ingredients and most ingredients have just five ingredients or less!
4. American Heart Association Instant and Healthy: 100 Low-Fuss, High-Flavor Recipes for Your Pressure Cooker, Multicooker and Instant Pot®: A Cookbook Paperback
By The American Heart Association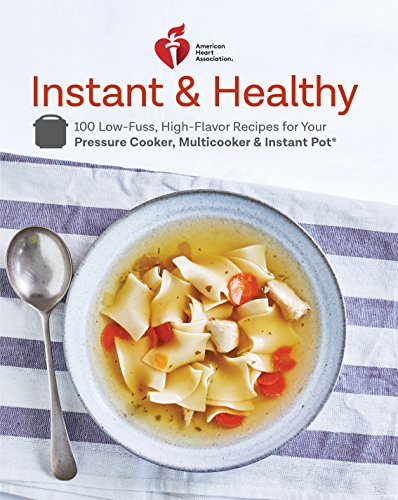 Ideas of low sodium meals that can be executed in the Instant Pot. Everything from appetizers to desserts, there is something for everyone in this low sodium recipe book!
This book is for you if you have a pressure cooker and want to put it to use.
By: Michelle Routhenstein MS RD CDE CDN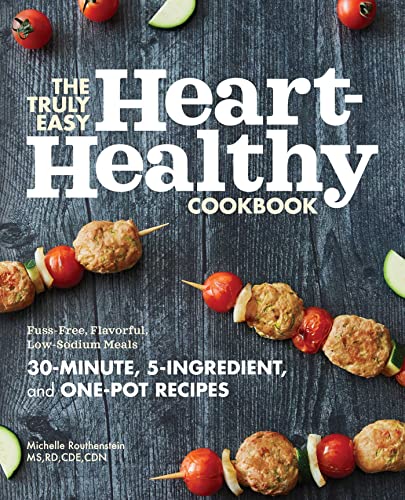 Michelle provides simple and fast recipes in this low salt cookbook, that follow a low sodium eating pattern without sacrificing flavor.
This book is for you if you are new to cooking, and need simple tasty meals to nourish yourself.
By The American Heart Association
A tried and true low sodium cookbook that has sold over 3000 copies which was recently updated to reflect the most current heart-healthy eating guidelines.
This book is for you if you've read their eight older editions and are looking for new recipes to add to your routine.
By Kim Larson RDN NBC-HWC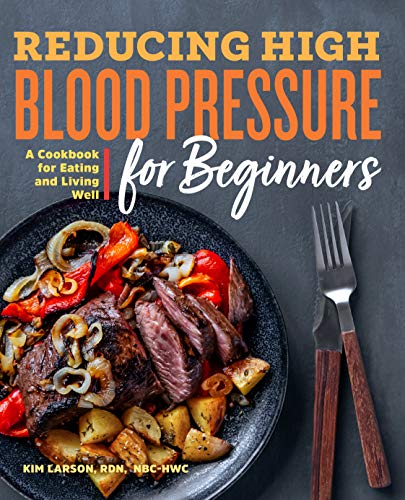 Learn how to lower high blood pressure with tasty food in this low sodium recipe book, written by a dietitian expert.
This book is for you if you were recently diagnosed with high blood pressure and don't know where to start on your low sodium eating journey.
By Andy De Santis RD MPH
If you have heard that your taste buds will adapt to low sodium eating – you are right! This low salt cookbook helps your taste buds ease into this new way of eating with a meal plan that reduces sodium week by week to help your taste buds adjust.
This book is for you if you want a 4 week done for you meal plan.
9. How to Eat a Low-Salt Diet: Tips and Tricks to Help You with Low-Sodium Shopping, Cooking, and Restaurants
By Jennifer Brannon MD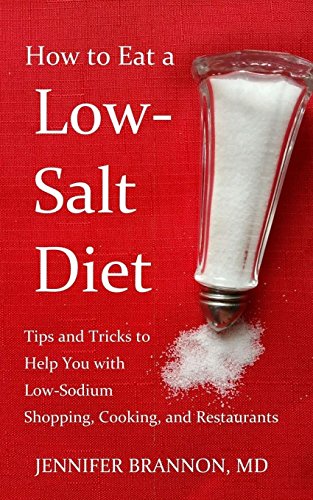 Need more information about how to show for low sodium foods, or practical ideas about what to order when eating away from the home. This book has it all.
This book is for you if you are intersted in learning how to choose low sodium foods.
By The American Heart Association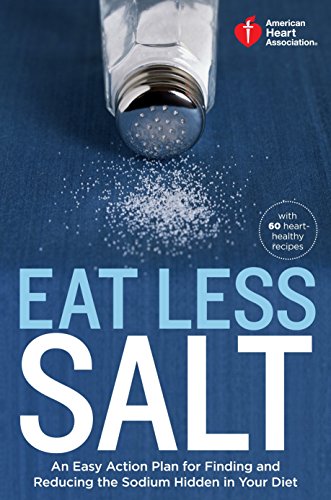 From learning how to read labels, to understanding which foods in your pantry are high in sodium. This low sodium cookbook covers a range of topics that will keep your sodium in check.
This book is for you if you want to learn more about low sodium eating AND have tasty low sodium recipes to try.
Final Thoughts
I hope these low sodium cookbooks help you get started on your low sodium eating journey. If you want more suggestions, try this list of the top DASH diet cookbooks.
Or these low sodium recipes: low sodium mayonnaise, low sodium breakfast ideas, low sodium instant pot recipes, low sodium hot chocolate, low sodium marinara sauce, low sodium pancakes, low sodium oatmeal recipes, low sodium salsa, low sodium hummus, low sodium taco seasoning, DASH diet smoothies, DASH diet desserts, DASH diet soups, tofu bolognese, beet mac and cheese… to name a few.