This low sodium taco seasoning is full of flavor, I promise you won't miss the salt!
For anyone reading a blog post on low-sodium recipes, I'm sure you are like me, where you've found store bought taco seasoning can be way too salty.
If tacos are a popular dish in your house (like mine!) I'm here to show you how to enjoy what you love without the extra sodium.
But this post not only discusses how to make your own no-salt taco seasoning but also how to determine if a premade taco seasoning is low in sodium.
*Please note that this post contains clearly identified affiliate links. If you click on these links and choose to make a purchase, I may receive a commission (at no cost to you). As an Amazon Associate, I earn from qualifying purchases.
Sodium and Health
Following a low-sodium diet is important to control blood pressure. Managing blood pressure can help with kidney disease and heart health.
Did you know the majority of North Americans' intake does not come from the salt shaker? Instead, about 70% of sodium that Americans are consuming comes from restaurants, prepackaged, and processed foods (1).
But it's hard to follow a low sodium diet when prepackaged products like taco seasoning are so high in salt.
Making your own spice mixes, like taco seasoning, is easier than you think! Plus, homemade no salt taco seasoning tastes better anyway.
Packaged Products
Herbs and spices are often recommended to individuals following a low-sodium diet to add flavor to your dishes without adding salt. However, you need to be careful about which pre-packaged spices you select.
If you purchase premade mixes, they often are a lot higher in sodium than you think. When I was researching this article, the average sodium content taco seasoning packages ranged from 360 mg to 560 mg per 2 teaspoons.
For someone on a low sodium diet of 1500 mg, that's 24 – 37% of your intake for the day in just taco seasoning! That's a lot of hidden salt.
It is often best if you can purchase individuals spices, and mix them yourself so you know exactly what you are getting.
Purchasing Tips
To avoid the high level of sodium in products, I encourage you to read the food label. And if it is difficult to find low sodium options in the grocery store, I've included a super easy recipe to make at home.
Reading Food Labels
Looking at the sodium content of products can be overwhelming with all the selection and fine print. So I tried to break it down to understand what to look for on each part of the label.
Nutrition Facts Table
This is the big nutrition table on the back of the package.
Since the main ingredients are spices, most taco seasoning nutrition facts tables are all going to be low in calories, fat, cholesterol, and fiber. So skip all of those.
The only nutrient you should really pay attention to is sodium. It varies widely! Be sure to choose the lowest sodium amount possible, ideally 5% or less DV (daily value).
Nutrition Claims
Nutrition claims are statements on the front of the package that describe an amount of nutrient in a food. I'll highlight some below. These are regulated claims and must follow certain definitions, but often they can be misleading to customers.
No Salt Added or No Added Salt
No added salt means the pacakge does not have salt added as an ingredient. That means you will not see salt on the ingredient list.
However, some ingredients in the pacakge may have sodium naturally present. Thus, the nutrition facts table could have a % of sodium per serving even if salt is not listed as an ingredeint.
This is a great nutrition claim to purchase since extra salt has not been used for flavor or preservation and these packages are often the lowest in sodium.
Low Sodium
Low sodium means the package must have less than 140 mg per serving . That's less than 5% of sodium per serving, and generally a good purchase.
You may see salt on the ingredient list here, but often it is in a reasonable amount if you are following a low-sodium diet.
40% Less Sodium
This is where I caution you. You may see claims where they say % less sodium. It could be 30%, 40%, 50%, etc. What this means is it has the percentage stated less sodium than the original product.
This does not mean low sodium. I repeat this does not mean the product is low in sodium. For example, I found this 40% less sodium claim on a taco season that still has 260 mg of sodium, or 11% of the daily value per serving.
Even though it has less sodium than the original product, does not mean it is a low-sodium product. I find this claim the most misleading when working with clients.
Ingredient List
This is also a great spot to look if you are watching your salt intake.
Looking for words like salt here will tell you if salt has been added to the mix, and if it has, it is probably best to avoid it.
Interestingly, I've even seen seasonings that list salt three times! I've seen some ingredient lists that say sodium chloride, salt, and sea salt. These ingredients are all forms of sodium!
Sometimes companies choose to add many different salt ingredients so the salt doesn't appear at the beginning of the ingredient list, which is very misleading to customers.
Other Ingredients
It's not just salt you want to avoid on the ingredient list, but look for other unwanted ingredients like silicon dioxide, maltodextrin, or inflammatory vegetable oils like soybean oil.
Making seasonings yourself is the best way to get a product you are happy with.
Flavors
When you make your own salt free taco seasoning, there are many flavors to choose from. Some are:
chili powder
onion powder
garlic powder
cumin
coriander
oregano
paprika
ground black pepper
chili peppers
chipotle
oregano
coriander
cinnamon
instant coffee
The beauty of making seasonings yourself is you can experiment and make them your own. If you are not at the chef stage and want to follow a tried and true recipe follow the recipe provided below!
Or if you are interested in buying premade low sodium spice mixes, check out my Epicure review for more information on their products.
Purchasing Tips
Warning! The main ingredient in chili powder isn't always chili. Usually, it's salt. So be careful as chili powder may have hidden sodium in it.
Do yourself a favor and check the chili powder to ensure it doesn't contain salt. There are some on the market that do not contain salt, but unfortunately some do and this can really trip people up.
Also, onion powder and garlic powder can be confused with onion salt and garlic salt. They look similar and often are purchased by mistake. Do not purchase onion salt or garlic salt, as these single spices have higher sodium amounts.


Why Make Low-Sodium Taco Seasoning
comes together in 5 minutes
saves you money
you can tailor it to your family's preference
it's better for your health
it can be made in advance and stored for 6 months
Most herbs and spices help with digestion, and absorption of nutrients, are anti-inflammatory and are rich in antioxidants. Start flavoring your dishes with herbs and spices instead of salt not just for your heart health, but overall health too.
How To Use Salt Free Taco Seasoning
Homemade low sodium taco seasoning doesn't just need to be used for tacos. You can also use it on:
fajitas
chili
burgers
taco pie
enchiladas
crockpot shredded chicken
dips
soups
pasta
roasted vegetables
The fun part about these recipes is you can use legumes, which is a food that not only unclogs your arteries but also lowers your blood pressure.
Check out these low sodium tortillas and low sodium salsa to use with this seasoning for a meal that's low in salt!
How To Make It
Once you have all of the seasonings measured, all you need to do is mix them all together! I told you it was easy.
You can mix them by shaking them, whisking them, or stirring them – whichever you choose.
Watch The Tutorial
Storage
This recipe makes a big batch. You can keep this mixture with all of your other spices, in a cool dark place like a drawer or cupboard.
Store it in a small sandwich bag or Tupperware container with a lid to keep the air and moisture out.
Add The Date
I encourage you to label your spices with the date, to make sure you are using the freshest ingredients since they offer the most flavor. This is very important when you aren't adding salt, as this will enhance the taste and flavor of your dishes.
A general rule of thumb is to throw out your spices after a year, but that's totally up to you and your palate.
Even if you don't throw them out, at least date them. This way if a dish isn't flavorful you know that perhaps it's not because there was no salt added to the recipe. Instead, it was actually a result of the dried herbs and spices in your cupboard being over a year old and lost flavor.
Frequently Asked Questions
Who Makes Low Sodium Taco Seasoning?
Two low sodium taco seasonings I recommend are from Epicure Low Salt Taco Seasoning or Marshalls Creek.
Does Taco Seasoning Have A Lot Of Sodium?
Taco seasoning can have a lot of sodium. Some packages have up to 37% of your recommended intake for the day if you are following a 1500 mg of sodium eating pattern.
When you pair taco shells, canned beans and condiments like salsa to regular taco seasoning, it quickly becomes a very high-sodium meal.
What Is The Best Seasoning For a Low Sodium Diet
The best seasoning for a low sodium diet is one that you make at home and can control the ingredients. This way you can adjust the spices, and salt to your palate, and it only takes a few minutes to execute.
Low Sodium Taco Seasoning Brands
I do not recommend low-salt spices like Mrs. Dash. Not only do they use a lot of fillers like maltodextrin, corn flour, yeast extract, etc. But they also contain potassium chloride as a flavor enhancer.
If you are living with heart, kidney, or liver disease, you may be on medications that can interact with potassium chloride. Thus it is much safer to avoid these products.
Other Low Sodium Recipes
I also have these recipes low sodium breakfast idea, low sodium lunch ideas, low sodium pasta recipes,low sodium bagels, low sodium tortillas, low sodium hot chocolate, low sodium marinara sauce, low sodium pancakes, low sodium oatmeal recipes, low sodium salsa, low sodium taco seasoning, DASH diet smoothies, DASH diet desserts, DASH diet soups, tofu bolognese, beet mac and cheese… to name a few.
Or check out these low sodium cookbooks and DASH diet cookbooks for inspiration.
Blog post written by Veronica Rouse, RD, MAN, CDE, and recipe developed by Marissa Frodsham, Nutrition Student.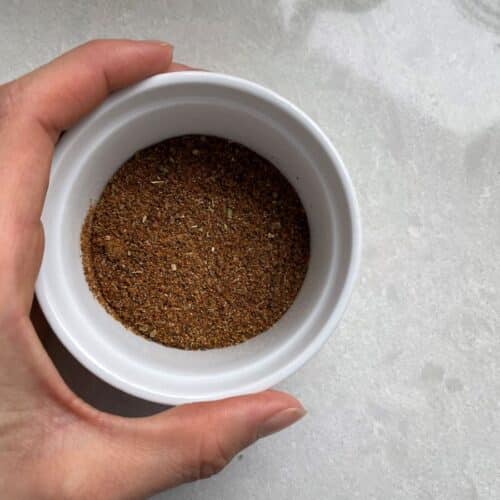 Low Sodium Taco Seasoning
Finding it hard to control sodium with all the store boughtand prepacakged foods? Try this healthy low sodium taco seasoning alterantive.
Ingredients
2

tbsp

chili powder

1

tsp

garlic powder

1

tsp

onion powder

1½

tsp

paprika

3

tsp

cumin

1

tsp

oregano

½

tsp

corriander

⅛

tso

ground black pepper

⅛

tsp

caynne pepper
Instructions
In a small bowl mix together the ingredients: chili powder, garlic powder, onion powder, paprika, cumin, oregano, coriander, ground pepper, and cayenne pepper. Then stir.

Transfer into a sealed jar or container to store for up to 6 months.
Nutrition
Calories:
13
kcal
Carbohydrates:
2
g
Protein:
1
g
Fat:
1
g
Saturated Fat:
0.1
g
Polyunsaturated Fat:
0.2
g
Monounsaturated Fat:
0.2
g
Sodium:
4
mg
Potassium:
74
mg
Fiber:
1
g
Sugar:
0.3
g
Vitamin A:
727
IU
Vitamin C:
2
mg
Calcium:
22
mg
Iron:
1
mg
Final Thoughts
Once you start making your own seasons at home, you won't stop. But remember, if that's not for you there are a few brands that I recommend to make sticking to a low sodium eating pattern even easier.
Happy Taco Tuesday!