Low sodium pasta recipes are a fantastic heart healthy lunch or dinner option.
Pasta is a popular food worldwide, but it often gets a bad reputation for being high in calories, fat and sodium. However, with the right recipes and ingredients, pasta can be both delicious and heart-healthy.
Pasta can be part of the DASH diet, Mediterranean diet, Portfolio diet, Mind diet and diet after stent placement.
By choosing low-sodium ingredients and incorporating fresh vegetables and protein into your pasta dishes, you can create healthy and delicious meals that are good for your heart and your taste buds.
I am often asked
"Can I eat pasta on a low sodium diet?"
Yes, you can eat pasta on a low sodium diet, but it's important to be mindful of the sauces and other ingredients that you use in the pasta dish to keep it low sodium.
For example, try using low sodium broths, herbs and spices instead of salt, and adding vegetables and proteins for taste and texture. Reading labels carefully will help you choose low sodium options that will keep your dish low in sodium.
Read on to find out how!
Pin It Now & Make It Later!
Sodium and Health
Low-sodium pasta recipes are a fantastic addition to your weeknight routine to help you manage health conditions like blood pressure, heart failure, kidney disease or just to stay healthy!
Most North Americans are consuming over 3400 mg of sodium a day (1, 2, 3). Depending on the person, you could be trying to aim for 2300 mg as the recommended intake suggests, 1500 mg to optimize heart health, or even need to restrict sodium to 800 mg a day (2, 3).
Everybody's sodium requirements are not the same. Be sure to check with your Registered Dietitian to see what is right for you, as some recipes may be higher than you're allowed.
Why Eat Low Sodium Pasta
Reducing sodium intake can be an effective way to manage high blood pressure, a major risk factor for heart disease. Consuming too much sodium can cause the body to retain water, which increases blood volume and puts a strain on the heart and blood vessels.
By choosing low-sodium pasta dishes, you can lower your overall sodium intake and improve your heart health.
Pasta Can Be High in Sodium
Pasta itself is not inherently high in sodium; rather, its sauces, toppings, and other ingredients that are added to pasta dishes that contribute to the overall sodium content.
Did you know that store-bought pasta sauces are high in sodium to help preserve the flavor and extend shelf life.
Some canned spaghetti sauces are around 500 mg of sodium for a 1/2 cup serving! For a 2000 mg sodium diet, that's 25% of your daily intake, and it's likely you would consume more than the 1/2 cup serving.
I've created an easy low sodium marinara sauce to help combat this.
Other common pasta toppings like cheese, cured meats, and olives can also be high in sodium.
Salting water when cooking pasta, can further increase the sodium content. While adding a small amount of salt to the water is unlikely to have a major impact on overall sodium intake, using too much salt can add up over time.
Pasta Can Be High In Saturated Fat
Since I am a heart dietitian, I also want you to know that pasta dishes can contain a lot of saturated fat and increase LDL (or bad) cholesterol levels. The sauces, toppings, and other ingredients that are added to pasta dishes can be high in saturated fat.
Creamy pasta sauces like Alfredo or Carbonara typically contain a lot of butter, heavy cream, and cheese, all of which are high in saturated fat.
Toppings like bacon, sausage, butter, and meatballs can also be high in saturated fat.
That's why I selected pasta dishes are low in saturated fat AND sodium to protect your heart health too.
The following no salt pasta recipes contain lower-fat sauces like tomato-based sauces or pesto, and smaller amounts of high-fat ingredients like cheese and meat.
How Do You Make Pasta Taste Good Without Salt?
To make pasta taste good without salt, use herbs and spices, flavorful sauces, vegetables, protein, olive oil , low-sodium broth, and experiment with different types of pasta.
Cooking Tips To Make Low Sodium Pasta Dishes
I've listed some cooking tips to try to help make your low-sodium pasta dishes both tasty and healthy. Tholive ese ingredients include food that can lower blood pressure and unclog arteries.
Use Plenty Of Water
When cooking pasta, it's important to use a large pot of boiling water to prevent the pasta from sticking together.
Use at least 4-6 quarts of water for every pound of pasta. This will help to cook the pasta evenly and prevent it from becoming mushy.
Use Low-Sodium Broth
Using low-sodium broth instead of salted water to cook your pasta can add flavor without adding salt.
Don't Overcook The Pasta
Overcooked pasta can become mushy and unappetizing. Follow the cooking instructions on the package and taste the pasta frequently to ensure that it is cooked to your liking.
Add Salt-Free Seasonings
Instead of adding salt to the water, try using salt-free seasonings like herbs, spices, or citrus zest to add flavor to your pasta dishes.
Some good options include garlic, onion powder, oregano, basil, red pepper flakes, lemon juice, or balsamic vinegar. Or check out my Epicure review on low sodium spice blends you can purchase.
Use Herbs and Spices
Adding herbs and spices to your pasta can add flavor without salt. Consider using basil, oregano, parsley, rosemary, garlic, or onion powder to enhance the taste of your pasta.
Use A Flavorful Sauce
Using a flavorful sauce can add taste without adding salt. Consider making a tomato-based sauce with fresh or canned tomatoes, garlic, and herbs, or a pesto sauce with olive oil , fresh basil, pine nuts, garlic, and Parmesan cheese.
Add Protein
Adding protein to your pasta can add flavor and help you feel full. Consider adding grilled chicken, shrimp, tofu, or beans to your pasta.
Incorporate Vegetables
Adding more vegetables to your pasta dishes can add flavor and texture. It can also increase the fiber and nutrient content while reducing the overall sodium content.
Try sautéing some chopped onions, bell peppers, or mushrooms and adding them to your pasta sauce. You can also roast or grill vegetables like zucchini, eggplant, or cherry tomatoes and serve them on top of your pasta.
Use Low-sodium Ingredients
When selecting ingredients for your pasta dishes, look for low-sodium options like low-sodium tomato sauce, no-salt-added canned tomatoes, and low-sodium chicken or vegetable broth.
You can also use low-sodium versions of cheese and cured meats or opt for lower-sodium toppings like olives or roasted garlic.
How to Shop for Low Sodium Ingredients
Low-Sodium Tomato Sauce
Choose tomato sauces that are labeled as "low-sodium" or "no salt added."
Low-Sodium Broth
When making pasta dishes that require broth, look for low-sodium chicken, beef, or vegetable broth. You can find these options in the soup aisle of most grocery stores.
Low-Sodium Canned Beans
Beans are a great source of plant protein and soluble fiber for pasta dishes. Look for canned beans that are labeled as "low-sodium" or "no salt added." You can find these options in the canned goods aisle of most grocery stores.
Vegetables
Incorporating fresh or frozen vegetables into your pasta dishes can add flavor and nutrition. Look for vegetables like bell peppers, zucchini, broccoli, and mushrooms, which are naturally low in sodium.
Read Labels
When shopping for low-sodium ingredients, be sure to read the nutrition labels carefully to ensure that you are getting truly low-sodium options.
Look for products that contain less than 140 mg of sodium per serving, or choose products that have a "low-sodium" claim on the label.
You can also look for products that are labeled as "unsalted" or "no salt added."
Keep in mind that some products may be labeled as "reduced sodium," which means that they contain less sodium than the regular version, but may still be high in sodium overall.
13 Low Sodium Pasta Recipes
Enjoy these low sodium pasta recipes that are not only low sodium, but low saturated fat too. Heart health approved!
Beet mac and cheese is a twist on the classic comfort food that is low in sodium and high in fiber. This is a perfect pasta recipe for high blood pressure.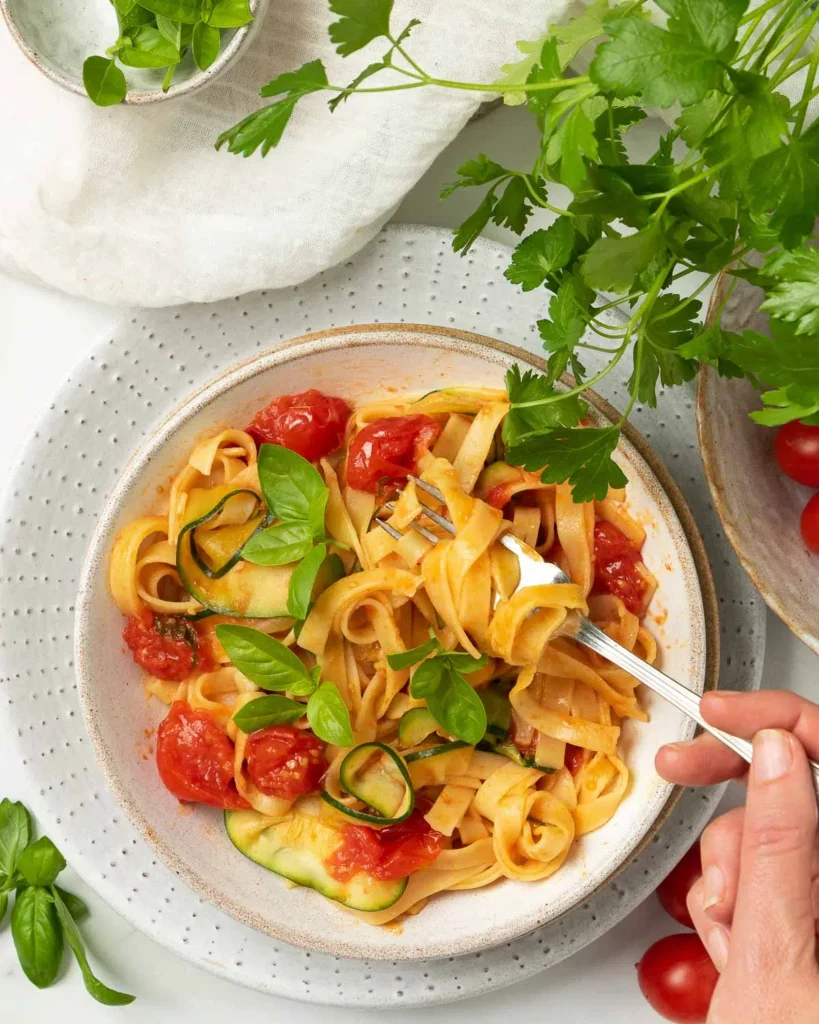 This is a heart healthy pasta recipe made with tomatoes and zucchini makes the most of flavorful seasonal ingredients for a dish that is easy to make, and low in sodium. Plenty of herbs, chilli and garlic make this simple Italian dish extra delicious.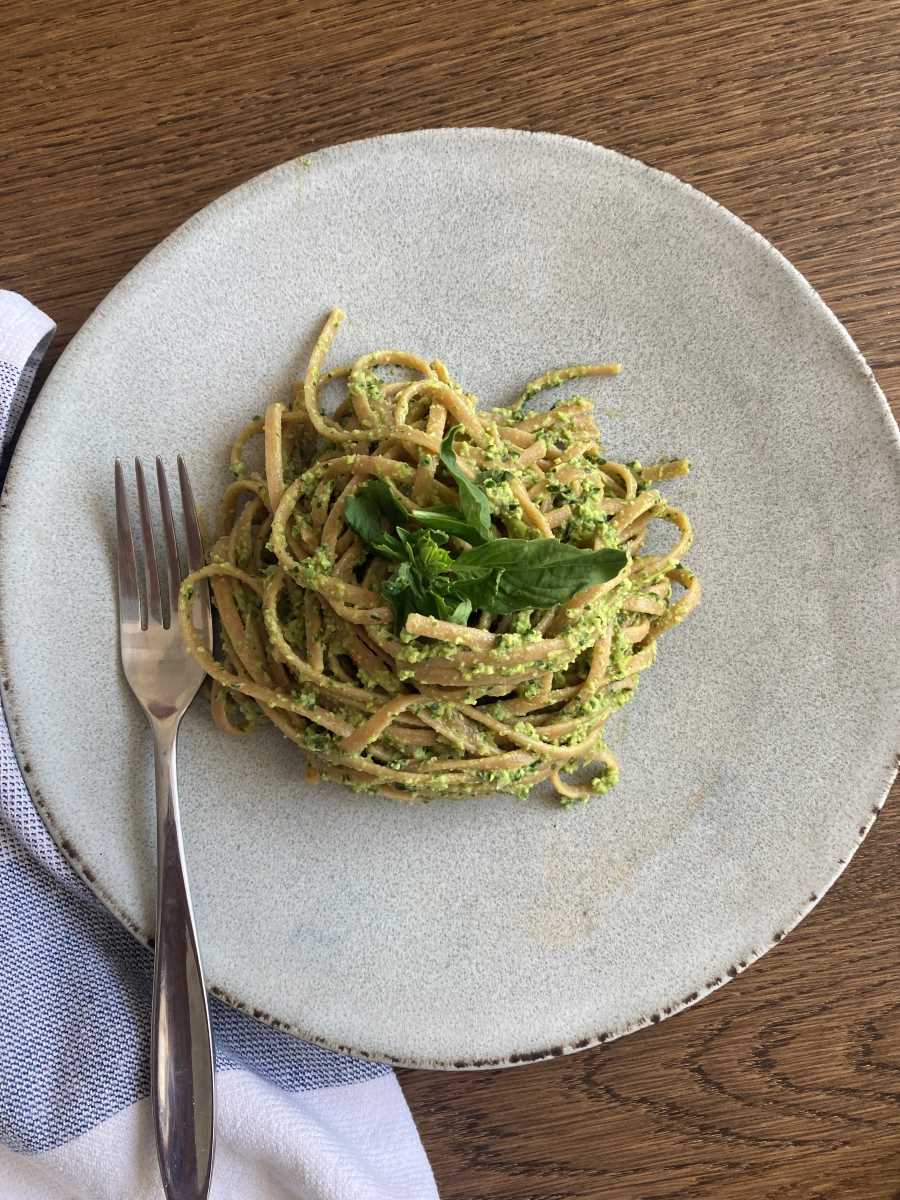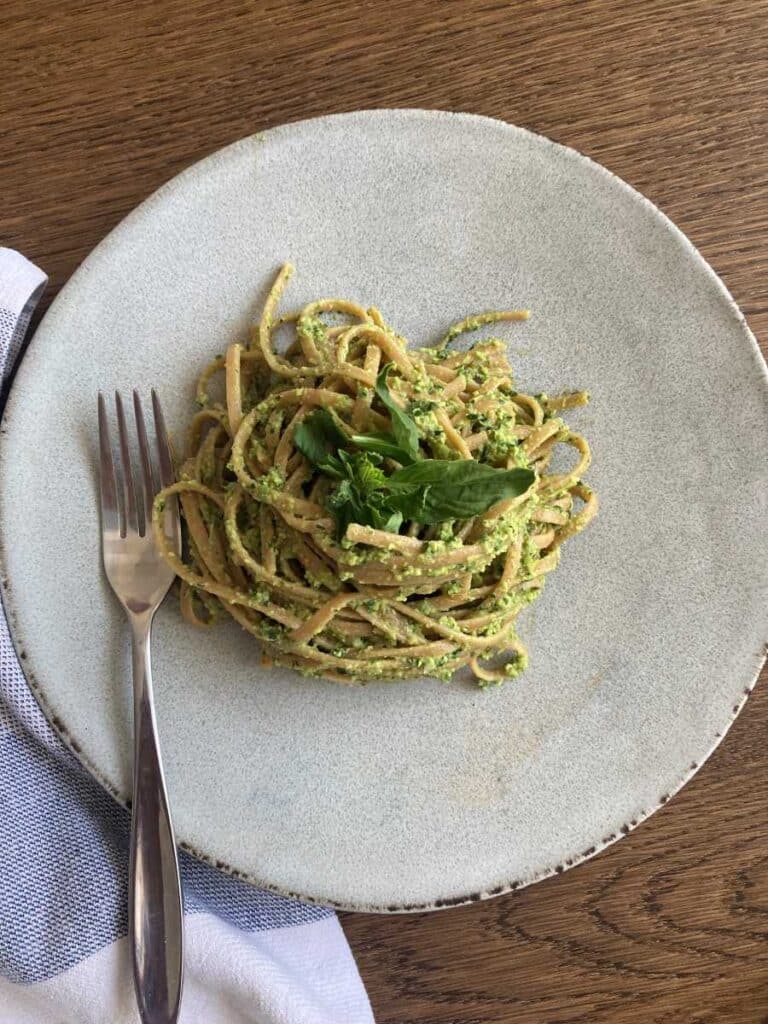 This easy and delicious heart healthy spaghetti can help lower your cholesterol and manage your weight. As a bonus, it can also help with blood pressure management because it is a low sodium pasta dish.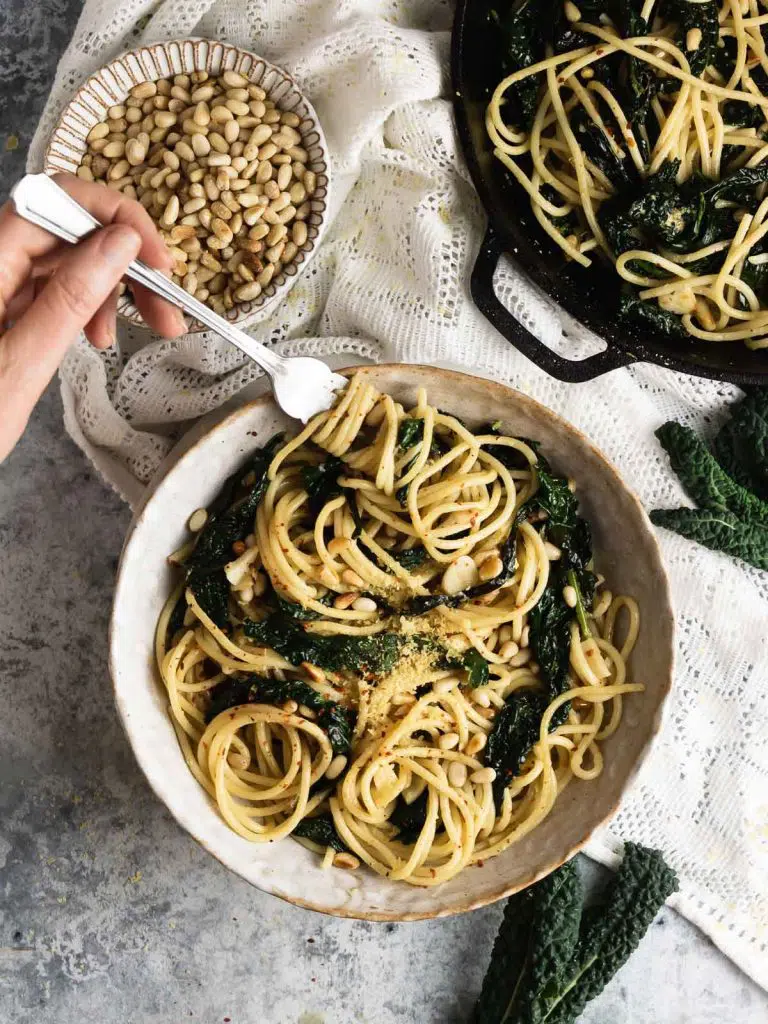 This heart healthy spaghetti is easy to make and low in sodium. The chilli, garlic and nutritional yeast add a delicious savoury notes and keep this low sodium dish flavourful!
This heart healthy pasta dish is full of plant based protein which helps keep you full, while providing the texture of ground beef that we all know and love.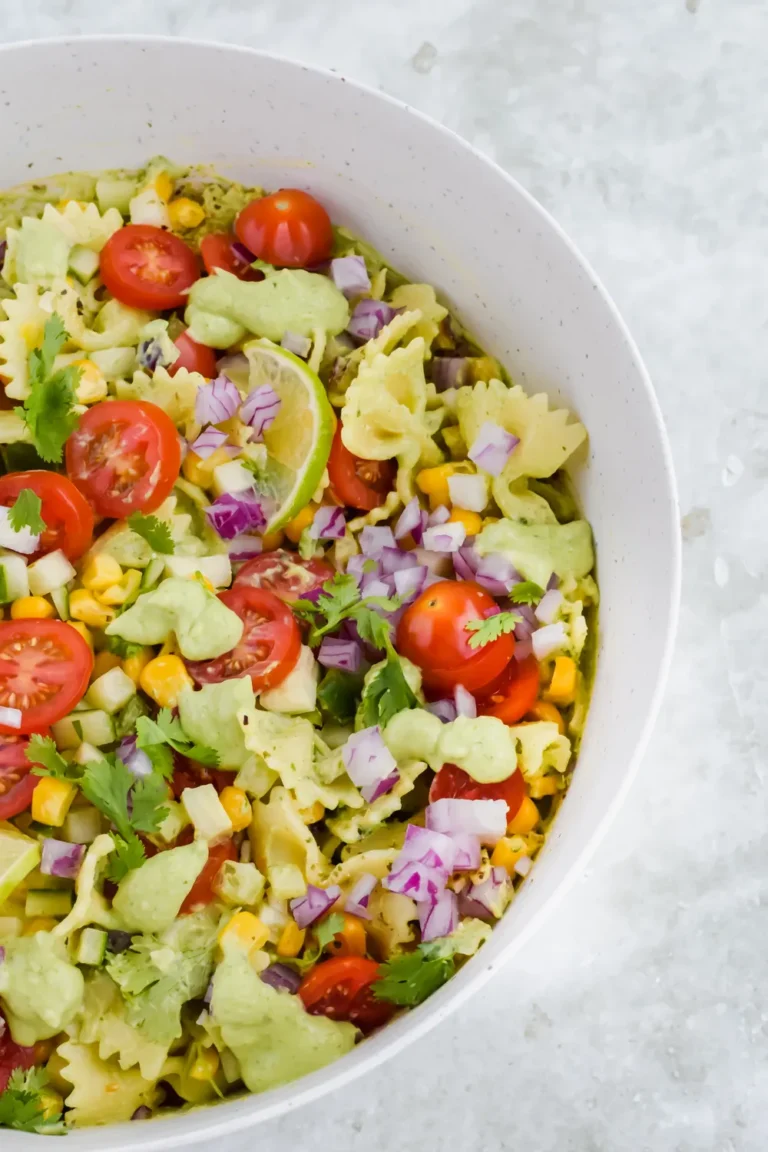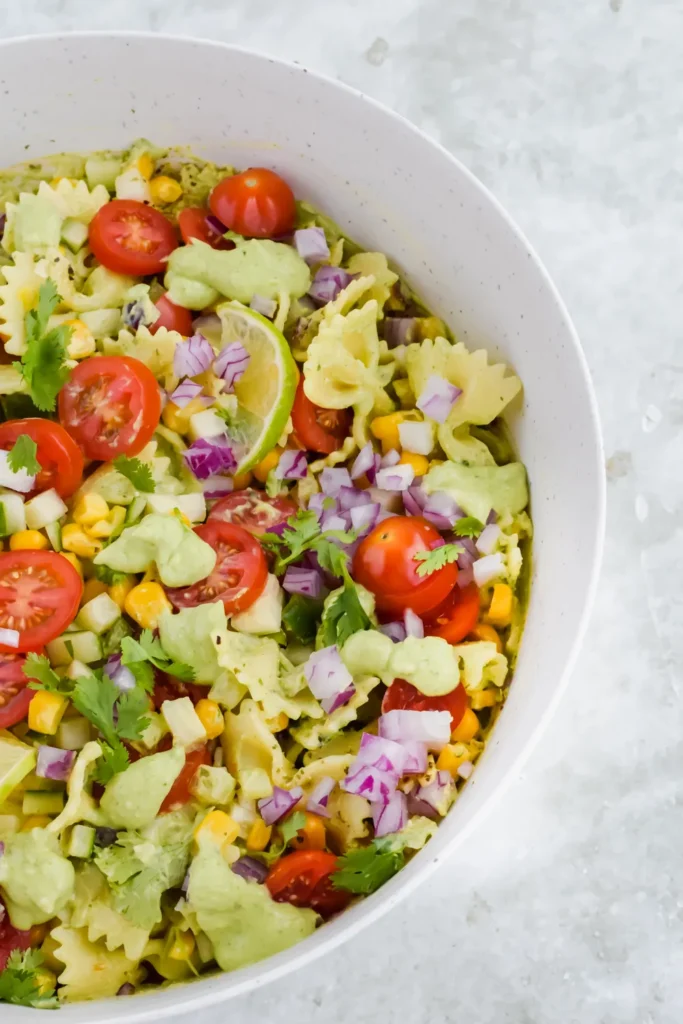 Fresh tomatoes, crunch cucumbers, and sweet corn mixed with farfalle noodles make this a low cholesterol pasta dish. It is coated with a creamy, homemade Green Goddess dressing makes for an amazing lunch, meal prep staple, or barbecue side dish.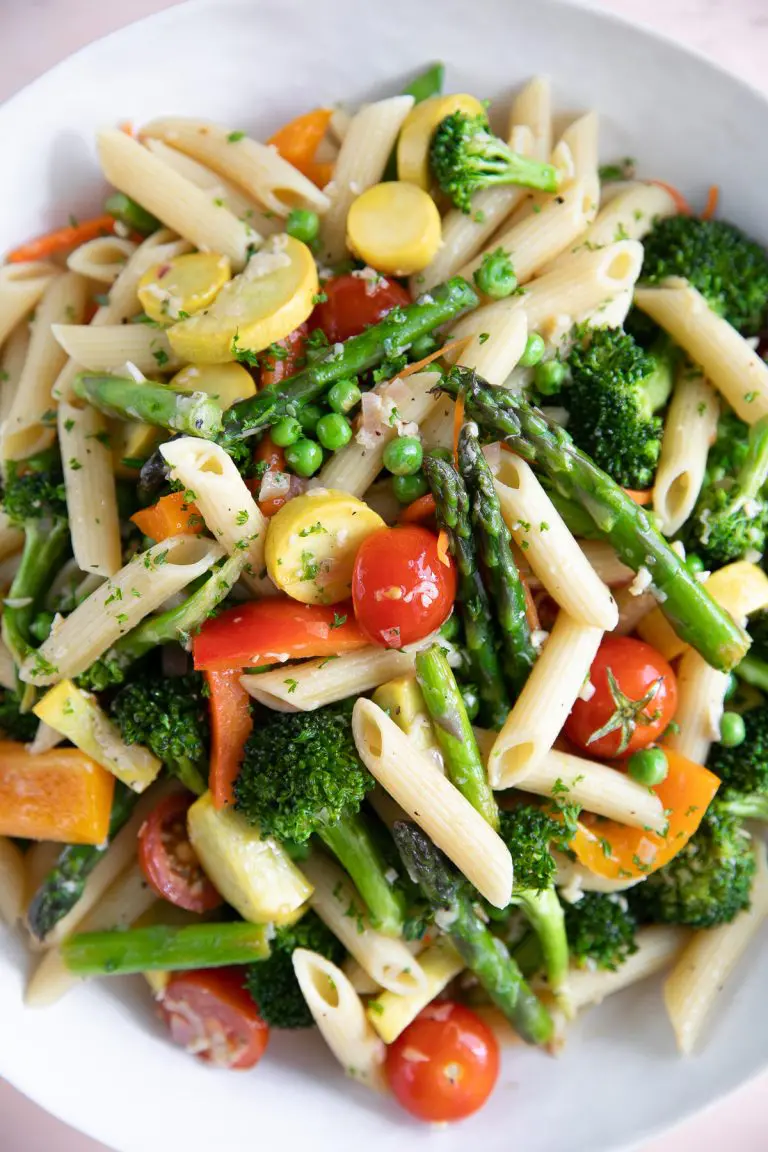 This pasta recipe for high blood pressure if full of fresh vegetables, and a low sodium dressing.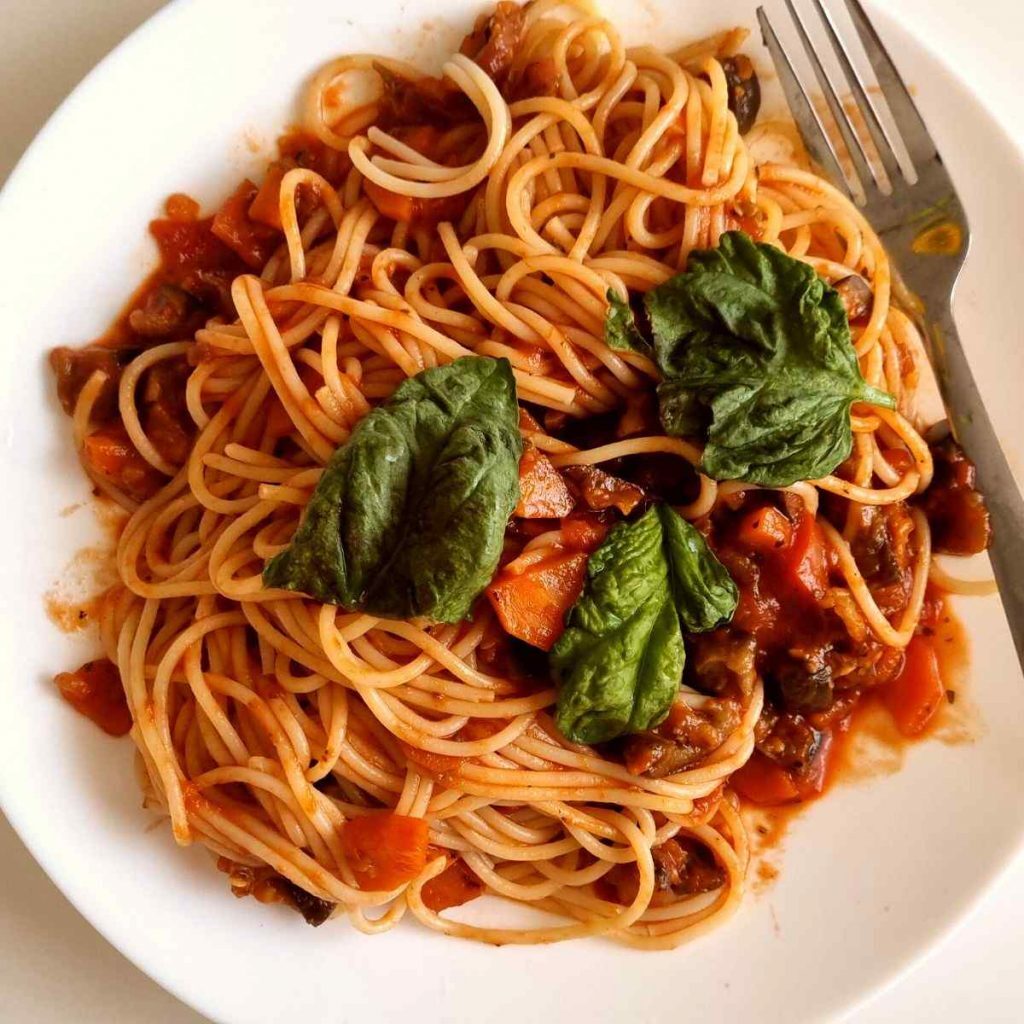 This delicious Italian eggplant heart healthy spaghetti is flavorful, easy to make, and vegetarian! You can reduce sodium further by using no salt added chicken broth to truly make this a low sodium pasta recipe.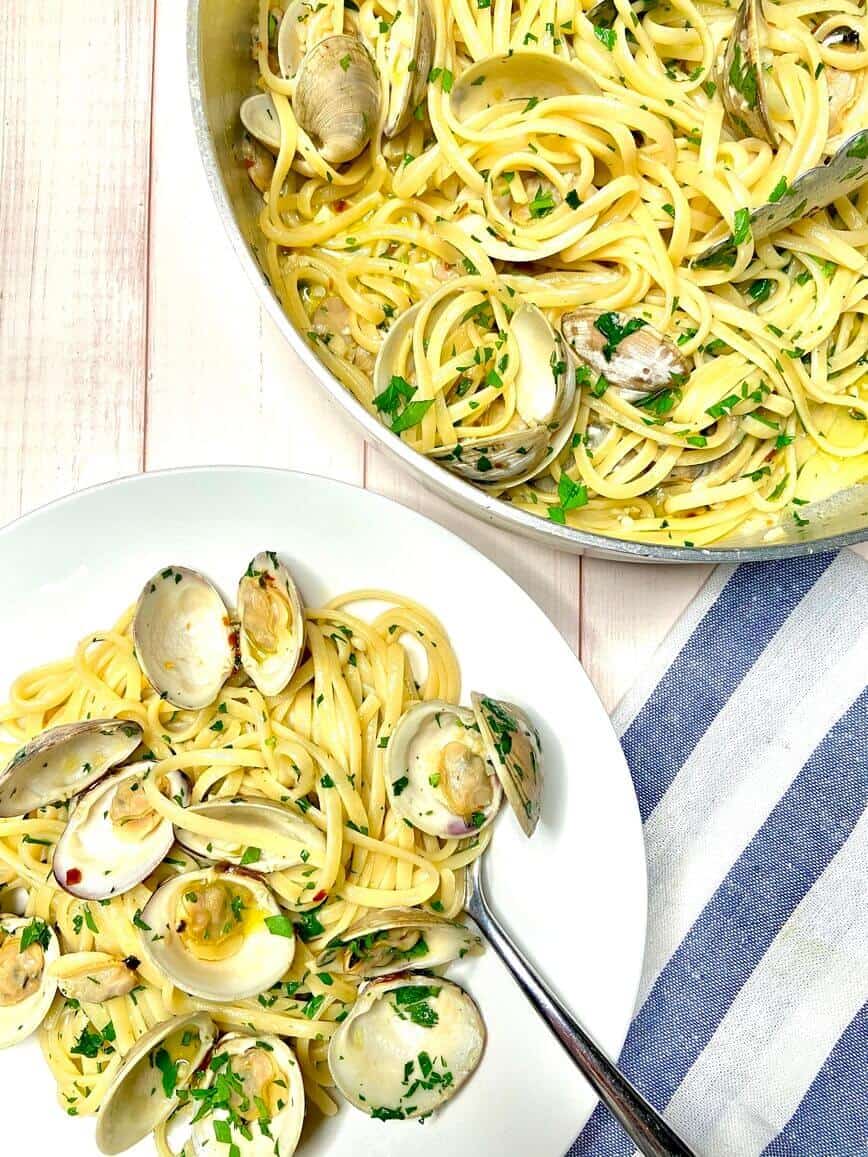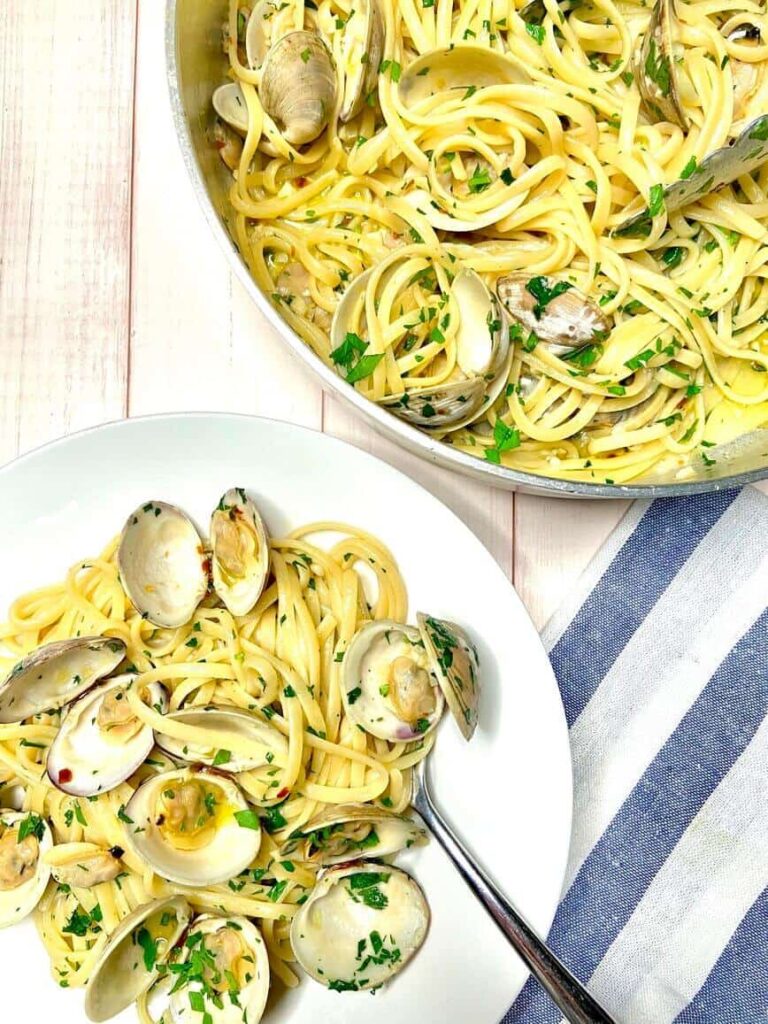 Linguine with clams is a classic Italian dish that is also a heart healthy spaghetti recipe.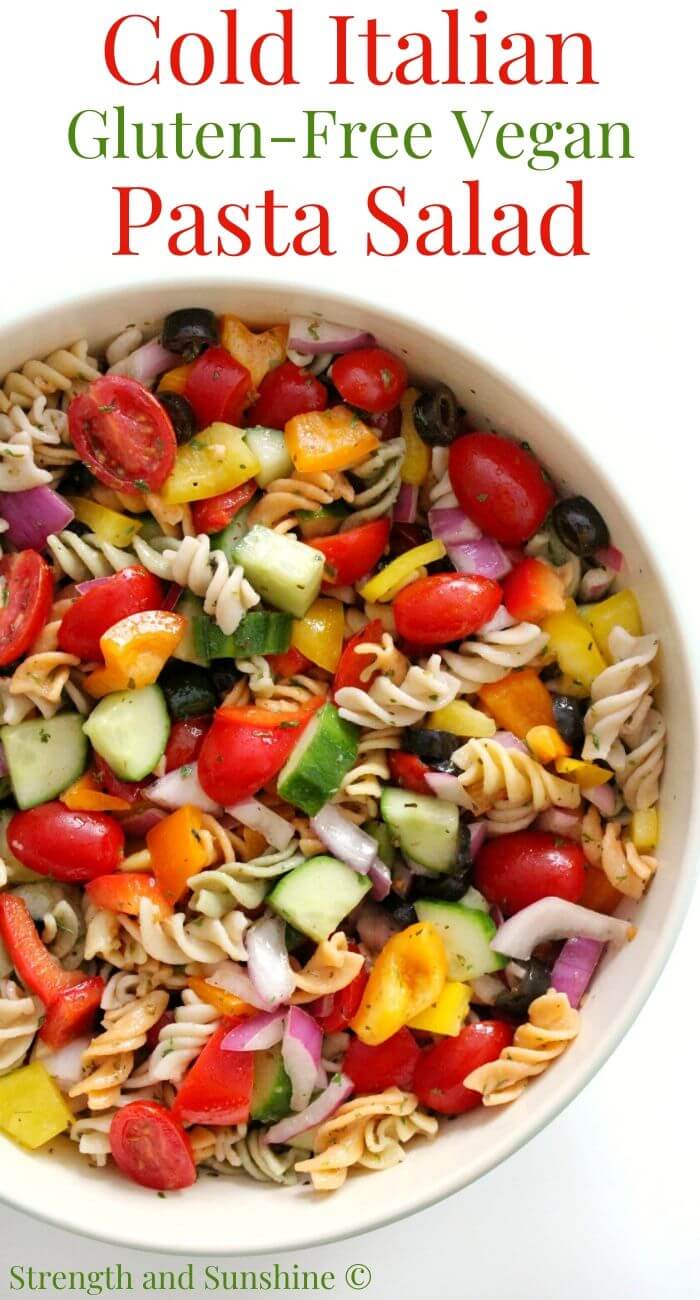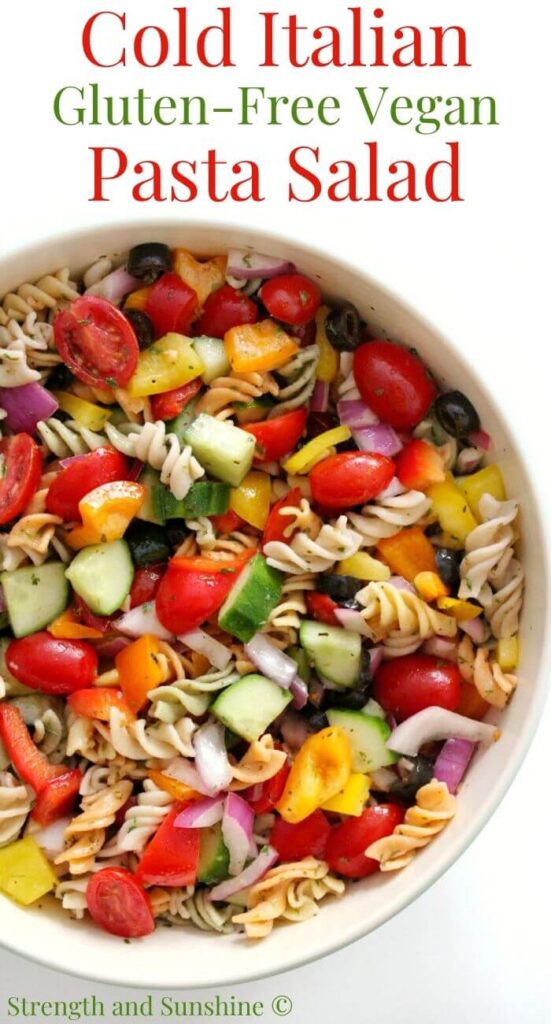 A no salt pasta recipe that's gluten-free, vegan, and allergy-free! The cold pasta salad you love, with tri-colored pasta, fresh veggies, and a healthy homemade Italian dressing! A super easy and quick meat-free vegetarian and dairy-free recipe that's a perfect side dish to feed any crowd!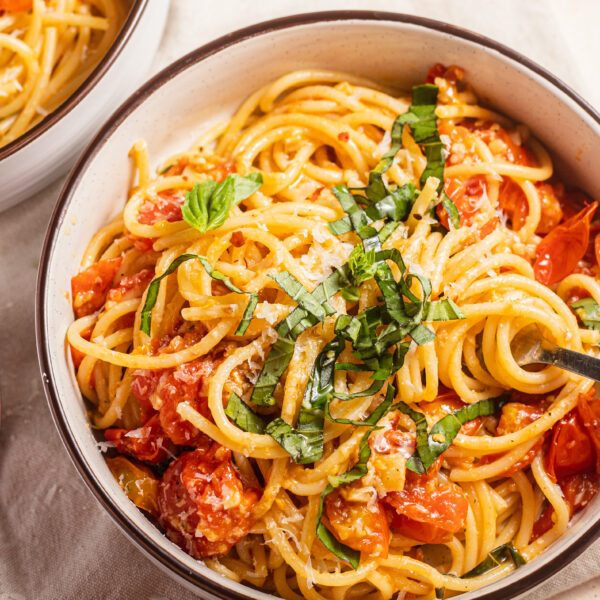 This blistered tomato heart healthy spaghetti is sweet, and a little bit tangy from pops of cherry tomatoes, pecorino romano cheese, and fresh basil.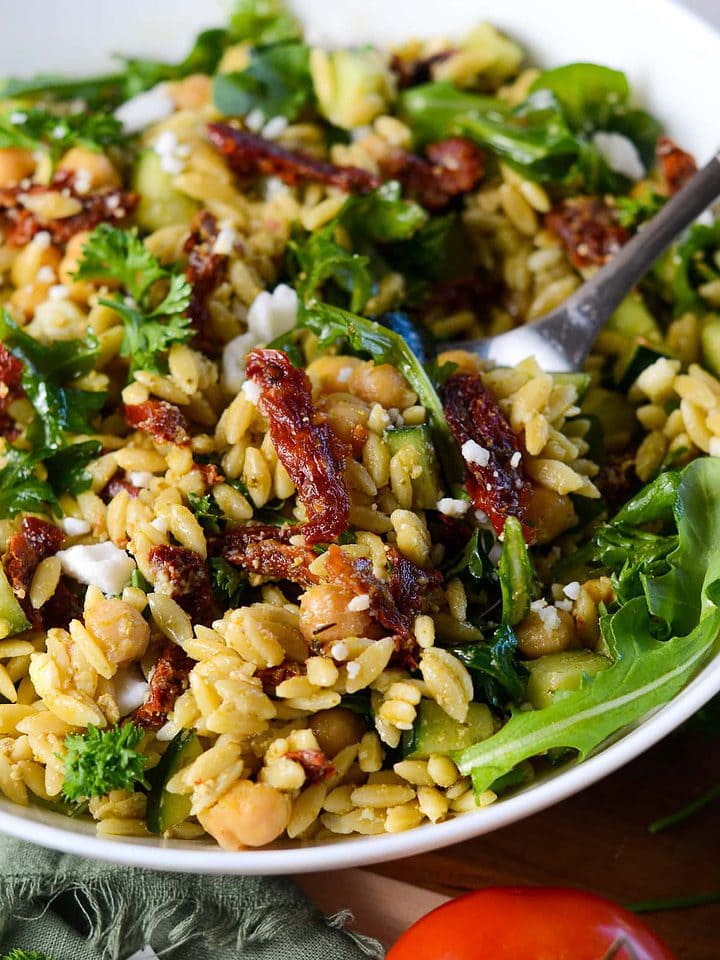 An excellent low sodium pasta dish that contains orzo! Have fun with orzo, a pasta shaped like barley.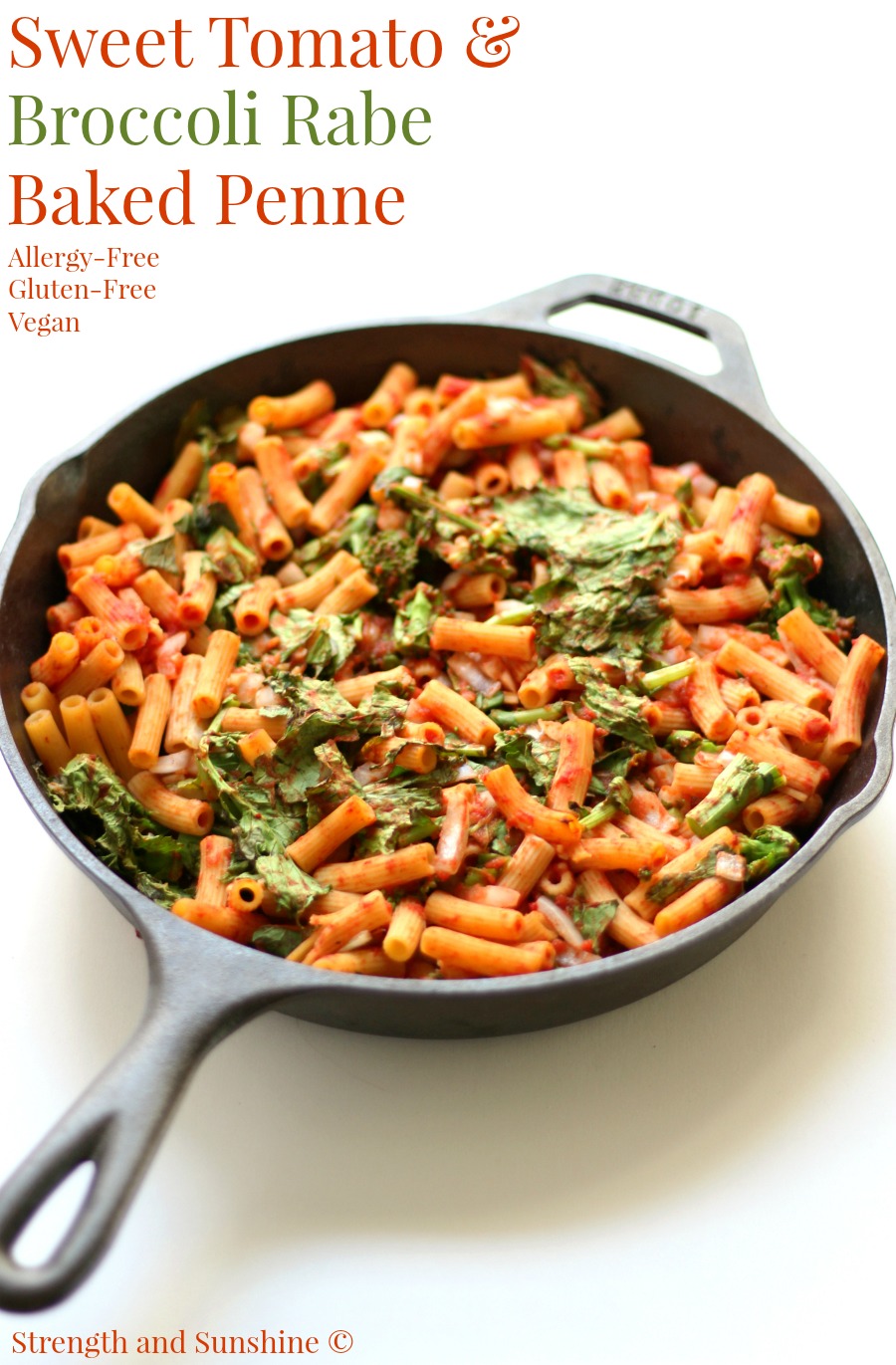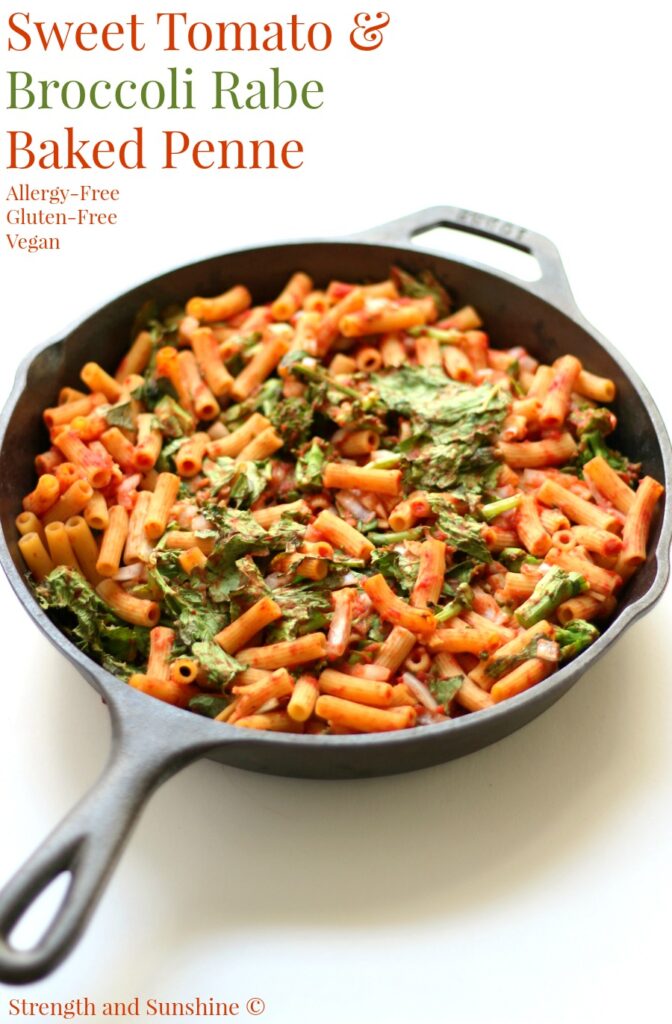 A delicious low salt pasta dish dinner recipe the whole family will love! Sweet Tomato & Broccoli Rabe Baked Penne that's gluten-free, vegan, and allergy-free. Packed with flavor and nutritious veggies, this healthy meal will be an easy new favorite!
Other Low Sodium Recipes
I have a few low sodium recipes on my site that I encourage you to look into if you are watching your sodium intake. They include:
… low sodium mayonnaise, low sodium bagels, low sodium tortilla, low sodium breakfast ideas, low sodium hot chocolate, low sodium pancakes, low sodium oatmeal recipes, low sodium salsa, low sodium taco seasoning, DASH diet smoothies, and DASH diet desserts to name a few.
Or check out these cookbooks on low sodium cookbooks and DASH diet cookbooks for inspiration.
Final Thoughts
Low-sodium pasta recipes are a delicious and heart-healthy option for anyone looking to reduce their sodium intake and improve their overall health. Try one of these tasty low-sodium recipes and enjoy a healthy, satisfying meal!