This easy and delicious edamame pasta sauce can help lower your cholesterol and manage your weight.
If you are craving a comforting bowl of spaghetti but want to be sure your meal is high in fiber and protein try this creamy green pasta sauce! It's quick and easy and won't make your blood sugar spike.
Vegan, dairy-free, and packed with plant-based protein.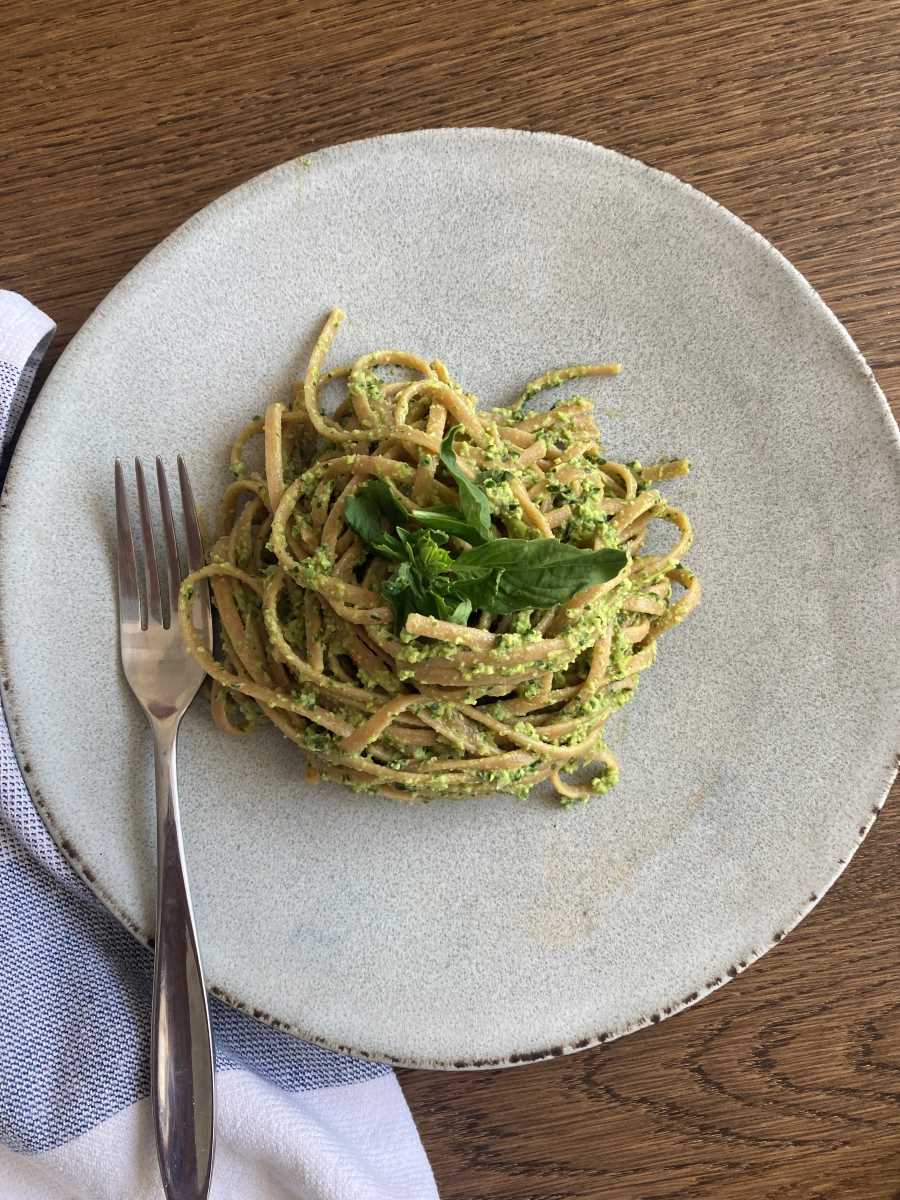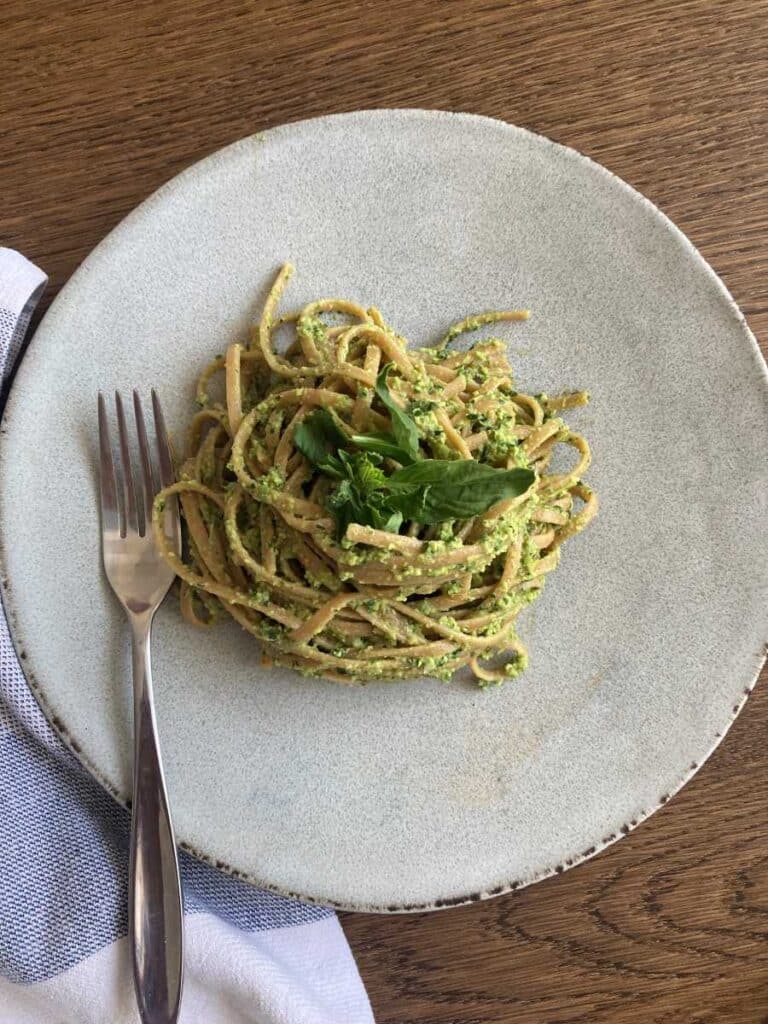 Why Make Green Pasta Sauce
a quick and easy meal that comes together in 20 minutes
full of inexpensive plant-based protein
satiating and nourishing
an appetizing vibrant green hue
full of fiber – you will be full until lunch!
There are two ways to make spaghetti healthier:
Try a noodle that is higher in fiber and lower in carbohydrates like a chickpea or edamame noodle
Make a sauce that is high in fiber and low in carbohydrates to balance out the meal
In my experience when I am craving spaghetti, I want the taste and texture of a regular spaghetti noodle that will satisfy me! In comes this edamame pasta sauce recipe, to help create the balance we are looking to achieve.
Edamame
Edamame beans are immature soybeans that are harvested before they ripen. They are available shelled, in their pod, fresh or frozen.
Like other beans, they are vegan and full of plant-based protein.
They are heart-healthy because they are rich ins isoflavones, an antioxidant, that reduces arterial stiffness to allow for better blood flow and more positive arterial tone. Which improves overall vascular health (1).
Take a look at how nutritious edamame is!
| | | |
| --- | --- | --- |
| | Edamame – 1 cup (2) | Daily Requirements For Adults Depends on age, sex, and activity level (3) |
| Protein per meal (grams) | 18.4 | Around 20 grams per meal |
| Fiber (grams) | 8 | 28-38 |
| Calcium (milligrams) | 98 | 1000-1300 |
| Magnesium (milligrams) | 99 | 320-420 |
| Potassium (milligrams) | 675 | 2600-4700 |
| | | |
Table 1: Key nutritional characteristics of edamame

As you can see in the table below, edamame is high in fiber, protein, and heart-healthy minerals like potassium, magnesium, and calcium. In fact, 1 cup of edamame beans has almost:
10% of your calcium needs
26% of your potassium needs
10% of your fiber needs
30% of your magnesium needs
Can You Put Edamame In Pasta?
You can absolutely put edamame in pasta! You can add cooked shelled edamame to any pasta dish for added nutrients. Or try this recipe as edamame is blended into the sauce. In fact, you can add additional edamame beans to this green pasta sauce for added protein and nutrients. Add them after the sauce and pasta are cooked and mixed together.
Is Edamame Considered a Legume?
Yes, edamame is legume because legume refers to the edible fruit or seed of the plant, and it includes beans, chickpeas, lentils, peas, soybeans, and more. Edamame is known for its higher polyunsaturated fat content but also its lower fiber content than other legumes. That being said it is still an excellent source of fiber.
The texture of the different varieties of legumes is pretty similar, but the taste varies. I recommend eating a variety of legumes in your eating pattern to get a good range of nutrients.
Is Edamame A Soybean?
Yes, edamame is a soybean. The difference between soybean and edamame is that edamame is harvested when the soybean is young and usually served steamed in their pod or shelled. All heart-healthy benefits of soybeans are true of edamame too (2).
Edamame Pasta Sauce Ingredients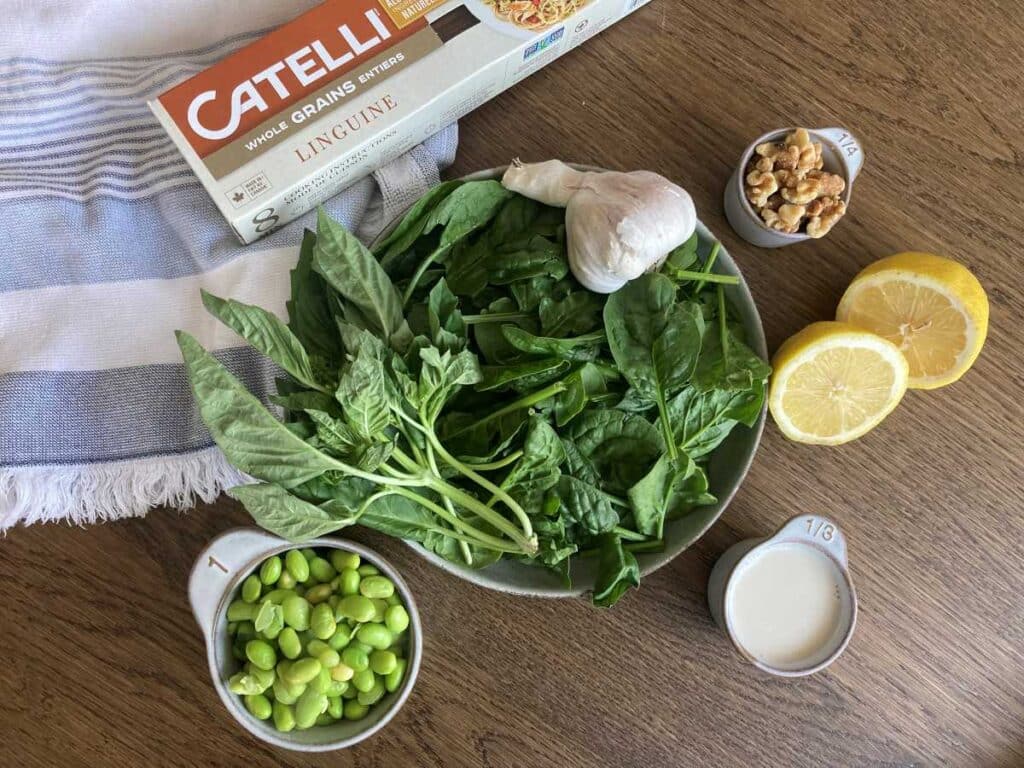 This recipe is full of foods that will unclog your arteries:
edamame – can be purchased fresh or frozen, shelled or hulled
soy milk – is a rich source of cholesterol-lowering plant protein
walnuts – contain cholesterol-lowering unsaturated fatty acids
spinach – a mild-tasting green leaf with lots of nutrients, switch it up by using kale, chard, or arugula instead
fresh basil – adds flavor here. Other herbs that may work well are cilantro or parsley. I don't recommend dried, stick with fresh if possible.
garlic and lemon – more flavor enhancers and foods that can lower blood pressure
pasta – any type works here
How To Make Vegan Green Pasta Sauce
The most important part of this recipe is to save the pasta cooking water to add to the sauce. Don't forget! This is what makes the sauce so smooth and starchy. This will help the sauce stick to the noodles and thin out the sauce a bit. Adding tap water is not a replacement here.
Otherwise, all you need to do is add all of the ingredients (thawed edamame, basil, spinach, garlic, walnuts, lemon juice, soy milk, olive oil, salt, and pepper) to a blender or food processor and blitz away.
And that's it. The sauce is made! I love this because you don't need to get out your cutting board and knife, all of the prep is done for you with the blender!
While you are simultaneously making the sauce, I would suggest boiling the water and cooking your noodles of choice.
Once the noodles are cooked, add a few tablespoons of reserved pasta water to the pesto until the desired consistency is reached.
Then toss the pasta with the pesto, and enjoy!
From there, you can add any toppings you desire. Leftover basil leaves are a nice touch, or crushed walnuts provide a nice texture. As mentioned above you can even toss it with cooked whole edamame beans for more protein and fiber.
Basic Steps
Into a food, processor or blender add the ingredients.
At the same time, cook your pasta noodles of choice.
Add some remaining pasta water to the sauce to thin it out.
Combine the sauce and noodles.
Enjoy!
Other Expert Tips
Eat it cold or warm. It tastes best when served immediately.
Lasts 2-4 days in the fridge, but isn't as good if you reheat it.
I wouldn't recommend freezing the sauce and noodles together. If you need to freeze it, I would freeze the sauce separately and cook the pasta right before eating. That way you can mix the pasta water with the sauce before you serve it, which will bring the sauce to life.
Video Tutorial
What Does It Taste Like?
This edamame pasta sauce recipe definitely has some pesto vibes without the cheese and oil, which makes it a little lighter.
It's a great way to get your greens in, and you really can't taste the spinach. You are left with hints of basil, lemon, and garlic instead!
It truly is a comforting bowl of pasta, with a healthy sauce to go with it.
The taste/texture of the noodles is up to you. If you are looking to switch up your pasta routine for a legume noodle, I highly recommend chickpea pasta. But the choice is yours!
I'd recommend serving it with some roasted vegetables.
What Else Can You Make With Edamame
Add a protein boost to your foods with cooked edamame by sprinkling them on:
green or whole grain salads
they can be a great substitute for animal protein in stir-frys
blend them into your hummus
sprinkle some salt or everything bagel spice on them and eat as is
Other High-Fiber Recipes
Green Pasta Sauce Recipe
Bon Appétit! Follow the instructions below for a delicious vegan green pasta sauce. This sauce is so quick to come together, it is ready in the time it takes the pasta to cook! Enjoy and remember that getting plant protein doesn't have to be boring!
Looking for other heart-healthy meals? Subscribe to my newsletter for a FREE 7-day heart-healthy meal plan to get you started on lowering your blood pressure or cholesterol today!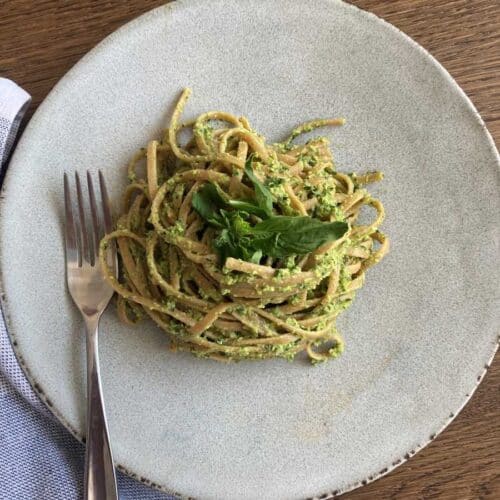 Super Simple Edamame Pasta Sauce
This easy and delicious edamame pasta sauce is high in plant-based protein and fiber which can help lower your cholesterol.
Ingredients
1

cup

edamame

shelled, cooked, or thawed if frozen

1

bunch

basil

2

cups

spinach

3

cloves

garlic

¼

cup

walnuts

½

lemon

juiced

¼

cup

unsweetened soy milk

¼

cup

olive oil

¼

tsp

salt

¼

tsp

black pepper

8

oz

whole grain pasta

noodle type of choice

½

cup

pasta cooking water

(optional, to thin the sauce)
Instructions
Prepare the edamame pesto: take 1 cup of thawed or cooked edamame, basil, spinach, garlic, walnuts, lemon juice, soy milk, olive oil, salt, and pepper, and add to a blender or food processor. Blend until smooth and set aside.

Boil the pasta water in a medium pot. Once boiling, add your noodles of choice until al dente (about 8-10 minutes).

Drain the pasta, reserving some pasta water. In the same pot or a new medium pot, add cooked noodles and pour pesto over top with the remaining pasta water that was set aside if desired.

Toss the pasta with the pesto until combined. Serve and enjoy!
Nutrition
Calories:
453
kcal
Carbohydrates:
54
g
Protein:
16
g
Fat:
21
g
Saturated Fat:
3
g
Polyunsaturated Fat:
5
g
Monounsaturated Fat:
11
g
Sodium:
169
mg
Potassium:
558
mg
Fiber:
4
g
Sugar:
2
g
Vitamin A:
1549
IU
Vitamin C:
13
mg
Calcium:
124
mg
Iron:
5
mg