This easy tofu bolognese will be a new family favorite as it is quick to make, super simple, and oh-so-delicious.
If you love pasta but are cutting down your meat consumption this vegan tofu bolognese is the perfect swap!
This is a one-dish recipe, which means you don't have to turn on the oven like other spaghetti tofu bolognese recipes.  I am all about ease of cooking and quick clean-up. I hope you try it.
Why Make Tofu Spaghetti?
Tofu spaghetti bolognese is:
full of cholesterol-lowering plant protein from tofu and soy milk
a fast dinner, or warm it up in the microwave for a quick lunch
satiating
has lots of flavors
is a heart-healthy comfort meal
uses one dish!
pleases meat eaters
freezes well, and great for batch cooking
If you love a comforting bowl of spaghetti bolognese, try it vegan style. Your heart with thank you!
Nutrition in Tofu Bolognese
high in fiber
plant-based protein
uses only a few simple ingredients
follows the Mediterranean diet and DASH diet principles
full of healthy fats
cholesterol free
Tofu
As a dietitian, I love using tofu because:
it is an excellent source of protein, and it is rich in soy isoflavones that can help lower LDL (or "bad") cholesterol levels. In fact, the 2021 American Heart Association emphasizes choosing plant-based proteins, like tofu, for heart health
it easily absorbs spices for a flavorful meal
It's quick to cook, as it doesn't need to be heated to a certain temperature like animal meat
Try making tofu spaghetti sauce for yourself. It's an easy way to reduce your animal meat consumption while pleasing your family.
Ingredients
Here are the major ingredients in this spaghetti with tofu recipe.
Olive oil – part of the Mediterranean diet, or choose a healthy olive oil substitute.
Garlic, carrots, celery – add nutrients, but also flavor.
Extra firm tofu – has the least amount of moisture of all the tofu options, and thus can create a similar texture to traditional meat bolognese. It can also help unclog your arteries and is a perfect protein to add to your diet after stent placement.
Low sodium tomato sauce – choosing a low sodium option here can help lower your blood pressure, and customize the flavor through herbs and spices of your choice. Of course, making your marinara sauce from scratch can be used here, this keeps the sodium low too. But as a busy mom of two, I don't have the time that I used to and need to get dinner on the table fast.
Soy milk – adds creaminess and a nice orangey-red color. Feel free to add your milk beverage of choice.
Chili, basil, and oregano – are the spices I used, but you can add whatever you want here.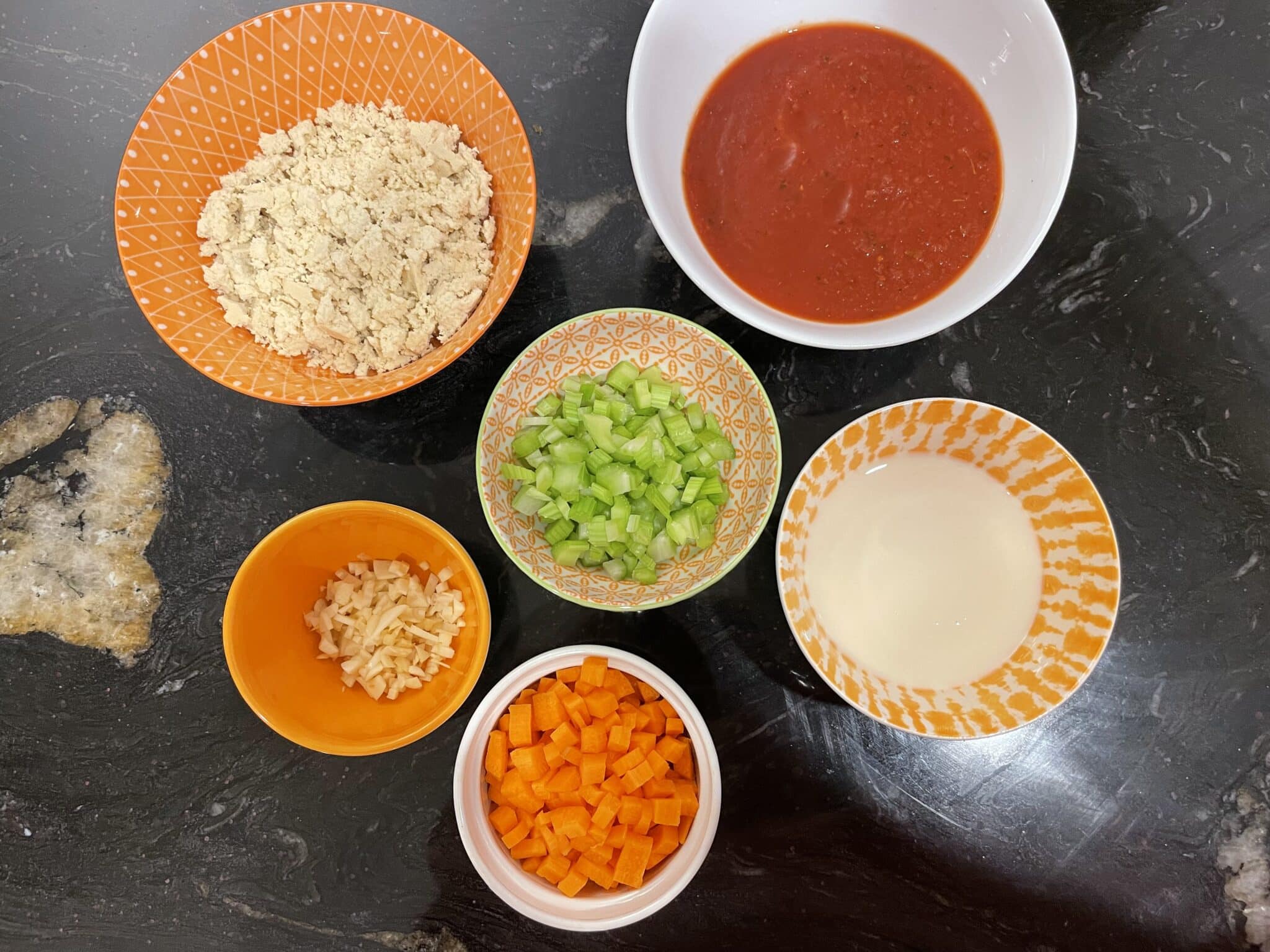 Tofu Celery Tomato Sauce Garlic Soy Milk
How To Make It
1. It is important to press the tofu before crumbling to remove any extra moisture. If you have never done this before, check out this great tutorial on how to press your tofu. Removing the moisture from the tofu helps create a similar texture to the ground meat that we are used to. This is an important step when using a one-pot meal.
2. Once the moisture is removed from the tofu, crumble the tofu. You can do this with a fork, or fingers. I prefer fingers, watch the video to see how it's done.
3. Then it's time to make the tofu bolognese sauce. I use a plain tomato sauce because I can usually find a low-sodium version, and then add spices for flavor.
4. For creaminess I recommend adding a dairy product. I used soy milk here, for its cholesterol-lowering plant protein and isoflavones, but feel free to use whatever milk you want. A true bolognese adds milk to make it creamy and cut down on the acidity of the tomato sauce.
Of note: other tofu bolognese recipes bake the tofu on a baking sheet before adding it to the marina sauce. I find that you can make the tofu crispy enough on the stovetop if you saute the tofu before adding the marina sauce and soy milk. It is very important to prepare the tofu separately, add flavor, and then add the sauce to get this desired crispy texture.
5. That's it! All you need to do is add it to your pasta of choice. Use spaghetti for spaghetti tofu bolognese, or I used penne because it's a family favorite.
6. Once done you can store it in the fridge for 5 days, or in the freezer for 6 months.
What How It's Done
Variations
This tofu bolognese recipe can be switched up based on taste preference and what you have in your fridge:
add more vegetables like mushrooms, zucchini, eggplant, spinach, kale, or cherry tomatoes bake the crumbled tofu in the oven if you don't have time to press the tofu
switch up the flavors with onion powder, garlic powder, red pepper flakes, paprika, bay leaves, cinnamon, parsley,

or thyme

if you don't like tofu, try TVP (textured vegetable protein) instead of vegan ground beef substitutes that are full of saturated fat that can clog your arteries (just like traditional ground beef!)

add more protein by using chickpea pasta, instead of the traditional durum wheat pasta
Storage
Store the pasta and sauce separately when possible. It can be stored in the fridge for up to 5 days, or in the freezer for up to 6 months.
Serve it with
Frequently Asked Questions
Can You Freeze Tofu Bolognese?
Tofu Bolognese freezes well. First, cool it and then add it to a freezer-safe container for up to 6 months.
What Can I Put In Bolognese Instead Of Meat?
Try using tofu in bolognese instead of meat! Crumbling tofu provides a similar texture to ground beef, and it's absorbent, so it easily takes on the flavor of the marinara sauce making it a perfect substitute for meat.
What Is Vegan Bolognese Made From?
A vegan bolognese recipe is made from vegetables like carrots and celery, a marinara sauce, and a non-animal meat protein like tofu or meat alternatives like textured vegetable protein or veggie ground round.
How Do You Add Richness to Bolognese Sauce?
You can add richness to bolognese sauce by adding milk or plant-based beverages for creaminess, which results in a warmer orange color, than red. Using red wine or red wine vinegar with balsamic vinegar can also bring out a richness to the sauce.
Other Dinner Recipes
Or if you are looking for other low sodium recipes, check out low sodium mayonnaise, low sodium breakfast idea, low sodium instant pot recipes, low sodium hot chocolate, low sodium marinara sauce, low sodium pancakes, low sodium oatmeal recipes, low sodium salsa, low sodium hummus, low sodium taco seasoning, DASH diet smoothies, DASH diet desserts, DASH diet soups, tofu bolognese, beet mac and cheese… to name a few.
Also these low sodium cookbooks and DASH diet cookbooks can be used for inspiration.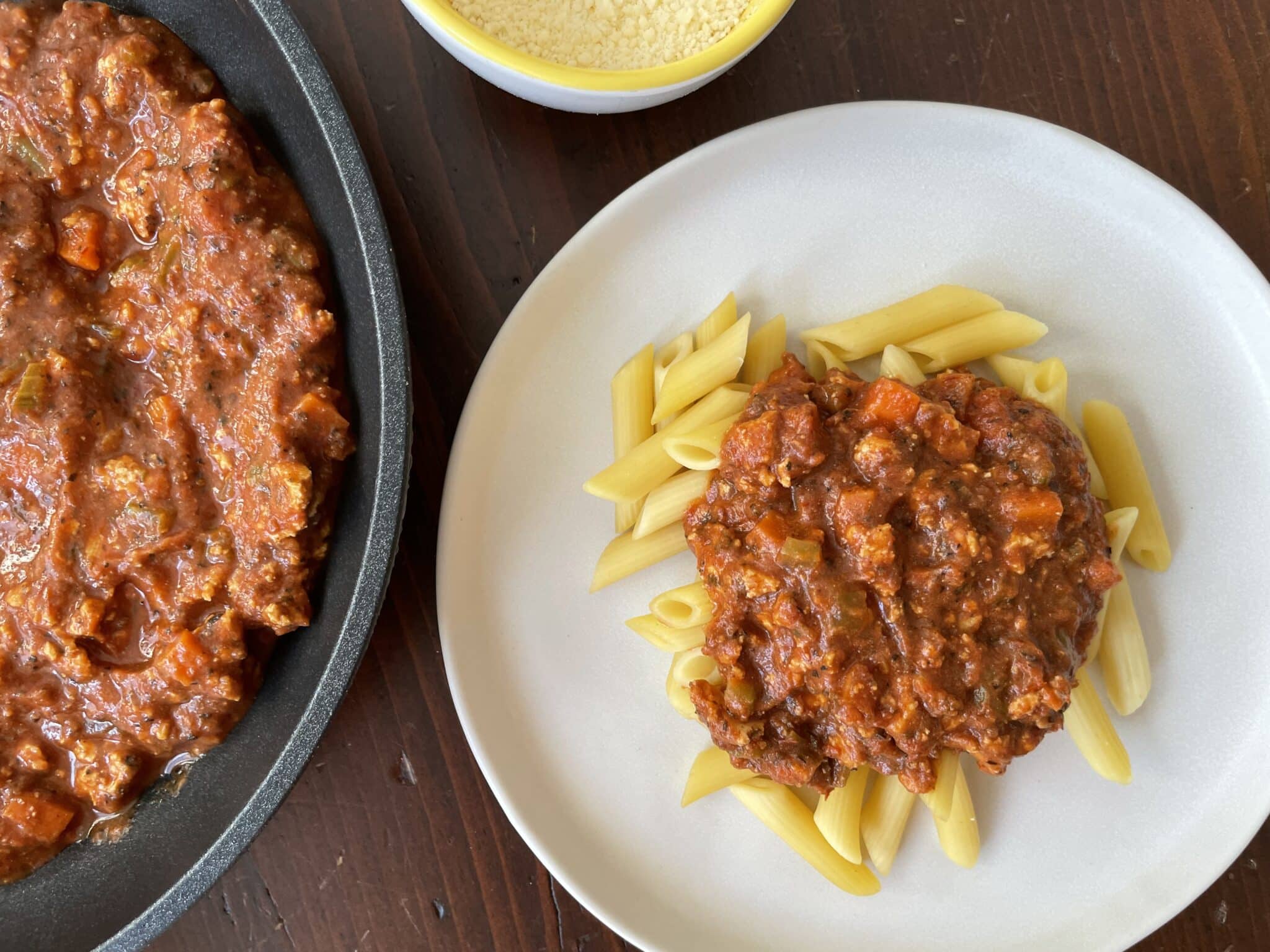 Final Thoughts
If you love this nontraditional take on meat bolognese, try this pasta sauce with tofu and leave me a comment below!


One Pot Tofu Bolognese
This easy tofu bolognese will be a new family favorite as it is quick to make, super simple, and oh-so-delicious.
Ingredients
1

tbsp

olive oil

1

clove

garlic

minced

1

large

carrot

diced

1

stalk

celery

diced

1

cup

extra firm tofu

crumbled

2

cup

tomato sauce

low sodiumg

1

cup

soy milk

1

tsp

chili powder

1

tsp

basil

½

tsp

oregano

1

tbsp

nutritional yeast

optional
Instructions
Drain the tofu and press it for at least 30 minutes.

Prepare ingredients, and crumble the tofu.

In a saucepan add olive oil and garlic. Heat until browned (2-3 minutes).

Then add carrots and celery to a saucepan and saute on medium heat for another 5 minutes.

Add crumbled tofu, followed by chili, basil and oregano. Stir until combined.

Add low sodium tomato sauce and soy milk, stir to combine.

Simmer for 10 minutes until heated through, stiring occasionally.

Top with nutritional yeast, and serve!
Nutrition
Calories:
131
kcal
Carbohydrates:
12
g
Protein:
9
g
Fat:
6
g
Saturated Fat:
1
g
Polyunsaturated Fat:
2
g
Monounsaturated Fat:
3
g
Sodium:
85
mg
Potassium:
671
mg
Fiber:
4
g
Sugar:
7
g
Vitamin A:
3736
IU
Vitamin C:
10
mg
Calcium:
128
mg
Iron:
2
mg