DASH diet soup recipes are needed for cold winter days to provide comfort. However, if you are watching your sodium intake it may be difficult to find sodium recipes that fit your need.
Purchasing prepared soups may not be an option because it is easy to reach your daily limit of sodium with just one can.
This is why I created a list of dietitian-approved DASH diet soups that offer nourishment and comfort by the bowlful, without having to worry about your health.
DASH Diet
The DASH diet is an acronym for the dietary approaches to stop hypertension eating plan, which was ranked the number 2 best diet in 2022 by the U.S. News and World Report (1). Hypertension is another word for high blood pressure. Thus, it's a diet that stops high blood pressure.
It is ranked so high because not only can it can lower blood pressure, and manage blood sugar. It is also family-friendly, and budget friendly since it is inclusive of all food groups and requires no special foods.
This list of DASH diet soup recipes will help you meet your health goals, with foods that lower blood pressure like vegetables, whole grains (i.e. brown rice, oats), and legumes (i.e. black beans or chickpeas).
These nutrient-packed recipes are sure to meet your requirements for potassium, magnesium, calcium, and fiber. Key nutrients in the DASH diet.
Sodium vs. Salt
Salt and sodium should not be used interchangeably.
Salt is made up of two molecules, sodium, and chloride. This means eating salt, increases your intake of the mineral sodium.
The mineral sodium is responsible for managing fluid levels which can impact blood pressure, heart disease, and even kidney health.
Salt is added to canned soups for preservation but also tastes too.
Making your soup at home can definitely help control your sodium intake, but not all homemade soups are low in sodium.
There are many different labels and claims about sodium in soups. I listed them below to provide definitions to reduce confusion and misinformation.
Low Sodium Soup
The term "low sodium" is regulated and means less than 140 mg of sodium per serving (2). This is a good term to look for when trying to reduce your sodium intake.
No Sodium Soup
It is likely impossible to make a "no sodium" soup since most foods have some naturally occurring sodium. For example, 1 medium whole tomato has about 6 mg of sodium. Although it is a small amount it is not zero.
Thus using a lot of whole foods will result in a very low amount of sodium per recipe, but it will never eliminate sodium completely.
No Salt Soup
This is not a regulated term, but if I had to guess the definition of "no salt soup" would mean no salt has been added to the soup.
This doesn't mean it is salt-free because depending on the food products used, salt could be added.
For example, if canned tomatoes were used, the ingredients on canned tomatoes are "tomatoes and salt." Thus even though you aren't adding salt through the salt shaker, salt may be added to the soup with the specific foods used, in this case, canned tomatoes.
Low Salt Soup
This is another term that is not regulated but I would assume "low salt soup" means that some salt was added to the recipe, but not a lot.
Overall it is always recommended to check the nutrition facts of each recipe, regardless of the recipe name, in order to really understand how much sodium you are consuming.
How To Make The Best Low-Sodium Soups
The best low-sodium soups reduce salt but add flavor through:
herbs
spices
low sodium or no added salt soup broths
splash of citrus fruits like lemon
wine (don't worry, the alcohol is burned off during cooking)
vinegar (for the most flavor add it at the end of cooking time)
The following soup for heart patients are some of the tastiest & healthiest lowest sodium soups out there.
13 Heart Healthy Soups (Low Sodium)
These DASH diet sou recipes have less than 500 milligrams of sodium per serving, as this fits within the DASH diet plan.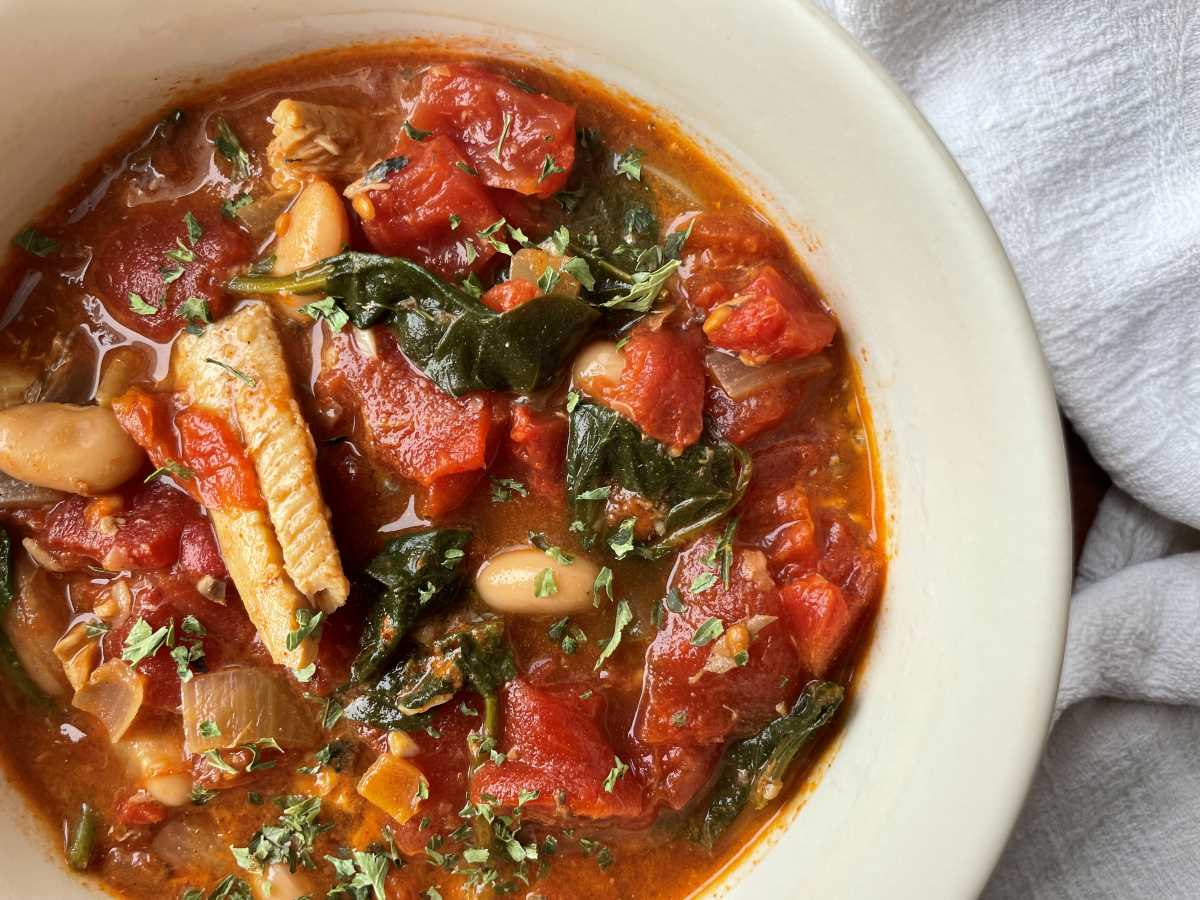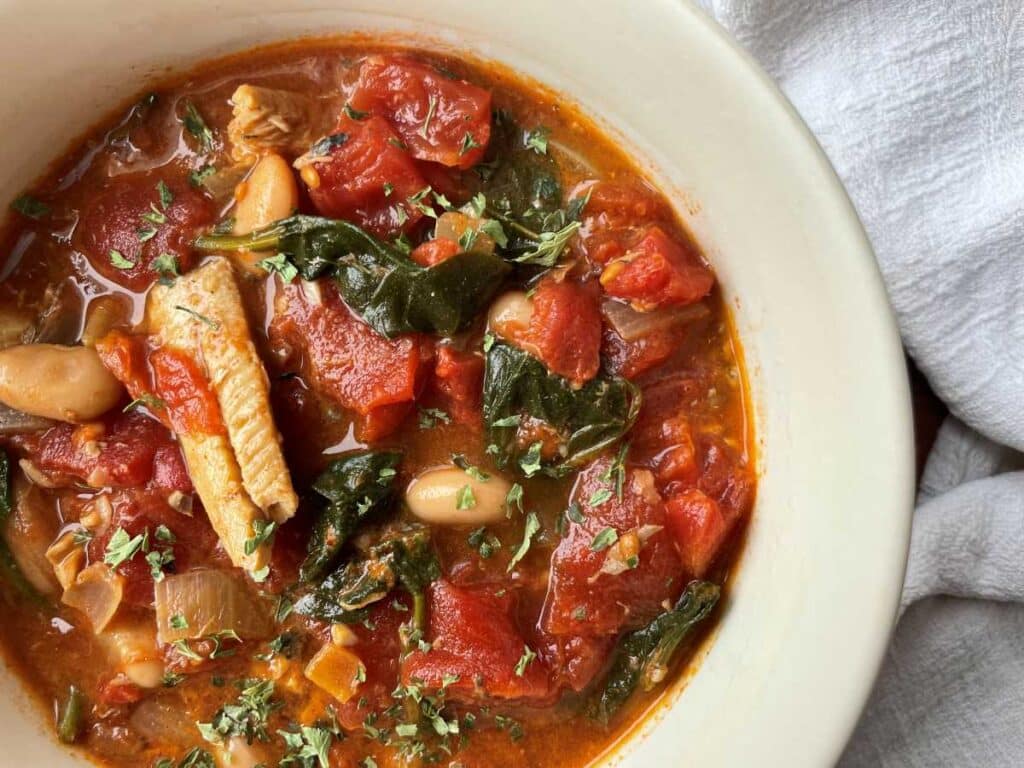 This easy and quick sardine heart-healthy soup is rich omega-3 fatty acids and soluble fiber from the white beans.  It is made from pantry staples and leafy greens. It can be easily whipped up when you are craving something warm and comforting.
If you have some leftovers, making this DASH diet soup is always a good idea. In springtime, you can reuse peas to make this easy recipe, together with ham and some fresh herbs.
This carrot and lentil soup is a delicious soup recipe for heart patients! The red lentils and carrots are complemented with cumin, smoked paprika, coriander, and chili, resulting in a creamy, substantial soup. Easily substitute the carrot for sweet potatoes here.
This creamy broccoli soup with almonds is dairy-free, low-sodium soup. This great recipe is vegan, and easy to make. Fresh broccoli and blanched almonds blend with unsalted chicken broth creates a richly flavored, filling soup you can serve up in 30 minutes or less.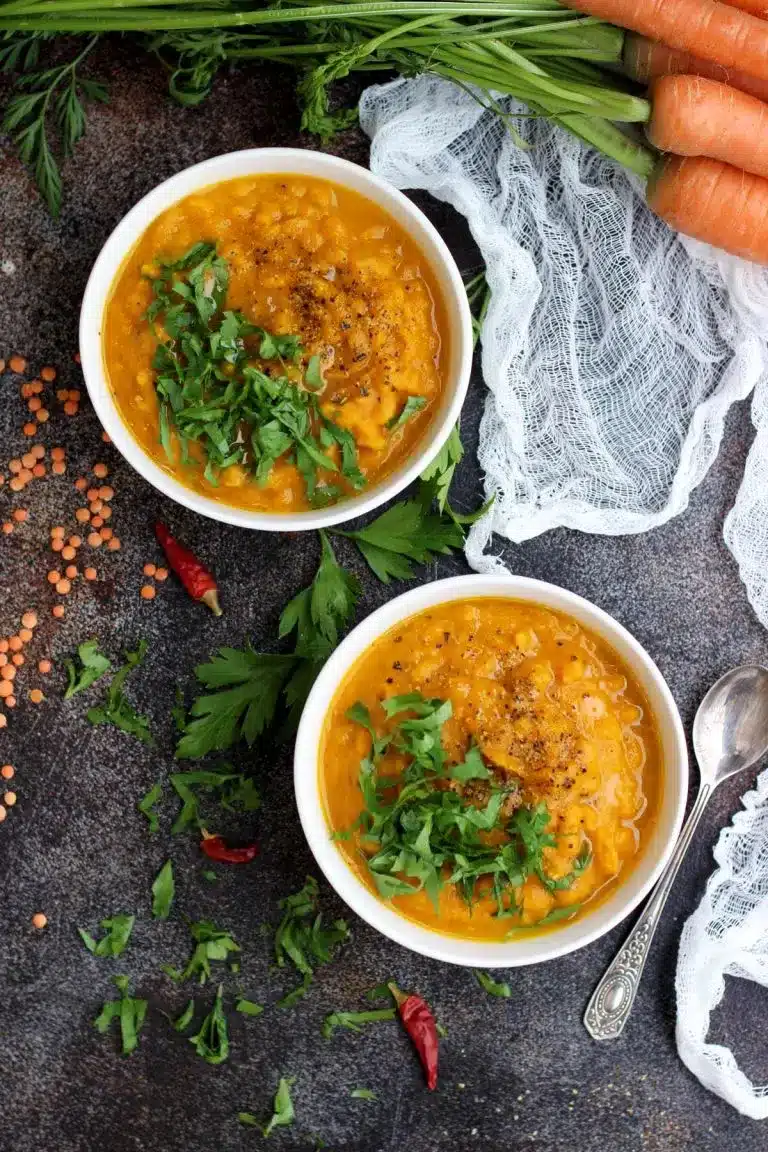 Easy and delicious low salt soup with lentils and Moroccan spices is a perfect dash recipe. This velvety, rich, and healthy carrot soup has a unique and perfectly balanced flavor!
Oatmeal soup is a nourishing whole grain offering so many health benefits! Try this rich tomato oatmeal no salt soup for a satisfying way to reap to benefits of oats.
This homemade tomato no salt soup is a classic soup recipe. It's made with fresh Roma tomatoes and garlic roasted on a sheet pan, then blended smoothly. It's an easy dinner staple to pair with a leafy green salad the whole family will love. Prepare this rich and creamy comfort food classic tonight with just 7 simple ingredients.
This low salt soup is packed full of bright, fresh flavors of creamy coconut milk, citrus, and dill.
This chickpea noodle soup is a meatless option for chicken noodle soup as it includes plant-based protein. Using unsalted veggie stock, adding fresh veggies, and rinsing the chickpeas before adding help to keep the sodium on the lower side.
This is an easy heart healthy soup low in sodium – A light, cool and refreshing dessert or appetizer featuring fresh strawberries and vanilla yogurt! So yummy for the summertime!
This hearty soup is creamy yet vegan, spicy yet not overpoweringly so. It's also incredibly easy to make – chop, chop cook! Make a big batch in a large saucepan for leftovers to be heated up the next day for loads of disease-fighting antioxidants.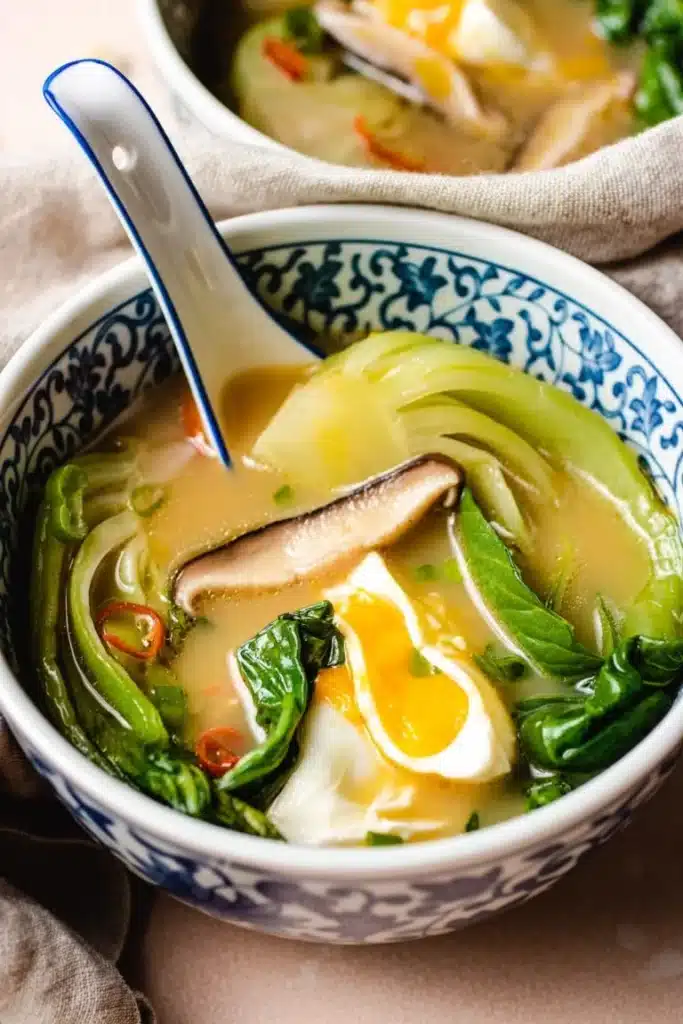 Delicious hot soup for heart patients is made with Bok Choy is healthy and easy! This soup is vegetarian or vegan friendly and perfect for cold winter!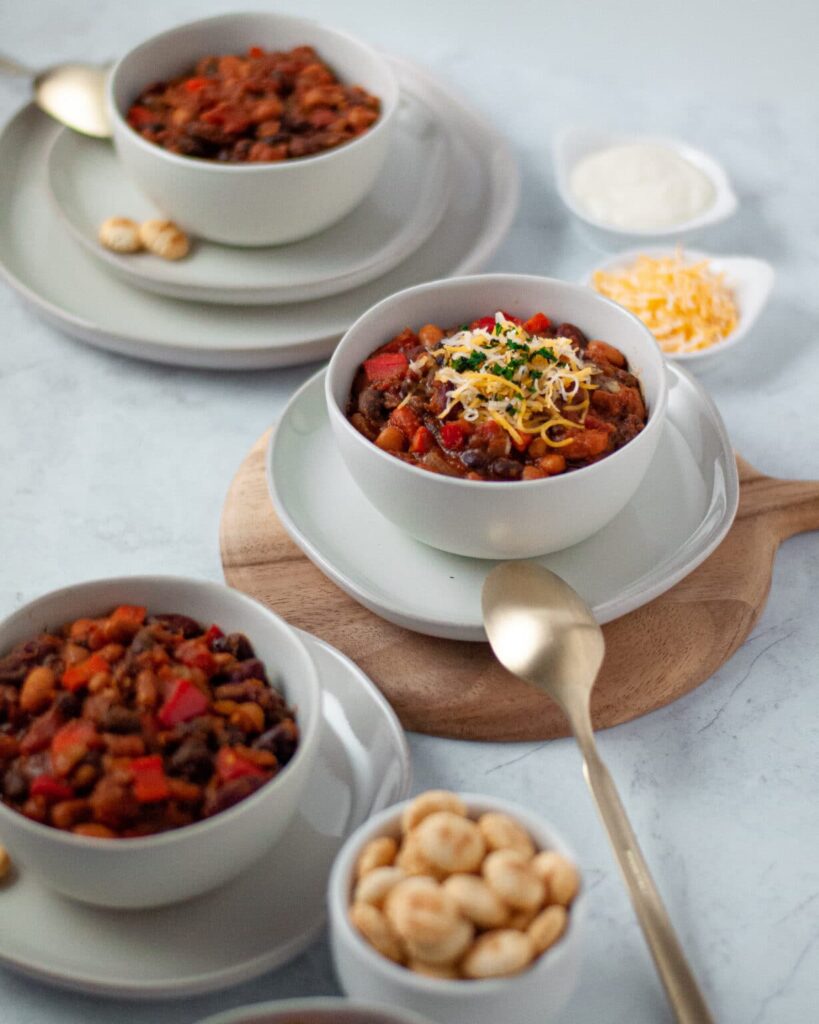 Chili is the perfect cold-weather food. It's warm, comforting, and inviting. This black bean vegetarian chili is all of that AND healthy. Packed with plant-based protein, fiber, and veggies like red bell peppers, this is a great family dinner with medium heat.
You could also top this with delicious baked tortilla strips.
Final Thoughts On DASH Diet Soup Recipes
Keep your sodium in check with these soups for heart patients and dash diet recipes that have limited sodium content.
From three-bean chili to sardine soup there is something for everyone to provide comfort, and help you feel your best.
Other Foods To Lower Blood Pressure:
Other Low Sodium Recipes
Or try low sodium mayonnaise, low sodium breakfast idea, low sodium lunch ideas, low sodium pasta recipes, low sodium bagels, low sodium hot chocolate, low sodium marinara sauce, low sodium pancakes, low sodium oatmeal recipes, low sodium salsa, low sodium hummus, low sodium taco seasoning, DASH diet smoothies, DASH diet desserts, DASH diet soups, tofu bolognese, beet mac and cheese… to name a few.
And these low sodium cookbooks and DASH diet cookbooks can also be used for meal inspiration.