If you need a new healthy dip idea or a different topping for your favorite tacos, check out this super tasty low-sodium salsa.
Making your own salsa requires only 3 simple steps and calls for fresh whole ingredients, no preservatives, and a minimal amount of salt, which makes this recipe heart-healthy.
What's even more amazing is that this sauce has such a beautiful color and incredible flavor from it's fresh ingredients that you won't even notice it is low in salt.
This recipe is totally vegan, gluten-free, dairy-free, and nut-free, which means everyone in your family can enjoy it.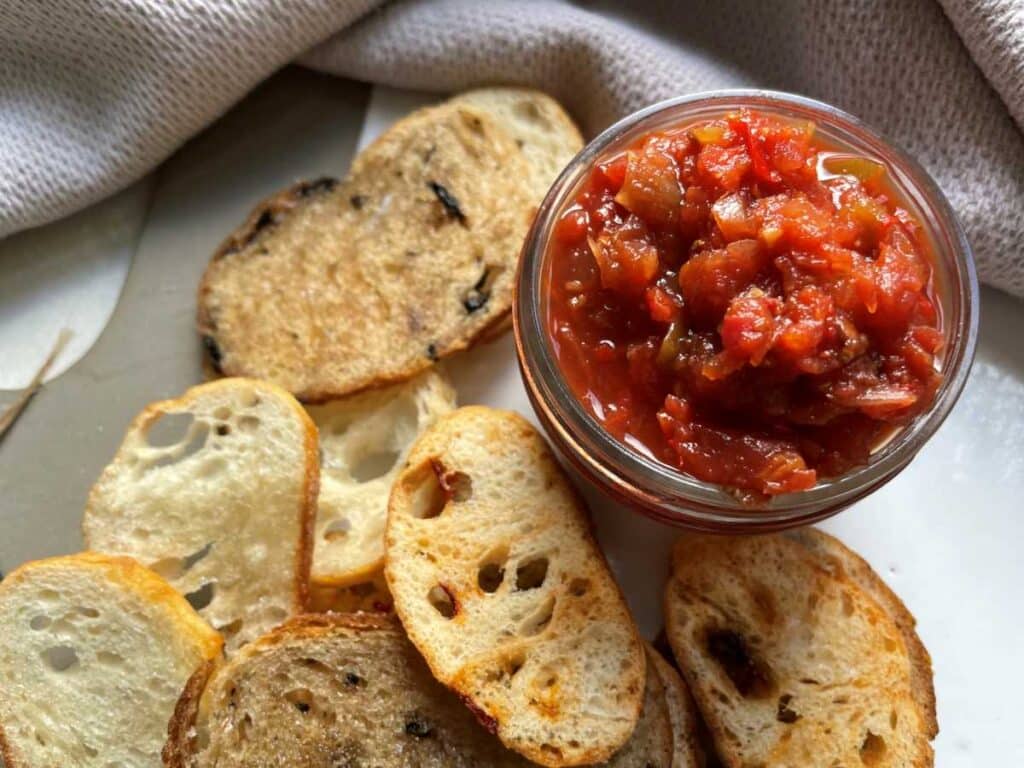 Why Make Low Sodium Salsa
Processed and packaged food (like soups, snacks, salsa, etc.) sold at grocery stores are high in salt. Salt is typically added for taste and to preserve foods.
Although used interchangeably, salt and sodium are not the same thing. Salt is a compound of two molecules – sodium and chloride. Sodium makes up approximately 40% of table salt (1). Therefore sodium refers to the dietary mineral sodium, which is a part of salt.
On average, a serving of store-bought salsa contains 234 mg of sodium. Dietary guidelines recommend a sodium intake of fewer than 2300 mg each day. Therefore one serving, or two tablespoons, of salsa meets about 10% of your daily sodium needs. From this example, you can see how quickly your sodium intake can add up, and why North Americans consume well above the recommended amount of sodium per day at around 3400 mg sodium (2).
Too much sodium in the diet can lead to high blood pressure and high blood pressure is a major risk factor for heart disease and stroke.
This is not to mention the fact that store-bought salsa also has a large amount of added sugar to reduce its acidity. It's important to reduce added sugar consumption for optimal health too.
Therefore, why not make your own salsa at home? Homemade salsa gives you control over which ingredients you choose to use, and the amount of salt and sugar you add. Being aware of such factors can greatly improve your own health.
Is It Heart Healthy?
Homemade salsa is rich in tomatoes, which is a food that can unclog arteries and a food that can lower blood pressure. Tomatoes contain lycopene, which not only gives tomatoes their mesmerizing red color but also acts as an antioxidant that helps reduce blood pressure (3). Another study explores the impact of lycopene on cardiovascular health and also suggests that tomatoes themselves can help lower LDL aka "bad" cholesterol (4).
Ingredients In Low Sodium Salsa
Fresh tomatoes: choose the nice, red, and firm ones. Avoid soft tomatoes as they may be of lower quality.
Spanish onion: or red onion works perfectly fine as well.
Green, red, banana, and chili pepper: for extra spiciness. You can omit them if you are not so much into the heat, but I find they add so much flavor!
Garlic: an important taste-maker.
Canned tomato paste: helps intensify the tomato flavor.
White vinegar and lime juice: enhance the taste of salsa.
Sugar: to balance out the acidity of tomatoes.
Salt, paprika, and oregano: for extra flavor and an earthy, warm taste for the dish.
Purchasing Tips
I highly recommend buying fresh tomatoes during their peak season (June to September) when they are ripe. If you are up for it I really encourage you to double the recipe and jar the rest of the salsa for use later in the year. You won't regret it.
If you need to use canned tomatoes, choose a brand that has "no salt added" on the front of its labels. Be sure to double-check the ingredient list, as the only ingredient should be tomatoes. No salt or sugar should be added.
Each 14.5 oz can contain roughly 5-6 tomatoes. This gives you a picture of how many cans you might need for your family.
If you use canned tomatoes, don't use the juice in the cans or your salsa will be too watery.
How To Make Low Sodium Salsa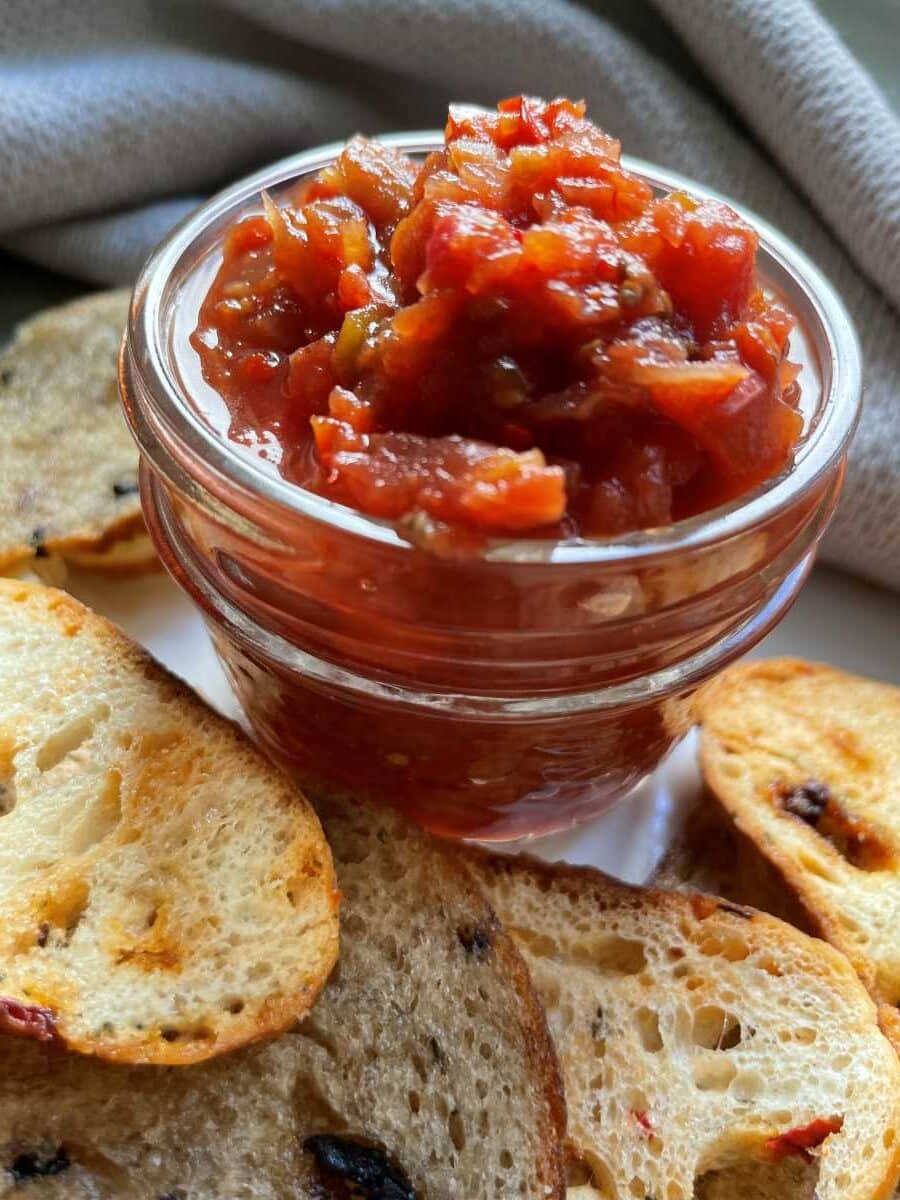 Once you get all the ingredients on the table, the cooking part should not take more than 30 minutes. Here are simple steps to make your tasty homemade low-sodium salsa:
Chop everything and add to a large saucepan over high heat.
Bring to a boil.
Turn heat to low and simmer until thick (around 30 minutes).
Let cool and put into jars with lid.
If possible wait a few hours after cooling to consume. This will let the flavors percolate.
Store in the fridge and serve cold. Sterilize if desired for use during the winter months.
How Does Low Sodium Taste?
Adding less salt does not mean your salsa is going to taste bland. If you buy local tomatoes in peak season and prepare them with a wide variety of fresh herbs and ingredients, your salsa will taste equally if not even more flavorful.
How To Eat
It is best to serve salsa cold. Try pairing it with your favorite dishes, such as:
Add it to your scrambled eggs
Serve on brown bread or rice for breakfast and lunch
As a dip for a quesadilla or tortilla chips
As a sauce and toppings in a tuna salad sandwich or baked potatoes
Substitute salsa for salad dressing
Leftovers
Typically, homemade salsa can last for up to 5 days in the fridge for the best flavor and freshness.
But if you would like to make a large batch and store it in the fridge for a longer period of time, here is the link to a canning and sterilization process. Make sure you follow the steps properly to avoid spoilage. My family does this every September. It's a lot of work upfront, but totally worth it!
Variations Of Low Sodium Salsa
You can definitely be creative with making salsa. Here are some other variations to consider:
Add less or omit hot peppers and the seeds of the peppers to reduce the spice
Use your other favorite herbs. Cilantro, parsley, basil, and cumin work well.
If you want a smooth texture, feel free to put it in a food processor.
Want more sweetness? Add natural sugars with fruits like mango, kiwi, or peaches to balance out the acidity. Avoid using too much granulated sugar.
FAQ
What Is Considered Low Sodium Salsa?
Generally, low-sodium salsa is one that is made with a minimal amount of salt.
Is Salsa High In Sodium?
Commercial salsa that is sold in the supermarket is made with a high amount of sodium for extra taste.
Is Salsa OK For High Blood Pressure
Salsa is a delicious dish that uses many fresh fruits, vegetables, and herbs that help manage your blood pressure, cholesterol and heart health conditions.
Other Heart Healthy Recipes
Want to find more heart-healthy recipes? Check these out:
Here are some other low sodium recipes. They include low sodium mayonnaise, low sodium breakfast ideas, low sodium lunch ideas, low sodium pasta recipes,low sodium bagels, low sodium tortillas, low sodium instant pot recipes, low sodium hot chocolate, low sodium marinara sauce, low sodium pancakes, low sodium oatmeal recipes, low sodium hummus, low sodium taco seasoning, DASH diet smoothies, DASH diet desserts, DASH diet soups, tofu bolognese, beet mac and cheese… to name a few.
Or check out these low sodium cookbooks and DASH diet cookbooks for inspiration.
Pin It Now & Make It Later!
Final Thoughts
Voila, the perfect low-sodium salsa is ready for you to enjoy. Try making your own salsa to control the types and ingredients that you use. I encourage you to play around in the kitchen and experiment with adding your own favorite combinations and let me know in the comments which version of salsa you like the most!


This blog post was written by Wesley Mai, Nutrition Student, and Veronica Rouse, RD, MAN, CDE.
Low Sodium Salsa
Making your own salsa requires only 3 simple steps and calls for fresh whole ingredients, no preservatives, and a minimal amount of salt, which makes it heart-healthy.
Ingredients
5

cups

tomatoes

peeled

¾

cup

Spanish onion

chopped 

¾

cup

green pepper

chopped 

½

cup

red pepper

chopped 

1

hot banana pepper

chopped 

3

hot chili peppers  

chopped 

1

clove

garlic

minced

1

can

tomato paste             

½

cup

white vinegar         

2

tbsp

sugar                 

2

tbsp

lime juice                

½

tsp

pickling salt            

1

tsp

paprika                       

1

tsp

oregano
Instructions
Chop everything and add to a large saucepan over high heat.       

Turn heat to low and simmer until thick (around 30 minutes).

Let cool and put into jars with lid.

If possible wait a few hours after cooling for flavors to perculate.

Store in the fridge and serve cold. Sterilize if desired.
Nutrition
Calories:
28
kcal
Carbohydrates:
6
g
Protein:
1
g
Fat:
0.2
g
Saturated Fat:
0.03
g
Polyunsaturated Fat:
0.1
g
Monounsaturated Fat:
0.02
g
Sodium:
78
mg
Potassium:
193
mg
Fiber:
1
g
Sugar:
4
g
Vitamin A:
578
IU
Vitamin C:
37
mg
Calcium:
12
mg
Iron:
0.4
mg