Check out these DASH cookbooks that are perfect for helping you transition to a nutritious, DASH diet!
If you are looking to make this way of eating part of your lifestyle, it helps to have some tested tips and tricks from DASH diet books written by experts.
These books will help make the transition to the eating style much easier. All books listed below were written by a Registered Dietitian, your nutrition expert when it comes to healthy eating.
*Please note that this post contains clearly identified affiliate links. If you click on these links and choose to make a purchase, I may receive a commission (at no cost to you). As an Amazon Associate, I earn from qualifying purchases.
DASH Diet: A Popular Way To Eat
The DASH diet, an acronym for The Dietary Approaches to Stop Hypertension eating plan, was ranked the number 2 best diet in 2022 by the U.S. News and World Report (1).
Why was it ranked so high?
it has extensive research that this way of eating can lower blood pressure, as much as some medications
it's inclusivity since it doesn't exclude food groups
not only can it help manage blood pressure, but diabetes too!
family-friendly, suitable for all members of the family
budget-friendly, no special foods required
vegan and vegetarian friendly, as it emphasizes protein from plants
satiating because it's full of plant foods like vegetables, fruits, whole grains, and legumes which are full of fiber
clear servings and quantities identified for each food group for people who like to follow a plan
What Is The DASH Diet?
If you have recently been told to follow a heart-healthy diet, or you are trying to lower your blood pressure through food, you may feel a bit overwhelmed with where to start.
A DASH diet book is an ideal tool to help make meals exciting, delicious, satisfying, and fun.
Heart Health
DASH diet may reduce the need for blood pressure medication. Or it may lower the amount of blood pressure medications one may need. This way of eating has over 25 years of evidenced-based information on successfully managing blood pressure (1).
The DASH diet recommends eating real foods that can lower blood pressure. This way of eating include adequate nutrients responsible for contracting and relaxing the blood vessels. This nutrients are potassium, magnesium, calcium, and sodium.
The DASH diet meal plan includes:
Fruits and vegetables (4-5 servings each) – 1 cup of raw vegetables or 1 medium fruit is one serving
Whole grains (7-8 servings) – 1 slice of bread is 1 serving
Nuts and seeds (4-5 servings per week) – 2 tbsp of peanut butter makes up 1 serving
Lean meat or fish (2 servings or less) – 3 oz of cooked lean meat is a serving
Low-fat dairy products (2-3 servings) – 1 serving is around 1 cup of milk
Curious about what this looks like in meals, instead of ingredients? That's where the DASH diet cookbooks come in handy!
What's The Difference Between The DASH Diet And The Mediterranean Diet?
The DASH diet is similar to the Mediterranean dietary pattern that emphasizes olive oil as they both manage heart disease. However, the DASH diet gives more concrete recommendations on the amount and servings of each food group to include.
The Mediterranean diet has research that promotes the prevention of heart disease and the lowering of cholesterol levels, which is not the focus of the DASH diet (2, 3).
What Is The Best DASH Diet Book?
The best book on the DASH diet considers the following:
provides context to what the DASH diet entails
matches your skill level in the kitchen
ease of access to ingredient
considers your time allowance
Where Can I Buy The DASH Diet Book?
All recommended books are linked to Amazon to purchase for ease and convenience. That being said, you can also purchase them in stores wherever books are sold. Another option is borrowing them from a local library.


Best DASH Diet Cookbooks And Diet Books
Here are the best DASH diet books, according to me and my experience as a Registered Dietitian working with individuals who are trying to lower their blood pressure!
By Karman Meyer RDN
I reached out to Karman Meyer, and she explained why this cookbook is unique. She said, "the cookbook combines the many benefits of the DASH Diet with the convenience of meal prepping to make it as easy as possible to follow."
She expands to let you know "there are 200 simple make-ahead recipes in the book, plus the two-week meal plan. This will help individuals living with high blood pressure follow the DASH Diet without difficulty."
This book is for you if you are busy during the week! Meal prepping can make life easier and Karman lays it all out for you with explanation on how to make the recipe ahead of time, how to store and reheat it months later.
2. DASH Diet for Two: 125 Heart-Healthy Recipes to Lower Your Blood Pressure Together
By Rosanne Rust, MS, RDN, LDN
Rosanne explains that recipes were created to meet the needs of smaller households. The recipes are portioned for one or two servings, so there is less food waste.
This book is for you if you find yourself cooking for one or two people most of the time!
By Dana Angelo White, MS, RD, AT
This book is for planners everywhere. It has 6 weeks of step-by-step meal prep plans to effectively follow the DASH dietary pattern.
You won't get bored with 80 heart-healthy recipes and you'll discover time-saving, budget-friendly meals that you'll love!
This book is for you if you want to follow a plan to save time and need around 6 weeks' worth of meals.
By Sarah Samann MD, FACC, FACP, FASE, Rosanne Rust MS, RDN, LDN and Cindy Kleckner RDN, LD, FAND
Rosanne explains that this is much more than a typical diet book because it was co-authored by a cardiologist. Thus it truly is an excellent resource since most doctors don't have the time to provide enough education to patients.
This book is for you if you would like to increase your understanding of how blood pressure works in the body (as well as cook delicious food) to help motivate you to engage in healthy lifestyle behaviors.
By Abbie Gellman MS, RD, CDN
If you are interested in adhering to both the Mediterranean and DASH ways of eating for heart health, then pick this book up. It's full of easy-to-make meals that anyone can execute.
This book is for you if you don't want to go all in on the DASH diet but instead want the combine the two ways of eating for maximum benefits.
By Cheryl Strachan, RD
Although it doesn't have DASH diet in the title, I've included this here because this book includes heart-healthy low sodium meals.
This book is for you if you are interested in easy recipes that can be executed with limited kitchen skills. Cheryl uses everyday common ingredients and most ingredients have just five ingredients or less!
By Amanda Foote, RD
Not only does this book provide recipes like cheesy vegetarian rice casseroles and salmon with cilantro lime sauce. But it also includes information on the DASH diet and a sample 7-day meal plan to get you started.
This book is for you if you are new to eating the DASH way and are interested in learning about high blood pressure and how to manage it with a dietary framework.
By Andy Santis RD, MPH and Julie Andrews RDN CD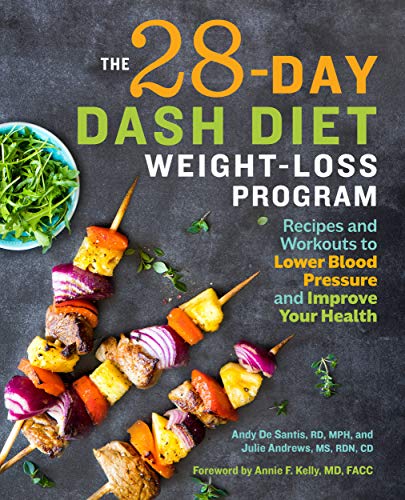 This book offers a month worth of meals for you to get your feet wet with the DASH way of eating. Not only does it provide step-by-step guidance but it also touches on exercise, stress, and sleep as it relates to high blood pressure.
This book is for you if you want a done-for-you plan that eliminates any guesswork or application to your current lifestyle.
9. Heart Healthy Meal Prep: 6 Weekly Plans for Low-Sodium, High-Flavor Grab-and-Go Meals
By Lisa Cicciarello, MEd, RD, LD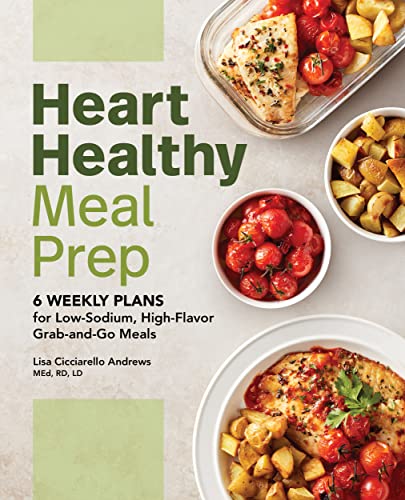 Do you want to lower your blood pressure, but are also interested in managing your cholesterol too? Try this book that focuses on meal prepping for heart health.
This book is for you if you are looking for a way to meal plan for overall heart health and not just blood pressure management.
10. The DASH Diet Action Plan: Proven to Boost Weight Loss and Improve Health
By Marla Heller
A book that not only focuses on the DASH diet but weight loss too. This New York Times bestselling author Marla Heller is an expert in all things DASH and has many other books like:
This book is for you if weight loss is just as important as eating the DASH way.
Video Review
Final Thoughts
I hope these recommendations help you get started on your DASH diet eating journey.
If you are particularly looking for low sodium inspiration check out these recipes: low sodium mayonnaise, low sodium breakfast ideas, low sodium instant pot recipes, low sodium hot chocolate, low sodium marinara sauce, low sodium pancakes, low sodium oatmeal recipes, low sodium salsa, low sodium hummus, low sodium taco seasoning, DASH diet smoothies, DASH diet desserts, DASH diet soups, tofu bolognese, beet mac and cheese.
Or these low sodium cookbooks, recommended by a dietitian.