This crunchy golden steel-cut oat granola is high in soluble fiber. It can help lower your cholesterol and manage your weight. This recipe offers lots of opportunities for variations and flavors.
Why Make Granola With Steel Cut Oats?
adds flavor and texture to yogurt parfait
just add milk for a filling cereal
full of fiber – you will be full until lunch!
more nutrients than granola made with rolled oats
unlimited nutrient-dense variations
Which Is Healthier Oats Or Granola?
Oats and granola can both be healthy! They both use rolled oats as their main ingredient, and if you add some protein and healthy fats with nuts or seeds, as well as some fruit for antioxidants they would be equally healthy. You want to be cautious about the type and how much-added fat you add to your granola, but otherwise they both can be quite healthy dishes!
So if you are sick of a traditional bowl of oatmeal but still want the benefits of oats – this recipe is for you!
Are Steel Cut Oats As Healthy As Regular Oats?
Regular oats, also known as large flake oats or old-fashioned oats are typically used for their convenience. They are more processed, so they are quicker to cook. Because of this processing, they have less flavor and texture than steel-cut oats.
My clients find it hard to justify spending 30 minutes making steel-cut oats for their morning bowl of oatmeal, so if that sounds like you, maybe try this recipe instead to reap the benefits and try the flavor that steel-cut oats can offer.
Steel-cut oats are slightly superior to rolled oats nutritionally. When you eat large flake rolled oats you consume the entire oat groat in flattened form. However, steel-cut oats are the least processed type. Basically, the groats are chopped into pieces with a steel-cut blade (hence the name). Thus, they are less processed, they have more fiber.
Additionally, because steel-cut oats are less processed, they have a slightly lower glycemic index than rolled oats.
The Glycemic index is a scale that ranks food by how quickly it raises blood sugar after it has been eaten. The lower the ranking means the body digests and absorbs the food more slowly, leading to a slower rise in blood sugar.
Thus, steel-cut oats can provide a slower release of sugar into the blood which can help manage blood sugar. For this reason, steel-cut oats may be the best choice for those looking for better control of their blood sugar.
As you can see in the table below, steel-cut oats are higher in fiber and have a lower glycemic index.
| | | |
| --- | --- | --- |
| | Steel Cut Oats | Rolled Oats Or Old Fashioned Oats |
| Serving Size | 1/2 cup (40 g) | 1/2 cup (40 g) |
| Dietary Fiber | 6 g | 5 g |
| Glycemic Index | 52 | 55 |
Table 1: Key nutritional differences between steel-cut oats and rolled oats (1, 2)
Can You Make Granola With Steel Cut Oats?
Yes, you can make granola with steel-cut oats instead of the traditional rolled oats. Steel-cut oats offer a denser, crunchier texture and nuttier flavor than rolled oats.
And good news – if you like granola, you will like steel-cut oat granola. Their taste is very similar. However, they do differ in texture as steel-cut oats have a nuttier flavor and chewier texture.
This steel-cut oat granola recipe is rich in protein, fiber, and healthy fats. It is filling and oh-so-satisfying.
Are Steel Cut Oats Good For Your Gut
Yes, steel-cut oats are good for your gut, just like rolled oats. Both oats are good for your gut because they contain soluble and insoluble fiber. Both types of fiber feed the gut microbiota also known as the gut bacteria. Therefore the more you feed your gut bugs the food they prefer (fiber!) then the more they grow and replicate.
Steel Cut Oat Granola Ingredients
This recipe is full of foods that will unclog your arteries:
steel cut oats – full of cholesterol-lowering soluble fiber
pecans – a rich source of cholesterol-lowering plant protein and unsaturated fatty acids
almond butter and olive oil– cholesterol-lowering unsaturated fatty acids
flaxseeds – a great source of plant protein and omega-3 fatty acids
Ground flaxseeds are important, not just nutritionally but they help make this granola clumpy. Like oats, it is rich in soluble fiber which means when it is combined with liquid, it acts as a binder and helps form this chunky texture.
How To Make Granola With Steel Cut Oats
Just like a muffin recipe, you will want to combine the dry ingredients in a separate bowl from the wet ingredients. Once both are mixed, you want to combine them together and transfer the ingredients to a baking sheet to cook in the oven.
It will be hot when you remove it from the oven. Be sure to let it cool completely before breaking it into chunks. This is probably the hardest part (waiting is always a challenge for inpatient me!). Because the longer it cools, the better you will be able to form nice big clusters of granola.
Once you have successfully made this recipe, the only limit for future flavor combinations is your imagination!
Some ways to customize with other heart-healthy ingredients to suit your taste preferences are:
It is super easy to make when you break it down like this.
Choose different types of nuts
Add seeds (like pumpkin or sunflower) instead of nuts
Don't have maple syrup, try honey
Sprinkle in shredded coconut
Cut the nut portion in half, and add 1/2 a cup of dried fruit of your choice (like cranberries!)
Don't like cinnamon? Try nutmeg or cloves!
Basic Steps
Preheat oven.
Mix dry ingredients into a large bowl.
Combine wet ingredients and stir until mixed well.
Add the wet ingredients to the dry ingredients and … you guessed it… mix again!
Spread the granola mixture onto a baking sheet.
Bake.
Let cool.
Break into chunks.
Enjoy!
Other Expert Tips
Eat granola cold or warm.
Lasts 3-5 days in an airtight container. Be sure to keep the moisture out to maintain the crispy texture.
Vegan
Vegan as is!
Gluten-Free
All ingredients are naturally gluten-free, but you will need to ensure that your oat has been processed and packaged in a gluten-free facility to ensure there is no cross-contamination.
Watch How It's Made
Other Ways To Use Granola
I've mentioned eating this granola with milk as a cereal, or topping your yogurt with it, but here are some other out-of-the-box ways to use granola:
Add crunch to your pancakes by adding granola clusters to your heart-healthy pancake batter
Top your baked fruit, baked oats, or fruit crisps for a different type of topping
Try it as a salad topper with this cherry vinaigrette
Toss it with nuts, roasted chickpeas, and dried fruit for a balanced trail mix
Cut them into homemade granola bars for breakfast
Other Oatmeal Recipes
Or check out other oatmeal recipes which include: low sodium oatmeal, vegan protein oatmeal, chocolate avocado smoothie, smoothie to lower cholesterol, pecan pie overnight oats, pb2 overnight oats, turmeric energy balls, low sodium pancakes, pumpkin protein balls, turmeric oatmeal and blueberry cheesecake overnight oats.
And be sure to check out the list of Registered Dietitian approved oatmeal recipes, and a list of Registered Dietitian approved oat bran recipes.
Pin It Now & Make It Later!
Steel Cut Oats Granola Recipe
This granola is packed with soluble fiber from oats and flaxseed – talk about a win for your cholesterol! What a perfect ingredient combination for a Portfolio eating pattern.
Follow the instructions below for our nutritious and delicious steel-cut oat granola recipe. And if you are looking for other oat recipes, check out these oat bran recipes for more inspiration. . Let me know what you think in the comments!
Blog post written by Veronica Rouse, RD, MAN, CDE, and recipe developed by Marissa Frodsham, Nutrition Student.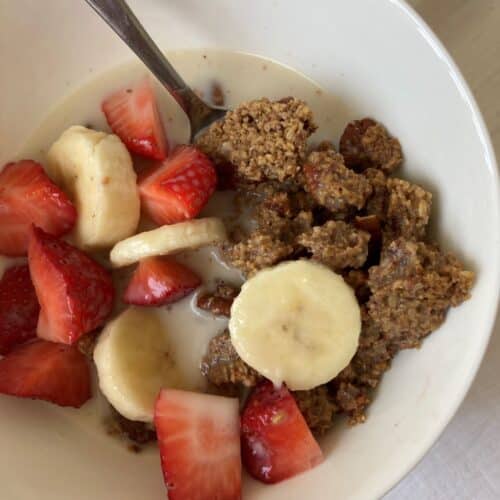 Homemade Steel Cut Oat Granola
This delicious and nutritious golden steel cut oat granola is a rich source of soluble fiber that can help you lower your cholesterol and your weight.
Equipment
2 Mixing Bowls

1 Baking sheet
Ingredients
Dry ingredients:
2

cups

steel cut oats

1

cup

pecans

chopped

2½

tsp

cinnamon

⅛

tsp

salt

3

tbsp

ground flaxseed
Wet ingredients:
2

tsp

vanilla

¼

cup

maple syrup

¼

cup

almond butter

¼

cup

olive oil
Instructions
Preheat oven to 325°F and line a baking sheet with parchment paper. 

Combine dry ingredients of steel cut oats, chopped nuts, cinnamon, salt, and ground flax to a medium/ large mixing bowl and stir to combine. 

In a small dish stir together wet ingredients: vanilla, maple syrup, almond butter, and oil, and mix until combined.

Add the wet ingredients to the bowl with your dry ingredients and fold in until thoroughly mixed.

Transfer your granola to the baking sheet, spread across the baking sheet until about 1cm thick and press down with the back of spatula.

Transfer your granola to the oven and bake for 18-20 minutes until slightly golden.

Remove from oven and allow to cool completely on the baking sheet (this will give you nice big clusters of granola!)

Break up, and serve on top of Greek yogurt, or milk of choice with fresh fruit!
Nutrition
Calories:
393
kcal
Carbohydrates:
38
g
Protein:
10
g
Fat:
24
g
Saturated Fat:
3
g
Polyunsaturated Fat:
5
g
Monounsaturated Fat:
13
g
Sodium:
39
mg
Potassium:
157
mg
Fiber:
7
g
Sugar:
7
g
Vitamin A:
9
IU
Vitamin C:
0.2
mg
Calcium:
80
mg
Iron:
2
mg