This cherry vinaigrette simply requires a few ingredients and a blender. On top of its easy preparation, it is highly nutritious, sweet, and a sight for sore eyes!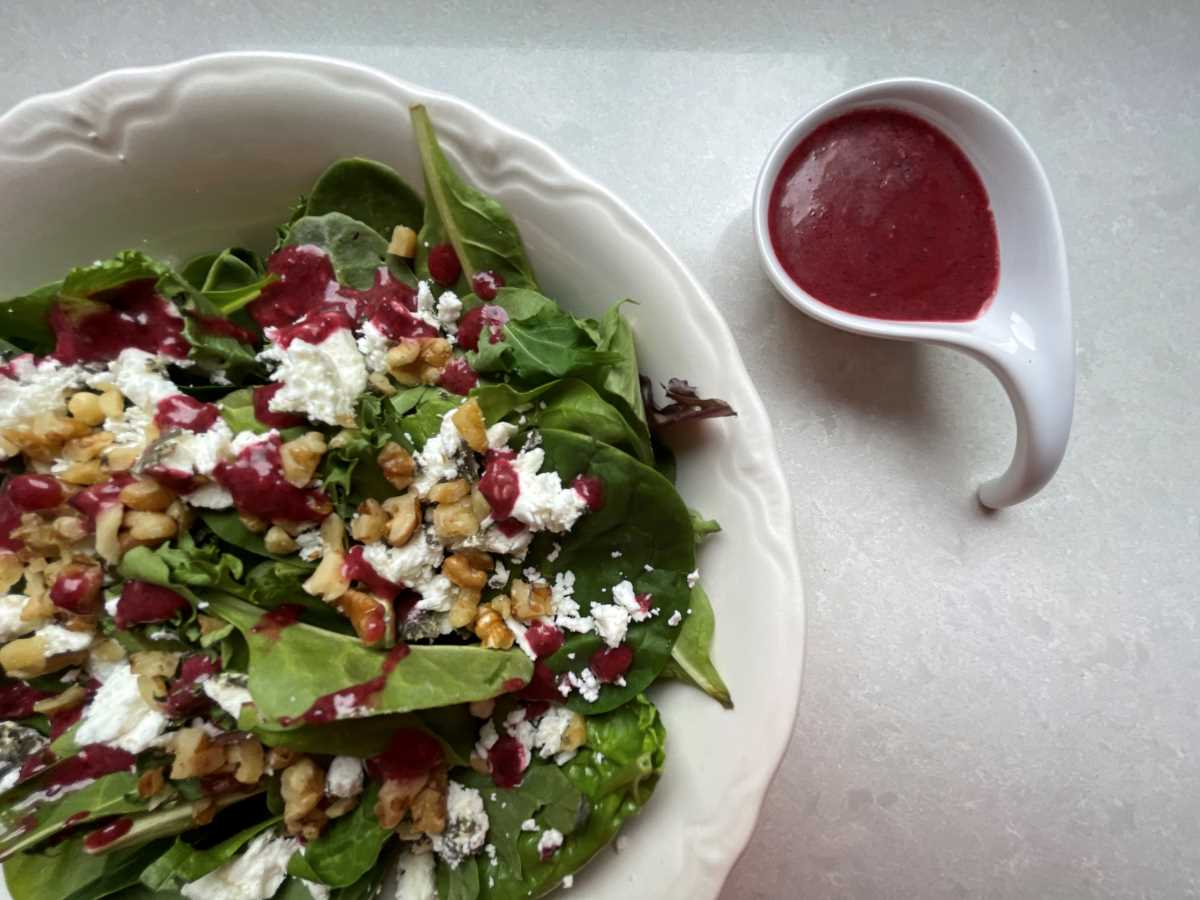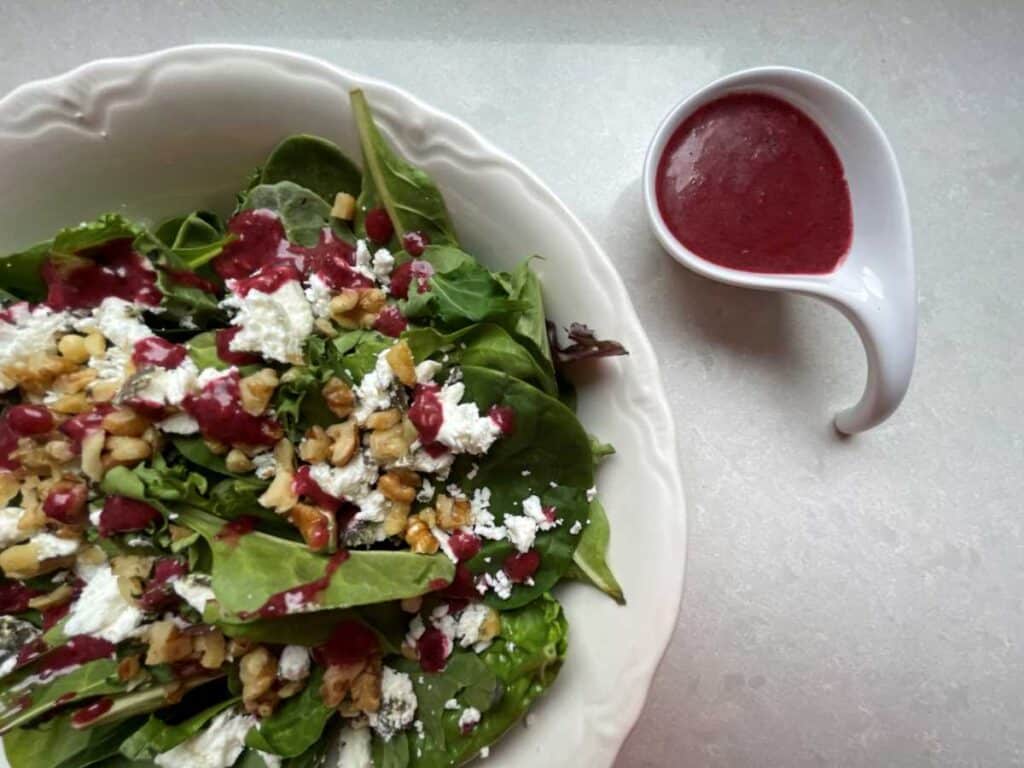 Why Make Cherry Vinaigrette?
This cherry vinaigrette is more than your usual salad dressing recipe as it is:
Dairy and gluten-free
Cheaper than buying store-bought
Full of heart-healthy nutrients, such as unsaturated fats and potassium
Simple and easy preparation
A delicious vinaigrette that adds more color to your salads
Is It Heart Healthy?
This cherry vinaigrette recipe offers 1 cup of frozen cherries, which provides (1):
6 g of fiber
545 mg of potassium (10% of an adult's recommended intake)
Fresh and Homemade
This fresh cherry vinaigrette recipe is a heart-healthy addition to your day as it is not just quick and easy but also only consists of fresh, whole ingredients.
Store-bought and processed dressings may not be the healthiest option as they may contain added sugars, salt, and unhealthy fats. That's why I recommend making your own salad dressing with fresh and whole ingredients because it is more nutritious without added sugars, salt, and fats.
Lower Blood Pressure
Cherries are the recipe's star, and according to studies, deservedly so! Cherries are highly nutritious and excellent for heart health as they provide antioxidants, fiber, potassium, and vitamin C. They are one of the 39 foods that can lower your blood pressure.
A review published found that regular consumption of cherries could lead to lowered blood pressure as the fruits contain compounds that can help widen the blood vessels (2).
Ingredients
Frozen Cherries
You can either buy cherries fresh or frozen. I prefer frozen cherries as they are more convenient. They can be stored in the freezer, preserved for a longer time, and come pitted. But fresh is just as healthy as frozen cherries, and you are free to choose either one.
Apple Cider Vinegar
Apple cider vinegar adds a strong, tart taste to the dressing.
Sesame seeds
Sesame seeds will add some crunchiness and flavor to the cherry vinaigrette. Toasted sesame seeds are great if you prefer a strong nutty flavor to your dressing.
But you can also use regular sesame seeds. Either one works as these seeds are rich in magnesium, an essential mineral in heart health.
Black Pepper and Honey
Black pepper and honey are added to strengthen the flavor of the cherry vinaigrette dressing recipe. But, you can also choose alternatives if you don't have these in your pantry. For example, you can add maple syrup instead of honey to sweeten the dressing.
Avocado Oil
Avocado oil is a tremendous heart-healthy oil for your salad dressing as it is rich in healthy fats such as oleic acid and Omega 3s.
Avocado oil is also perfect for this recipe as it is considered a neutral oil, meaning it has a mild flavor compared to other oils, such as olive oil. In fact, it is a recommended substitute for olive oil in terms of heart health management.
Purchasing Tips
Sweet Cherries
Sweet cherries, as you can guess by their name, have a sweeter taste. These cherries are noticeably bigger and take on a darker red color. Sweet cherries are in season during the summer and are commonly sold in markets and grocery stores.
Tart Cherries
Tart cherries are sourer and have a lighter hue and smaller size. Tart cherries are often used in cherry products such as cherry fillings, dried cherries, and juice.
Fresh or frozen cherries are healthy choices, and either can be used to make the vinaigrette. However, I advise against buying jarred cherries as these may contain added sugars.
Heart Healthy Oils
If you don't have avocado oil on hand, no worries because there are plenty of other healthy fats you can use. Other potential oils are olive oil or canola oil.
How To Make A Cherry Vinaigrette
What's great about the cherry salad dressing is that it only involves a few ingredients and a blender! A simple blender will do as all you need is to mix the ingredients thoroughly to get a consistent vinaigrette.
Place the frozen cherries in a small saucepan and cook over medium to low heat for about 5 minutes until the cherries soften and release juice, stirring occasionally. An alternative is also to defrost the cherries on the counter.
Let the cherries cool for around 20 minutes. Blending hot liquids and foods may cause them to explode in the blender.
After the cherries have cooled down, place them along with the apple cider vinegar, 1 ½ tbsp sesame seeds, black pepper, salt, and honey into the blender.
Blend until you reach a smooth and consistent product
Continue to run the blender slowly and then carefully add the oil and let it blend for another minute
Then, pour the vinaigrette into a preferably airtight jar.
If you prefer added crunch, you can add the remaining ½ sesame seeds and stir it up with the vinaigrette at this time. This is definitely an optional step, and based on your texture preference.
Watch How To Comes Together
Leftovers
If you have leftover cherry salad dressing, you can store it for future use. Make sure to keep it in the fridge in an airtight container. The vinaigrette will stay best for at least five days.
However, I don't recommend freezing it as the thawing process may result in a different taste and altered texture.
How To Eat This Cherry Vinaigrette
Shaking the cherry vinaigrette dressing each time you use it is essential.
A little food science tidbit for you, vinegar and oil don't mix very well. So even if you shake it as much as your heart desires, the two will separate from each other over time. That's why shaking before use ensures you get a consistent taste of the vinaigrette as you pour it over your food.
The cherry vinaigrette recipe can also be used in different ways:
Drizzle it over a spinach salad or other fruits/vegetables to make a dressing
Pour over cooked, roasted, boiled, or steamed vegetables for dinner
Use it as a condiment for sandwiches or wraps
It can be a dip or sauce for finger foods such as crackers
This cherry vinaigrette recipe isn't the only topping you can add to your salads. You can add healthy and delicious toppings on top of the vinaigrette ranging from nuts, seeds, dried fruits, shredded cheese, cooked eggs, tofu, pork loin, beans, and tofu.
One last tip is that you can add any seasoning you'd like, such as salt or herbs, to taste.
Other Recipes
Check out these other simple recipes that only require a blender.
Final Thoughts
Revamp your salad recipes with this tasty and bright cherry vinaigrette dressing. It only requires blending some ingredients and offers various heart-friendly nutrients. So, give this a try, and I assure you, you won't regret it.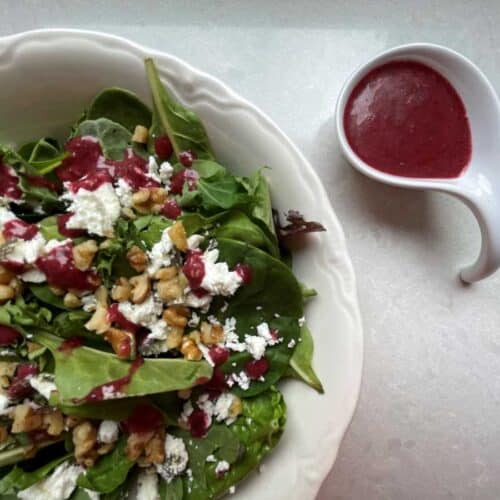 Homemade Cherry Vinaigrette
This cherry vinaigrette dressing simply requires a few ingredients and a blender. On top of its easy preparation, it is highly nutritious, deliciously sweet, and a sight for sore eyes!
Ingredients
1

cup

frozen cherries

¼

cup

apple cider vinegar

1½

tbsp

toasted sesame seeds

½

tsp

black pepper

2

tsp

honey

½

cup

avocado oil
Instructions
Place frozen cherries in a small saucepan, turn on the stove and cook over medium-low heat for about 5 minutes (or until cherries soften and juices start to release), stir occasionally.

Let cherries cool for at least 15 minutes.

Once cherries cool, place the cooked cherries, apple cider vinegar, 1½ tbsp sesame seeds, black pepper, and honey in a blender.

Blend until you achieve a smooth and uniform product.

Now, while the blender is still running, slowly add the oil and process for another minute.

It's almost ready! Pour vinaigrette into a jar/air-tight container.

Optional: Mix in ½ tbsp whole sesame seeds and give it a good stir.

Store vinaigrette in the refrigerator.
Nutrition
Calories:
147
kcal
Carbohydrates:
5
g
Protein:
0.5
g
Fat:
14
g
Saturated Fat:
2
g
Polyunsaturated Fat:
2
g
Monounsaturated Fat:
10
g
Sodium:
1
mg
Potassium:
53
mg
Fiber:
1
g
Sugar:
4
g
Vitamin A:
12
IU
Vitamin C:
1
mg
Calcium:
18
mg
Iron:
0.3
mg