You will love these banana muffins with lentils – they are soft, fluffy, sweet treats! The secret ingredient – lentils – are full of fiber, protein, and nutrients. They are easily disguised and you (and others) won't see (or taste) the lentils, I promise! My toddler and husband approved.
I'm excited by lentils because plant protein and soluble fiber are my jam. These nutrients will help you lower your cholesterol and keep you full for hours after your meal.
I know what you are thinking, lentils in a sweet baked good? Well, I challenge you to try them yourself because I know you will love them as much as I do. This recipe was inspired and adapted from this blueberry lentil muffin recipe at www.lentils.org, a fantastic resource for all things lentils.
Pin It Now & Make It Later!
Why Make Lentil Muffins?
freezer friendly
great for meal prep
fiber helps manage cholesterol and blood pressure
higher in protein than regular muffins
Lentils go undetected and disguised well (my kids didn't even notice!)
Are Banana Muffins With Lentils Healthy?
Each lentil muffin has:
3 grams of protein
2 grams of fiber
I'm always looking for ways to add more protein and fiber to meals and snacks. Adding lentils to these muffins do just that!
In fact, I think these muffins are the perfect gift for heart patients.
Lentils Are:
an inexpensive source of protein
high in fiber
source of B vitamins, zinc, and magnesium
rich in iron
healthy for your gut bacteria
EASY! purchase them in the dry form, and no pre-soaking is required
Why not have a nutrient-packed snack handy that will keep you satisfied and nourished?
Ingredients
Lentils – I use red lentils. I find green lentils have a stronger flavor and aren't as well hidden as red ones. The green lentil usually remains firm, whereas the red lentils disintegrate with longer cooking. Red lentils are usually more economical than green too!
Mashed bananas – adds sweetness and nutrients.
Egg – binds the ingredients. You could try using a flax egg to keep it vegan Although, I have not tested the recipe with an egg replacement and do not know if it will work.
Brown sugar – is my sweetener of choice.
Oats – I use rolled oats for more fiber and nutrients, but one-minute oats should work too.
Avocado Oil – A neutral-tasting healthy olive oil substitute.
Flour – I used all-purpose flour.
Milk – soy milk is my milk of choice because of its cholesterol-lowering properties, but use what you have in your fridge!
Baking soda, Baking powder – to help the muffins rise.
Cinnamon, Nutmeg, Salt, Raisins and Walnuts – for flavor.
How To Make Lentil Muffins
You usually can't purchase canned red lentils, so you will need to buy them dried and cook them.
I start by cooking the lentils on the stovetop with the rolled oats and 1 cup of water. It takes about 10 minutes and requires a few stirs so it doesn't stick to the bottom of the pot. You will know they are done when the oats are cooked and the lentils have broken down.
The beauty of red lentils is no pre-soaking is required. So buy them dried (not canned) and throw them in the pot. Buying dried lentils are more economical than purchasing them from a can or frozen. They last a while too when you store them in an air-tight container. If you have extra red lentils and need another recipe try this vegan protein oatmeal – yum!
While the lentils and oats are cooking, I recommend preheating the oven and prepping the muffin tins. This recipe was tested with silicone muffin liners because they pop right out, but you can choose what you prefer.
Now it's time to make the batter. I use two medium mixing bowls. The first bowl is for the dry ingredients, and the second is for the wet ingredients. I then mix the two together until there are no lumps and fill the muffin cups. If you have an ice cream scoop I'd suggest using this to fill the containers – it helps limit the spillage or mess.
If you are adding dried fruits or nuts, I'd do this here (as the last step) before filling the muffin cups.
That's it.  The rest of the time is hands-free in the oven. These lentil muffins are usually done in 20 minutes. You will know they are done when the tops turn brown.


Check Out the Video
Here is a quick one-minute summary of how they come together.
What Do They Taste Like?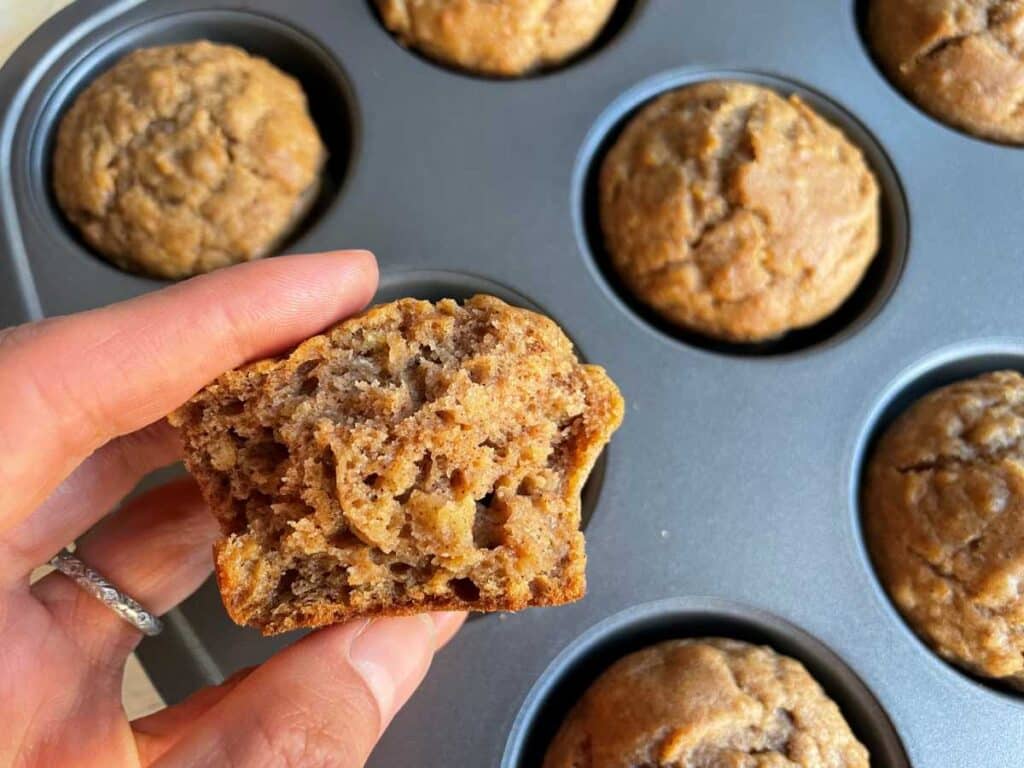 I thought lentils in a baked good sounded pretty strange too, but essentially red lentils are flavorless and result in a moist soft muffin. Basically, it tastes just like any other muffin, you have tried.
When To Eat A Banana Lentil Muffin
As a snack (kid-friendly!)
Part of breakfast with scrambled eggs and sliced oranges
An easy lunch with cheese, nuts, and vegetable slices
Leftovers
I recommend storing these muffins in an airtight container at room temperature. Since a lentil muffin has fresh ingredients they only keep it for 2-3 days. If you want to extend the shelf life to 5 or 6 days, I would store them in the fridge. They are also freezer-friendly for up to 2 months.
If you choose to freeze them I'd suggest cooling them completely before placing them in a freezer-safe bag with the air removed.
Because this is a freezer-friendly recipe you can easily double the batch as part of your meal prep.
Variations
add your favorite dried fruits or chopped nuts
you can use green lentils here, but you will end up with an 'earthier flavor' and it will likely be a different color too
want more protein? Add a few tablespoons of hemp seeds
add flaxseed if you are interested in more fiber
Other High-Fiber Recipes
Other Legume Recipes
Final Thoughts
I hope you enjoy these soft, fluffy banana muffins with lentils as much as I do! The flavor options are endless by using your favorite nuts and dried fruits, so have fun with them!
And if you LOVE this recipe and are interested in other heart-healthy recipes, subscribe to my newsletter for a FREE 7-day heart-healthy meal plan to get you started on lowering your blood pressure or cholesterol today.


Homemade Banana Muffins With Lentils
Add more protein and fiber into your muffins with lentils. These nutritious banana muffins with lentils are soft and fluffy. You won't even know you are eating lentils!
Equipment
1 Muffin Tin

2 Mixing Bowls
Ingredients
¼

cup

red lentils

dried

¼

cup

rolled oats

1¼

cup

all purpose flour

⅓

cup

brown sugar

¼

tsp

baking soda

1

tsp

baking powder

¼

tsp

salt

1

tbsp

cinnamon

1

tsp

nutmeg

½

cup

mashed banana

½

cup

milk

your preference

1

egg

½

cup

raisins

¼

cup

walnuts

⅓

cup

avocado oil
Instructions
Preheat the oven to 400˚F and prepare muffin tins with silicone muffin liners (if using).

Use a small saucepan to cook lentil and oats in 1 cup of water. Bring mixture to a boil, and then simmer for 10 minutes. Let cool.

Mix dry ingredients including flour, sugar, baking soda, baking powder, salt, cinnamon and nutmeg.

Mix wet ingredients including mashed banana, milk, egg, oil, and cooked lentil/ oat mixture.

Add wet ingredients to dry ingredients. Mix well.

Fold in raisins and walnuts.

Fill muffin tins and bake for 20 minutes or until the tops of the muffins are golden brown.
Nutrition
Calories:
198
kcal
Carbohydrates:
28
g
Protein:
4
g
Fat:
9
g
Saturated Fat:
1
g
Polyunsaturated Fat:
2
g
Monounsaturated Fat:
5
g
Trans Fat:
0.002
g
Cholesterol:
14
mg
Sodium:
121
mg
Potassium:
181
mg
Fiber:
3
g
Sugar:
8
g
Vitamin A:
69
IU
Vitamin C:
2
mg
Calcium:
57
mg
Iron:
1
mg