Black bean toast is a super easy and delicious breakfast that helps you stay on track with your health goals.
If you already love avocado toast, then this high-protein avocado toast recipe will win you over!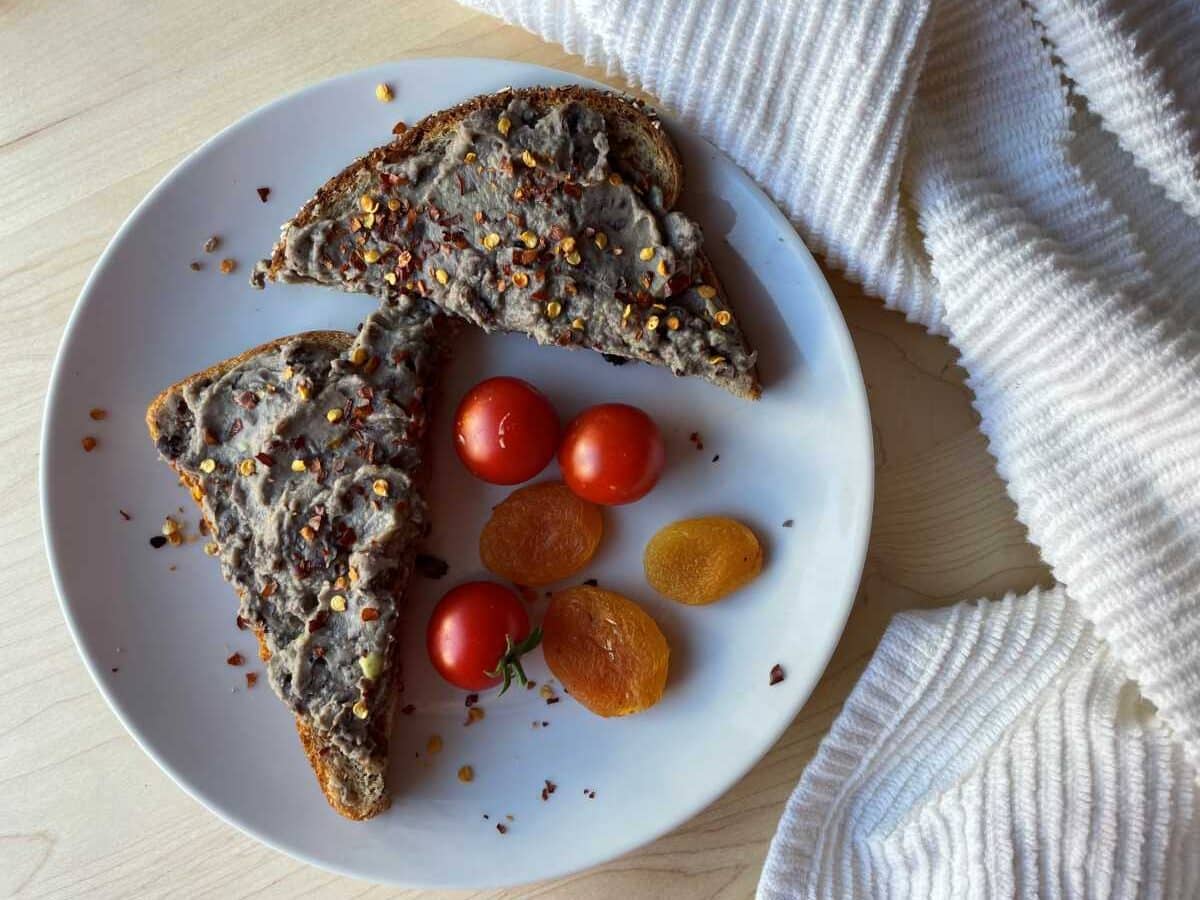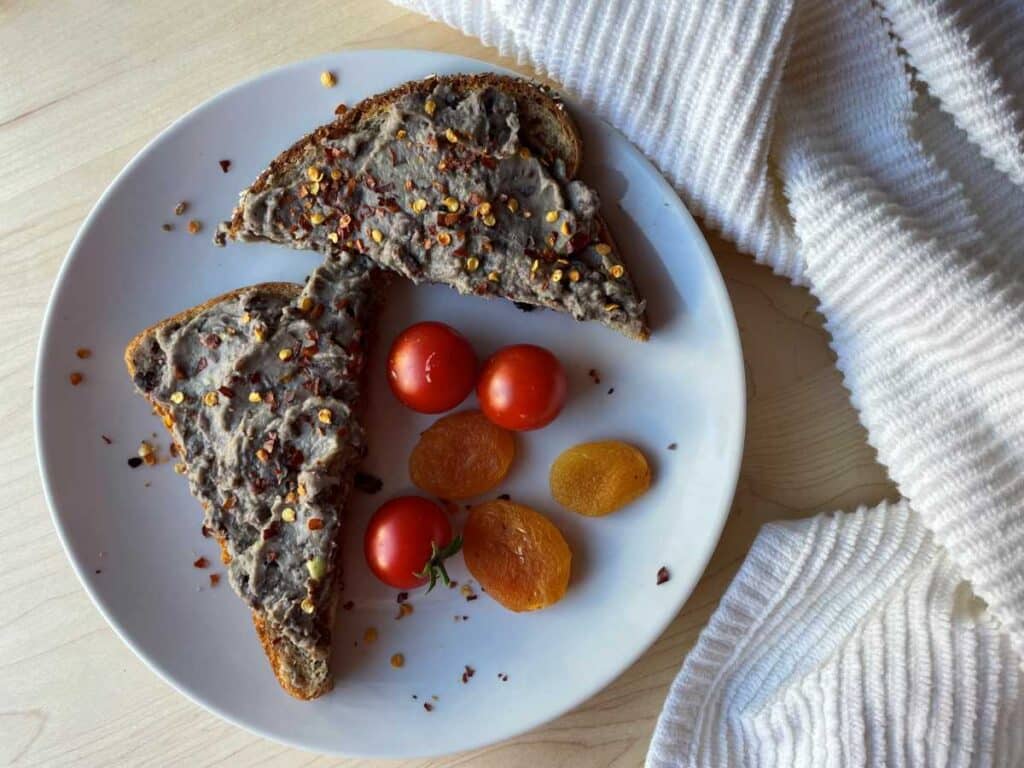 Why Make Black Bean Bread?
it's a vegan, dairy-free recipe
inexpensive plant-based protein
loads of heart-healthy monounsaturated fats
contains cholesterol-lowering soluble fiber
perfect as a meal or snack
easily customizable to your palate
quick to make and oh so easy
a fabulous alternative to deli meat
Bread is commonly eaten for breakfast. With something spreadable like cream cheese, jam, or peanut butter. Maybe because it's quick, or maybe because it's tasty. Either way, this vegan avocado toast is good competition for the traditional toast breakfast.
Are you ready to elevate your current avocado toast recipe to include protein?
Is This Protein Avocado Toast Healthy?
One slice of bread offers:
10 grams of protein
11 grams of fiber
It is essential to include protein in each meal. Protein helps
increase muscle mass
build and repair muscle, tissue, skin, nails, hair, hormones, and enzymes
keeps you full by reducing hunger
(plant protein) helps lower cholesterol levels
However, protein is most often missed at breakfast. Bread is a common breakfast staple, and avocado toast is all the rage. Unfortunately, it doesn't have a lot of protein. So why not add protein to your avocado toast? In this recipe all you need to do is blend avocado and black beans together, and voila! High protein avocado toast.
As for fiber, it is recommended that women consume at least 25 grams of fiber a day, while men need 38 grams a day (1). So one slice of bread already makes up an impressive 44% of a woman's fiber requirements and 29% for men.
And finally, black beans and avocados are two heart-healthy foods that will unclog your arteries!
Ingredients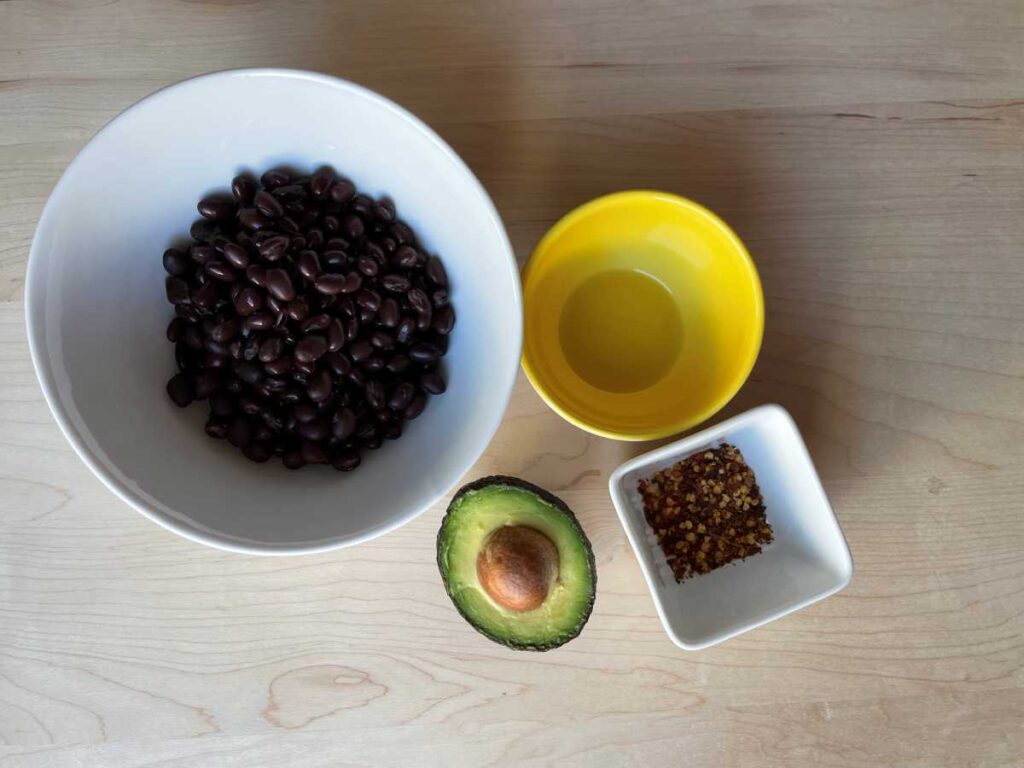 Bread – whole grain bread offers fiber and nutrients.
A ripe avocado – is full of heart-healthy monounsaturated fats and soluble fiber. Mixing the black beans with avocado helps to create the smooth, spreadable consistency of hummus.
Black Beans – gives you plant protein and soluble fiber. They can be fresh, canned, or frozen – your choice.
Chili Pepper Flakes – for flavor
Purchasing Tips
When purchasing black beans, it will be the cheapest to purchase them dried and cook them yourself. Although, buying canned or frozen isn't too much more expensive for the convenience/ease of use, and no pre-planning is needed.
If you are buying canned black beans, I'd suggest purchasing ones with the "no salt added" nutrition claim on the front of the package. This keeps the overall dish low in sodium (helpful if you are managing high blood pressure). I like creating low-sodium meals because this way I can salt my final dish to taste, the way I prefer.
If you can't find the no-salt-added version of canned black beans, be sure to rinse the regular canned version very well to remove excess sodium.
As for avocados – the hardest part of choosing avocados is their ripeness. Purchase a ripe avocado if you are going to make this recipe within 1-2 days, or an unripe one if you plan to make it later in the week. You will know it's ripe because it will be soft to the touch.
And for the bread.  It's your choice, but I typically choose whole grain bread because it has the most nutrients.  When choosing whole grain bread, check the ingredient list, the first ingredient should read 'whole grain wheat'.


How To Make Black Bean Bread
Start with toasting your bread of choice. This can be done in a pop-up toaster or toaster oven. Whatever you use to normally toast your bread.
Throw the avocado and canned black beans into your blender. Blend until combined. This is probably the trickiest step because I find if you don't add water (or olive oil based on your preference) it doesn't mix that well. I'd start with 1 tbsp of water and add more as needed.
Once it's blended, spread it onto your toast
Add the toppings! My favorite is chili flakes because I like the heat. But lemon juice, black pepper, or even parsley would work well here.
If you don't have a blender, you can easily add black beans to smashed avocado. Smashed avocado can be easily achieved by mashing the avocado with a fork. It takes a little more manpower but definitely can be done.
Watch How Its Done Here
How Does it Taste?
Unsalted canned black beans and avocado don't have much of a flavor.
The flavor truly comes from the toppings – whether its lemon juice, black pepper, salt, diced onion, minced (or powdered) garlic, cumin, tomatoes, salsa, or if you like it spicy (like me) chili peppers or chipotle would work well.
Without the toppings, it's a very nutritious spread, that's pretty bland. Maybe bland is your thing and that's okay by me, but otherwise, I'd recommend the toppings.
Variations
If you are looking for more protein you could add scrambled eggs to the mix.
Hemp seeds or chia seeds are great for extra omega-3 fatty acids.
Or if you want some color on your plate, try adding spinach.
Don't have black beans? try red kidney beans instead.
How To Eat It
This recipe makes two slices of bread, so if you only want one slice of black bean bread I'd pair it with a veggie and a fruit to make a well-rounded breakfast.
Otherwise, you could choose to make a black bean sandwich for lunch with a glass of milk.
Or perhaps you want to try this recipe as an avocado black bean dip with some whole grain crackers for a snack.
It's so versatile.
Leftovers
This high-protein avocado toast recipe makes two slices of bread, so if you only want one slice you may be wondering what to do with the leftovers.
Well, the black bean and avocado mixture will keep in the fridge until the following day. I wouldn't spread it on the toast until you are ready to consume it because the toasted bread will give it the crunchiness you are looking for.
You don't need to worry about the avocado turning brown because the black beans already make the mixture pretty dark. If this grosses you out, a squirt of lemon juice will preserve the color until the next day.
But honestly, I'd recommend my favorite way to eat these leftovers. As a dip! Grab some whole grain crackers, and chopped veggies and dip away. It's delicious and super filling. Basically, an awesome high protein 3 PM snack that helps curve the cravings until dinner.
More Avocado Recipes
Final Thoughts
This high-protein avocado toast recipe is an economical breakfast that only uses 3 ingredients. You'd never know this healthy breakfast is full of plant-based protein and soluble fiber to keep you on track with your health goals.
And if you LOVE this black bean toast recipe and are interested in other heart-healthy recipes, subscribe to my YouTube channel to be updated when recipes are released.


Simple Black Bean Toast
Black bean toast is a delicious and simple breakfast, snack, or light meal! It comes together in 5 minutes and keeps you full with its fiber, protein, and healthy fat.
Ingredients
1

cup

black beans

canned, no salt added

½

avocado

2

tbsp

water

1

tsp

chili pepper flakes

2

slice

whole grain bread
Instructions
Toast your bread of choice.

Add avocado and rinsed, canned black beans to your blender.  Start blending, and add 1Tbsp of water at a time to achieve a smooth spreadable creamy consistency.

To assemble, spread the black bean avocado mixture on the two slices of toast and garnish with a sprinkle of chili peppers.
Notes
Sodium nutritional values if using regular black beans (instead of no salt added) 
Use olive oil instead of water for a richer end product
Nutrition
Calories:
233
kcal
Carbohydrates:
31
g
Protein:
10
g
Fat:
9
g
Saturated Fat:
1
g
Polyunsaturated Fat:
2
g
Monounsaturated Fat:
5
g
Sodium:
477
mg
Potassium:
598
mg
Fiber:
11
g
Sugar:
2
g
Vitamin A:
374
IU
Vitamin C:
7
mg
Calcium:
86
mg
Iron:
3
mg