When you wake up with chocolate on your mind – try this recipe to satisfy your taste buds while nourishing your body.
No matter what your eating style: vegan, gluten-free or dairy-free; this recipe is for you!
Healthy Chocolate Porridge Does Exist!
This oat and flaxseed chocolate porridge will satisfy your heart in two ways:
It is full of heart-healthy nutrients
It is a breakfast treat because we don't always eat for nourishment
1. Heart-Healthy Nutrients
Many of the ingredients in this chocolate porridge recipe are listed as 39 foods that lower blood pressure and 39 foods that lower cholesterol for optimal heart health.
Old fashioned oats or rolled oats are healthy carbohydrates that contain soluble fiber. Eating enough soluble fiber every day can lower cholesterol levels (1). Don't skimp on carbohydrates at breakfast (even if you are trying to lose weight). Your body has been fasting overnight and needs to replenish its energy stores with nourishing carbohydrates for breakfast.
This chocolate porridge is rich in plant protein from cashews and soy milk. Protein is important to prevent blood sugar from spiking post meals, which also helps manage cravings and aids in weight management. Additionally, eating protein from plants can lower cholesterol levels (2).
This recipe is naturally sweetened with dates instead of added sugar like maple syrup or honey. Limiting added sugars is recommended by the American Heart Association (3). Added sugars are referred to as empty calories because they don't provide any nutritional benefit. Processed breakfast cereals are a major source of added sugar, so making your own porridge at home is a fantastic way to control how much added sugar you consume.
Finally, the addition of cocoa provides this recipe with antioxidants called flavonoids. Flavonoids are heart-healthy because they have anti-inflammatory properties and help dilate the arteries which lower blood pressure (4).
2. Eat For Enjoyment
We eat for all kinds of reasons. Sometimes we eat to satisfy our heart hunger or an emotion we are feeling. We can eat for stomach hunger to experience a specific taste, appearance, or aroma. Or another reason we eat is for stomach hunger, typically responding to our physical hunger cues like stomach gurgling.
Eating chocolate porridge may be a perfect way to meet your mouth hunger by responding to a specific (chocolate!) craving. Need another reason? Enjoying the food you eat or eating for pleasure, is better physiologically because it actually aids in the absorption of the nutrients in the meal (5).
Eating for a reason other than stomach hunger is okay because it is satisfying a specific need. Try understanding why you are eating, and respond accordingly to become an intuitive eater.
How to Make Chocolate Porridge
It's just like making regular porridge, but with cocoa!
Blending the oats, dates, cashews, and cocoa powder before throwing it on the stove ensures an even consistency of the final product. Once blended, all you need to do is heat the mixture on the stovetop until it reaches a smooth viscosity.
The end result is a thick, creamy pudding. Based on your preference, feel free to add more liquid (water or dairy beverage) to thin it out.
Video: Chocolate Porridge
Chocolate Porridge Ingredients
Two ingredients that are often purchased incorrectly are cocoa powder and oats.
Cocoa Powder
Cocoa powder offers the chocolate punch to this recipe. Purchasing a high-quality cocoa powder will result in a more luxurious chocolate experience.
Not all cocoa is created equally. Sometimes when cocoa is processed it can destroy the powerful antioxidants it offers. At the supermarket, be sure to purchase a product that is labeled "natural" or "raw" to ensure it has the highest nutritional experience.
Rolled Oats vs Instant Oats
Both are quick to cook, but old fashioned rolled oats have a bit more nutrition and are definitely worth the extra 5 minutes of cook time.
Chocolate Porridge Variations
This recipe is suitable for many dietary preferences as it is gluten-free, dairy-free, and vegan.
Make It A Vegan Chocolate Oatmeal
This recipe is vegan because it uses a dairy-free milk beverage. I suggest using soy milk for this recipe. Soy milk offers a rich consistency, in addition to the health benefits offered by its plant protein and antioxidant properties.
Instead of using an egg to bind the ingredients, this recipe uses a flax egg to keep it vegan. Flax eggs are a vegan substitute for chicken eggs. Mixing ground flaxseed and water replicates the binding properties of eggs when used in baking. Flaxseed offers additional heart-healthy benefits. Read more about the benefits of flaxseed here.
This Chocolate Porridge Is Naturally Gluten Free Too!
Oats are gluten-free, however not all oats are gluten-free because of where they are processed. If you are following a gluten-free dietary pattern be sure to confirm your oats are processed in a gluten-free facility and are gluten-free certified.
Add Toppings To Make It A Chocolate Oatmeal Bowl
This part is easy. Decorate with toppings that are in your fridge and satisfy your current mood.
Fruit of your choice like banana or cherries
Nut butter like peanut butter (who doesn't love a peanut butter and chocolate combo!)
Shredded coconut or chia seeds for crunch
Leftovers
This recipe makes 2 servings. Share it with a friend or reheat it the following day for another killer breakfast.
Reheat
I recommend reheating it in a saucepan. You may need to add a few splashes of liquid (water or milk beverage) to thin it out as it will likely thicken in the fridge.
Other Heart-Healthy Breakfast Options
The Chocolate Porridge Recipe
If you try this healthy dessert for breakfast and love it as much as I do, please leave a star rating below or share it on Pinterest!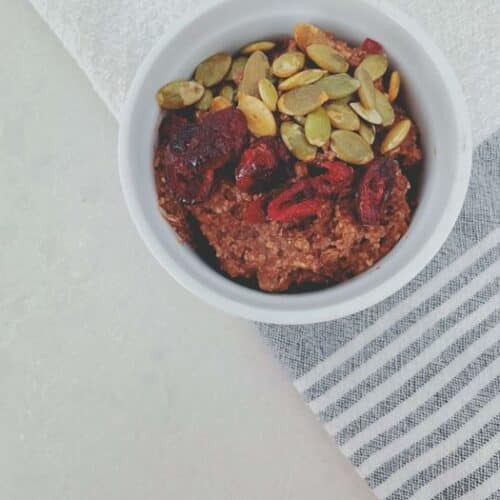 Chocolate Porridge
When you wake up with chocolate on your mind – try this recipe to satisfy your taste buds, while nourishing your body.   No matter what your eating style: vegan, gluten free, or dairy free; this recipe is for you!
Ingredients
½

tbsp

flaxseed meal

1½

cup

water

room temperature

1

cup

rolled oats

3

Medjool dates

8

cashews

unsalted

2

tbsp

cocoa powder

1

cup

soy milk
Instructions
Combine flaxseed meal and 2 tbsp water in a small bowl. Stir until well-combined.

Cover and let flaxseed mixture sit in the refrigerator for 15 minutes.

Meanwhile, in a blender, mix together the oats, dates, cashews, cacao powder,1 cup of water and milk of choice until you have a product with medium consistency (non-paste-like).

Carefully transfer the mixture into a saucepan.

Add the flaxseed mixture and 1/2 cup of water to the pot and mix well.

Cook over low-medium heat for about 8 minutes.

Let sit for 2-3 minutes, transfer to serving plates, and add desired toppings.
Notes
Add a splash of milk if you prefer a thinner consistency
Optional:
Topping Ideas:
Fresh or dried fruit of choice
1 tbsp seeds, like pumpkin or chia
Nutrition
Calories:
346
kcal
Carbohydrates:
61
g
Protein:
12
g
Fat:
9
g
Saturated Fat:
2
g
Polyunsaturated Fat:
3
g
Monounsaturated Fat:
3
g
Trans Fat:
1
g
Cholesterol:
1
mg
Sodium:
49
mg
Potassium:
683
mg
Fiber:
10
g
Sugar:
26
g
Vitamin A:
54
IU
Vitamin C:
1
mg
Calcium:
214
mg
Iron:
3
mg