Oat milk makes this vegetarian pudding a creamy dessert that tastes just like traditional dairy pudding!
Can you make pudding with oat milk? Absolutely! Read on to find out how.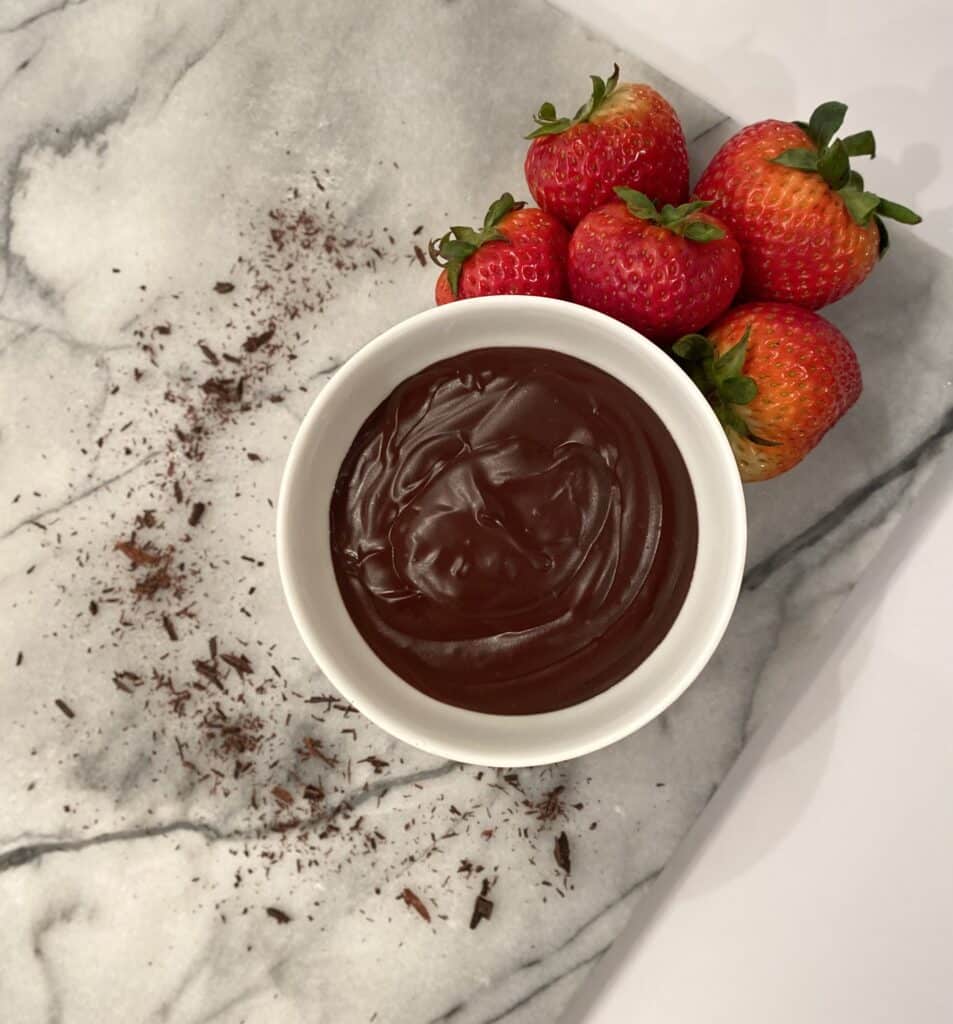 Why You Should Make Oat Milk Chocolate Pudding
Are you relying on those premade or instant pudding packets for an easy dessert?
Yes, they are convenient, but often filled with added sugars and are not suitable for vegans.
Well, I have found an easier, creamier, and more decadent way to make pudding! Once you make pudding with oat milk, you will never look back.
This recipe is vegan, gluten-free, dairy-free, and nut-free. Suitable for most diets.
Ingredients in Chocolate Oat Milk Pudding
To make the healthiest oat milk chocolate pudding, select dark chocolate and unsweetened oat milk. Choosing unsweetened milk will ensure there is no added sugar in this recipe.
Dark chocolate is a rich source of antioxidants, magnesium and is low in sugar. You can choose to use semisweet or white chocolate instead of dark, but these chocolates have higher sugar content and fewer antioxidants.
I would encourage purchasing a chocolate bar instead of chocolate chips. If you look at the ingredient list you will notice that chocolate chips have added stabilizers that prevent them from properly melting.
When selecting an oat beverage, I recommended purchasing one that is fortified with calcium and Vitamin D to reap the additional benefits of these nutrients. Also, be sure to choose an unsweetened milk substitute, as we are adding sugar here to sweeten the chocolate oat pudding.
To make this the healthiest oat milk pudding possible, be sure to purchase high-quality cocoa.
Depending on the way the cocoa is processed it can destroy the powerful antioxidants it offers. Ensure you are purchasing high-quality cocoa by choosing a product that is labeled "natural" or "raw." Additionally, purchase unsweetened cocoa powder to ensure there are no added sugars in the cocoa.
Cocoa, oat milk, and dark chocolate are listed as foods that will unclog arteries and lower blood pressure.
How To Make Oat Milk Pudding
This chocolate pudding with oat milk only takes 15 minutes and uses both cocoa powder and dark chocolate to make a truly decadent dessert.
It really doesn't take much effort.
First, mix the dry ingredients into a medium saucepan. I'd recommend using a whisk here. You want to be sure to remove all of the lumps from the cocoa powder and cornstarch. If lumps remain in this step, you will end up with a lumpy end product.
Second, add the milk. Reduce to medium-low heat and stir occasionally with a wooden spoon when it starts bubbling. Don't over boil here or you won't achieve the pudding-like texture that is desired.
Once the oat milk pudding is thick, you can add dark chocolate and vanilla.
If you want a thick pudding, I'd recommend refrigerating it for at least an hour. It will thicken more the longer it cools. If you want to speed up the process, refrigerate in small containers or small glass jars.
Leftovers
This chocolate pudding with oat milk can be stored in the fridge for up to 3 days.
Video Recipe Tutorial
Need a visual? Check out this tutorial.
Variations Of Chocolate Oat Pudding
Vegan
This chocoalte pudding with oat milk is vegan as is!
There are no eggs in this vegan chococolate pudding recipe, which keeps it plant-based. Cornstarch helps bind the ingredients instead.
Non-dairy milk beverage is used here to keep this chocolate oat pudding vegan. If you aren't a fan of oat milk, soy milk will also produce wonderful results as it offers a creamier end product, unlike almond milk or cashew milk which has a thinner consistency that alters the pudding texture.
Also, be sure to select vegan chocolate by viewing its ingredient list. Be sure it is dairy-free and does not include milk-based additives.
Gluten-Free
Cornstarch is also used to make this a gluten-free dessert, instead of using white or whole wheat flour to thicken the pudding.
Add The Toppings
This recipe is flavored with vanilla. But feel free to top the pudding for extra flavors.
whipped coconut milk
fresh berries like blueberries
nuts
peanut butter
cinnamon
coconut flakes
granola
carmel flavor
maple syrup
chia seeds
cookie crumbs
Other Dessert Recipes
This chocolate oat milk pudding recipe is a rich, creamy treat  I challenge you to serve it to company, they will be shocked it's vegan!  
And if you LOVE this recipe and are interested in other heart-healthy recipes, subscribe to my YouTube channel. I'd love to have you follow along to learn even more heart-healthy recipe ideas from yours truly! Click here to subscribe @theheartdietitian!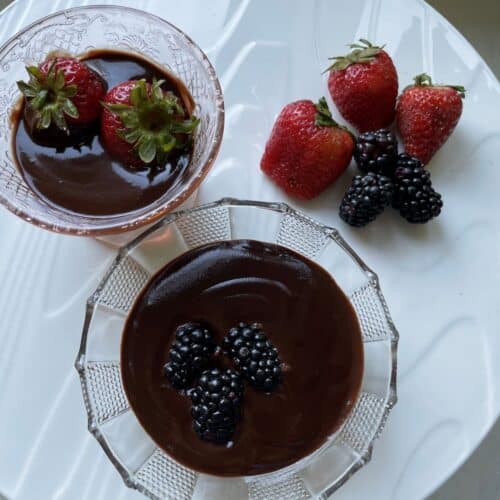 Easy Oat Milk Chocolate Pudding
This chocolate oat milk pudding recipe is a rich, creamy treat  I challenge you to serve it to company, they will be shocked its vegan!  
Equipment
1 Saucepan

1 Whisk

1 Spatula
Ingredients
¼

cup

granulated sugar

¼

cup

unsweetened cocoa powder

2

tbsp

cornstarch

⅛

tsp

salt

2

cups

oat milk

unsweetened

3

oz

dark chocolate

or 1/2 cup

1

tsp

vanilla
Instructions
Combine the sugar, cocoa powder, cornstarch and salt and place in a saucepan over medium heat.

While whisking constantly, very slowly pour the oat milk into the saucepan until everything is combined and smooth (if there are lumps after this stage, there will be lumps in the final pudding).

Continue to stir constantly for approximately 10 minutes, you will see the mixture start to thicken and bubble. When the mixture thickly coats your spatula add the dark chocolate and stir vigorously until completely melted and smooth.

Take the saucepan off the heat and continue stirring as you add in the vanilla.

Enjoy while warm or chill in the fridge and serve cold, garnish with your fruit of choice!
Nutrition
Calories:
180
kcal
Carbohydrates:
27
g
Protein:
3
g
Fat:
7
g
Saturated Fat:
4
g
Polyunsaturated Fat:
1
g
Monounsaturated Fat:
2
g
Trans Fat:
1
g
Cholesterol:
1
mg
Sodium:
90
mg
Potassium:
196
mg
Fiber:
4
g
Sugar:
18
g
Vitamin A:
170
IU
Calcium:
130
mg
Iron:
3
mg