This sardine pizza recipe is for those who love pizza and sardines! Even if you don't like sardines, this recipe blends the fish into the pizza so well that you may not even realize it's there when you take a bite.
This sardine pizza recipe is a healthy and filling meal, full of protein, low in mercury, and highly delicious!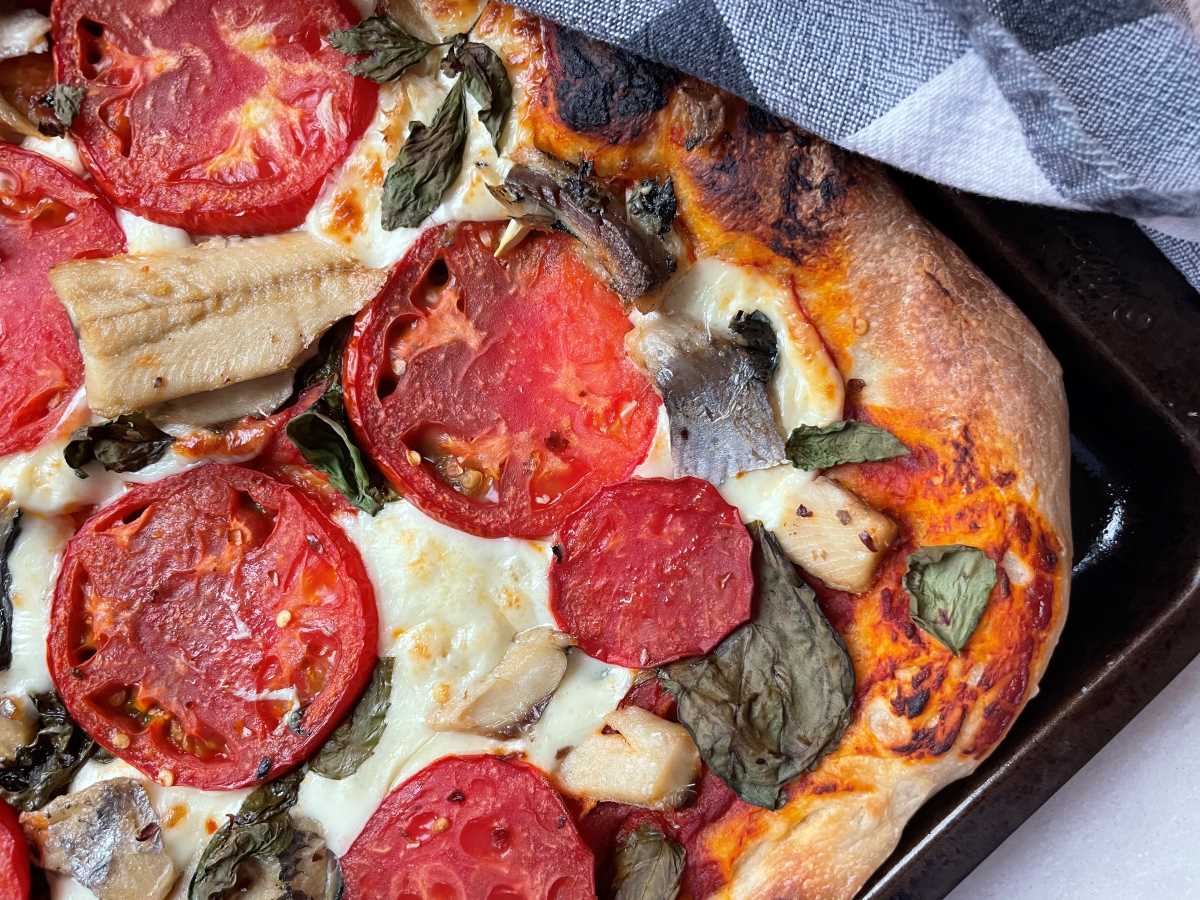 Pin It Now & Make It Later!
Why Make Sardine Pizza
Simple and easy recipe
Use of common ingredients such as tomato sauce and sardines
A great mix of all sorts of flavors, from salty sardines to sweet tomato sauce
Delicious and savory
Quick to prepare
Is It Heart Healthy?
Sardines are an excellent addition to any pizza as they are rich in Omega 3s. The recipe uses 2 cans of sardines, providing 1 g of eicosapentaenoic acid (EPA) and docosahexaenoic acid( DHA) (1).
EPA and DHA are healthy fats that have been shown to lower the risk for heart disease and promote heart health by lowering inflammation in our bodies (2).
Sardines are also listed as one of 39 foods that can unclog arteries.
Ingredients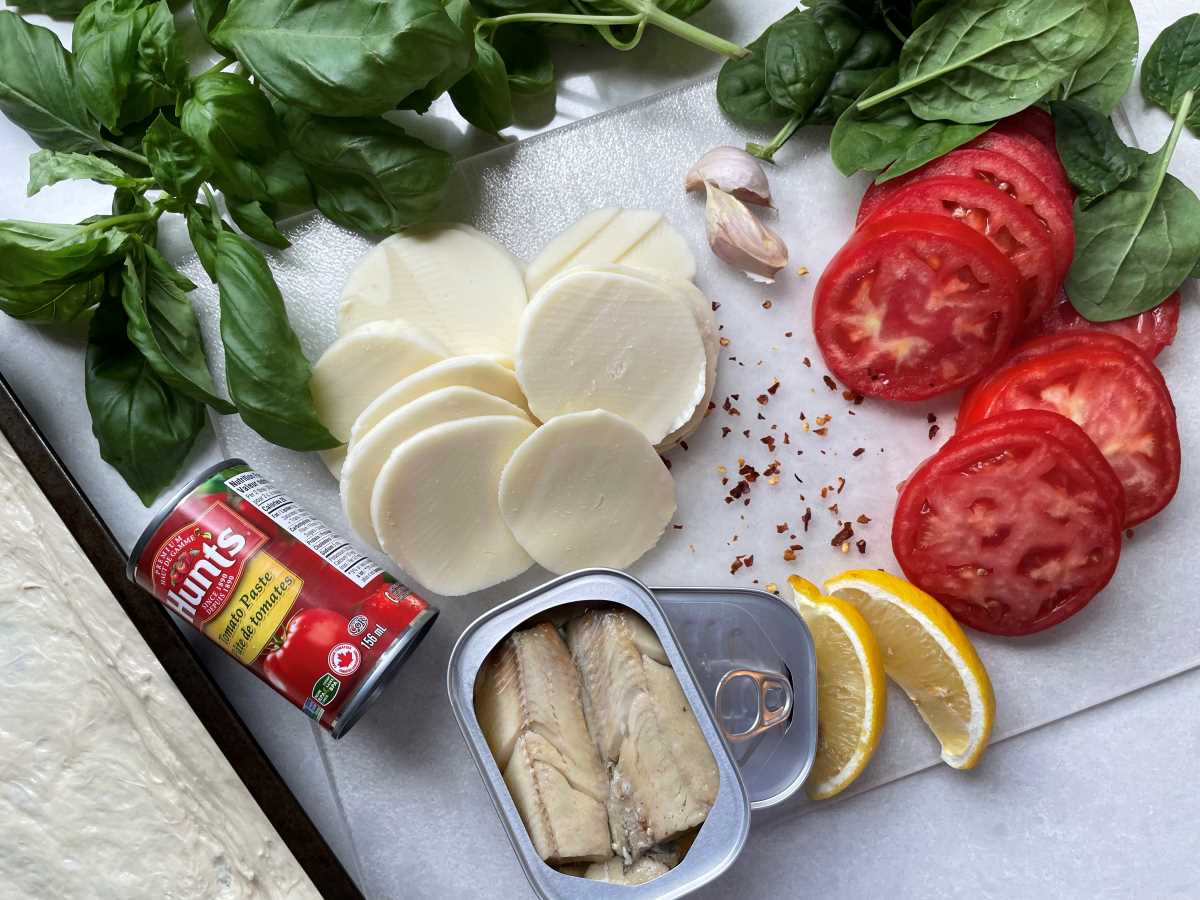 Mozzarella
An essential component of a pizza is cheese! Since there are so many variations of cheeses, I'm here to help simplify your process of choosing one.
I recommend going with mozzarella for this recipe, especially since it is lower in fat than other cheeses.
Not only that, but adding cheese to your pizza can provide you with essential nutrients such as calcium and vitamin D, which are vital to bone and heart health.
Tomato
A sardine pizza also calls for tomato sauce, and tomatoes are another great component. Tomatoes contain lycopene. Lycopene provides antihypertensive properties (3). They are listed as one of the 39 foods that can help lower blood pressure.
If you are watching your sodium intake, try purchasing "low sodium" tomato paste to ensure this recipe fits your dietary needs.
Sardines
The highlight of this recipe is the sardines. Sardines on pizza provide healthy fats that promote heart health and add an exciting flavor to your pizza that will reward your taste buds. Not only do they offer healthy fats, but also protein. Having a pizza that is balanced with fats and protein promotes fullness.
Sardines also come in different variations in the market, so to help you in your shopping, it's best to choose low-sodium sardines sold in olive oil. "Low sodium" and "olive oil" should be clearly stated on the packaging.
When choosing sardines for your pizza, it is important to go with canned sardines packaged in olive oil. Olive oil is more heart healthy than other cheaper oils that can be used to preserve sardines.
As mentioned earlier, if sodium intake is a concern, look for sardines that have "no salt added" or "low sodium" on it's label to ensure this dish is as low in sodium as possible.
Spinach
The use of spinach on the sardine pizza helps strengthen your heart as it is full of nitrate. Nitrate helps our bodies make nitric oxide, which helps to widen our blood vessels and lower blood pressure (4).
Lemon juice, Basil, and Red Pepper Flakes
These ingredients add even more flavor to your sardine pizza! Lemon juice will add a tangy taste; basil adds a much-needed herbal balance to the dish, and red pepper flakes can provide some spice if you prefer.
Garlic
Garlic is another excellent addition to the flavor profile of sardine pizza. However, it also adds a health benefit as it may help manage blood pressure and cholesterol levels (5).


Purchasing Tips
For this recipe, making your dough isn't required. However, buying pre-made dough simplifies and quickens the process of making a homemade pizza.
Pre-made pizza dough can be bought at grocery stores and may be found either in the dough section or near the baked goods aisle.
However, you are free to make your dough if you'd prefer homemade dough. You can follow this recipe that outlines an easy process for making your dough.
Or to make things even easier, you can also purchase store-bought pizza crusts, nann bread, whole grain English muffins, or pita bread as alternatives.
How To Make A Sardine Pizza
You'll be able to prepare this sardine pizza in no time by completing the following steps:
Preheat the oven to 450 oF
Spread a thin layer of olive over a baking sheet.
Flatten the pizza dough and place it over the oiled baking sheet
Then, starting at the center of the dough and working outwards, use your fingers to press the dough to the corners of the pan. Turn and stretch the dough until you cannot stretch it any further. *Remember to treat the dough gently. If a hole appears, push the dough back together to close the gap.
Proceed to spread the tomato sauce on the dough. Layer the sauce with spinach, cheese, tomato, sardine, and basil (in that order). Top with lemon juice, a sprinkle of red pepper flakes, and minced garlic. *Try not to overload your pizza with toppings; many toppings may result in a soggy pizza.
Bake the pizza in the oven for about 10 to 15 minutes or until the crust is browned and the cheese is golden.
Your Choice
ts totally up to you how to add the sardines to the pizza. You can keep sardines whole or cut them into smaller pieces. Both work well, its definitely a personal choice.
Watch How It Comes Together
Other Sardine Pizza Toppings To Try
Pizza toppings aren't limited to the ones listed previously. In case you're having trouble thinking of new toppings and want some ideas, you could add:
Swiss chard
Olive oil
Pineapple
Mushrooms
Onions
Leftovers
If you have leftover pizza slices, you can save and store them for later meal sessions. Place your pizza in a plastic bag or plate, then place a paper towel or parchment paper on top of it. Continue this process for any other pizza slices. Then seal with a tight plastic wrap or enclose the plastic bag.
Say you're hungry again and take out your leftover pizza. The best way to reheat any food is to heat it close to its original form of cooking. For this recipe, the best way is to heat the oven and place the pizza for a couple of minutes. This helps the pizza taste just as fresh as it was when it was first cooked!
What Else Can You Do With Sardines
Toppings for salads and sandwiches
Sautee in olive oil
Add to pasta
Try sardine tacos
They are delicious in a sushi roll
Or use them as a dip
FAQ
Do Sardines Or Anchovies Go On Pizza?
Both sardines and anchovies serve as healthy toppings for pizza! As you know, sardines on pizza are great options because of their omega-three fatty content. Believe it or not, anchovy pizzas also deserve to be on the list of potential meal options that promote heart health.
Anchovies also provide omega 3s and selenium. Selenium provides antioxidant powers and may help lower our risk for heart disease (6).
Anchovies will provide a salty flavor to your pizza, which may work well as you combine it with your tomato, cheese, and other toppings.
Do People Eat Sardines On Pizza?
Sardine pizza topping is a definite must-try on pizzas and is an underrated choice. It adds something different to your usual pizza topping. I can't wait for you to try it!
What Else Can I Do With Canned Sardines?
Canned sardines are conveient as they are pre-cooked and can be eaten straight out of the can. However, this isn't the only way to get the most out of your canned sardines.
You can create salads by adding peppers, lettuce, and parsley. Additionally, canned sardines can be made into a dip and served on top of crackers.
Is It OK You Cook Canned Sardines?
Definitely! Canned sardines can be cooked in various ways, such as grilling, frying, baking, and steaming.
Other Heart Healthy Recipes
Final Thoughts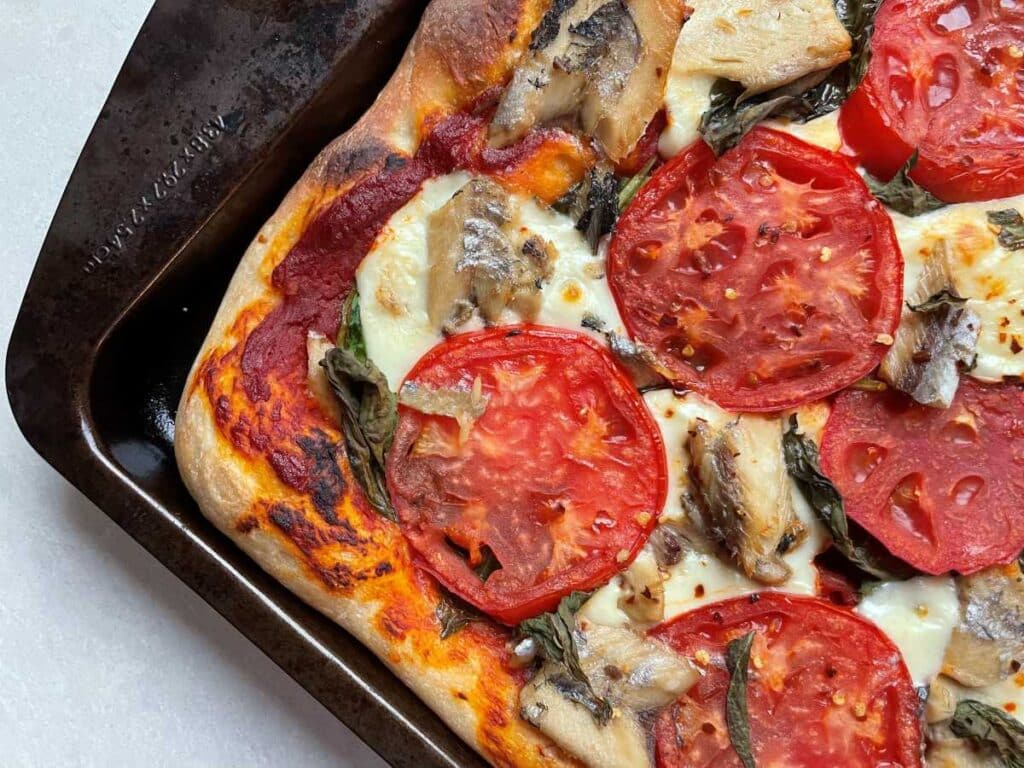 Forget about your basic cheese and pepperoni pizzas and try this tasty, easy sardine pizza recipe packed with various heart-healthy toppings! This recipe will undoubtedly make your meals a highlight of your day.
Looking for other heart-healthy meals? Subscribe to my newsletter for a FREE 7-day heart-healthy meal plan to get you started on lowering your blood pressure or cholesterol today!


Sardine Pizza
This sardine pizza is easy to make and it blends the fish into the pizza so well that you may not realize it's there when you take a bite.
Ingredients
1

ball

pizza dough

1

can

tomato paste

1

cup

spinach

loosely packed

1

ball

low fat mozzarella

sliced

2

medium

tomato

sliced

2

can

sardine in olive oil

drained

1

spring

fresh basil

torn

1

lemon wedge

2

garlic cloves

minced

1

tbsp

red pepper flakes
Instructions
Preheat the oven to 450°F  

Prepare the baking sheet by spreading a thin layer of olive oil over the pan.

Flatten the pizza dough ball, and stretch it out onto an oiled baking sheet. Starting at the center and working outwards, use your fingertips to press the dough to the corners of the pan. Turn and stretch the dough until it will not stretch further. Treat the dough gently. If a hole appears in your dough, push the dough back together to seal the hole.

Spread the dough with tomato sauce. Layer the tomato sauce with spinach, cheese, tomato, sardine, and basil in that order.  Top it with a squeeze of lemon juice, a sprinkle of red pepper flakes, and minced garlic. Be careful not to overload the pizza with too many toppings, or your pizza will be soggy.

Bake pizza in the 450°F oven, until the crust is browned and the cheese is golden, about 10 to 15 minutes.
Notes
Reduce sodium by purchasing 'low sodium' tomato paste and 'no salt added' sardines
Nutrition
Calories:
214
kcal
Carbohydrates:
30
g
Protein:
13
g
Fat:
5
g
Saturated Fat:
1
g
Polyunsaturated Fat:
2
g
Monounsaturated Fat:
1
g
Cholesterol:
44
mg
Sodium:
639
mg
Potassium:
459
mg
Fiber:
2
g
Sugar:
7
g
Vitamin A:
1270
IU
Vitamin C:
11
mg
Calcium:
140
mg
Iron:
3
mg