This watermelon cherry smoothie is the perfect solution to reduce late-night snacking and keep you on track with your weight loss goals. This protein-rich smoothie will help you fight the urge to eat because it will naturally keep you full (without using protein powder!).
Watermelon is a common diet or weight loss food because it is mainly water and therefore low in calories, but this smoothie has the right balance of protein, fat, and fiber to set you up for weight loss success.
As a bonus, the watermelon cherry flavor is a sweet and refreshing treat that helps you achieve weight loss in an enjoyable way.
Why You Should Make A Watermelon Weight Loss Smoothie
Wondering why you should choose this watermelon weight loss smoothie? Not only is it a pleasing smoothie to your eye and your stomach, but most importantly it will keep you full. It's
no-cook
fast to prepare
nutrient dense
satiating
kid friendly
only 5 ingredients
no added sugar
has no gimmicks, or added supplements
This recipe is vegan, gluten-free, and dairy-free. Suitable for most diets.
Health Benefits Of A Watermelon Cherry Smoothie
This recipe contains a whopping:
21 grams of protein
14 grams of fat
4 grams of fiber
This watermelon cherry smoothie has the right balance of the three macronutrients (carbohydrates, protein, and fat) creating a meal that fits within a healthy eating pattern and can improve your health.
Carbohydrate/fiber – from the cherries, watermelon, tofu
Protein – from the hemp seed, tofu, soy milk
Fat – from the hemp seeds and tofu
When looking for a healthy smoothie recipe I recommend making sure there are other ingredients than fruit and water. Having a balance of protein, carbohydrate, and fat help keep you full longer and stabilize your blood sugar so you aren't hungry a few minutes later.
Protein
I would argue that out of the three macronutrients protein is the most important nutrient for weight loss.
Protein can:
reduce appetite
increase muscle mass
prevent muscle loss
boost metabolism
reduce hunger hormone (ghrelin)
increase appetite-reducing hormones (GLP1, peptide YY)
Staying full is so important for weight loss. If we are hungry, it's harder to eat fewer calories. That's why eating enough protein is so essential and why this watermelon smoothie for weight loss will help you reach your goals.
Heart Health
This recipe has three ingredients that will help you unclog your arteries:
Watermelon – is rich in fiber, vitamins, and nutrients such as lycopene, which acts as an antioxidant and can fight against LDL cholesterol oxidation (1).
Studies have shown that watermelon can lower LDL (bad) cholesterol while increasing HDL (good) cholesterol. Watermelons can also lower fat buildup in our arteries and prevent plaque formation (1).
Tofu and Soy Milk – is made of soybean and is a rich source of both plant protein and calcium. Eating soy protein is linked to lowering LDL cholesterol levels (2). Soy products have a compound called isoflavones, which are antioxidants. Isoflavones are shown to decrease your risk of developing atherosclerosis or plaque build-up (2).
Adding tofu to the smoothie increases its protein content, as well as thickens the watery watermelon.
No Gimmicks
Instead of focusing on your body weight as your health goal, try to meet your daily intake of nutrients like protein and fiber to ensure you are fuelling your body to improve your health and live a longer life.
In fact, research is suggesting that if you achieve weight loss through eating more whole foods instead of fasting or dieting, you will be more likely to keep the weight off (3).
This means, there is no need for fancy expensive powders to achieve a healthy life or weight loss. Whole foods high in fiber and protein, like this watermelon smoothie, will keep you full and healthy.
Watermelon Smoothie Weight Loss Ingredients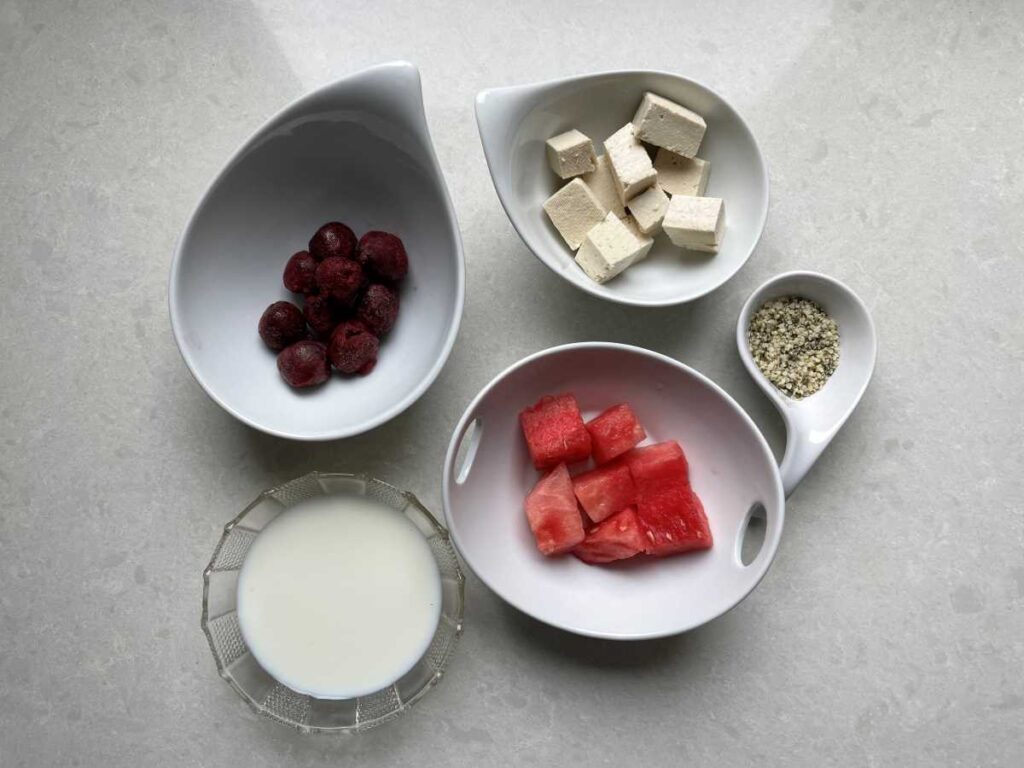 The few ingredients in this recipe are vegan, gluten-free, and dairy-free.
I chose unsweetened soy milk in this recipe because it is rich in cholesterol-lowering plant protein. You can keep this recipe vegan by using other dairy-free beverages like fortified oat milk.
When choosing plant-based beverages be sure to choose no sugar added versions, as it is recommended to limit added sugar for overall health (4). If you prefer to sweeten your watermelon smoothie, try naturally sweetening it with wholes dates instead of using added sugar like maple syrup.
Tofu is used here for its high protein content, and to improve the consistency of the smoothie. Since watermelon is full of water, tofu acts as a thickening agent and improves the texture of the smoothie.
When purchasing watermelon be sure to get a seedless watermelon. You don't want to waste your time picking out the seeds.
Hemp seeds are an easy way to add healthy fats to your smoothie, and more protein! They are similar to chia seeds, but won't get stuck in your teeth If you're interested in learning more about hemp seeds, check out this article that goes over chia seeds and hemp seeds in more detail. Hemp seeds are also one of 39 foods that can lower blood pressure.
Cherries complement watermelon well and provide a naturally sweet flavor. If you don't have frozen cherries on hand, other fruits like strawberries work well instead. Watermelon is pretty versatile, given its high water content, so don't overthink adding different fruit to flavor this drink.


How To Make A Watermelon Smoothie For Weight Loss
The reason I love smoothies is they couldn't be easier to whip up. You dump the ingredients into the blender and hit liquefy.
Before you ask, no you don't need a fancy blender. I have a hand-me-down blender that works just fine. Call me basic, but my mission is to make healthy eating doable and that requires affordable equipment.
Begin by dicing the watermelon. You will want to cut the rind off the watermelon, then cut it into slices and finally cubes. Once cubed place it in the blender.
Next, you need to prep the tofu. When you purchase a box of tofu, you will want to drain the water that it is stored in. You can press the remaining water out of the tofu using a tofu press, but I don't mind having a little extra water in my smoothies so I usually skip this step. Once the excess water is drained go ahead and cube the tofu and place it in the blender.
Now it's time to throw the remaining ingredients – milk, frozen pitted cherries, and hemp seeds – into a blender.
Blitz the ingredients, pour it into your glass of choice and enjoy. I recommend drinking it immediately before it separates.
Watch How It Comes Together
Take a minute to watch how quickly this watermelon cherry recipe comes together.
What Does The Watermelon Cherry Smoothie Taste Like?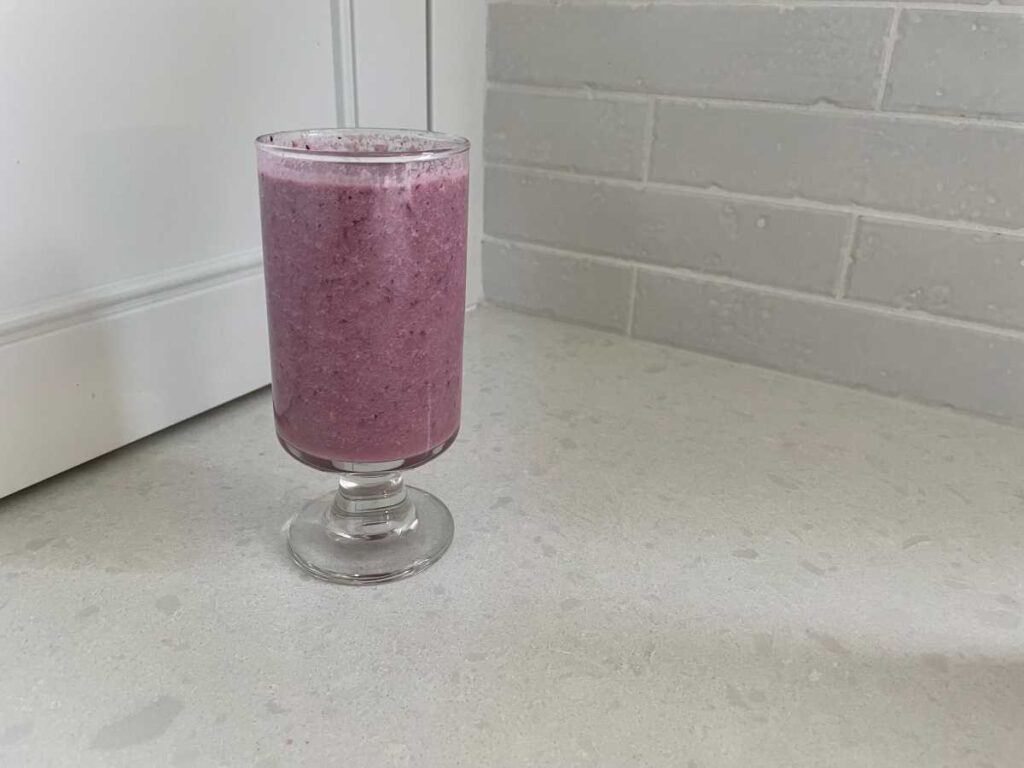 This weight loss smoothie recipe is naturally sweetened with watermelon and cherries. Watermelon is full of water, and therefore you taste the cherries a lot more than the watermelon itself. You will love this watermelon cherry flavor.
The addition of tofu turns this drink into a rich and creamy treat. Tofu is flavorless and is used here for protein and its thickening abilities.
I find soy milk works well in smoothies as it provides a creamy mouth feel.
As for hemp seeds, they may alter the texture. Depending on your blender hemp seeds may or not blend well based on your blender. If you omit these seeds this smoothie will still be high in protein, but will not be a source of healthy fats.
Leftovers
This recipe takes 5 minutes to execute and only makes one serving. You don't have to worry about leftovers.
I did this on purpose because I find that when I store this smoothie in the fridge it becomes more liquidy and loses its texture. I find the juice sinks to the bottom and the water rises to the top.
If you have leftover watermelon, I recommend freezing it. To freeze, I usually cube the watermelon, place them on a baking sheet with a silicone liner (parchment paper would work too!), and freeze them for an hour or two. Once they are individually frozen, I transfer them to a freezer-safe bag and remove the air. Then when I make this smoothie again, I have already cubed watermelon. This is great in the wintertime when watermelon isn't as readily available.
I also find frozen watermelon is sweeter than unfrozen. Maybe it's just me. But if you buy a watermelon that isn't as flavorful as others, try freezing it to see if the taste changes.
Variations
Don't have cherries? so many other fruits go well with watermelon! Experiment and use what you have.
Add more omega-3 with ground flaxseed or chia
Choose your liquid of choice – any milk would work here, just be cautious that some plant-based milk are not a good source of protein
Add a handful of greens- frozen spinach or kale works well. Important to note, this will change the color of the final product
Other Smoothie Recipes For Weight Loss
Final Thoughts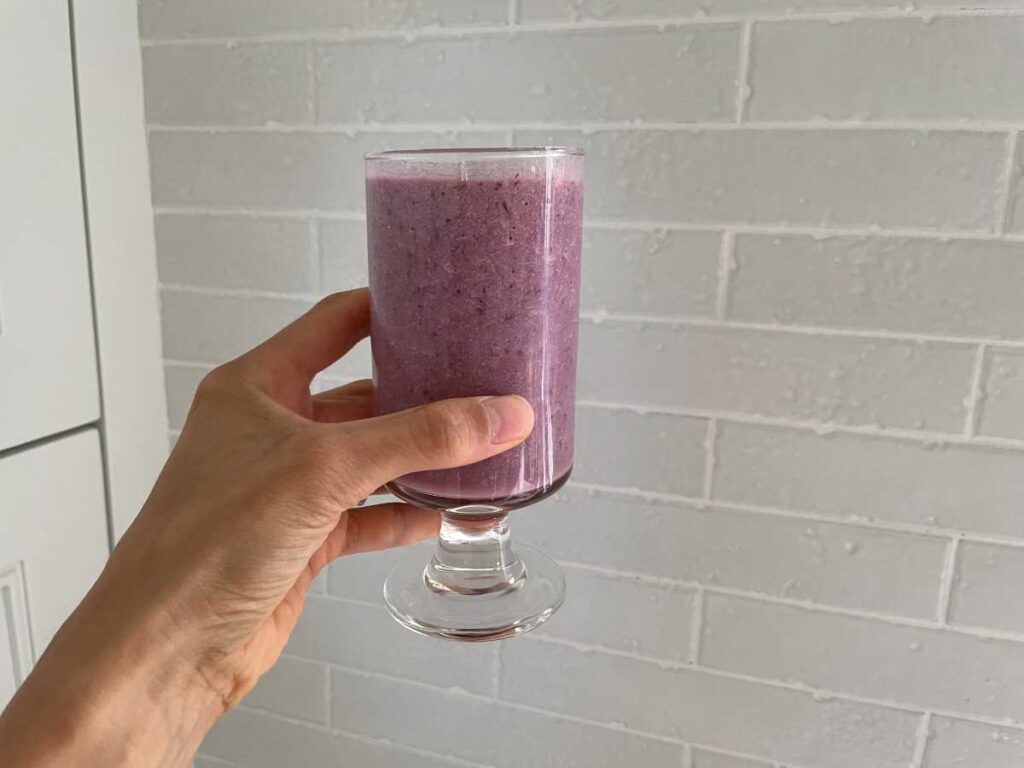 If you are looking for a quick and tasty sweet treat to increase satiety and also nourish your body, try this watermelon smoothie for weight loss today!
And if you LOVE this watermelon cherry smoothie recipe and are interested in other heart-healthy recipes, subscribe to my YouTube channel to be notified when new recipes are released.


Watermelon Weight Loss Smoothie
This super simple, 5 ingredient watermelon smoothie for weight loss is not only quick to make, but also sweet, tasty and refreshing.
Ingredients
½

cup

watermelon

cubed

½

cup

frozen cherries

½

cup

tofu

cubed

½

cup

soy milk

1

tbsp

hemp seed
Instructions
In a blender or food processor, add the watermelon, cherries, tofu, hemp, soy milk and hemp seed.
Nutrition
Calories:
292
kcal
Carbohydrates:
22
g
Protein:
21
g
Fat:
14
g
Saturated Fat:
1
g
Polyunsaturated Fat:
10
g
Monounsaturated Fat:
3
g
Sodium:
41
mg
Potassium:
388
mg
Fiber:
4
g
Sugar:
15
g
Vitamin A:
554
IU
Vitamin C:
11
mg
Calcium:
340
mg
Iron:
4
mg