Are you interested in finding delicious heart healthy spaghetti squash recipes approved by a Registered Dietitian? Well, you've come to the right place!
Maybe you have seen spaghetti squash around, but it may look intimidating and you aren't sure where to start when cooking it. I'm here to tell you not to pass it by in the grocery store because this vegetable can help unclog your arteries and lower your blood pressure!
Pin It For Later
Spaghetti Squash
Is also called winter squash, it is golden yellow, oval in shape, and has a very mild flavor. The more yellow it is, the riper it will be, and the best time to crack it open to eat. It is available all year round, but often on sale during the fall and winter months.
I'd say it is most often used as an alternative to pasta to replace traditional flour-based spaghetti noodles because it is lower in calories and higher in nutrients.
That being said, I challenge you to not just use this vegetable as a side dish. Instead try it for breakfast, lunch, and dinner with the heart healthy spaghetti squash recipes below!
Spaghetti Squash Nutrition
1 cup of cooked squash has: (1)
42 calories
10 grams of carbohydrate
2 of those grams are fiber
and is a good source of heart-healthy nutrients like potassium and antioxidant like beta carotene
Frequently Asked Questions
Is Spaghetti Squash Heart Healthy?
Spaghetti squash is good for your heart because it is a plant food. Plant-based eating is encouraged for heart health within a dietary pattern like the Mediterranean diet, DASH diet, and vegetarian diet which can lower your cholesterol, manage blood pressure, and control blood sugar levels (2, 3, 4, 5).
Check out these articles if you are interested in learning more about eating out on the Mediterranean diet or the importance of olive oil and the Mediterranean way of eating.
Is Spaghetti Squash Good For Cholesterol?
Spaghetti squash is a plant food, which means it is naturally cholesterol free. Research shows that eating plant foods within an eating pattern like the Mediterranean diet can lower your cholesterol, blood pressure, and blood sugar levels (2, 3, 4, 5).
Is Spaghetti Squash High In Sodium?
Spaghetti squash is not high in sodium. One cup (155 grams) of cooked spaghetti squash only has 28 mg of sodium. That's 1% of your recommended intake for the day based on a 2000 mg of sodium eating pattern. Thus, this vegetable is naturally low in sodium.
Is It Healthy To Eat Spaghetti Squash?
It is very healthy to eat spaghetti squash because it is low in calories and carbohydrates. Additionally, it is relatively high in fiber for being low in carbohydrates and a good source of potassium.
Let's Get Cooking!
New to spaghetti squash and need help with the basics? Try these 3 recipes that take very little time to prepare!
If you need a main dish to pair with these spaghetti squash recipes try heart-healthy salmon recipes, sardine pizza, or a sardine omelet.
This cooking method is simple and keeps your oven available for other dishes. You can enjoy tender spaghetti squash without any work.
By utilizing your pressure cooker, you get the best of both worlds with this method. It's quicker than the slow cooker and you get a perfectly cooked squash every time!! Ready in 10 minutes!
This cooking method is a simple hands-off method and keeps your oven available for other dishes. Makes for a perfect Thanksgiving side dish.
17 Heart Healthy Spaghetti Squash Recipes
Expand your vegetable repertoire try this new vegetable today with so many exciting new recipes!
An easy and simple Mediterranean-style dinner.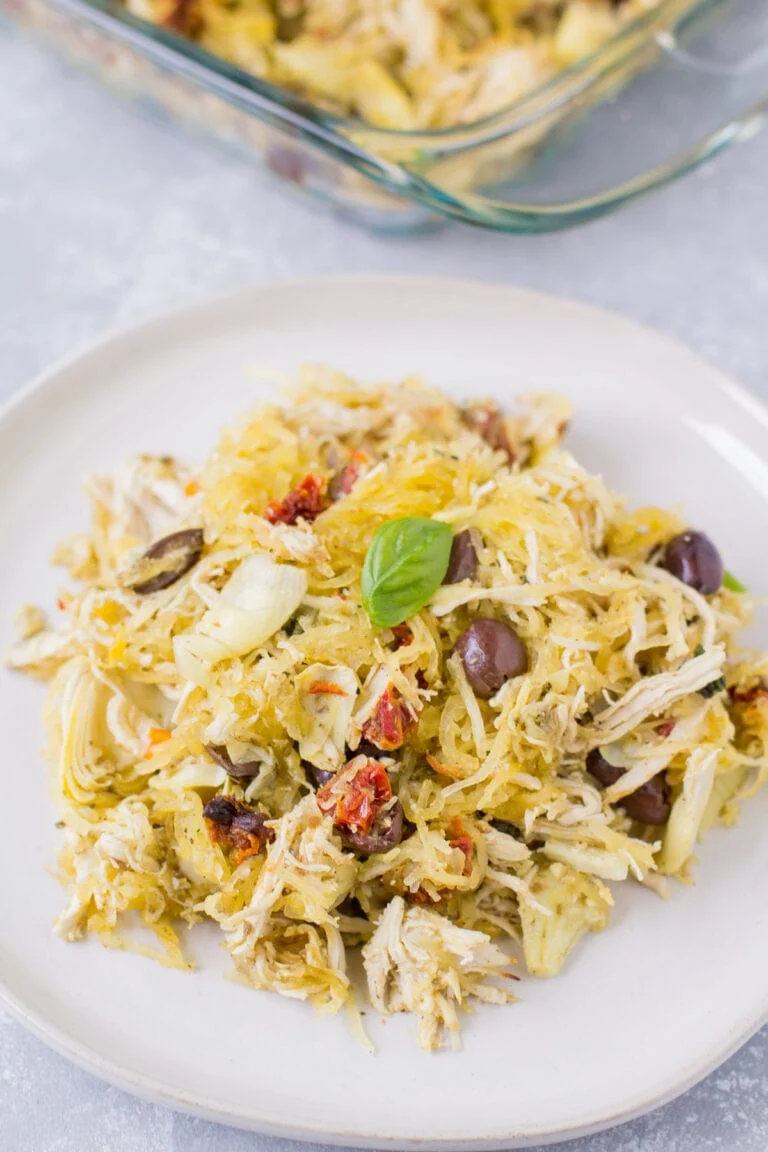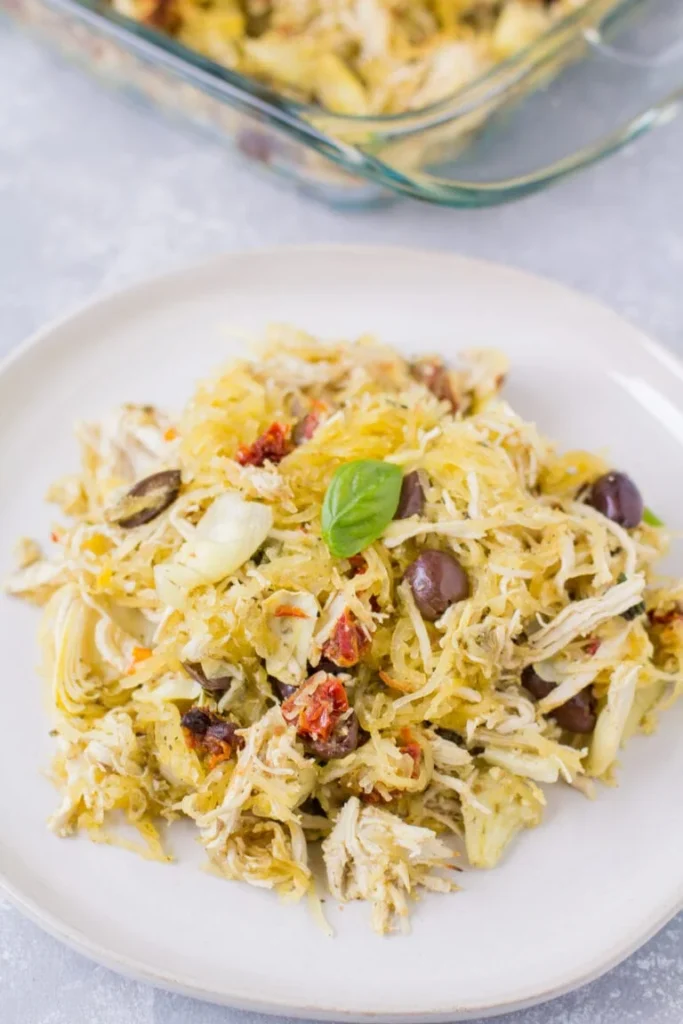 It's rich, thick, and meaty, but it's vegan and gluten-free, too. And because it's made in the Instant Pot, it's much quicker than a typical bolognese recipe.
This recipe is loaded with veggies and cheese so it tastes like a healthier vegetable pasta. I'd add lentils here to increase its protein content and make it a more well-rounded meal.
This cheesy spaghetti squash is a delicious and simple dinner recipe that is packed with vegetables! It is a great alternative to traditional macaroni and cheese!
This heart-healthy spaghetti squash recipe is a simple but flavourful side dish, and perfect during the fall months.
A delicious sheet pan low carb Spaghetti Squash Lasagna that I know will be a hit with my kids and yours.
Try this Vegan Black Bean and Corn Stuffed Spaghetti Squash with Avocado Crema. There is just something so fun about stuffing a squash.
These spaghetti squash bowls are a fun twist on regular pasta night! They are a great way to increase your veggie intake and they make for a quick, healthy weeknight meal.
This recipe uses natural ingredients for earthy flavors. Shrimp gets a bad rap for being high in cholesterol, but it is in fact a low saturated fat protein-rich seafood that is an important part of the Mediterranean dietary eating pattern.
Have dinner on the table in about 35 minutes with tons of flavor.
Even though this side dish is creamy and cheesy, it is still a rather heart-healthy recipe.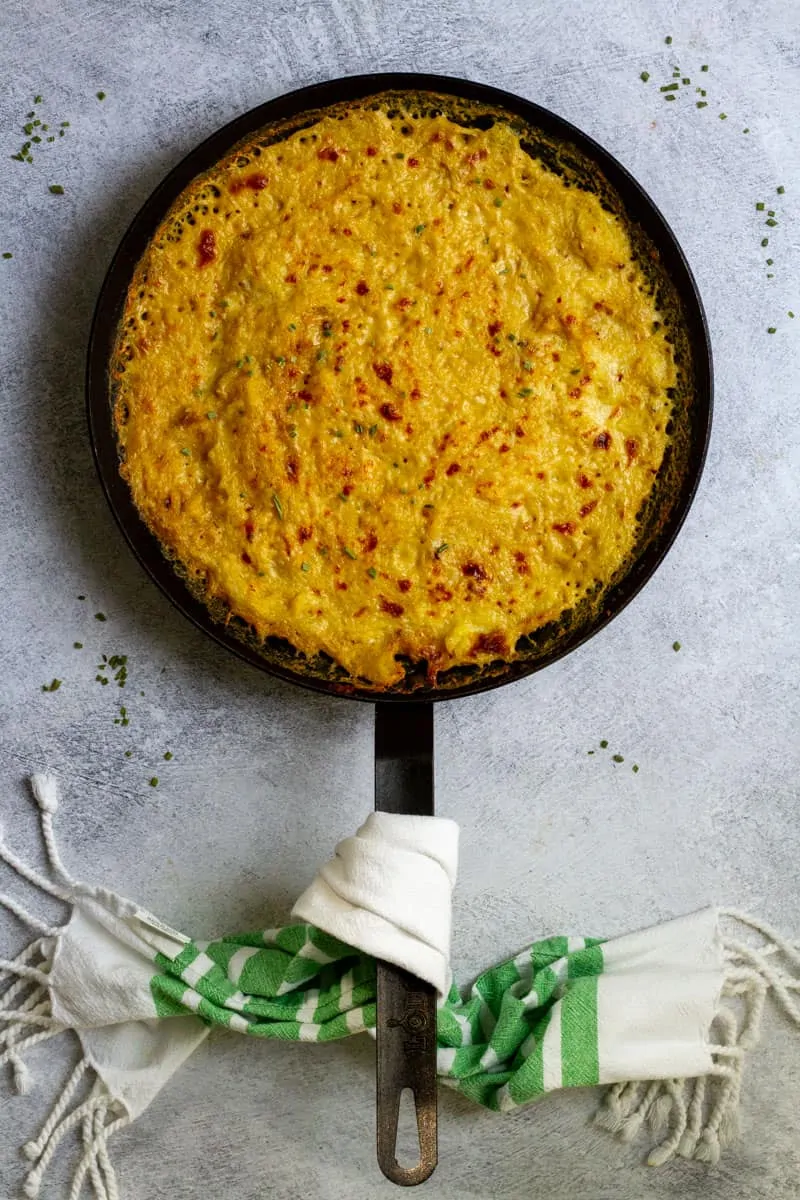 Pesto spaghetti squash is an easy veggie-packed recipe using spaghetti squash instead of pasta. With just five minutes of prep time, it's perfect to make for a quick and healthy weeknight dinner
A perfectly healthy summer side dish to complement any main course – and its only 4 ingredients!
A perfect dish for a non-vegetable lover.
Scallops Recipe – Confessions Of An Overworked Mom
Delicious pan seared scallops that just take a few minutes of prep time.
You have found the perfect brunch, breakfast, or lunch recipe. Whole-wheat flatbread pitas are topped with roasted spaghetti squash, fresh tomatoes, and sharp cheddar cheese, and baked with an egg on top.
Crab Cakes – The Soccer Mom Blog
These gluten-free crab cakes are made with TONS of crab, plus a spaghetti squash ingredient swap means they're lower in carbs too!
Final Thoughts
I hope you enjoyed this versatile vegetable that creates interesting recipes from spaghetti to crab cakes.
Let me know which recipe you enjoyed most in the comments below.
And if you are looking for other heart-healthy meals subscribe to my newsletter for a FREE 7-day heart-healthy meal plan to get you started on lowering your blood pressure or cholesterol today.