If you struggle to drink enough water throughout the day, try this pineapple cucumber ginger lemon weight loss infused water. It is a healthy way to make drinking water more enjoyable.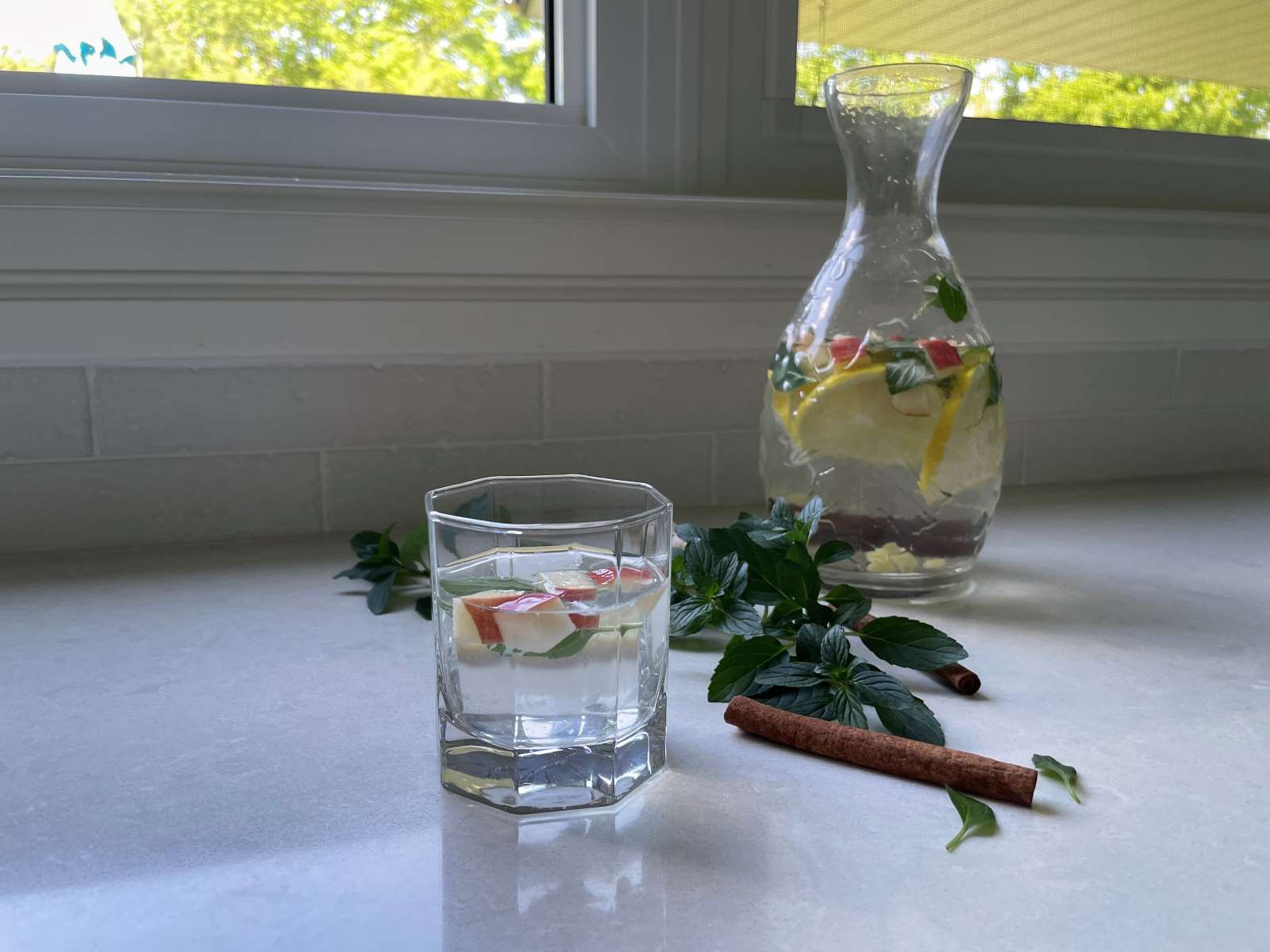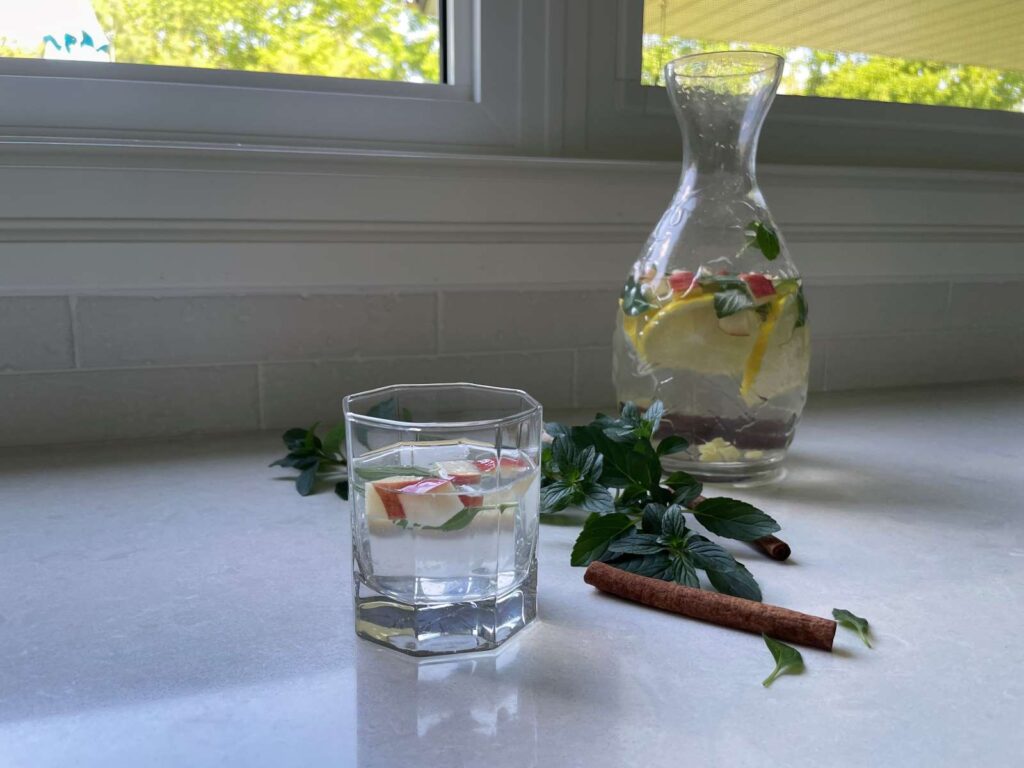 Why Make Pineapple Cucumber Ginger Lemon Weight Loss Water
Staying hydrated is important. We need to drink to help us stay healthy, improve our mood, and keep our brain functioning!
There are many choices out there, but studies show that soda consumption is associated with weight gain. These high-calorie drinks increase sugar intake and your likelihood of weight gain. They are also associated with the development of chronic conditions like heart disease and type 2 diabetes. Not to mention these drinks can affect our brain health and frailty (1). Gasp!
So what about diet pop?
These beverages use artificial sweeteners which mean fewer calories. However, these drinks have also been linked to negative outcomes like increased calorie uptake and type 2 diabetes risk.
So what's left?
Water!
A few glasses of water a day can be tolerated, but we need to drink more than that! This is why you may be looking for something a little more exciting.
And that's when I recommend infusing water, with one of my favorite recipes – this cucumber pineapple ginger lemon drink!
Will this Cucumber Pineapple Ginger Lemon Drink Help With Weight Loss?
All over the internet, you may find promises of fat-burning drinks that contain pineapple, cucumber, ginger, lemon, and other citrus fruits.
But as a Registered Dietitian, I am here to debunk this myth! When looking at the research to support these claims I am unfortunately coming up short.
While it would be nice to consume a magic pineapple, cucumber, ginger, lemon detox drink to shed the pounds, it's not going to happen. So I've come up with a better way to use these plant foods to actually support weight loss and help you feel your best.
Don't get me wrong, incorporating these plant foods – like pineapple, cucumber, ginger, lemon, and other citrus foods – into your diet can certainly support your efforts to lose weight. However, I recommend eating them for snacks and desserts rather than blending them and wishing for the pounds to fall off.
For instance, try adding cucumbers for a snack to replace processed foods like a granola bar. Or consuming grilled pineapple for dessert rather than handfuls of candy. These are awesome steps that can help you reach your weight-loss goals.
Or – you can try this recipe! Adding these ingredients to your water will help you stay hydrated which keeps you on track with weight loss!
So Why Is Weight Loss In The Title Of This Recipe?
I've titled this pineapple cucumber ginger lemon weight loss water because my clients struggle with staying hydrated.
Hydration helps you feel good and makes your brain work better to make smarter choices when working toward your health goals, like weight loss.
Therefore staying hydrated (without regular or diet sodas) is essential to staying on track with your weight loss goals.
This recipe of infused water makes drinking water much more enjoyable. It adds flavor to your water without added sugar or artificial sweeteners.
Not only does it taste better than plain old tap water, but it also looks more appetizing! Increasing the likelihood you will consume it!
Therefore, this recipe will increase your motivation to stay hydrated and set you up for success on your weight loss journey (more so than any "fat-burning pineapple cucumber shake" can promise).
Ingredients
As the name suggests, I used pineapple cucumber ginger lemon as well as cinnamon, mint, salt… and you can't forget the water.
You can use plain tap water here, or carbonated water. There is some research to suggest carbonated water may be used to suppress appetite, increases fullness, and satiety levels, and therefore supports weight loss (1).
This recipe can also support heart health. Ginger and water are foods that can lower your blood pressure. Cinnamon has been shown to help unclog arteries.
How To Make Infused Water
It's really not that hard to make this cucumber pineapple ginger lemon drink.
Add your freshly chopped produce and herbs to a glass jar. I recommend a clear jar here so you can see the gorgeous colors this recipe offers. Use any glass or jar you have around the house – you don't need to purchase fancy infusers for this recipe.
Then add the water. It can be plain or sparkling, your choice!
Finally, top with ice if you want.
It is as simple as that, no boiling or blending required!
If you are anything like me, I like to follow a recipe a few times before I start experimenting on my own. But hopefully, you can see infusing water is super simple and difficult to mess up.
You don't need to use the ingredients listed here, you can keep it simple and add whatever you have around the house.
Expert Tips
Be sure to clean your vegetables, fruits, and herbs well to remove any dirt or residue
Refrigerate for at least one hour to let the flavors infuse, although the longer it can infuse, the better
Muddle the ingredients with a spoon before adding the water to help release the flavors
Once the jar is done, you can eat the fruit and vegetables, you may find the fruit itself has less flavor than fresh but I still find it satisfying to suck on the over-hydrated pineapples and cucumbers, and bonus you get the added nutrients!
Usually keeps in the fridge for 1-3 days
Pineapple Cucumber Ginger Lemon Drink Video
Check out this video which is a variation of this recipe without pineapple and cucumber. Use the same technique with the ingredients below to execute this recipe.
Other Drink Recipes
Final Thoughts
This pineapple cucumber ginger lemon water is no weight loss cure, but it is easy to make, is refreshing, and will get you more excited about drinking water, staying hydrated, and meeting your weight loss goals by helping you feel your best.
And if you LOVE this recipe and are interested in other heart-healthy recipes, subscribe to my YouTube channel. I'd love to have you follow along to learn even more heart-healthy recipe ideas from yours truly! Click here to subscribe @theheartdietitian!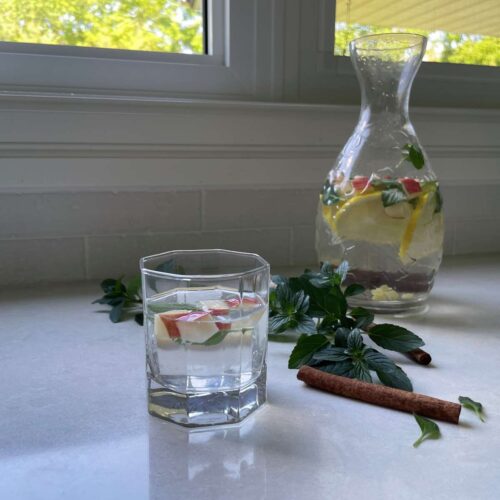 Pineapple Cucumber Ginger Lemon Weight Loss Water
This infused water is easy to make, it is refreshing, and will support your weight loss goals by helping you stay hydrated and feel your best.
Ingredients
1

lemon

sliced

¼

cup

pineapple

diced

1

apple

diced

¼

cup

cucumber

diced

1

cinnamon stick

1

inch

fresh ginger

peeled and cut

¼

cup

mint

fresh

⅛

tsp

salt

7

cups

water
Instructions
Add all ingredient to a large jar (I recommend adding the water last)

Cover and let sit at room temperature for a minimum of 1 hour

Simple as that! Pour into a glass and enjoy!
Notes
The minimum amount of resting time is one hour. For more potent

flavor place in the refrigerator if stored anywhere from 1 to 12 hours
Nutrition
Calories:
21
kcal
Carbohydrates:
6
g
Protein:
0.3
g
Fat:
0.1
g
Saturated Fat:
0.02
g
Polyunsaturated Fat:
0.04
g
Monounsaturated Fat:
0.01
g
Sodium:
55
mg
Potassium:
65
mg
Fiber:
1
g
Sugar:
3
g
Vitamin A:
87
IU
Vitamin C:
10
mg
Calcium:
22
mg
Iron:
0.3
mg