Lemon ginger salmon is an Asian inspired, one-pan meal that can be whipped up in no time. You only need a few ingredients, to make this flavor combination pop!
The Mediterranean diet has long been known as one of the healthiest diets in the world. One of the key components of this diet is the consumption of fish, which has been linked to numerous health benefits, particularly for heart health.
One delicious way to incorporate more fish into your diet is with this lemon ginger salmon recipe. Not only is it packed with heart-healthy omega-3 fatty acids, but it's also bursting with flavor thanks to the combination of zesty lemon and warming ginger.
Read on to understand how to make this delicious ginger lemon salmon recipe and how it can help you meet your recommended fish intake for heart health.
Why Make Lemon Ginger Salmon
Great source of heart-healthy omega-3 fatty acids
Includes food that lowers blood pressure and unclogs arteries
Part of the DASH diet, Mediterranean diet, Mind diet, and diet after stent placement
East to prepare to make it a great option for a quick and healthy meal
Helps you meet the American Heart Association guidelines of consuming fish 2-3x/week to lower your heart disease risk (1)
One pan meal
Marinades like this help to keep moisture in fish, and prevent them from drying out
Little effort to execute
Only a few ingredients needed
Salmon Nutrition
Both Pacific and Atlantic Salmon are great options for meeting your omega 3 intake! Atlantic salmon has a higher Omega 3 content than Pacific. Omega 3s are not only great for reducing your risk of heart disease and maintaining heart health but also for improving brain health (2).
200 g of Atlantic salmon also provides a whopping 11.9 mcg of Vitamin D. This covers up to 80% of an adult's recommended Vitamin D intake. vitamin D is essential in maintaining strong, healthy bones and a strong heart. Studies have shown that Vitamin D plays a role in helping to manage blood pressure (3).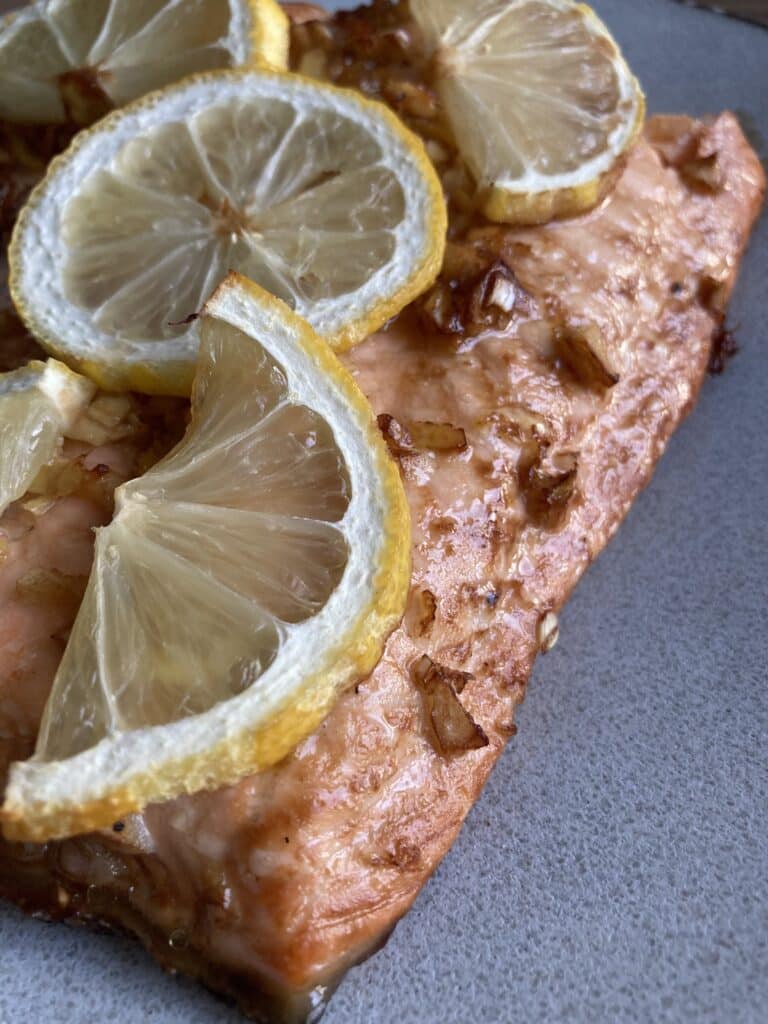 Ingredients
Salmon fillet – purchase fresh or frozen, with skin on or skin off. Your choice!
Lemon – you will use all of it here – the zest, the juice, and the actual lemon. No food is wasted in this recipe.
Olive oil – an important component of the DASH diet and the Mediterranean Diet. If you don't have olive oil, be sure to check out healthy olive oil substitutes
Soy sauce – this flavorful sauce does contain a lot of sodium, so be sure to purchase the low-sodium version to keep this dish low in sodium.
Honey, ginger, and garlic – to create the ginger lemon salmon sauce. I recommend using fresh ginger and garlic here instead of powder for maximum taste. If you do use dried spices, add them after cooking.
How To Purchase Salmon
If you are new to purchasing salmon for this salmon lemon ginger dish, check out this article that explains the details of Pacific vs. Atlantic Salmon
Whether you choose fresh or frozen, they are equally nutritious. Although some frozen salmon may be more nutritious because it is flash frozen, and thus the nutrients are preserved during shipment.
I like frozen fish because it is usually less expensive, and when it goes on sale I usually stock up and store it in the freezer.
The only difference I have heard is that frozen salmon may have a slightly different, mushier texture.
As for skin or skinless – skin is safe to eat, so the choice is yours. Keeping the skin on helps the moisture stay in the fish while cooking, but you can always ask the fishmonger to remove it if you don't want it.
Since this lemon ginger salmon recipe is oven baked and not fried, the skin doesn't get crunchy (usually executed by searing) and thus I am less likely to recommend eating it for this dish.
How to Cook Salmon With Lemon Ginger and Honey
For this lemon ginger salmon recipe, I chose to bake it instead of frying it to reduce the overall oil of this dish.
First – mix the marinade.
Second -pour the marinade on top of the salmon.
Third – let the marinade percolate for at least 10 minutes (the longer the better)
Forth – add the sliced lemon right before baking
Finally – bake for 15-20 minutes. You will know when it is done when it is opaque and can be easily flaked with a fork.
Storage
This ginger lemon salmon recipe can be stored in the fridge for 3-5 days. It's up to you if you want to microwave it. I typically find fish dried out when microwaved. I prefer to eat my leftovers cold, on a ricotta or cream cheese bagel.
Make Ahead
This honey lemon sauce can be made ahead of time and sit in the fridge for 5 days if you want to add this to your meal prep routine.
Variations
Salmon is a versatile ingredient that can be cooked in many different ways, so you can experiment with different seasonings and cooking methods to find your favorite recipe.
Use trout instead of salmon
Use it for fish tacos
Pair it with orzo and broccoli
Other Salmon Recipes
Lots of different ways to enjoy fatty fish that are high in omega-3s. My favorite is sardines (like this sardine omelet), but this super simple Pesto Butter Salmon recipe is another option.
Final Thoughts
Incorporating more fish into your diet is one of the best things you can do for your heart health, and this lemon ginger salmon recipe is the perfect way to do it. With its combination of omega-3 fatty acids, zesty lemon, and warming ginger, this dish is both healthy and delicious.
So why not try making this ginger lemon salmon recipe for your next meal and see how it can help you meet your recommended fish intake for heart health according to the Mediterranean diet?
Recipe by Marissa Frodsham, Nutrition Student. Article was written by Veronica Rouse, MAN, RD, CDE.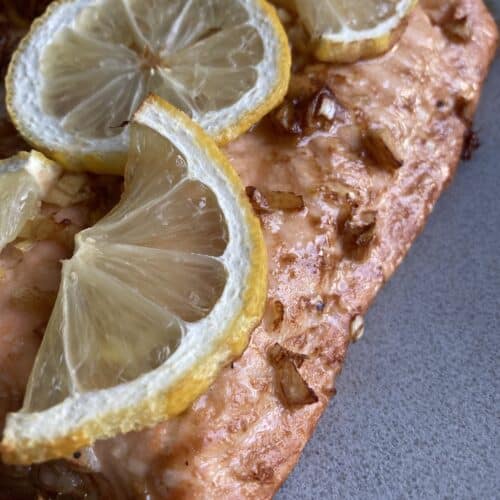 Lemon Ginger Salmon
Lemon ginger salmon is an Asian inspired, one-pan meal that can be whipped up in no time. You only need a few ingredients, to make this flavor combination pop!
Equipment
1 Mixing Bowl

1 Baking sheet
Ingredients
12

oz

Salmon fillet

½

lemon

juiced

1

tbsp

olive oil

1

tsbp

low sodium soy sauce

1

tsp

honey

1

tsp

lemon zest

2

tsp

fresh ginger

grated

2

cloves

garlic

minced

⅛

tsp

salt

⅛

tsp

black pepper

½

lemon

sliced
Instructions
Preheat oven to 375°F, and line a baking sheet with parchment paper.

Make the salmon marinade: add lemon juice, olive oil, soy sauce, honey, lemon zest, minced ginger and garlic, salt, and pepper to a small bowl and whisk until combined.

Place salmon in a medium dish and pour marinade over top. Allow to sit for 10 minutes, or place in the fridge to marinate for longer if desired.

Slice the remaining half of the lemon into thin slices.

Place salmon onto a prepared baking sheet, topping with the lemon slices.

Place salmon into the oven and bake for 18-20 minutes, depending on the thickness of your salmon. 

Remove from oven and serve with sides of choice.
Nutrition
Calories:
337
kcal
Carbohydrates:
10
g
Protein:
35
g
Fat:
18
g
Saturated Fat:
3
g
Polyunsaturated Fat:
5
g
Monounsaturated Fat:
9
g
Cholesterol:
94
mg
Sodium:
240
mg
Potassium:
935
mg
Fiber:
2
g
Sugar:
4
g
Vitamin A:
81
IU
Vitamin C:
31
mg
Calcium:
43
mg
Iron:
2
mg