These fish cakes (without potato) taste similar to traditional salmon patties, but don't contain any potatoes.
They are golden on the outside and moist and flaky on the inside. This recipe can help you achieve the goal of eating fatty fish 2-3 times a week for optimal heart health.
This heart-healthy fish cake recipe calls for leftover fish. If you don't have leftover fish or don't have time to bake a fillet you can skip this step by using canned salmon. I'd opt for low-sodium canned options. Replace the 10 oz salmon fillet with two cans of canned salmon.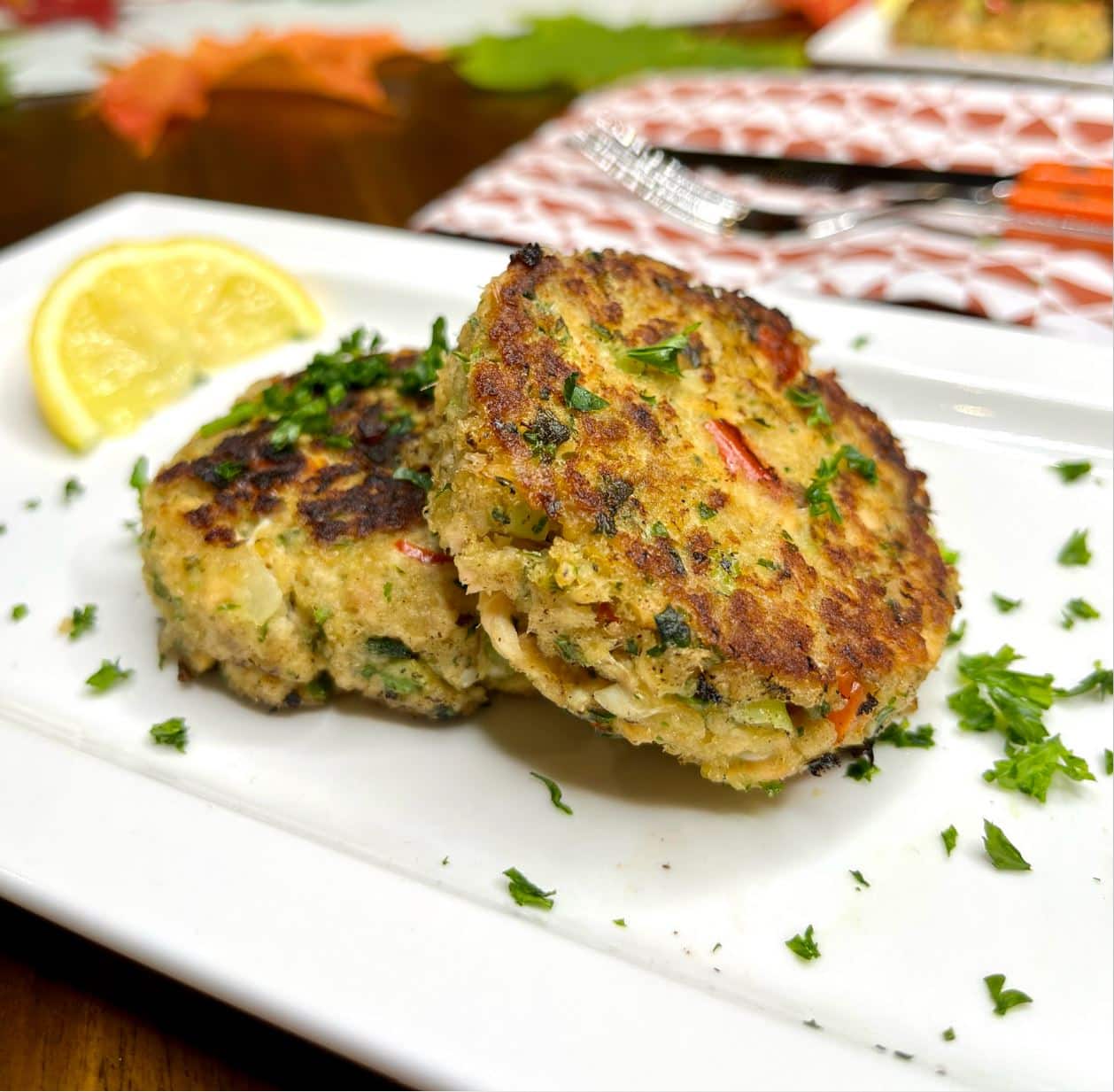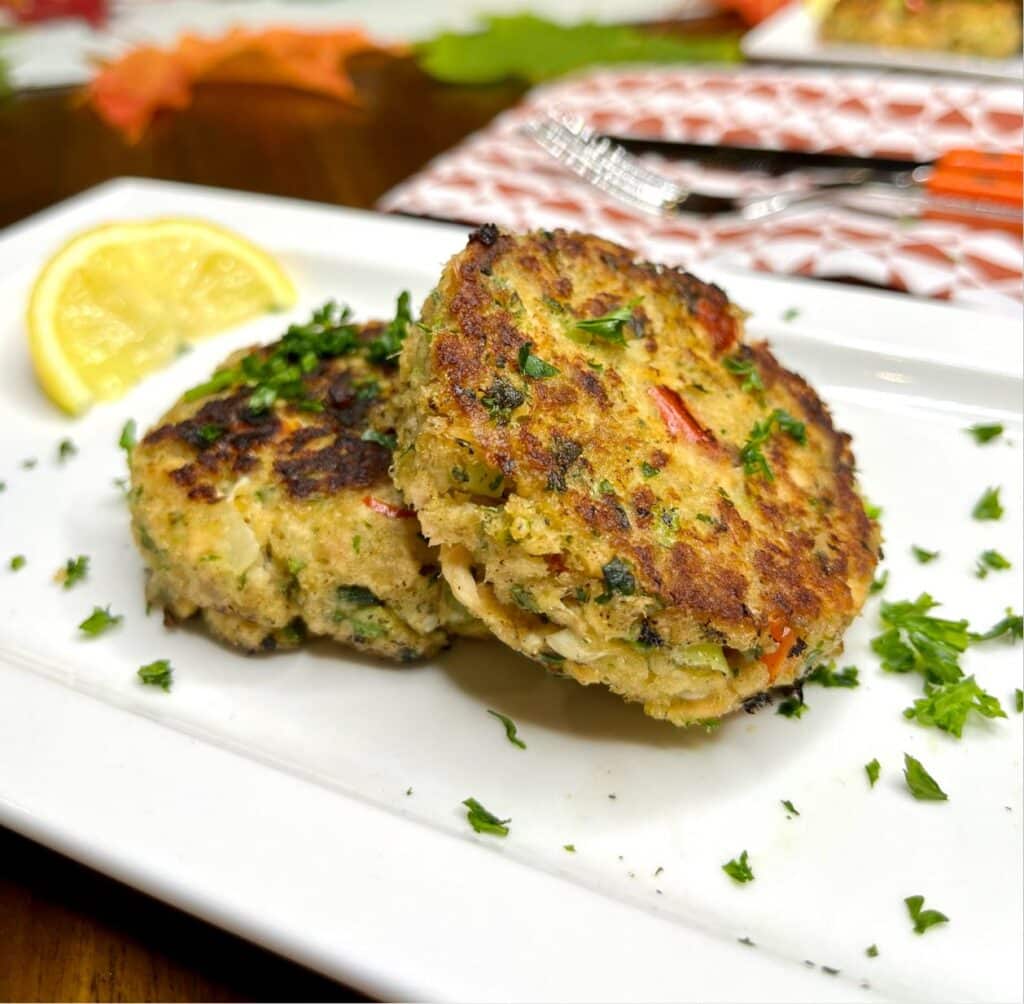 Why Make Salmon Fish Cakes Without Potatoes?
they are easy to make
come together in less than 30 minutes
great for meal prep
versatile; use whatever fish and veggies you have around
full of flavor
help you meet your recommended fish intake for the week
Are Fish Cakes Heart Healthy?
Heart disease is the leading cause of death for men, and women in the United States (1). Heart disease can be managed by engaging in a healthy lifestyle.
One of the healthy lifestyle recommenations are to include more fish in your diet to improve your blood pressure and cholesterol levels.
Omega 3 Fatty Acids
Salmon is full of heart-healthy fats called omega-3 fatty acids. That's why it is encouraged to eat at least 2 servings of salmon per week can help you achieve your desired omega-3 intake (2). Adequate omega-3 intake can manage heart disease by reducing inflammation and increasing blood flow (2, 3).
These fish sources of omega-3 fatty acids are better absorbed in our bodies than plant sources. Plant sources of omega-3 fatty acids include linseeds, flaxseeds, chia seeds, and hemp seeds.
Low In Saturated Fat
Additionally, salmon is low in saturated fat. Eating patterns low in saturated fat are recommended by the American Heart (AHA) to help control cholesterol levels
Heart Healthy Eating Patterns
Eating fatty fish like salmon is recommended in both the Mediterranean and DASH eating patterns as fish helps reduce the amount of saturated fat intake while consuming lean protein (4,5,6). Check out the diet after stent placement, low cholesterol diet, PAD diet and POTS diet for similar recommendations.


Ingredients
The heart healthy fish cake recipe includes:
Vegetables and seasoning – Used for flavor and nutrients
Breadcrumbs – Are used to bind everything together. If you don't want to use breadcrumbs, try oatmeal.
Eggs – Another important ingredient for binding.
Mayonnaise – Not sure which one to purchase? View this list of low-sodium mayonnaise options, or try this recipe to make your own vegan alternative.
Salmon – Fresh salmon or 2 cans of low-sodium canned salmon can be used instead. Feel free to replace another omega-3-rich fish like mackerel or sardines. Learn more about which type of salmon to purchase in this Atlantic vs. Pacific salmon article.
Olive oil – used for frying. Learn more about olive oil and the Mediterranean diet here, or how to choose an olive oil alternative.
How To Make Fish Cakes Without Potato
1. Prepare vegetables by finely dicing onion, pepper, garlic, celery, and parsley. Flake leftover or canned salmon into small pieces. Be sure to chop the salmon fillets into tiny pieces to help everything combine and bind properly.
2. Fry diced onion, pepper, and garlic on the stove top for 5 minutes to enhance their flavor and soften them.
3. Combine the ingredients.
4. Form salmon mixture into balls. I find an ice cream scooper works well here.
5. Then it's time to fry the salmon balls on the stovetop at medium-high heat. This is where I recommend flattening the balls with a spatula to form the desired patty-like structure.
6. You will know the salmon cakes are done because they are golden on the outside. It usually takes 3-5 minutes per side to achieve this result. The fish is precooked, so no need to wonder if they are cooked well.
7. I recommend serving them with a salad and a side of yogurt (with freshly squeezed lemon and fresh dill) for a balanced meal.
Make Ahead
You can prepare the fish cakes without potato recipe in advance. Just follow steps 1-4 above, and start again at step 5 once you want to cook them.
How To Store Heart healthy Fish Cakes
The salmon cakes can last in the fridge in an airtight container for 3-5 days.
These fish cakes can be frozen after being cooked. I put a piece of parchment paper in between each patty so they separate well. They can last for 3 months in the freezer.
To reheat, I simply add olive oil to a medium-high heat pan and fry until golden brown.
Frequently Asked Questions
How Do You Get Salmon Cakes To Stick Together?
Salmon cakes require a binding agent to stick together. Eggs, breadcrumbs, and mayonnaise do the trick in this recipe. You can also try oatmeal or potatoes as a binder.
What Makes Salmon Patties Fall Apart?
Too much moisture, flipping the fish cakes too soon, flipping the salmon cakes too often, and not using a binding agent like an egg are all reasons salmon patties may fall apart.
Are Salmon Cakes Good For Weight Loss?
Salmon cakes are great for weight loss because they are an excellent source of protein and are rich in omega-3 fatty acids. These cakes fit into the Mediterranean diet, which has good evidence that eating the Mediterranean way can help achieve weight loss (7).
Pair this salmon cake with a side of yogurt, over a bed of greens and you have a perfectly balanced meal to meet your weight loss goals.
Other Fish Recipes
Final Thoughts
Make these salmon fish cakes without potatoes, and let me know if your family loves them as much as mine!
If you are interested in more meal ideas to lower your cholesterol and improve your blood pressure, subscribe to our monthly newsletter to download a 7-day heart-healthy meal plan.


This fish cake recipe and photos were created by Sean Moursalien, Nutrition Undergraduate Student. Medically reviewed by Veronica Rouse, MAN, RD, CDE.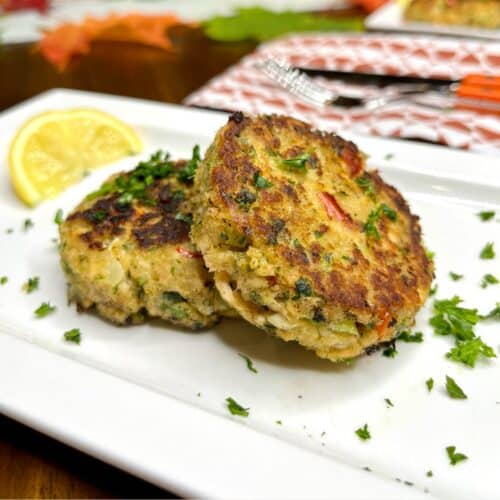 Salmon Fish Cakes Without Potato
These fish cakes without potato taste similar to traditional salmon patties. I used fresh salmon, but you could use canned salmon as well.
Equipment
1 Frying Pan

1 Mixing Bowl

1 Spatula
Ingredients
10

oz

leftover cooked salmon

flaked

4

tsp

olive oil

¼

cup

red pepper

diced

¼

cup

onion

diced

1

garlic cloves

minced

¼

cup

celery

diced

2

tbsp

mayonnaise

½

cup

parsley

minced

1

cup

Panko bread crumbs

1

egg
Instructions
Heat 1 tsp of olive oil in a non-stick frying pan. When heated add red pepper, garlic, and onion. Sautée for 3-5 mins until softened. Remove from heat and allow to cool.

Combine cooled red pepper, garlic, and onion mix with celery, mayonnaise, parsley, panko crumbs, egg, and salmon. Mix until combined.

Once mixed form 8 salmon balls using an ice cream scoop.

Heat the same non-stick pan. Add 1 tbsp of olive oil. Once heated, add salmon balls to the pan (be sure not to overcrowd the pan), and flatten it with a spatula into the shape of a patty.

Cook for 2-3 mins per side or until golden brown. Repeat for remaining salmon cakes. Let cool and enjoy! 
Nutrition
Calories:
224
kcal
Carbohydrates:
13
g
Protein:
18
g
Fat:
11
g
Saturated Fat:
2
g
Polyunsaturated Fat:
3
g
Monounsaturated Fat:
5
g
Trans Fat:
0.01
g
Cholesterol:
80
mg
Sodium:
166
mg
Potassium:
456
mg
Fiber:
1
g
Sugar:
2
g
Vitamin A:
206
IU
Vitamin C:
15
mg
Calcium:
50
mg
Iron:
2
mg