Pesto butter salmon recipe is an easy and delicious dinner meal. Not only is it flaky and juicy, but it is full of omega 3 fatty acids that can reduce inflammation, and soluble fiber that controls cholesterol.
This basil pesto butter salmon also contributes to the recommended intake goal of eating fish 2-3 times per week set by the Mediterranean diet and The American Heart Association. This salmon with pesto butter recipe can be executed in 20 minutes.
If you are looking for a heart-healthy recipe to serve your guests, this is it!
Why Make Baked Salmon With Pesto Butter
Quick weeknight meal
Requires minimal preparation
Takes 20 minutes to execute
Restaurant quality dinner
Part of a heart-healthy diet
Salmon And Heart Health
Studies show that the omega-3 fatty acids found in fish can improve heart health by decreasing inflammation and improving blood flow (1).
Salmon is one of 39 foods that can lower blood pressure and one of 39 foods that can unclog arteries.
It is recommended to eat fish sources of omega 3 fatty acids instead of plant sources of omega 3 fats because they are better absorbed in our bodies. Plant sources of omega 3 fatty acids include linseeds, flaxseeds, chia seeds, and hemp seeds.
Purchasing salmon can be overwhelming because there are a lot of different choices on the market. Learn more about the difference between pacific vs atlantic salmon when purchasing your salmon.
Beans And Heart Health
White kidney beans offer healthy carbohydrates, plant protein and most importantly soluble fiber.
Soluble fiber is recommended in the Portfolio diet to help lower cholesterol as the gut bacteria feed on the fiber to produce short-chain fatty acids that can lower the rate of cholesterol production in the liver (2). It also helps remove bile, which is made up of cholesterol molecules.
Ingredients In Baked Salmon With Pesto Butter
Pesto – I'm all about shortcuts in order to feed my family, and pesto is one of them. I typically purchase my pesto, but homemade will work as well.
Salmon – I usually purchase 1 lbs of salmon for my family of four, purchasing it with the skin on or off is your preference
Garlic – minced garlic adds a lot of flavor to the white kidney beans and its a staple in the Mediterranean dietary pattern
Butter – choose unsalted to keep the overall salt content of the dish low (to help your blood pressure of course!) Store-bought pesto contains salt, and thus unsalted butter provides a good balance.
White kidney beans – I typically choose unsalted canned beans, because just like the pesto, I am all about shortcuts.
Spinach – Adds a pop of color and added nutrients like nitric acid to help lower blood pressure.
Purchasing Canned Pesto
Pesto is a thick green sauce that is made from olive oil, garlic, pine nuts, basil, and cheese. Look for those words on the ingredient list of premade pesto you would buy at the grocery store.
The most important ingredient of the premade pesto is olive oil. Olive oil is expensive and some companies substitute olive oil for a cheaper oil that isn't as heart-healthy.
So be sure to purchase a pesto that lists olive oil in the ingredient list to keep this dish nutritious and part of the Mediterranean diet pattern.


How To Cook Salmon With Pesto Butter
Pesto butter salmon is exactly like it sounds – baked salmon with pesto butter spread over it. I've added kidney beans and spinach here for a heart-healthy twist.
First, we need to melt the butter. Why use butter? Because it locks in moisture to the fish and helps it not dry out. We want juicy, flaky salmon in order for it to taste the best. This type of salmon is actually called Salmon Milano in Italy and is known for its rich and flavorful taste.
Next, you want to mix the butter and pesto together.
Then simply spread it over the salmon fillet before putting it in the oven to cook. How easy is that? The trick to this recipe is to cook the basil pesto butter salmon on high heat for a short amount of time. this helps keep this fish juicy, but also gets dinner on your table in no time!
While the salmon is cooking, you can heat up the spinach and beans on the stovetop. First add olive oil, and minced garlic, and sauté for 3-5 minutes until garlic is golden brown.
Next, add the rinsed can of no salt added beans, and saute in garlic for 5 minutes. Now it's time to cook the spinach which will take another 3-5 minutes and voila. It's done!
By the time the spinach and kidney beans are cooked, the salmon should be done and you are ready to assemble the dish.
You will know the salmon is done as it should be opaque or white in color. You can also test it with your fork, as it should flake easily. It usually takes around 15-20 minutes for a large salmon fillet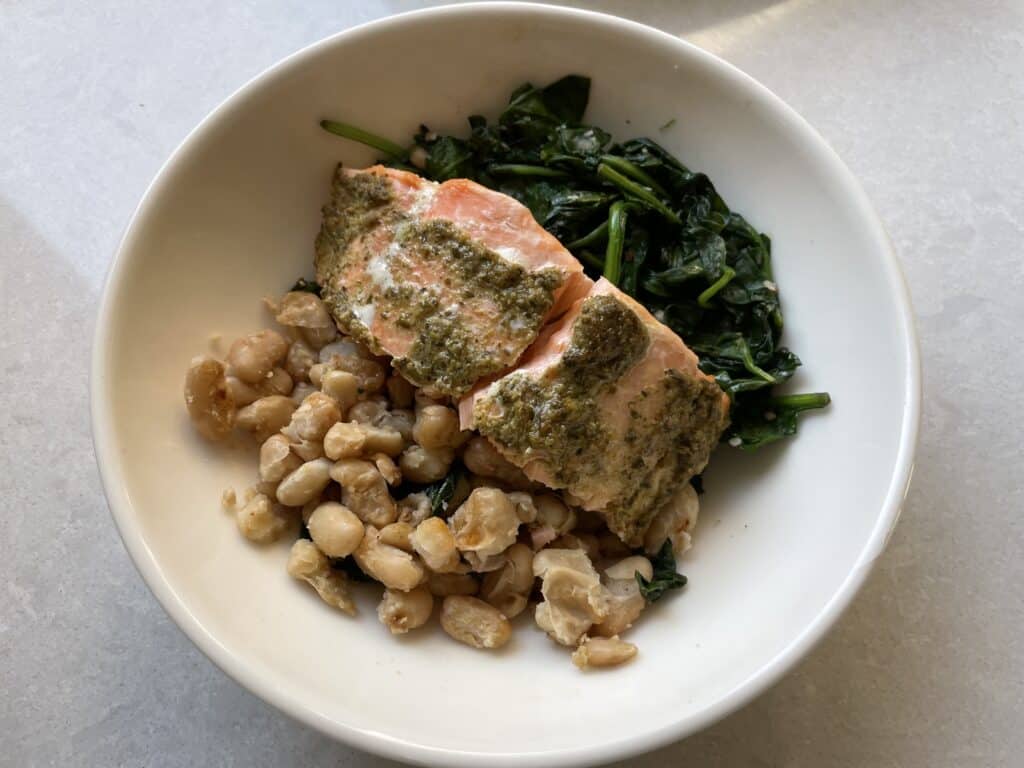 Watch The Video Tutorial
This basil pesto butter salmon recipe takes little prep work! Watch for yourself.
Leftovers
Leftover salmon with pesto butter can be stored in the fridge for 3-4 days and can be eaten cold.
Be careful about reheating in the microwave as it can dry it out. Instead, re-heat it on the stovetop.
Personally, I prefer cold leftover salmon. Try adding leftover salmon to ricotta cheese on a whole-grain bread for a fantastic sandwich.
I also wouldn't recommend freezing leftover pesto and salmon. It honestly takes 5 minutes to prepare, so it may take more time to prep and freeze them.
Variations
If you want to make this dish even more heart-healthy, you can swap the butter for olive oil. Simply mix the pesto and olive oil together and drizzle it on the salmon filets.
Alternatively, if you want to reduce the fat and calories in the meal, feel free to skip the butter and just spoon pesto directly over the fish. The pesto has some olive oil in it already which should lock in the moisture.
Add cherry tomatoes when cooking the spinach for even more antioxidants and phytochemicals.
What Else Can You Do With Pesto?
This recipe only uses a bit of pesto so you will likely have leftovers. Try adding pesto to
soup for more flavor
spread it on bread and top it with tomatoes and hemp seeds
veggies and roast them in the oven
stir into mashed potatoes
toss it into your pasta for a quick and tasty sauce
Other Mediterranean Style Recipes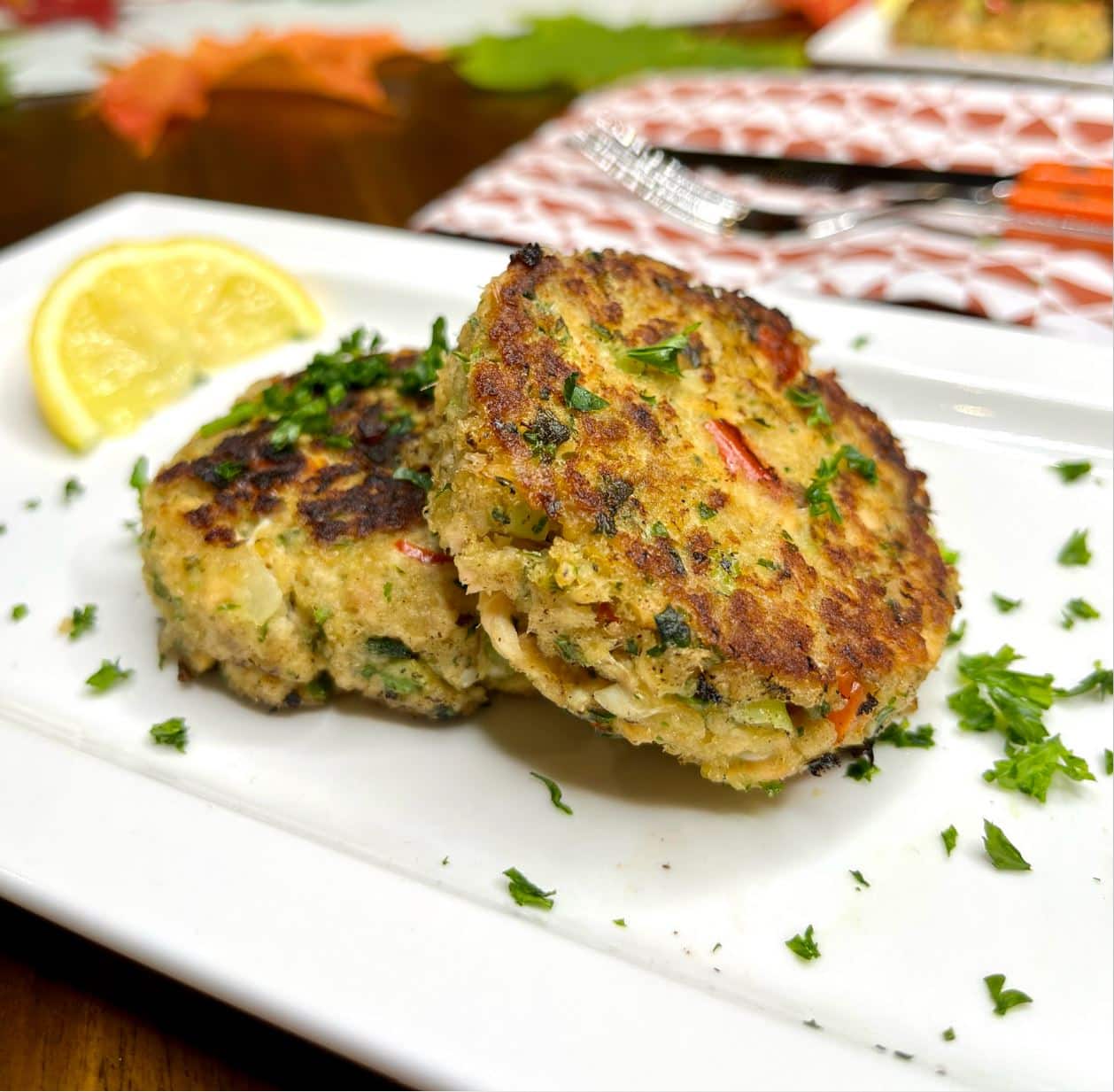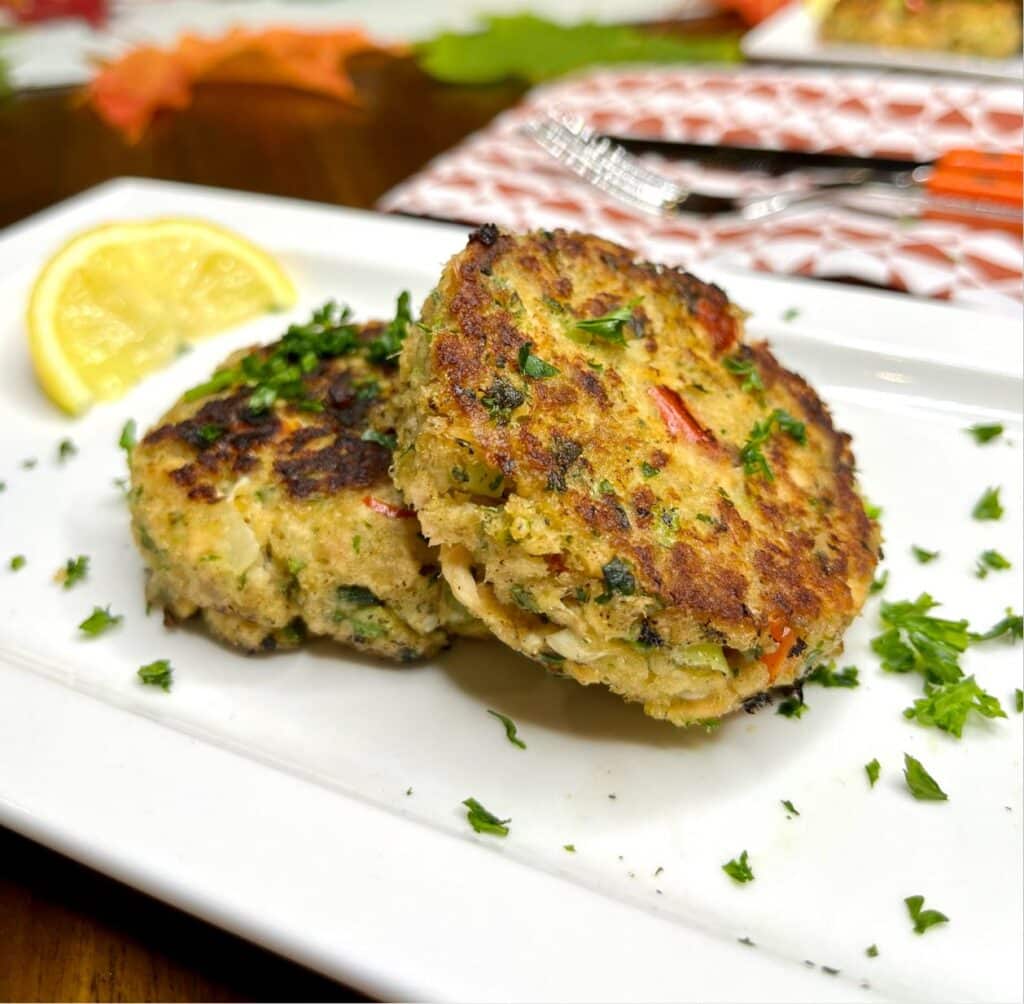 Final Thoughts
This pesto butter salmon recipe is packed with healthy fats, full of flavor, and on your table in 20 minutes or less. Let me know what you think!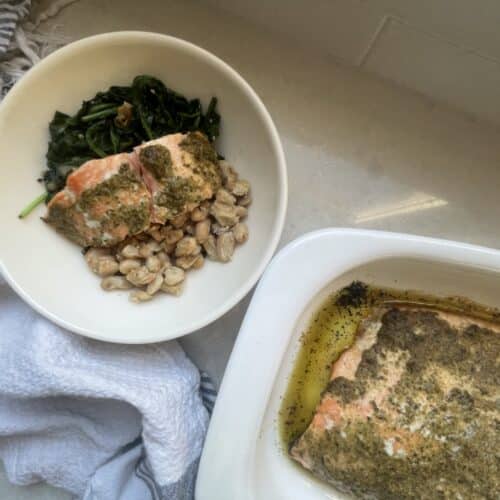 Pesto Butter Salmon
Pesto butter salmon is an easy and delicious dinner meal. Not only is it flaky and juicy, but it is full of omega 3 fatty acids that can reduce inflammation, and soluble fiber that controls cholesterol.
If you are looking for a heart healthy recipe to serve your guests, this is it!
Equipment
1 Saucepan

1 oven safe casserole dish
Ingredients
1

lbs

salmon

3

tbsp

unsalted butter

softened

2

tbsp

pesto

3

cloves

garlic

1

tbsp

olive oil

1

can

white kidney beans

no salt added

2

cups

baby spinach
Instructions
Preheat oven to 425F and prepare a baking sheet or casserole dish with parchment paper.

Place salmon on the prepared baking sheet.

In a bowl, combine the softened butter, pesto using a fork.

Spread the butter pesto mixture evenly over the top of the two salmon fillets.

Bake the salmon on the prepared baking sheet for 15-17 minutes, or until cooked to your liking.

While salmon is baking, add olive oil and chopped garlic to heated frying pan. Fry farlic on medium heat for 3-5 minutes until golden brown.

Once the garlic is brown, add the rinsed can of kidney beans to the frying pan and cook for about 5 minutes.

Then add the baby spinach to cook and wilt down for a final 3-5 minutes.

You will know the salmon is done because it is opague in color and flakes easily wiht a fork. Take it out of the oven and top with white beans and psinach mixture.
Nutrition
Calories:
395
kcal
Carbohydrates:
19
g
Protein:
29
g
Fat:
22
g
Saturated Fat:
8
g
Polyunsaturated Fat:
4
g
Monounsaturated Fat:
7
g
Trans Fat:
0.3
g
Cholesterol:
86
mg
Sodium:
423
mg
Potassium:
945
mg
Fiber:
7
g
Sugar:
2
g
Vitamin A:
1866
IU
Vitamin C:
6
mg
Calcium:
80
mg
Iron:
3
mg