This healthy classic sandwich is full of anti-inflammatory omega 3 fats. It is a simple, easy, cheesy lunch everyone will love.
A Healthy Tuna Melt Wrap
Did you know that consuming fatty fish, like tuna, three times a week is recommended for heart-healthy eating?
Fatty fish like tuna is rich in omega 3 fatty acids which have been shown to lower triglycerides, inflammation, and cholesterol. These healthy fats are satisfying and will keep you full for hours, aiding in weight management.
You read the title correctly, it is a melt, which means there is cheese.
I am often asked if cheese can fit into a heart-healthy eating pattern. The short answer is absolutely, but you want to choose cheese that is low in saturated fat. These are usually softer cheeses like ricotta or mozzarella.
What You Need to Make a Healthy Tuna Wrap
If you are a fan of sandwiches for lunch, you are gonna be fast friends with this.
Canned tuna is cheaper than fresh, and if you find a can with the "low sodium" or "no salt added" nutrition claim on the front of the label, it can be just as healthy as fresh!
Canned items are also an economical choice. I'm always on the lookout for sales, and when I see them I stock up (and so can you).
The remaining items in the recipe can be found in your fridge or pantry. Say what?! Mayonnaise, mustard, cheese, and flour tortilla wraps are all you need. This makes a perfect lunch for the end of the week when you are running out of supplies before the next scheduled grocery shop.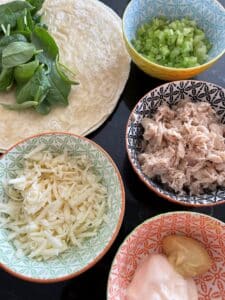 Should I Add Mayonnaise?
Before we jump into the recipe I want to answer the most common question I get about this recipe. Is mayonnaise healthy?
About twenty years ago, doctors and dietitians everywhere were pushing a low-fat diet, which meant mayonnaise was on the "do not eat" list.
Fast forward to today we now have research to confirm that eating a high-fat diet, rich in monounsaturated fats like mayonnaise, can be good for our heart health.
I'd recommend purchasing mayonnaise made with olive oil or canola oil when possible.
Don't like mayonnaise? Try mixing it with other heart-healthy fats like avocado or hummus.


How to Make The Easiest Tuna Melt Wrap
No culinary skills are needed here. Start with chopping the celery. Then add it to a can of tuna, mustard, and mayonnaise.
I find shredding cheese is the most laborious step of this recipe, but so worth it! Shredded cheese spreads the cheesey goodness evenly over a larger surface area (while using the least amount of cheese possible) to achieve the desired melted cheese effect.
The next challenge is folding the flour tortilla. First, you will want to fold it up and over the filling. Then make two folds on either side and finally fold over the top. If you are more of a visual learner, check out the photos below.
The last step is cooking the wrap. Lightly grease a non-stick skillet, add the wrap, and grill until lightly browned or the cheese has melted. You will want to flip the wrap to achieve the desired crispness on each side of the tortilla.
Can it get any easier than that?
Variations of the Tuna Tortilla Wrap
Tuna and cheese are the main ingredients here. But if you need a little variety, you can easily add different vegetables to adjust the texture. My personal favorite is including water chestnuts (another canned option!) for crunch instead of celery.
Tuna Quesadilla
Another great variation is a tuna quesadilla. Similar to the wrap, you will want to combine the tuna, mayonnaise, mustard, and celery. But this time spread the mixture evenly over the whole surface area of the wrap. Then top with cheese and cover the filling with a remaining tortilla.
To cook, lightly grease a nonstick skillet, add the quesadilla, and grill until lightly brown or the cheese has melted. You will also need to flip the quesadilla once it has achieved the desired brownness to brown the other side of the tortilla.
My favorite part of any quesadilla is the dip! Be sure to pair it with salsa, yogurt, or guacamole.
Microwave Tuna Melt
Need another way to switch it up? You can melt the cheese in the microwave. How easy is that? And you don't need to dirty (and clean) a pan.
Once you've prepared the tuna mixture, spread it on toasted bread, and microwave on high for one and a half minutes until the cheese has fully melted.
I'd use bread in this variation instead of a tortilla to add the crunch, making this more of a grilled tuna sandwich. A super easy alternative.
Tuna Melt Wrap in Oven
Like the crunch? Then try this tuna melt tortilla hack and broil it in the oven.
Preheat the broiler on your oven and set the rack about 4 to 5 inches from the heat source. While the broiler is heating up, make your wrap. Once your oven is heated, place the wrap on a baking sheet under the broiler and heat for 3 to 5 minutes until the cheese has melted.
A wrap works well here because the broil function helps add the crunch.
Don't Forget the Veggies!
I am a dietitian after all, so adding veggies to the remainder of your plate is highly recommended. A side green salad with balsamic vinaigrette, a crunchy coleslaw, or even some raw carrot sticks and tomatoes fit the bill.
Adding this color to your plate makes this dish visually appealing and further increases the nutrient and fiber profile. A win-win-win.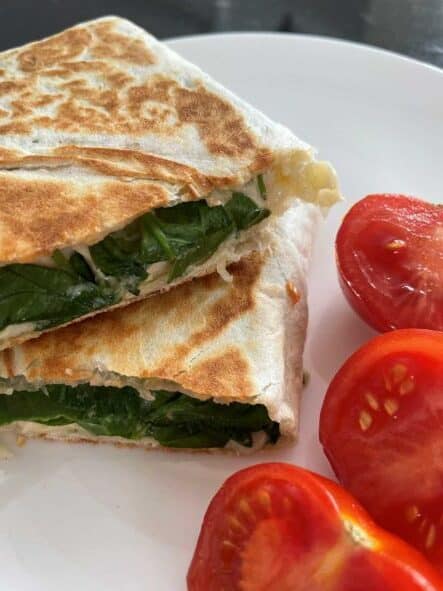 The Easiest Tuna Melt Wrap
This healthy classic sandwich is full of anti-inflammatory omega 3 fats. It is a simple, easy, cheesy lunch everyone will love.
Equipment
1 Small mixing bowl
Ingredients
2

celery stalks

diced

1

can

low sodium tuna

drained

1

tbsp

Dijon mustard

¼

cup

mayonnaise

2

whole wheat flour tortillas

2

oz

baby spinach

¼

tsp

olive oil
Instructions
In a small mixing bowl add drained tuna, diced celery, mayonnaise and mustard. Stir to combine.

Add baby spinach to the center of the tortilla. Top spinach with tuna mixture and shredded cheese.

Fold the tortilla up and over the tuna filling.  Then make two folds on either side of the tortilla and finally fold over the top.

Heat a lightly oiled skillet over medium-low heat. Add the folded tortilla and cook on each side for 3-4 minutes or until cheese is melted.

Repeat with remaining tortilla.
Notes
If you don't have 'low sodium' canned tuna, rinse tuna to remove the extra salt.
Nutrition
Calories:
366
kcal
Carbohydrates:
17
g
Protein:
20
g
Fat:
24
g
Saturated Fat:
4
g
Polyunsaturated Fat:
13
g
Monounsaturated Fat:
6
g
Trans Fat:
1
g
Cholesterol:
42
mg
Sodium:
35
mg
Potassium:
383
mg
Fiber:
2
g
Sugar:
2
g
Vitamin A:
2748
IU
Vitamin C:
8
mg
Calcium:
83
mg
Iron:
3
mg