High protein hummus is a twist on traditional hummus you will love!
Classic hummus is a creamy dip hailing from the Middle East, has been embraced worldwide for its delightful taste and health benefits. While many associate this protein-rich delicacy with its core ingredient, chickpeas, the question arises: is it possible to elevate its protein content even further without resorting to protein powders?
The answer is a resounding yes!
By combining simple and easy ingredients, we can enhance this already nutrient-packed delicious dip to craft a high-protein hummus recipe that remains true to its traditional, velvety essence.
And as a bonus, it's vegan too! No added cottage cheese or yogurt here. Try this high protein vegan hummus today.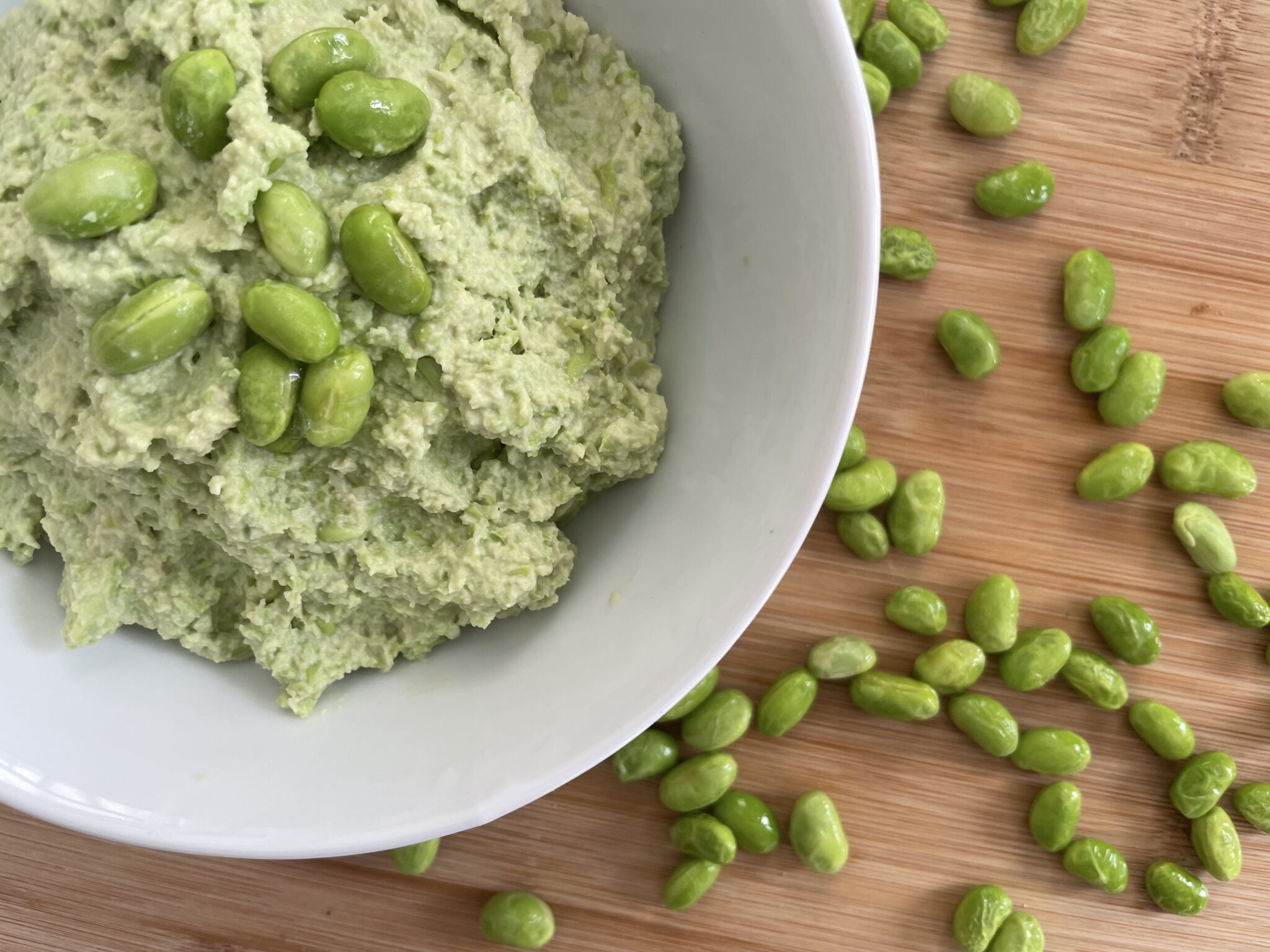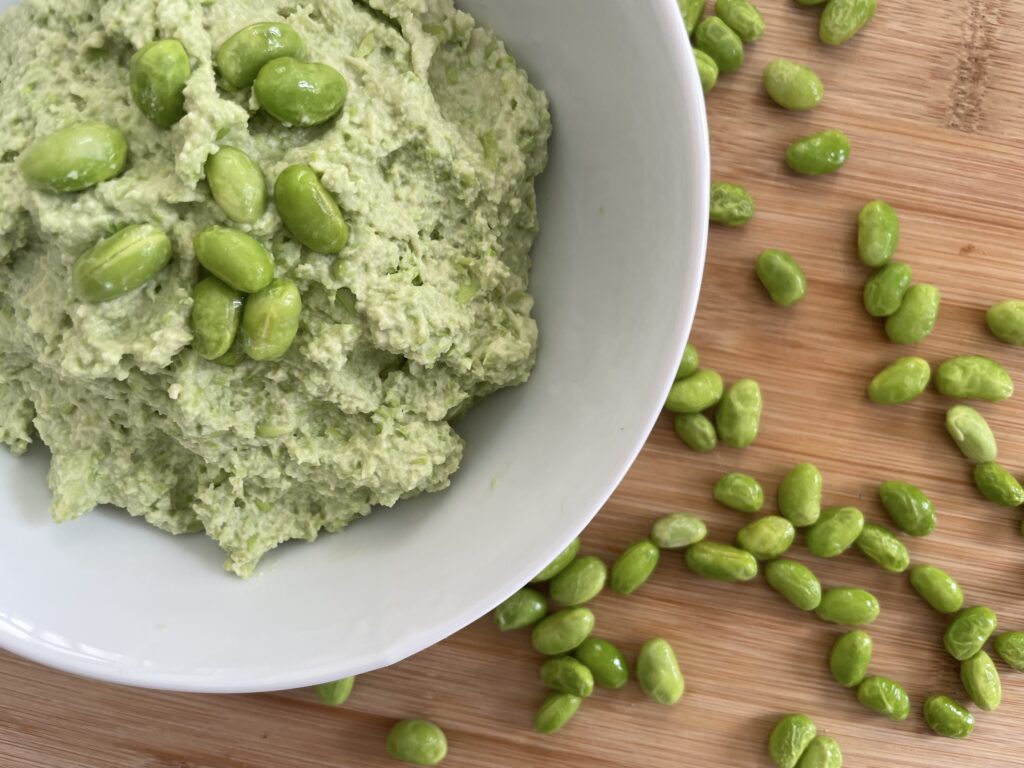 Why Make Protein Hummus
Pantry (and freezer) items you already have at your house
Made with 3 simple ingredients
Optimize your nutrient intake
Helps with heart health, satiety and weight loss
Contains natural ingredients
Is cost effective (no need to purchase protein powder or supplements)
Hummus already contains some protein from the chickpeas (also known as garbanzo beans), but it often doesn't add up to a lot of protein per serving. That's why I added some edamame to the mixture to enhance protein content and increase cholesterol lowering fiber too.
Nutrition in Hummus
High protein hummus fits into healthy diets including the Mediterranean Diet, DASH diet, Portfolio diet, Post Stent Diet, PAD diet, low cholesterol diet and MIND Diet.
Is Protein Hummus Heart Healthy?
Protein hummus is full of healthy ingredients and is the ultimate heart healthy food.
Health Benefits of Protein
Protein is essential in muscle building and repair. It is needed for repairing damaged tissues (which happens during exercise, and after surgeries or injuries).
Protein can also help with hormone levels that regular blood sugar, it supports healthy hair, nails and skin, it supports immune function and can be a source of energy.
Additionally, it is essential for weight management. Protein is a very satiating nutrient, which helps keep you full longer.
My clients find that eating enough protein during meals and snacks help reduce snacking on unhealthy alternatives like processed foods and granola bars. Thus eating adequate protein at meals and snacks can reduce overall calories and help achieve weight loss.
The challenge of getting enough protein, especially for vegetarians and vegans
Ingredients In High Protein Hummus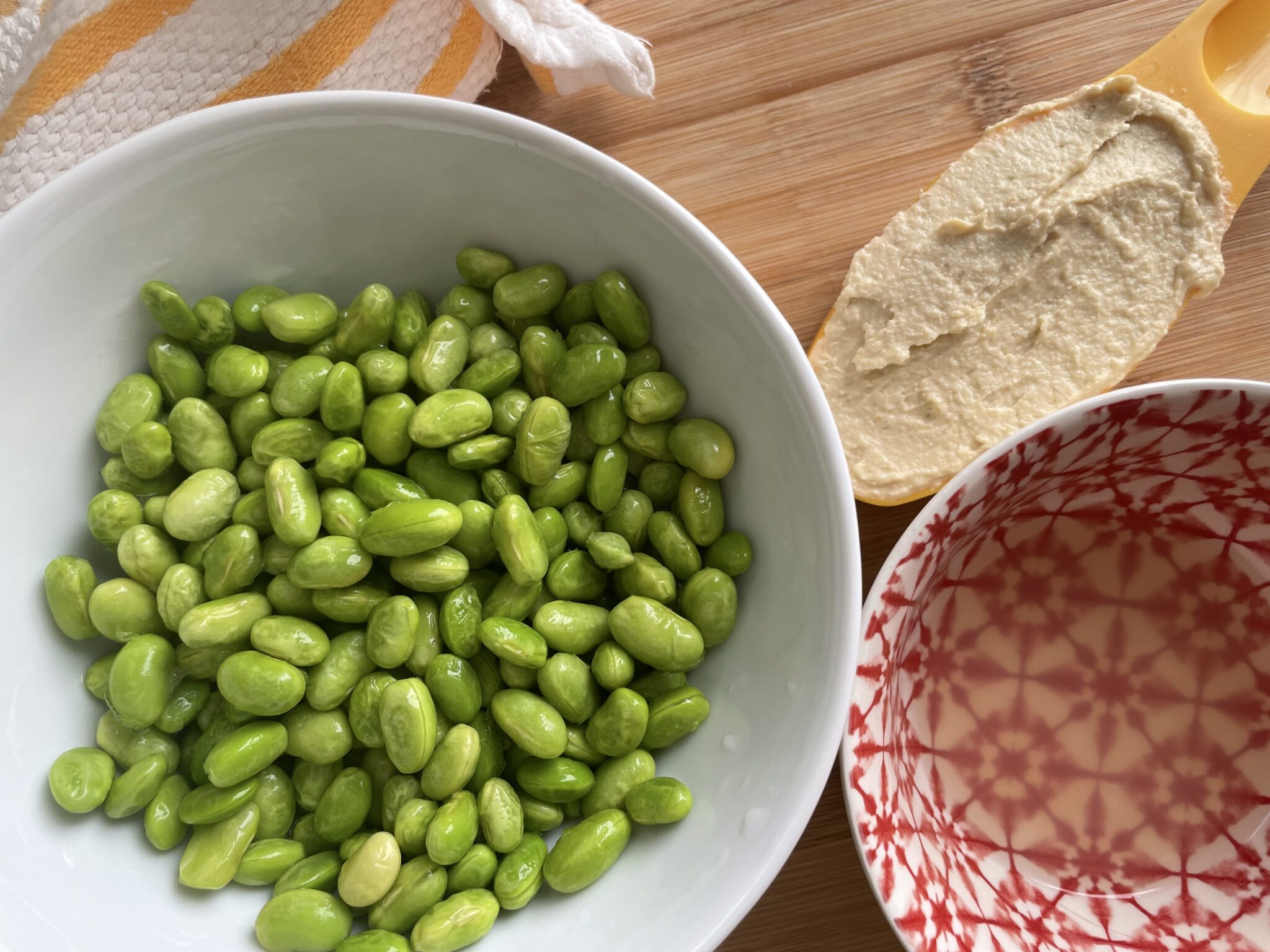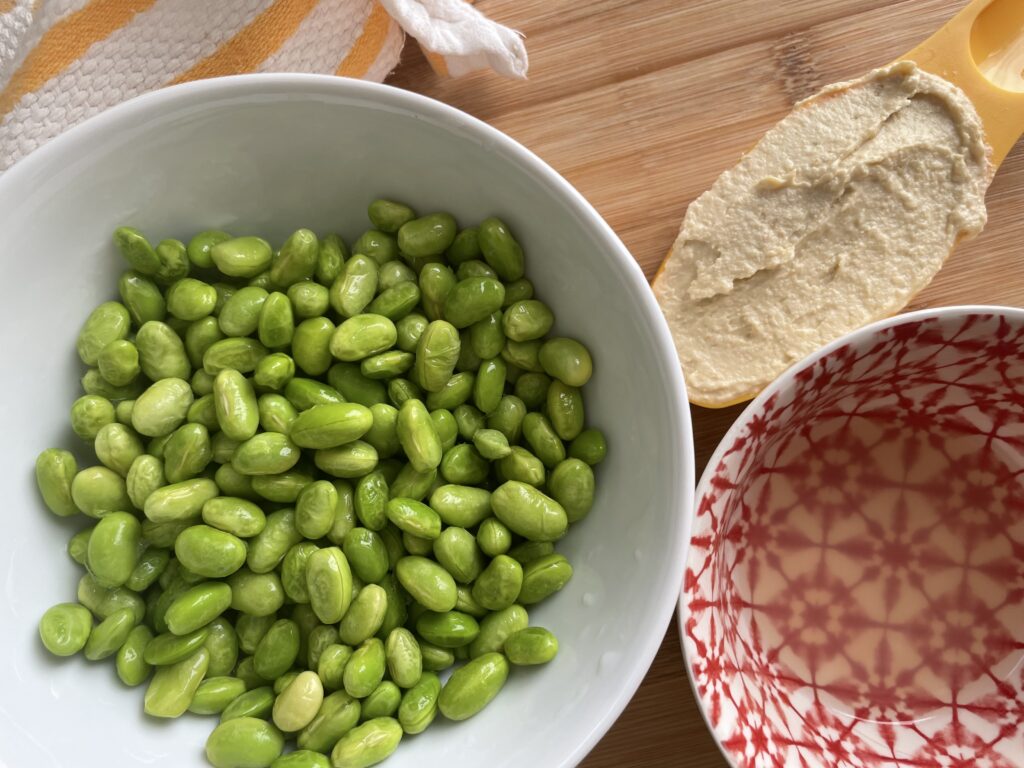 Store Bought Hummus – I used store bought hummus to make this high protein hummus recipe easy peasy, but you can make your own hummus too. I'd suggest looking at these low sodium hummus recipes to find one that suits your taste palate.
Edamame – an easy and inexpensive way to add protein to hummus (without processed protein powder)
Fresh Lemon Juice – for vitamin C, the additional flavor, and it being a liquid helps to blend everything together
Choose a Heart Healthy Store Bought Hummus
I use store bought creamy hummus here as a shortcut. I am all about shortcuts to make meals quick and easy to execute. This high protein hummus recipe only requires ½ cup of premade (or store bought) hummus, which isn't a lot.
Some tips I have when choosing a heart healthy store bought hummus at the grocery store is
Check the ingredients – there should only be a couple of ingredients listed here including chickpeas, tahini, olive oil, garlic, lemon and perhaps some spices. Remember the shorter the ingredient list the better.
It's really important to make sure your store bought hummus is made with olive oil or other heart healthy substitutes for olive oil and avoid those that use unhealthy or highly processed oils
Finally there should be no added sugar in store bought hummus.
Choose plain for this recipe – some store bought hummus varieties have added ingredients like roasted peppers or herbs which may not taste great with the added edamame
Edamame
Edamame beans are immature soybeans that are harvested before they ripen. They are available shelled, in their pod, fresh or frozen. I used frozen for this recipe. Another great edamame recipe to try with your leftovers is this edamame pasta sauce!
Like other beans, they are vegan and full of plant-based protein.
They are heart-healthy because they are rich in isoflavones, an antioxidant, that reduces arterial stiffness to allow for better blood flow and more positive arterial tone. Which improves overall vascular health (2).
This table below provides the nutrients in edamame in more detail.
| | | |
| --- | --- | --- |
| | Edamame – 1 cup (3) | Daily Requirements For Adults Depends on age, sex, and activity level (4) |
| Protein per meal (grams) | 18.4 | Around 20 grams per meal |
| Fiber (grams) | 8 | 28-38 |
| Calcium (milligrams) | 98 | 1000-1300 |
| Magnesium (milligrams) | 99 | 320-420 |
| Potassium (milligrams) | 675 | 2600-4700 |
Table 1: Key nutritional characteristics of edamame
As you can see in the table below, edamame is high in fiber, protein, and heart-healthy minerals like potassium, magnesium, and calcium. In fact, 1 cup of edamame beans has almost:
10% of your calcium needs
26% of your potassium needs
10% of your fiber needs
30% of your magnesium needs
How It's Made
This easy hummus recipe is easier than simple. It really only has one step:
First step – blitz ingredients in a high-speed blender or food processor – add 2 cups of frozen edamame, ½ cup of hummus and 3 tbsp of lemon juice to the blender and blend into a smooth paste.
Second step – adjust texture – if you aren't satisfied with the consistency, blend in cold water or extra virgin olive oil, one tablespoon at a time until you are satisfied with the texture and creaminess.
Third step – enjoy!
Tips for Making Heart Health High Protein Hummus
As mentioned, hummus is naturally heart healthy due to its fiber, protein, fat and mineral content. I've added more legumes here to increase the protein content, as well as the heart healthy benefits.
To make it even more heart healthy you can add omega 3s like flaxseed or hemp seeds and more garlic or olive oil for foods that can help lower blood pressure (without salt!).
Storage
This hummus that is high in protein keeps for 3-5 days in the fridge (although my family ate this in one serving – it's that good!). Store it in an airtight container or maintain freshness and if you notice any off smells its best to discard it.
I have not tried freezing it.
Customization
Make this recipe your own by experimenting with additional flavors
Spices: cumin, paprika, turmeric
Add spice: cayenne pepper, chili powder, red pepper flakes or hot sauce
Fresh herbs: cilantro, parsley, dill, basil, chives
Other flavors: roasted red pepper, beet, spinach, cauliflower, sweet potatoes, carrots
Serving Suggestions
Want to make this popular dip even high in protein? Try serving the hummus dip with these high protein suggestions.
High Protein Pairings
Quinoa salad
Top the protein rich hummus with shredded or diced grilled chicken or turkey
Crumble firm tofu and mix it into the high protein vegan hummus for added texture
Lentil salad or soup
High Protein Toppings and Mix Ins
Roasted chickpeas
Nuts like slivered almonds, walnuts or pistachios would work well
Seeds like sunflower seeds for crunch
Serve hummus protein and Greek yogurt side by side as a dual dip with veggies or pita
Stir in Greek yogurt to hummus to create a creamier texture
Slice hard boiled eggs and layer them on top of hummus
High protein vegan hummus can be served in many ways. I love it as a dip for bread, crackers and vegetables. Or as a spread for bread, pizzas, sandwiches, rice cakes, tortillas, wraps and even veggie burgers.
This high protein hummus recipe is one of my favorite things as it makes a perfect snack or a great addition or heart healthy meals.
Protein Content in Hummus
Is hummus a protien? Yes!
In fact, the whole batch contains about 38 grams of plant protein.
The recipe yields about 10 servings (2 tbsp per serving) which equals about 4 grams of protein per serving.
The protein content for this particular recipe is much higher than in traditional hummus (about 1-2 grams) for similar serving size.
Video Tutorial
Seriously, watch how easily it is to whip up this delicious high protein hummus recipe.
Don't forget to subscribe to my YouTube Channel to stay up to date on all my new videos!!
Frequently Asked Questions
Is hummus healthy?
Yes, hummus is generally considered healthy when consumed in moderation as part of a balanced diet. It's made from chickpeas, tahini (sesame seed paste), olive oil, lemon juice, and garlic, which are all nutrient-rich ingredients and part of heart healthy dietary patterns like the Mediterranean diet.
Hummus is a good source of protein, dietary fiber, healthy fats, and various vitamins and minerals.
Is hummus high in protein?
Hummus is a good source of protein, primarily from its main ingredient, chickpeas. A standard serving of hummus (about 2 tablespoons) typically contains around 2-3 grams of protein. While this isn't as high as animal products or legumes consumed on their own, it's a respectable amount for a dip and can contribute to daily protein intake, especially for vegetarians or vegans.
What to eat with hummus?
Hummus is a versatile dip and can be paired with a variety of foods, such as:
Vegetables: Carrot sticks, cucumber slices, bell peppers, and broccoli florets.
Breads and Grains: Pita bread, tortilla chips, whole grain crackers, and toast.
Salads: It can be used as a dressing or a topping.
Proteins: Grilled chicken, tofu, falafel, and fish.
Spreads: On sandwiches or wraps in place of mayonnaise or other spreads.
What protein goes well with hummus?
Many protein-rich foods can be paired with hummus, either as dippers or in dishes. Some examples include:
Chicken: Grilled chicken skewers or chicken breast slices.
Tofu: Grilled or raw tofu cubes can be dipped in or spread with hummus.
Falafel: These are chickpea-based balls or patties that naturally pair well with hummus.
Fish: Especially grilled fish like salmon or tuna.
Eggs: Hard-boiled eggs or sliced omelets can be complemented with a side of hummus.
Does homemade hummus have more protein than store-bought?
The protein content of hummus, whether homemade or store-bought, primarily depends on the proportion of chickpeas or legumes used in the recipe. Generally, homemade hummus can be richer in protein if you choose to use a higher ratio of legumes. It's essential to check the nutritional label on store-bought hummus and compare it to the nutritional profile of your homemade recipe.
Other High Protein Recipes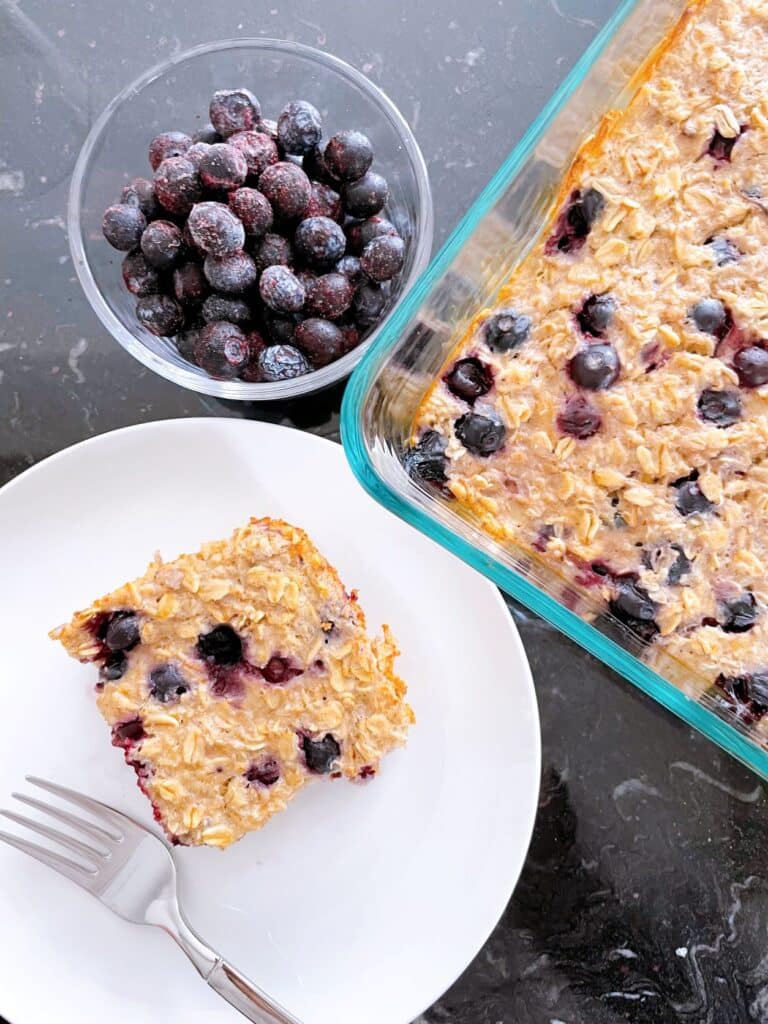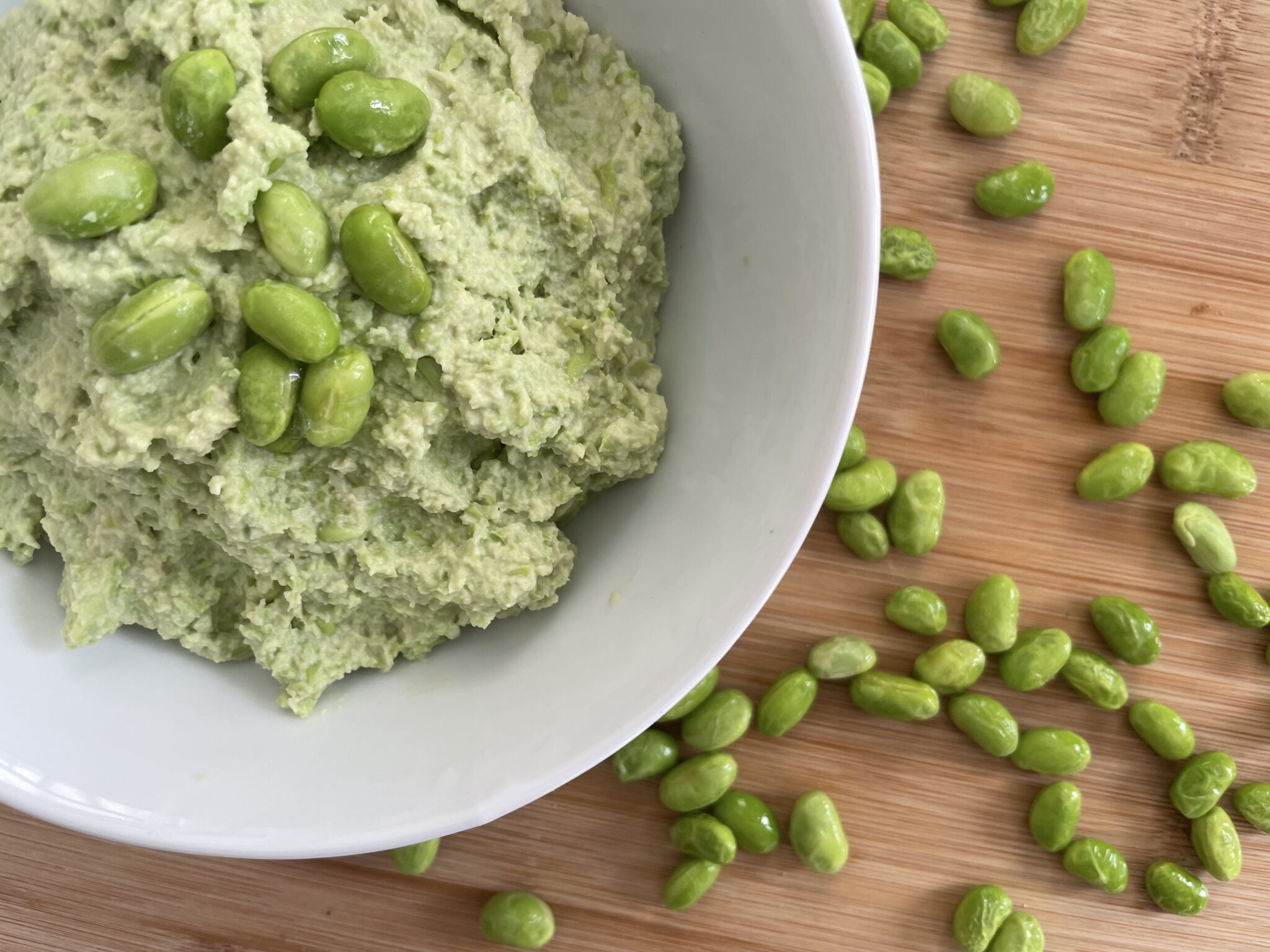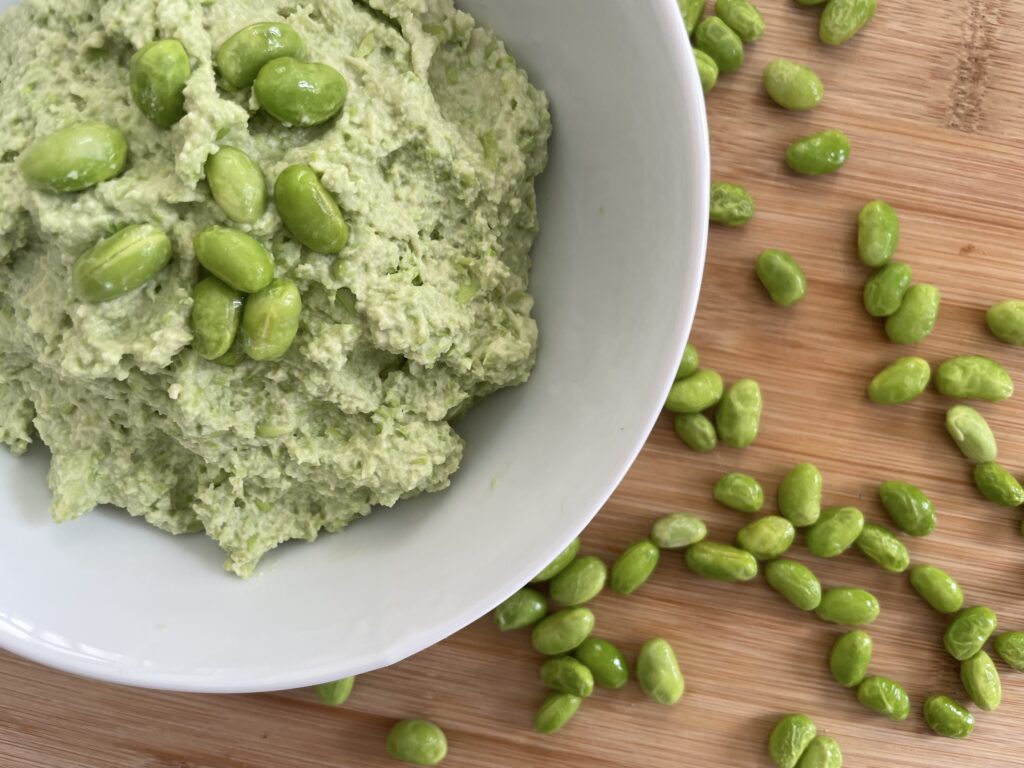 Final Thoughts
Incorporating heart-healthy, high-protein elements into the age-old hummus recipe does more than just boost its nutritional profile.
Whether you're searching for a more substantial post-workout snack, an appetizer or sandwich spread or just wish to indulge in a healthier variant of your favorite Middle Eastern dip, this high-protein hummus is a must try!
Also, one quick request: if you love this high protein hummus crowd pleaser as much as my family does, please leave me a 5-star rating and a nice comment. Ratings help more people find my recipes which helps me keep providing them! Thank you!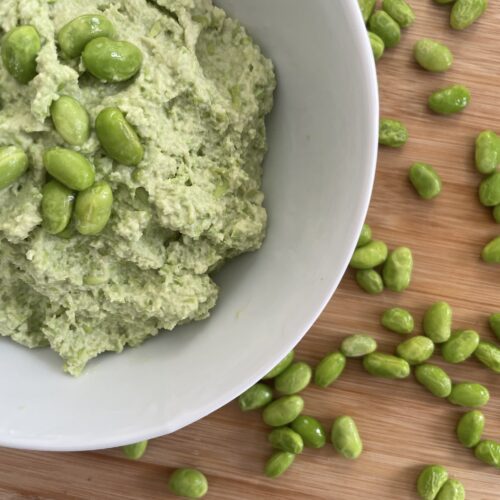 High Protein Hummus
High protein hummus is a twist on traditional hummus you will love! And as a bonus, it's vegan too! No added cottage cheese or yogurt here. 
Ingredients
2

cups

edamame

½

cup

hummus

3

tbsp

lemon juice
Instructions
Combine all ingredients into a food processor or high speed blender and blitz into a smooth paste.

If you aren't satisfied with the consistency, blend in cold water or extra virgin olive oil, one tablespoon at a time until you are satisfied with the texture and creaminess.
Nutrition
Calories:
57
kcal
Carbohydrates:
6
g
Protein:
4
g
Fat:
2
g
Saturated Fat:
0.2
g
Polyunsaturated Fat:
0.4
g
Monounsaturated Fat:
0.5
g
Sodium:
47
mg
Potassium:
166
mg
Fiber:
2
g
Sugar:
1
g
Vitamin A:
4
IU
Vitamin C:
2
mg
Calcium:
29
mg
Iron:
1
mg