Yes – you can eat chocolate for breakfast with these brownie baked oats. A simple (low sugar) make-ahead breakfast that comes together in 10 minutes. It doesn't require any fancy equipment either – only a mixing bowl and a baking dish!
Are you ready to try a healthy "dessert" to start your day with simple ingredients?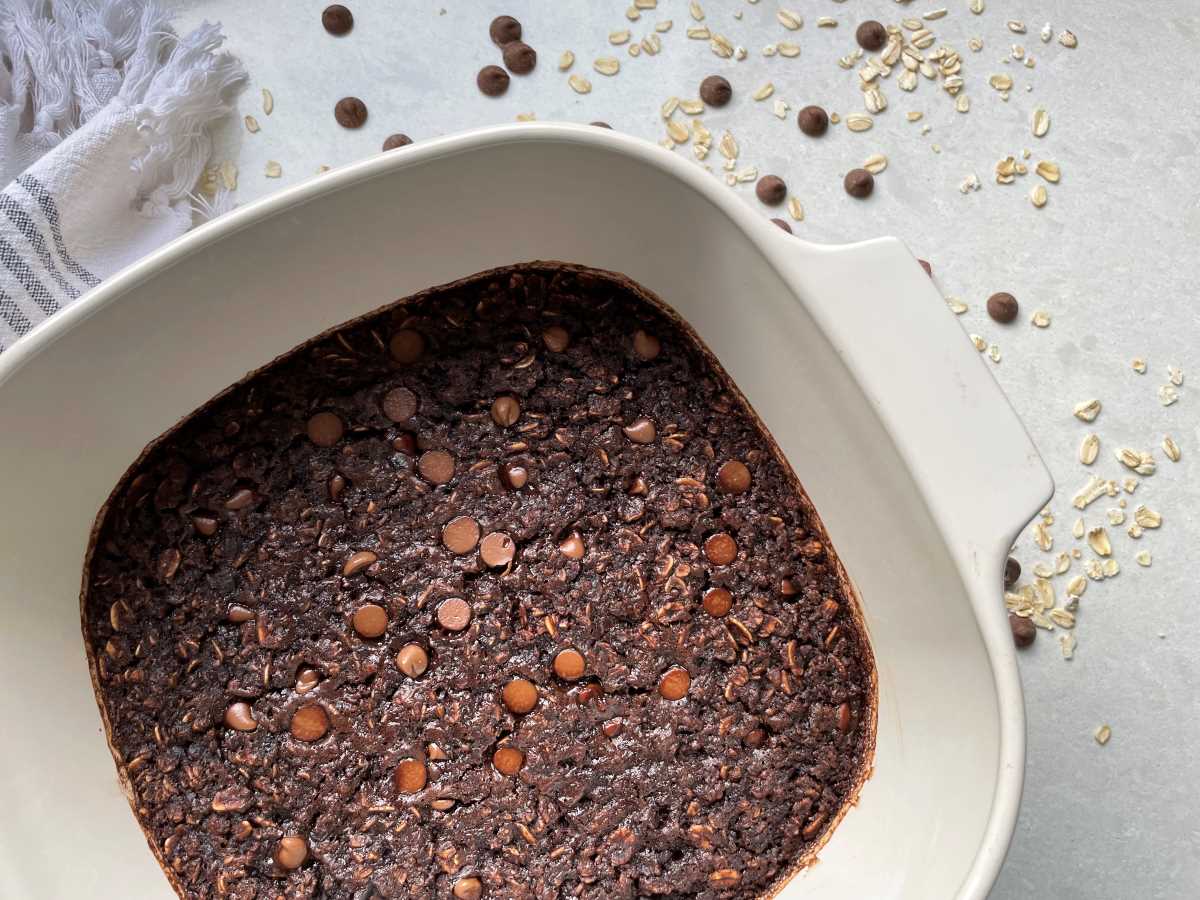 Pin It Now & Make It Later!
Brownie Baked Oatmeal
This nourishing meal is seriously delicious and easy to put together. And who wouldn't want to eat dessert for breakfast?
Why Make Vegan Oatmeal Brownies?
Easy to make ahead
Great for meal prep
Easy breakfast
Made with pantry items
Great source of fiber
Plant-based
Will keep you full until lunch
Family-friendly recipe – kids and adults both love it!
Can be microwaved on demand
Tastes like a gooey brownie
A balanced meal with carbohydrate, protein, and fat
Are Brownie Batter Oats Heart Healthy?
This vegan oat brownies recipe offers:
8 grams of protein
7 grams of fiber
Oats, flaxseed, and apples are fantastic sources of fiber. Fiber is an important aspect of chronic disease management like heart disease, diabetes, and cancer. It aids in weight management, helps control blood sugar, and keeps us regular.
Ingredients in Vegan Oat Brownies
These brownie batter oats are full of foods that unclog arteries and foods that lower blood pressure.
Oats – I used rolled oats for a chewy texture. I don't recommend substituting instant, quick oats or steel-cut oats.
Soy Milk – I prefer the creaminess of soy milk and its cholesterol-lowering properties. But feel free to use what you have in your fridge.
Ground Flaxseed – increases fiber, and helps to bind the ingredients without using eggs.
Applesauce – is used instead of banana for sweetness, and nutrients. It also keeps the end product light and fluffy.
Baking Powder – helps the batter rise.
Brown Sugar – sweetener of choice. Use whatever you have.
Salt – keeps the final product tender and enhances the flavor (I used sea salt, but any salt will work).
Applesauce – adds vitamins, minerals, fiber, and flavor.
Cocoa powder and chocolate – unsweetened cocoa powder provides the chocolately taste and helps these oats taste like brownies.
Purchasing Tips
To ensure you are purchasing high-quality cocoa at the supermarket, be sure to purchase a product that is labeled "natural" or "raw." Additionally, choose one that has no added sugars by looking for the term "natural unsweetened" when shopping.
How To Make Vegan Brownie Baked Oatmeal
This heart healthy brownie baked oatmeal recipe only takes 10 minutes to prepare.
Start by mixing the dry ingredients in a large bowl.
Add the remaining liquid ingredients to the mixing bowl.
Mix well.
Once the mixing is done, place it in a baking dish.
Top with chocolate chips of choice. I prefer dark chocolate ones.
Then all you need to do is let the magic happen in the oven.
Depending on the oven you may want to cook it for 45-55 minutes until the center is set.
Serve warm. Mmmmm a warm chocolate brownie for breakfast. Sounds delightful, does it?
Can it get any easier? Just mix, put it in the oven and forget about it! This vegan brownie baked oats is perfect for beginner cooks.


What Does Vegan Brownie Baked Oatmeal Taste Like?
I know you are thinking, does this recipe vegan brownie baked oatmeal actually taste like a brownie? Well kinda. The cocoa and the melted chocolate chips provide the chocolate brownie flavor.
The final product is nice and moist but a little chewier than a typical brownie. That's because we used whole oats instead of oat flour. It's probably not as sweet as a brownie (because it's healthier!), but you will definitely taste the resemblance.
Make Ahead To Save Time
This brownie oatmeal can be made ahead and stored in your fridge overnight to be baked in the morning. It's ideal because you can put it in your oven and let it bake while you run around getting ready for the day. Then when you are ready to eat you will have a warm breakfast waiting for you! No thinking or mess in the morning is a win in my books
Or if you don't have 45 minutes to let it bake in the morning, you can bake it over the weekend or the night before. It should last in your fridge in a airtight container for 4-5 days after it's cooked. I reheat my leftover baked oatmeal in the microwave and add some milk for the best results.
Another idea I'd recommend is baking these vegan oatmeal brownies in muffin tins, and freeze them in individual zip lock bags for easy lunches or snacks. They can be frozen for up to 3 months.
How To Eat
A perfect breakfast with tea or coffee

A healthy midday treat

An after dinner dessert
Top with yogurt (or ice cream!)
Variations Of Brownie Baked Oats
For more protein – add cooked red lentils, greek yogurt, egg whites, or chocolate protein powder
For more healthy fats – almond butter, cashew butter, seed butter, hemp seeds or nuts like walnuts
For more fiber – add chia seeds, fresh fruit like ripe bananas or ground flax seeds
For more flavor – add fruit, peanut butter, vanilla extract, cacao powder or shredded coconut
Other additions – non-dairy milk of choice like almond milk, cashew milk, oat milk, or even extra chocolate chips
If you are vegan and looking to make a nutritious breakfast with this brownie baked oats recipe – be sure to choose chocolate chips that are vegan and dairy free.
Other Oats Recipe
Brownie Baked Oats
Try this super healthy breakfast with wholesome ingredients and chocolatey vegan brownie baked oats to lower your cholesterol, manage your blood sugar and keep you full until lunch!
Also, one quick request: if you love how this recipe looks or tastes, please leave me a 5-star rating and a nice comment. Ratings help more people find my recipes which helps me keep providing them. Thank you!


Vegan Oat Brownies
Eat chocolate for breakfast with these vegan oat brownies. A simple (low sugar) make-ahead breakfast that doesn't require any fancy equipment.
Equipment
1 Mixing Bowl

1 Baking Dish
Ingredients
2

cup

rolled oats

½

cup

cocoa powder

¾

tsp

baking powder

¼

tsp

salt

⅓

cup

brown sugar

2

tbsp

flaxseed

ground

2

cup

soy milk

unsweetened

⅔

cup

applesauce

no sugar added

¼

cup

dark chocolate chips
Instructions
Preheat oven to 375°F and prepare an 8×8 baking dish.

Grease with olive oil. In a large mixing bowl combine, rolled oats, cocoa powder, baking powder, salt, brown sugar and ground flax seeds.

Into the bowl of dry ingredients, add soy milk and applesauce until incorporated evenly.

Pour the mixture into the prepared baking dish and smooth over.

Lastly, top the baked oatmeal batter with chocolate chips.

Bake for 45-55 minutes or until the middle is set.

Allow to cool and set for 5-10 minutes, enjoy warm!
Nutrition
Calories:
242
kcal
Carbohydrates:
43
g
Protein:
8
g
Fat:
7
g
Saturated Fat:
2
g
Polyunsaturated Fat:
2
g
Monounsaturated Fat:
1
g
Cholesterol:
1
mg
Sodium:
183
mg
Potassium:
370
mg
Fiber:
7
g
Sugar:
18
g
Vitamin A:
8
IU
Vitamin C:
0.3
mg
Calcium:
172
mg
Iron:
3
mg