You've gotta try this peanut butter avocado toast. I am always on the lookout for a breakfast that is quick, easy, delicious.. and of course healthy. Because at breakfast I am only half awake… basically waiting for my coffee to kick in, and I need to keep things simple. Do you feel me?
This avocado peanut butter toast recipe does just that. It is as basic as it gets with only 3 ingredients and no fancy equipment.
Why not elevate your basic avocado toast with my heart-healthy twist? This recipe is one of my favorites. Don't be skeptical of this peanut butter avocado pairing because I don't want you to miss out!
Please note that this article contains affiliate links. If you click one of these links and make a purchase, we may earn a commission at no extra cost to you.
Why Make Peanut Butter Avocado Toast?
Quick (it only takes 5 minutes!)
Simple (has 3 ingredients)
Delicious (trust me on this)
Healthy (packed with fiber and protein)
A fabulous alternative to deli meat.
Is Avocado Peanut Butter Toast Heart Healthy?
This avocado and peanut butter recipe offers
14 grams of plant protein
11 grams of fiber
All three ingredients can help you unclog arteries. The addition of sunflower seeds can also lower blood pressure. The combination of high soluble fiber and plant protein will keep you full, lower your cholesterol and manage your blood sugar.
It is also rich in heart-healthy minerals like magnesium and potassium that help relax blood vessels and manage blood pressure.
Did I mention this recipe is a fantastic source of healthy unsaturated fats? Which helps keep us full, and prevents overeating.
Healthy unsaturated fats are our friend. Studies have shown that eating unsaturated fat found in nuts can actually lead to sustained weight loss because it nourishes us and is satiating (1). Don't fear fat.
You may be hesitant about this unusual peanut butter avocado duo. When I think of peanut butter.. jam usually comes to mind… not avocado.
But avocado and peanut butter are two foods that can unclog your arteries. So I had to try them together and they did not disappoint.
What Does Peanut Butter And Avocado Toast Taste Like?
They both offer a creamy texture, and their flavors complement each other quite well.
If I had to sum it up I'd say it tastes like crunchy, creamy deliciousness. It is shockingly good (and it's only made with good-for-you ingredients).
The avocado has a very mild taste, so I'd say the overall dish tastes more like peanut butter toast with crunch.
Ingredients In Avocado Toast With Peanut Butter
Bread – whole grain bread offers fiber and nutrients
A ripe avocado – if full of heart-healthy monounsaturated fats and soluble fiber
Peanut butter – gives you more heart-healthy monounsaturated fats
Sunflower seeds – are rich in magnesium and fiber .. oh and more heart-healthy monounsaturated fats
Purchasing Tips
When buying peanut butter, be sure to buy unsweetened natural peanut butter without trans fats.
Consuming trans fat can increase your "bad" LDL cholesterol levels and reduce your "good" HDL cholesterol. In order to eat as little trans fat as possible be sure to purchase natural nut butter, where the only ingredient is the nut.
For example, when purchasing peanut butter, the only ingredient on the list should be "peanuts." This will ensure there is no added sugar too.
I choose creamy peanut butter for this recipe since I'm adding the crunch with the sunflower seeds.
As for sunflower seeds, I always buy unsalted. That way I can add the salt myself if I think the dish needs it (since my taste preference changes by the day, and what else I am serving it with!)
And the hardest part of choosing avocados is their ripeness. Purchase a ripe avocado if you are going to make this recipe within 1-2 days, or an unripe one if you plan to make it later in the week. You will know it's ripe because it will be soft to touch.
How To Make Peanut Butter Avocado Toast For Breakfast?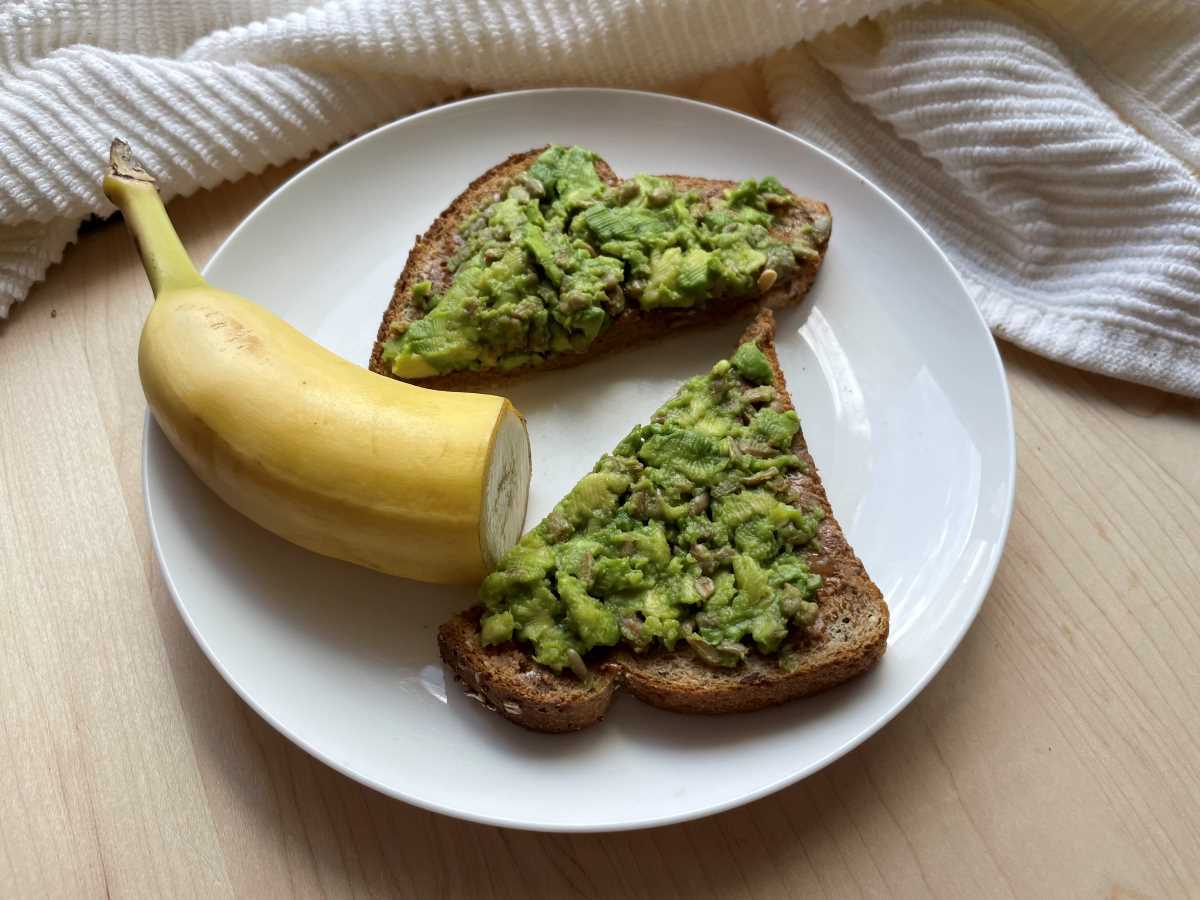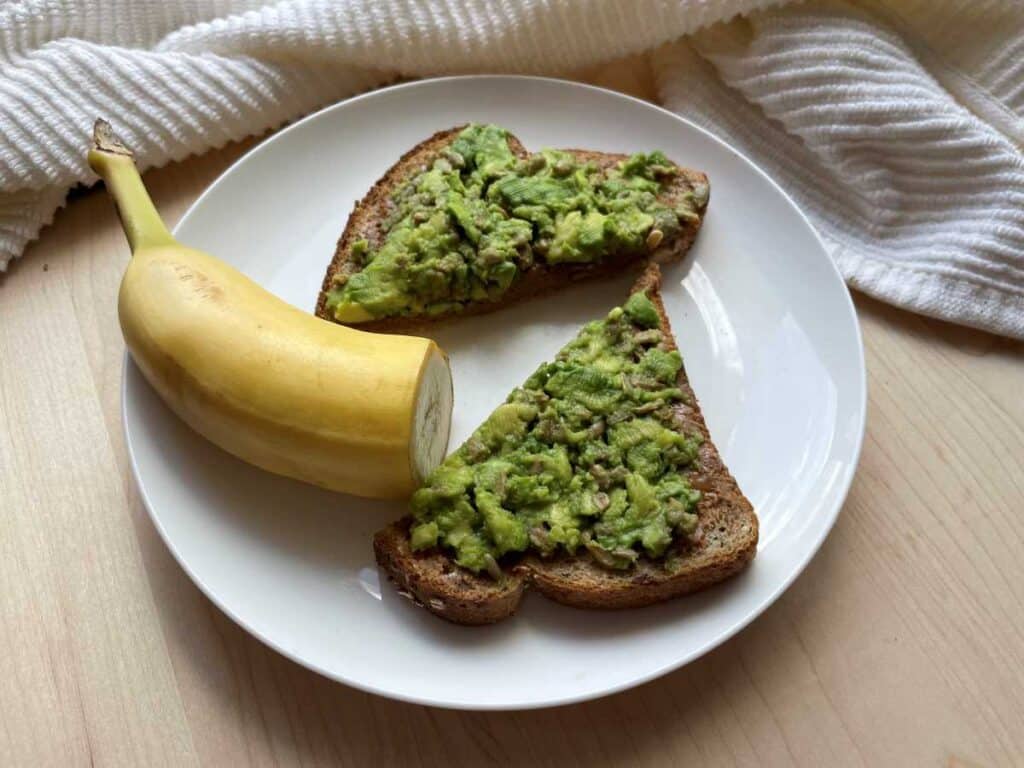 Start with toasting your bread of choice. This can be done in a pop-up toaster or toaster oven. Whatever you use to normally toast your bread. Be sure to give your bread a good toast. A well-toasted bread provides a good contrast to the creamy avocado and peanut butter.
While it toasts, peel and mash your avocado in a small bowl with a fork (be sure to remove the pit!). This mashing forms more like a spread than chunks of avocado. Be sure to use a separate bowl when mashing the avocado. If you mash it on your toast it will likely result in puncturing holes in your toast.
Once mashed, stir the sunflower seeds into the avocado mixture.
After the bread is toasted, spread the peanut butter onto the warm bread to help with spreadability. Top with the avocado mixture and enjoy!
Pro tip: Don't like mashed avocado? Alternatively, you can slice the avocado and sprinkle the sunflower seeds over the bread before consuming it for a similar flavor and less work.
Watch It Come Together Here
How To Eat It
This avocado and peanut butter recipe makes two slices of bread, so if you only want one slice of peanut butter avocado toast I'd pair it with a veggie and a fruit to make a well-rounded breakfast.
Otherwise, you could choose to make a peanut butter and avocado sandwich for lunch with a glass of milk.
Or perhaps you want to try this recipe as a peanut butter avocado dip with some whole grain crackers for a snack.
It's so versatile.
Leftovers
This avocado peanut butter toast recipe makes two slices of bread, so if you only want one slice you may be wondering what to do with the leftovers.
Well, the sunflower seed and avocado mixture will keep in the fridge until the following day. I wouldn't spread it on the toast until you are ready to consume it because the toasted bread will give it the crunchiness you are looking for.
That being said, the avocado mixture will likely go brown. You can add a squirt of lemon juice or keep the avocado pit with the mixture to help preserve the color until the next day. But some browning will likely happen.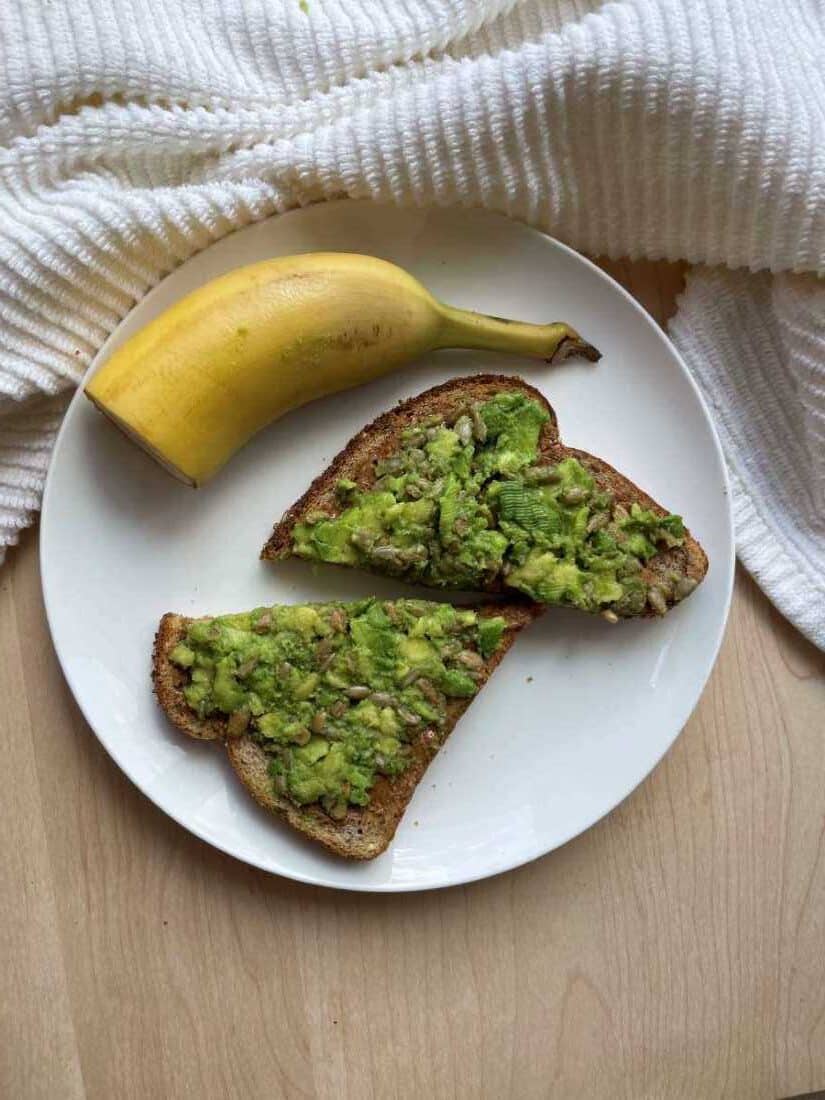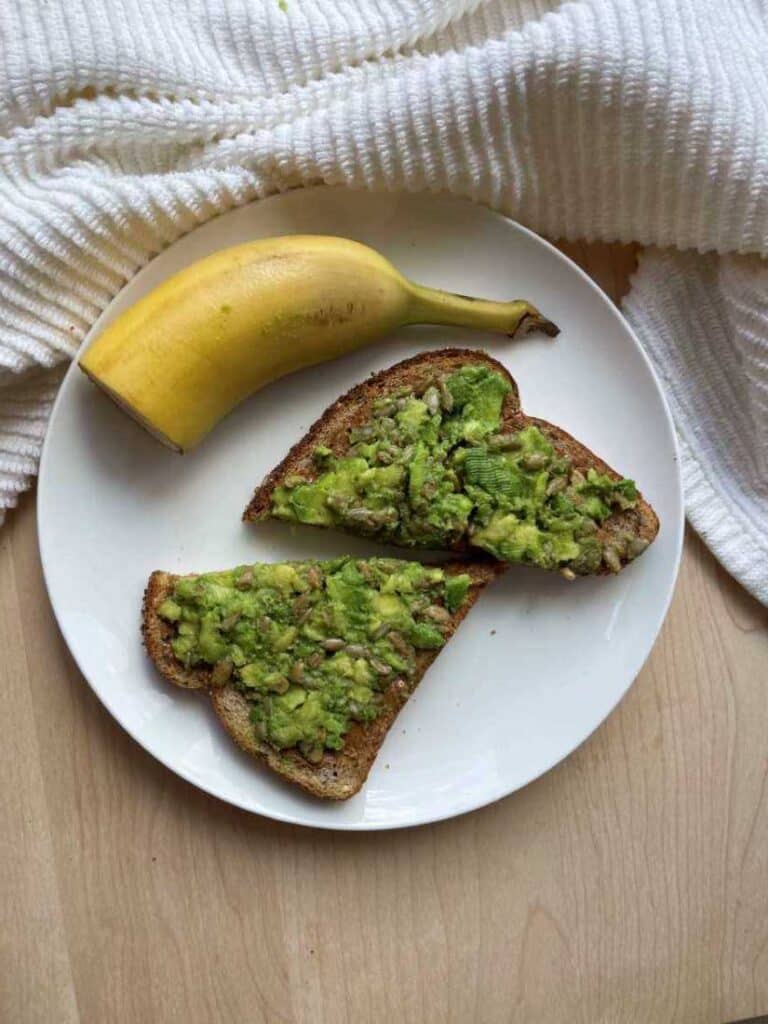 Other Variations And Additions
fruit of choice like sliced banana and honey
or sliced apple and raisin
a sift of cocoa powder
sprinkle of salt
chopped peanuts
cream cheese or ricotta
everything bagel seasoning (buy an excellent low sodium version here!)
add omega 3s with chia jam
poached egg for more protein
don't have peanut butter? try almond butter instead
Other Avocado Recipes
Final Thoughts
You will be so glad you tried this odd peanut butter avocado combo!! Let me know in the comments what you thought!
And if you LOVE this peanut butter avocado toast recipe and are interested in other heart-healthy recipes, subscribe to my YouTube channel to be updated when recipes are released.
Easy Peanut Butter Avocado Toast
Peanut butter and avocado toast is a delicious and simple breakfast, snack, or light meal! It comes together in 5 minutes and keeps you full with its fiber, protein, and healthy fats.  
Ingredients
1

avocado

3

tbsp

natural peanut butter

smooth

¼

cup

sunflower seeds

2

slices

whole grain bread
Instructions
Toast your bread of choice.

In a small bowl, mash avocado with a fork and mix in sunflower seeds.

Spread the peanut butter on the bread, and top the peanut butter with the smashed avocado mixture.
Nutrition
Calories:
469
kcal
Carbohydrates:
30
g
Protein:
14
g
Fat:
36
g
Saturated Fat:
6
g
Polyunsaturated Fat:
11
g
Monounsaturated Fat:
18
g
Sodium:
196
mg
Potassium:
827
mg
Fiber:
11
g
Sugar:
5
g
Vitamin A:
149
IU
Vitamin C:
10
mg
Calcium:
81
mg
Iron:
2
mg