I went live with AZTV to celebrate guacamole day. In this segment, we'll explore the surprising health benefits of guacamole, from its rich monounsaturated fats to its power-packed nutrients.
But that's not all! We'll also discover inventive ways to incorporate guacamole into our diets beyond the classic chips and dip.
Join us as we celebrate guacamole, not just as a dip, but as a versatile and healthful addition to our meals!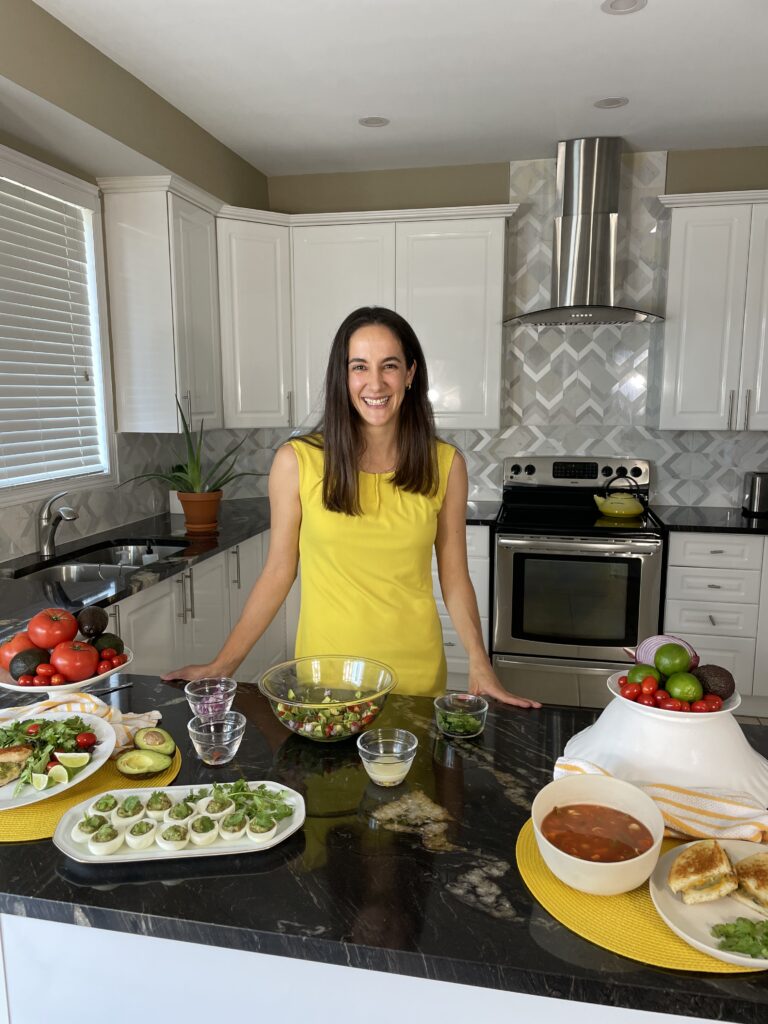 Guacamole Recipe
Ingredients
1 avocado, diced
Juice of 1 lime
2 cloves garlic, minced
1/4 red onion, finely chopped
1/2 c. grape tomatoes, quartered
Optional: 2 tbsp. freshly chopped cilantro for garnish
Directions
Step 1: In a large bowl, cube avocado.
Step 2: Mash and stir together avocado, lime juice, garlic, red onion, tomatoes, and cilantro.
Step 3: Cover and chill guacamole for 30 minutes to allow flavors to blend.
Guacamole Devilled Eggs Recipe
Ingredients
8 egg hard boiled eggs
1 cup of prepared guacamole (recipe above)
Directions
Step 1: Once hard boiled eggs are cooled, halve each egg lengthwise and remove the yolks.
Step 2: Spoon or pipe the guacamole into each half egg.
Step 3: Add a piece of fresh cilantro to garnish each egg.
Guacamole Stuffed Chicken Breast Recipe
Ingredients
2 chicken breast
1 tsp. chili powder
1 tsp. garlic powder
1 tsp. dried oregano
1 tsp. dried basil
1/2 tsp. onion powder
1/2 tsp. Cumin
3 tbsp. extra-virgin olive oil
1 cup of prepared guacamole (recipe above)
Directions
Step 1: Preheat oven to 400°. In a small bowl, stir together chili powder, garlic powder, oregano, onion powder, basil, and cumin. Coat chicken with oil and rub all over with spice mix.
Step 2: Cut a pocket into each chicken breast and stuff with guacamole mixture. Secure pocket closed with toothpicks.
Step 3: Bake until chicken is cooked to an internal temperature of 165°, about 25 minutes. Garnish with cilantro and serve with lime wedges.
Guacamole Grilled Cheese Sandwiches Recipe
Ingredients
4 slices sourdough bread
4 tablespoons mayo
1 cup of guacamole (recipe above)
8 slices low fat cheddar cheese slices
Directions
Step 1: First, spread mayo on both side of the bread.
Step 2: Top both inside slices of bread with 2 slices of cheese each.
Step 3: Add guacamole on top of cheese. Close the sandwich
Step 4: Cook on medium heat skillet 2-3 minutes per side