Saying this black bean smoothie is delicious doesn't do it justice. I am seriously so excited to share this recipe with you! It is just so yum! Eating beans have never tasted so good.
I know you are reading the title and wondering, does this lady really want me to add beans into my smoothie?
I sure do! Black beans give this drink protein and soluble fiber. Perfect for lowering cholesterol, and your weight! You can't even taste the beans – they actually provide more creaminess and no flavor.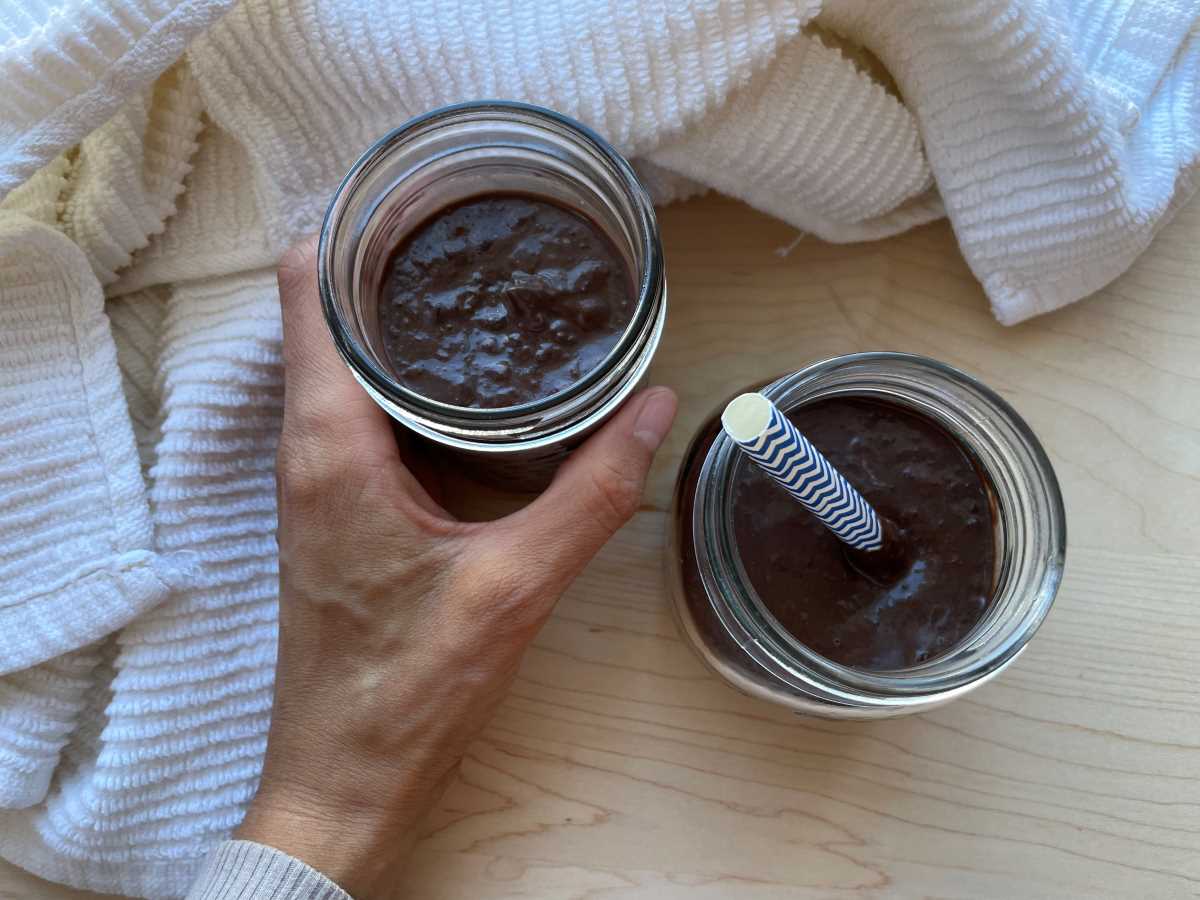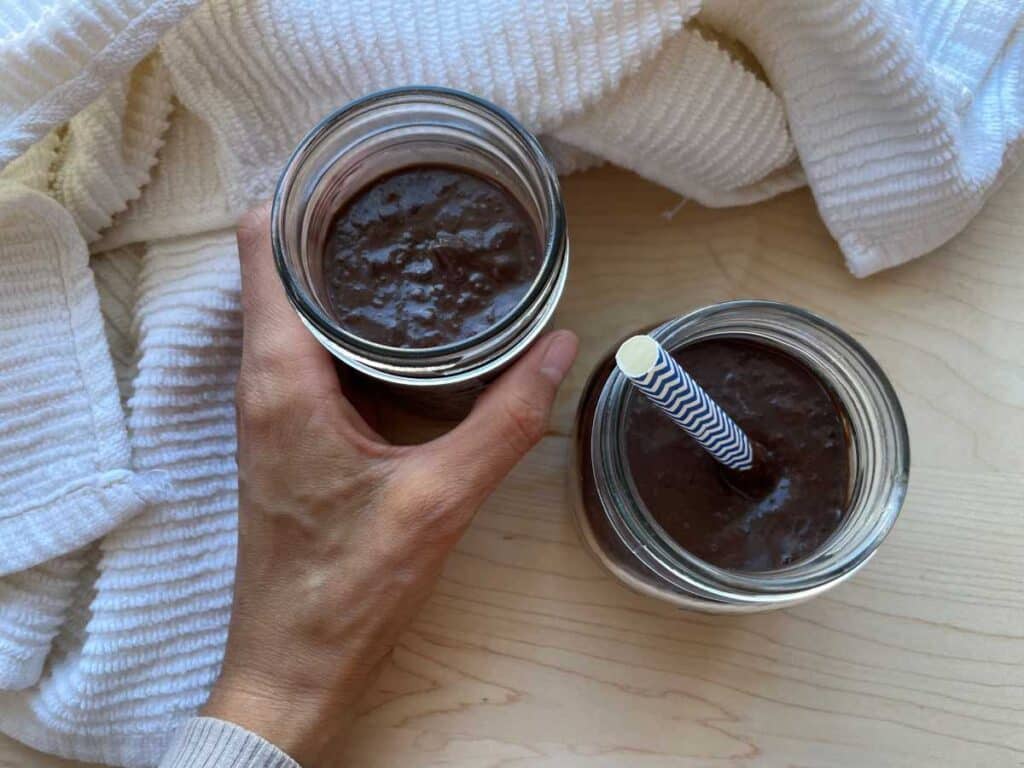 Pin It Now & Make It Later!
Why You Should Make a Black Bean Smoothie
it's a vegan, dairy-free recipe
contains inexpensive plant-based proteins
has cholesterol-lowering soluble fiber
is quick to make
is simple to execute
tastes like a dessert

will keep you full
Beans In Smoothie
I am a heart dietitian. I love eating beans, because I know the value of them for your heart and overall health. I really do encourage everyone to eat more of these fabulous foods!
Eating more beans and legumes (which includes black beans!) lowers cholesterol and manages blood pressure, but it also stabilizes blood sugars and keeps things moving in our digestive tract (which helps prevent colon cancer, and nourishes our gut health).
Legumes are a perfect way to meet your health goals – however, I am often met with resistance from clients who don't eat beans often (and don't know how delicious they can be)!
When I mention eating more beans, clients often think of their grandma's canned bean salad recipes but they don't know that beans can be included in a lot of unusual ways – including this bean shake!
I went with a chocolate flavor for this shake since black beans are black in color, just like chocolate. When I think chocolate-dipped fruit I think banana (boring!), strawberries (traditional), and cherries (ding, ding ding!) Have I won you over yet?
Is A Black Bean Smoothie Healthy
Each smoothie contains:
11 grams of protein
12 grams of fiber
It is recommended that women consume at least 25 grams of fiber a day, while men need 38 grams a day (1). So one smoothie already makes up an impressive 48% of a woman's fiber requirements and 32% for men.
Lower Cholesterol
Black beans are a legume proven to have great heart-healthy benefits. These legumes are excellent sources of protein and soluble fiber, which can help regulate your cholesterol levels and keep you feeling full.
Studies have shown that eating black beans can lower your blood's total cholesterol and LDL (or bad) cholesterol levels.
The addition of an avocado and almond butter to this smoothie are other heart-healthy food that will unclog your arteries.
Manage Blood Pressure
According to the DASH diet (Dietary Approaches to Stop Hypertension) – a diet designed to reduce blood pressure – you want to increase your intake of potassium, magnesium, and calcium and lower your sodium.
Black beans do just that -they are naturally low in sodium and rich in potassium and magnesium. These minerals have been found to decrease blood pressure naturally by relaxing blood vessels to help the flow of blood and reduce the strain on the heart.
Cocoa powder is another food in this smoothie that can lower blood pressure.
Ingredients In A Black Bean Smoothie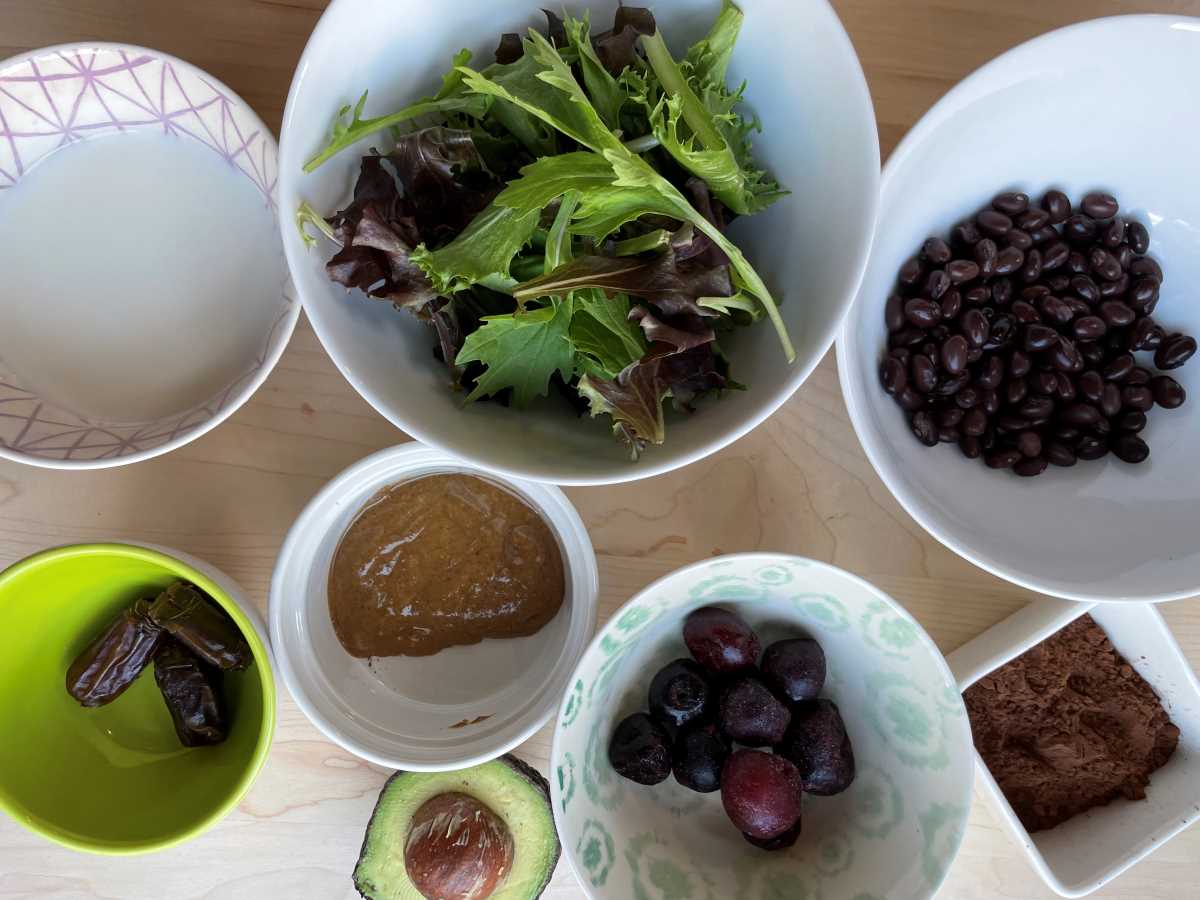 Black Beans – They give you plant protein and soluble fiber. They can be fresh, canned, or frozen – your choice. I recommend salt-free, these are tasteless.
Dates – a natural sweetener that is rich in potassium and magnesium. They don't have to be Medjool, whatever you find in the grocery store will work well.
Spinach or other leafy greens – full of nutrients and much-needed vegetables. I find spinach is mild and doesn't add much flavor.
Cherries – I prefer buying these frozen and pre-pitted because they are less work and usually cheaper.
Avocados – frozen or fresh for more soluble fiber, and healthy monounsaturated fats. I usually buy them by the bag, and most of the time they all ripen at the same time. That's when I stash them in the freezer for smoothies.
Cocoa powder – is added for that chocolatey taste. To ensure you are purchasing high-quality cocoa at the supermarket, be sure to purchase a product that is labeled "natural" or "raw." Additionally, choose one that has no added sugars by looking for the term "natural unsweetened" when shopping.
Soy milk – for more plant-based protein and cholesterol-lowering properties
Nut butter – I chose almond butter here, but any unsweetened natural nut butter would work here.
Purchasing Tips
When purchasing black beans, it will be cheapest to purchase them dried and cook them yourself. Although, buying canned or frozen isn't too much more expensive for the convenience/ease of use, and no pre-planning is needed.
If you are buying canned black beans, I'd suggest purchasing ones with the "no salt added" nutrition claim on the front of the package. This keeps the overall dish low in sodium (helpful if you are managing high blood pressure). I like creating low-sodium meals because this way I can salt my final dish to taste, the way I prefer.
If you can't find the no salt added version of canned black beans, be sure to rinse the regular canned version very well to remove excess sodium.
How To Make A Chocolate Black Bean Smoothie
Like any smoothie, it only takes a few minutes to execute.
You will need to prep the ingredients which include:
opening the can of beans and rinsing them
chopping the avocado
Then all you need to do is add all ingredients into a blender and pulse until completely smooth. I find this recipe results in a thick shake. If you prefer a thinner consistency, I'd add some water or ice. Blend first, and decide how much water or ice you need at the end to reach your desired consistency. I find adding ice cubes not only thin it out but it also makes it cold or refreshing.
Depending on your blender's strength you may see some skins of beans in your smoothie. If this is the case, try blending the beans and milk first before adding the remaining ingredients to smooth it out and increase the beans blending time.
Watch It Done Here
This bean smoothie recipe is so simple to make! Watch it here
What Does A Black Bean Shake Taste Like?
Did I mention this black bean protein shake tastes like a dessert? Think chocolate cake, in blender form. The texture is thick, so add water or ice cubes as needed to make the consistency right for you and your palate.
When To Eat it?
This bean shake makes one large smoothie or two smaller snack-sized smoothies. Therefore, share it for a snack or double it for a filling breakfast.
Leftovers
I have been drinking leftover smoothies lately. I make my smoothie at night time so when my toddler wakes me up at 4am… yes you read that right… then I have a yummy and healthy breakfast waiting for me to help me fuel my day (without putting on the blender and waking up the remaining household).
I find the longer this bean smoothie recipe sits, the thicker it gets. If you like a thinner smoothie the following day, add some water or ice to thin it out. Reblend as necessary.
Variations
Don't have cherries? You could also try other fruit like blueberries
Add more omega 3 with ground flaxseed, hemp or chia
Choose your liquid of choice – any milk would work
Add peanut butter for healthy monounsaturated fats
Other Smoothie Recipes
Final Thoughts
Why not make a smoothie from whole foods that are good for you? This black bean smoothie is pleasing to your tastebuds and nourishing for your heart. A win-win in my books.
And if you LOVE this black bean smoothie recipe and are interested in other heart-healthy recipes, subscribe to my YouTube channel.
Delicious Black Bean Smoothie
Think chocolate cake in blender form. This black bean smoothie is naturally sweetened with cherries, and dates. The black beans, avocado, and spinach are added to keep you full and nourished.
Ingredients
3

dates

1

cup

soy milk

1

cup

spinach

loosely packed

3

tbsp

cocoa powder

½

cup

black beans

canned, no salt added

½

avocado

½

cup

cherries

1

tbsp

almond butter
Instructions
Add all ingredients into a blender and pulse until completely smooth. If more liquid is needed, add a tbsp of milk, water or ice until desired consistency is achieved.

Serve while cold, and enjoy!
Notes
Use less liquid to make a smoothie bowl.
Add more liquid (milk, water or ice) for a thinner consistency 
Nutrition
Calories:
276
kcal
Carbohydrates:
33
g
Protein:
11
g
Fat:
15
g
Saturated Fat:
2
g
Polyunsaturated Fat:
3
g
Monounsaturated Fat:
8
g
Sodium:
218
mg
Potassium:
929
mg
Fiber:
12
g
Sugar:
13
g
Vitamin A:
1505
IU
Vitamin C:
13
mg
Calcium:
232
mg
Iron:
3
mg