This vegetarian chocolate avocado peanut butter smoothie is as delicious as it is easy to blend up.
Love chocolate for breakfast? Give this peanut butter avocado smoothie a try. It takes just minutes to blend up.
Drinking nut butter AND avocados – on its own or in recipes like this peanut butter avocado smoothie – can be wonderful for your heart health.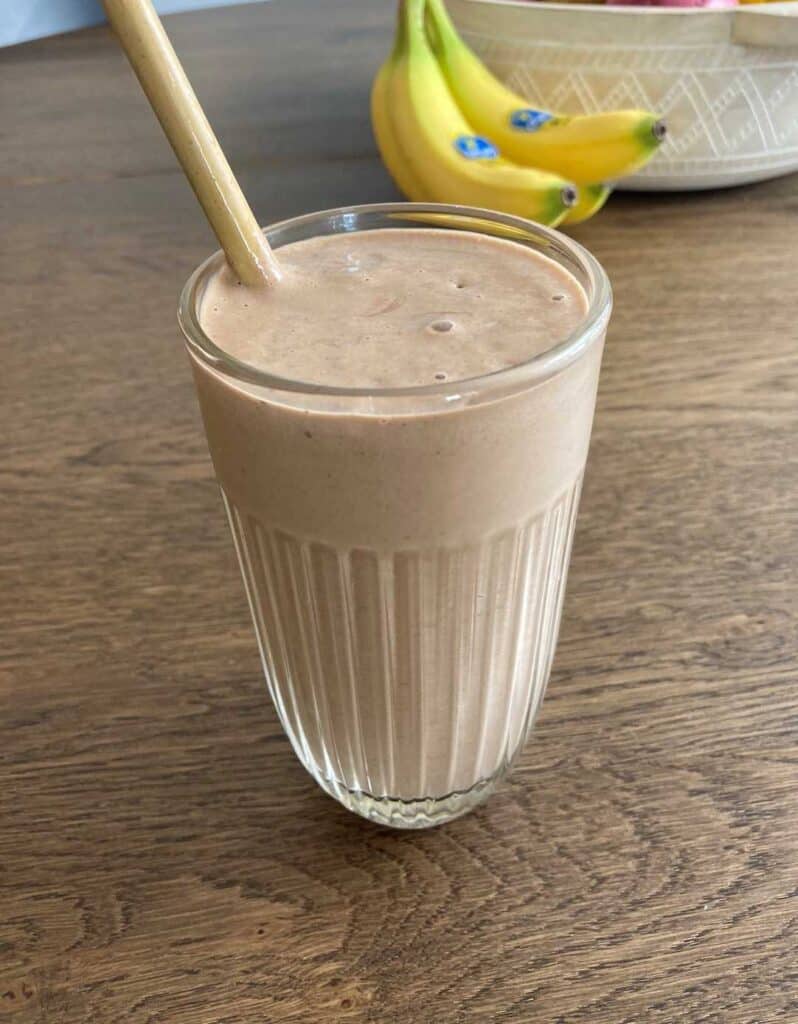 Pin It Now & Make It Later!
Why Peanut Butter Avocado Smoothie?
This peanut butter avocado banana smoothie not only delivers a wealth of nutrients but it is also:
quick to put together (takes less than 5 minutes!)
uses a blender (very little mess)

only 6 ingredients

rich, creamy, and filling
a chocolate peanut butter combo – yes, please!
a natural and tasty way to lower your cholesterol level and improve your blood pressure
portable – a great meal replacement shake
Is This Smoothie Heart Healthy?
This avocado banana peanut butter smoothie recipe offers:
23 grams of protein
16 grams of fiber
If you find you're not eating the recommended amounts of plant proteins and fiber, this peanut butter avocado smoothie is a great way to meet those needs and boost your intake of nutrient-dense foods.
According to the Portfolio dietary pattern – a diet that helps lower cholesterol – it is suggested to consume 50 grams of plant protein a day (1). This banana avocado peanut butter smoothie meets 24% of this requirement with peanut butter and soy milk.
The Portfolio diet also suggests that eating enough soluble fiber can reduce your cholesterol by 5-10% (1) and avocados do just that.
Finally the DASH diet – a diet designed to lower blood pressure – also prioritizes eating nuts daily. Another reason why peanut butter is a fantastic heart-healthy addition to this smoothie.
Ingredients
Want to whip up this peanut butter avocado smoothie in your own kitchen? Here are the ingredients I used to make the easy recipe:
Peanut Butter
The main ingredient in this avocado peanut butter smoothie is peanut butter—no surprise there! I recommend purchasing natural peanut butter, where the only ingredient on the ingredient list is "peanuts."
Why? This means there has been nothing else added – no sugar or salt – and you can reap all of the benefits peanuts have to offer without the "junk." As I mentioned earlier, nuts – including peanuts – boast many benefits, especially when it comes to heart health. Nuts are a food that can lower blood pressure, and unclog arteries.
I love to use peanut butter in anything from a smoothie to overnight oat bran to my avocado toast.
Each 2 tbsp serving of peanut butter offers 2 grams of fiber, and 8 grams of protein, and is an excellent source of heart-healthy potassium (2).
Did I mention it also has healthy fats to help keep you fuller for longer? Plus, eating nuts may benefit your weight too. A review study found that eating more nuts is connected with decreases in both weight and waist circumference. The research included a large assortment of nuts—including cashews, pistachios, almonds, walnuts, and peanuts (3).
Avocado
You can use fresh or frozen avocado for this avocado peanut butter smoothie recipe. I love using frozen avocado in smoothies because doing so removes the need for ice and you don't need to worry about timing the ripeness. Because let's face it, ripe food is only really good for that day, which doesn't always align with our cravings or availability. Am I right?
Avocados boast soluble fiber, which is essential in cholesterol regulation. In fact, one avocado has 13.5 grams of fiber (4). That's about 54% of your daily requirement as a woman and 36% for a man.
Avocados are known for their healthy fats, but they are also rich in magnesium and potassium – two essential heart-healthy nutrients that help manage blood pressure.
What nutrient-dense food!
Soy Milk
As you probably know by now, I love soy milk. Using soy milk in my smoothies creates a nice creamy texture, but also helps meet your plant-based protein needs for the day according to the Portfolio diet.
Consuming soy protein, found in soy milk, has been shown to reduce LDL cholesterol levels in adults by 3-4% which is pretty significant (5, 6).
Additionally, soy milk has a compound called isoflavones, which are antioxidants. Isoflavones are shown to decrease your risk of developing atherosclerosis or clogged arteries (7).
Banana
This fruit is a go-to for smoothies because ripe bananas are full of naturally occurring sugar that sweetens a smoothie without the need for adding any sugar. Plus, bananas are rich in potassium—a banana has about 375 mg of potassium, making a big dent in your daily requirement for this blood pressure-lowering nutrient (8).
Greek Yogurt
Greek yogurt in smoothie recipes not only adds additional protein to a fruit-based smoothie but is also rich in calcium and magnesium; two other blood pressure lowering nutrients (9).
Unsweetened cocoa powder
Cocoa powder is one of my favorite "secret" ingredients for whipping up sweet recipes with no added sugar. That's right, cocoa powder—if you buy the unsweetened kind—contains no sugar at all. Plus, it's loaded with antioxidants, which offer many benefits, like lowering blood pressure.
In fact, cocoa powder is rich in polyphenols, which help improve the elasticity of the vessels and blood vessel function (10).
This is the ingredient that brings the smoothie to life, don't miss this step!
How To Make It
Whipping up this banana avocado peanut butter smoothie is really easy: Simply add all the ingredients to a blender, close the blender lid, and blend until the ingredients are liquefied!
The recipe makes about 12 ounces of smoothie, which can be one LARGE smoothie (as quoted in the recipe card nutrition facts) or a snack that could be shared with a friend or loved one.
You don't need to do any preparation ahead of time. And any blender will do. This smoothie has enough liquid, that it whips right up without leaving any chunkiness behind.
Watch How It's Done
How To Store Leftover Smoothie
If you only need one serving of the smoothie and don't have anyone to share it with (or don't want to, haha!) simply make a smoothie, pour the shake into Mason jars or a container with a lid, and refrigerate. Smoothies will keep in the fridge for 1-2 days.
If separation occurs, which is likely after 12 hours, just stir the smoothie and enjoy! Additionally, you can also add ice and re-blend the smoothie.
Nutrition
This smoothie is a good source of protein and an excellent source of fiber. Both of these nutrients help to keep you fuller for longer. It's also a good source of the heart-healthy minerals potassium, magnesium, and calcium – and it's low in sodium and cholesterol.
Variations Of Smoothie
Vegan
This banana avocado peanut butter smoothie recipe is not vegan as it contains Greek Yogurt. Cashew yogurt would be a great replacement to make this a vegan shake.
Gluten-Free
All ingredients are naturally gluten-free.
Switch Up The Flavor
Add a handful of spinach to make this a green smoothie
Don't have bananas? Try dates instead, the avocado will ensure the smoothie stays thick.
Enjoy almond butter more than peanut butter? Use that instead.
Choose your milk of preference
Lots of ways to switch up the flavor or use what's in your fridge. Need more ideas? Try using some of these 39 foods that unclog arteries.
The Banana Avocado Peanut Butter Smoothie Recipe
If you prepare this smoothie, let me know if you like it! This fast smoothie can help you pack lots of beneficial ingredients in a tasty and practical format to improve your heart health!
Looking for other heart-healthy meals? Subscribe to my newsletter for a FREE 7-day heart-healthy meal plan to get you started on lowering your blood pressure or cholesterol today!
Blog post written by Veronica Rouse, RD, MAN, CDE and recipe developed by Marissa Frodsham, Nutrition Student
Creamy Avocado Peanut Butter Smoothie
Love chocolate for breakfast? Give this chocolate avocado peanut butter smoothie a try. It takes just minutes to blend up.
Ingredients
1

banana

½

avocado

2

tbsp

cocoa powder

¼

cup

Greek yogurt

1½

tbsp

peanut butter

1

cup

soy milk
Instructions
Add banana, avocado, cocoa powder, yogurt, peanut butter, soy milk, and dates to the blender.
Notes
Add 2 dates if more sweetness is needed
Nutrition
Calories:
532
kcal
Carbohydrates:
51
g
Protein:
23
g
Fat:
32
g
Saturated Fat:
6
g
Polyunsaturated Fat:
7
g
Monounsaturated Fat:
17
g
Cholesterol:
3
mg
Sodium:
201
mg
Potassium:
1568
mg
Fiber:
16
g
Sugar:
21
g
Vitamin A:
224
IU
Vitamin C:
20
mg
Calcium:
398
mg
Iron:
3
mg