Ricotta egg bites are the perfect meal prep solution for those who are looking for a quick and easy breakfast or snack that is protein-packed and delicious.
These fluffy bites are made with a combination of ricotta cheese and eggs and can be customized with your favorite mix-ins such as spinach or tomatoes. Whether you're looking for a quick on-the-go breakfast or a tasty afternoon snack, ricotta egg bites are the perfect solution.
This recipe using ricotta cheese and eggs is not like the Starbucks egg bites. Starbucks does not use ricotta cheese. Instead, they use cottage cheese. I prefer using ricotta more than cottage cheese because it makes them creamier and fluffier. I don't like using cottage cheese, even though it is higher in protein, as it is also high in sodium.
Why Make Ricotta Egg Bites Recipe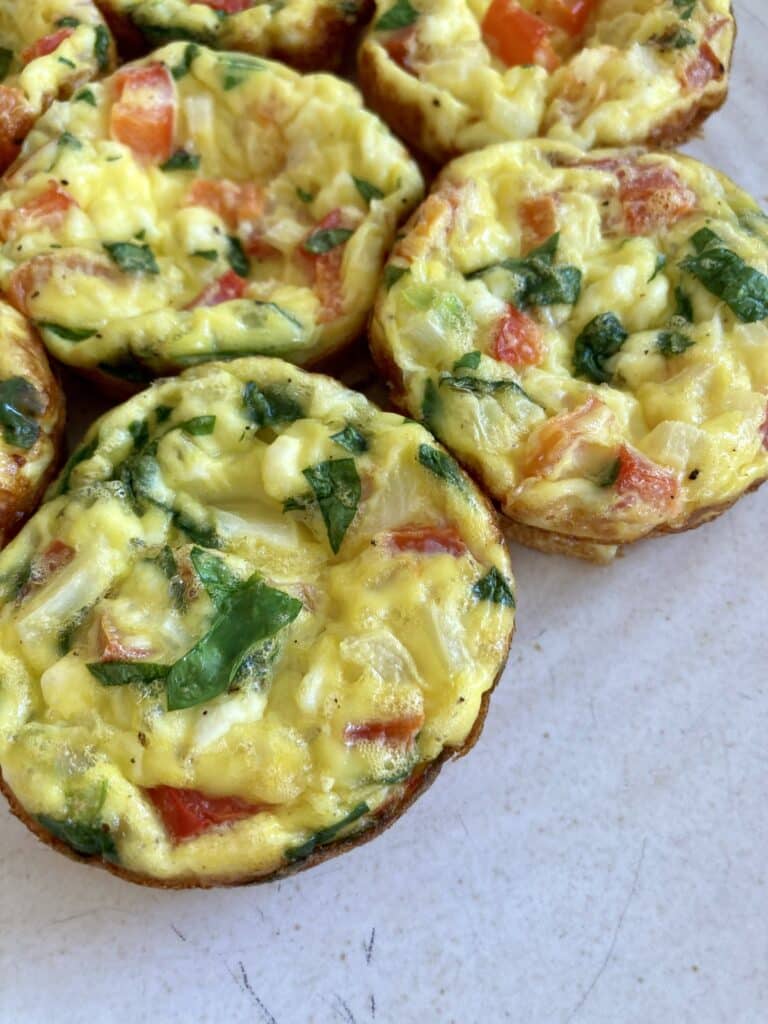 Eggs, Cholesterol and Heart Health
Eggs are a nutritious food that contains high-quality protein, essential vitamins, and minerals. One large egg contains about 186 mg of cholesterol, which is found in the yolk.
While there are no concrete guidelines on how much cholesterol should be eaten in a day, for most people an egg a day does not increase your risk of a heart attack (1).
In the past, the American Heart Association limited cholesterol intake to 300 mg per day. If we were to use this older guideline as a reference, this recipe uses 8 eggs and makes 16 bites. A serving of two bites would provide around 186mg of cholesterol, similar to one large egg.
While eggs do contain cholesterol, they can still be part of a healthy diet for most people when consumed in moderation as part of a balanced diet. When consumed in moderation, eggs do not significantly raise blood cholesterol levels in most healthy individuals.
 If you are worried about consuming dietary cholesterol, you can always substitute whole eggs for egg whites in this recipe. Simply replace the 8 eggs with 1 cup of egg whites, and the dietary cholesterol will be reduced significantly.
And check these articles out if you want to learn more about how long it takes to lower cholesterol with diet, low cholesterol food list, a 7 day low cholesterol diet plan or juice recipes to lower cholesterol.
Ingredients
Eggs – nutrient-rich powerhouse, can be substituted for egg whites (8 large eggs = 1 cup of egg whites)
Ricotta – low saturated fat cheese that adds flavor, protein, and fluffiness. I used full fat here, but you can further reduce the saturated fat by using partially skimmed.
Onion, bell pepper, and spinach – added for color and nutrients! These foods can lower blood pressure and unclog arteries.
How To Make Ricotta Egg Bite Recipe
Basically, mix all the ingredients until well combined. You can start by mixing the ricotta cheese and eggs to make it easier. But don't worry if there are still little lumps of ricotta, this should melt in the oven.
Prepare the muffin trays by either using muffin liners, or coating the muffin pan with some avocado oil to prevent them from sticking. Avocado oil is a perfect olive oil substitute for high-heat cooking.
And bake!
You will know they are cooked because they will be firm to the touch, with no runny egg in the middle.
Storage
These can be refrigerated for 3-5 days.
They are also freezer friendly! You want to cool them down completely, and if possible, individually freeze them on a baking sheet for 1-2 hours before transferring them into a ziplock bag. This ensures they don't stick together in the freezing process, and they are easier to remove when you want to add one to your lunch bag!
Just reheat them by microwaving them for 30 seconds, and voila, like new!
Variations
These ricotta egg bites can be easily customized to your taste preference, or what is in your fridge!
Choose seasonal produce
Add bacon, with these delicious plant-based bacon bites
All seasonings work well, including mustard, basil, and oregano to name a few.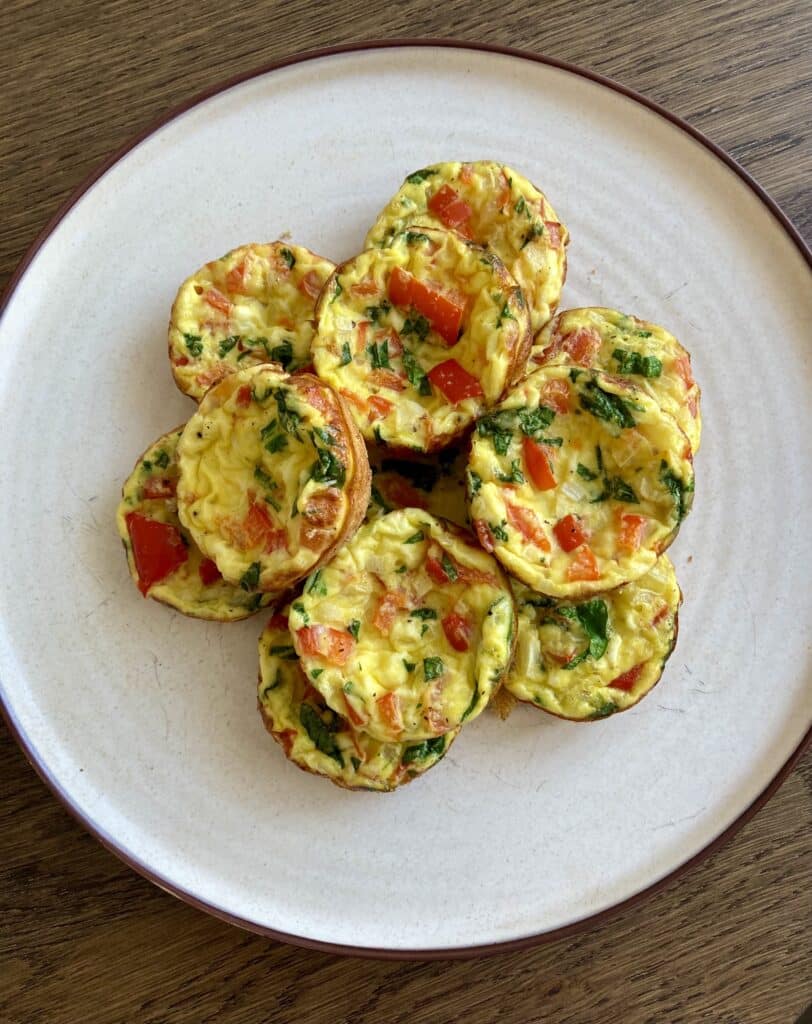 Why Do You Mix Egg With Ricotta Cheese?
You mix the egg with ricotta cheese because the egg is a good binder. Basically, the egg helps the cheese to stay intact so it doesn't ooze out and keeps the form of the muffin tin.
Why Are My Egg Bites Rubbery?
Eggs bites may become rubbery if you cook them for too long or if you cook them at high heat. The more you cook them, the more water evaporates which makes the texture more rubbery.
This can also happen in the microwave if you reheat your egg bites. Make sure you only heat them for 30 seconds or so, and reduce it to 50% max heat if possible.
How Long Is Ricotta Egg Mixture Good For?
The Ricotta egg mixture is good for 3-5 days in the fridge. If you want to make this part of your meal prep, you can premix the filling and store it in an airtight container in your fridge for around 3 days without it changing its quality.
How To Eat Ricotta Egg Bites
as is!
add them to a breakfast sandwich between whole grain bread, and perhaps add avocado too
pair them with a handful of almonds, and a portable fruit like a banana for an easy-on-the-go breakfast
Other Breakfast Recipes
Final Thoughts
Ricotta egg bites are a protein-packed, fluffy, and delicious meal prep option that can be customized to suit your taste preferences. They are easy to make and can be stored in the fridge or freezer for a quick and easy breakfast or snack. Try making a batch today and see for yourself how delicious and convenient these little bites can be!
If you are looking for other low cholesterol recipes, check out these low cholesterol dessert recipes and low cholesterol drinks !
Recipe by Marissa Frodsham, Nutrition Student. The article was written by Veronica Rouse, MAN, RD, CDE.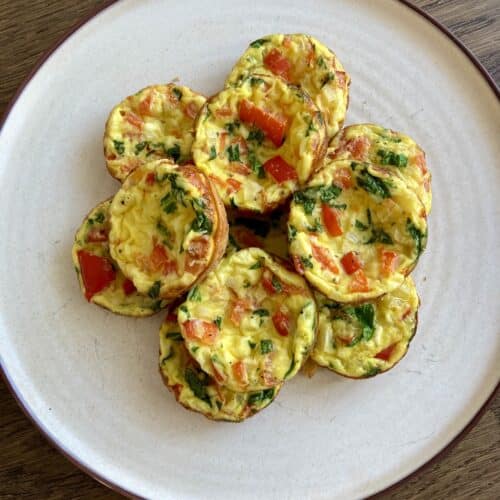 Ricotta Egg Bites
Ricotta egg bites are the perfect meal prep solution for those who are looking for a quick and easy breakfast or snack that is protein-packed and delicious.
Equipment
1 Muffin Tin

1 Mixing Bowl
Ingredients
8

eggs

½

bell pepper

diced

¼

cup

onion

diced

¼

cup

spinach

chopped

½

cup

ricotta

½

tsp

garlic powder

⅛

tsp

salt

⅛

tsp

black pepper
Instructions
Preheat oven to 350°F, and grease muffin tins, or insert muffin liners.

In a large bowl, whisk eggs.

Mix in ricotta until well combined (it is ok if there are small clumps remaining).

Dice bell pepper, and onion, and chop spinach, adding to the bowl.

Add garlic powder, salt, and ground pepper. Mix all ingredients until combined.

Scoop egg mixture into the muffin tins, until about ½ full (should make approximately 16 egg bites).

Place in the oven andbake for 15-18 minutes.

Remove egg bites from the oven and allow to cool before removing. Run a knife along the edge of each egg bite if they are sticking to the muffin tin.
Nutrition
Calories:
47
kcal
Carbohydrates:
1
g
Protein:
4
g
Fat:
3
g
Saturated Fat:
1
g
Polyunsaturated Fat:
0.5
g
Monounsaturated Fat:
1
g
Trans Fat:
0.01
g
Cholesterol:
86
mg
Sodium:
57
mg
Potassium:
54
mg
Fiber:
0.1
g
Sugar:
0.4
g
Vitamin A:
314
IU
Vitamin C:
5
mg
Calcium:
30
mg
Iron:
0.5
mg