These uber easy fluffy pancakes are made from simple ingredients you already have at home. From fridge to table in 15 minutes, you won't need to save pancakes for the weekend ever again.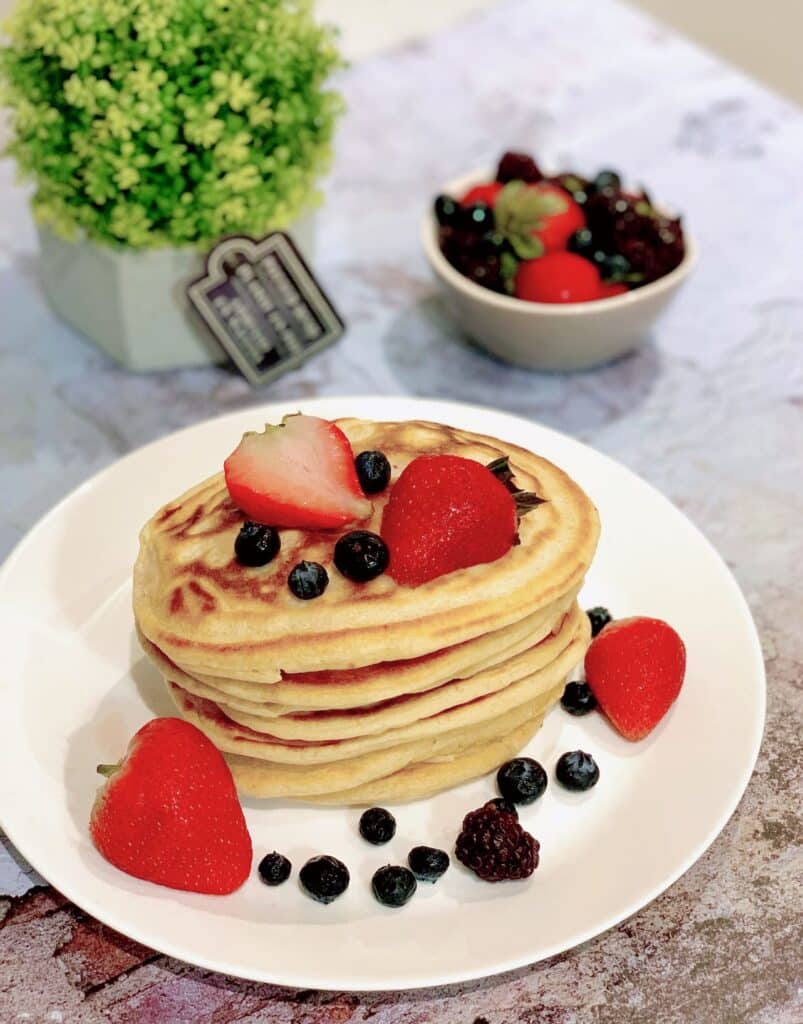 Why Make A Dairy-Free Oat Milk Pancake
Weekday breakfasts can be hard.
This pancake recipe with oat milk makes weekday breakfasts a breeze because they:
take 15 minutes

need no special equipment

use one bowl (easy cleanup!)
are delicious
I'm certain these pancakes with oat milk will become a menu regular.
The first time I made this recipe my kids (or should I say taste tasters) gobbled them up! This pancake recipe with oat milk has become a family favorite because they are easily customizable for everyone's picky palate by adding different fruit at the time of baking or topping them with individual favorites.
You don't need to save making pancakes for the weekend, this recipe lets you eat them during the week too!
Is This Pancake Recipe With Oat Milk Heart Healthy?
This recipe is heart-healthy because of the addition of oat milk in the pancakes. Oat milk is a plant-based milk that is ultra creamy. Oat milk is made by soaking oats in water, which means you get a lot of the nutritional benefits of oats too! Oat milk can help lower blood pressure.
You can make this recipe even more heart-healthy by increasing its omega 3 fatty acids and fiber by adding two teaspoons of ground flaxseed to the pancake batter or topping the pancakes with chia seeds. Both ingredients can help unclog your arteries.
I'm all about recommending balanced meals, so adding protein is suggested. Low-saturated fat cottage cheese or nut butter will complete this meal and leave you full until lunch.
Ingredients In An Oat Milk Pancake
Three ingredients make this recipe special. Oat milk, avocado oil, and baking powder.
I used oat milk instead of dairy milk here because it has an extremely creamy texture. This recipe uses unsweetened oat milk, but you can choose sweetened or vanilla flavored if you prefer. I love heating my oat milk for hot chocolate or adding it to a smoothie. Now I've found another way to capitalize on its creamy texture with these pancakes.
These oat milk pancakes are made with avocado oil instead of butter or vegetable oil, which is a heart-healthy alternative. Learn more about why avocado oil is a fantastic heart-healthy substitute for olive oil.
Finally, don't skip on the baking powder. This special ingredient ensures the pancakes with oat milk turn out nice and fluffy. Nobody wants a flat pancake. Don't worry it won't affect the taste of the final product.
How To Make Oat Milk Pancakes
Making pancakes with oat milk is similar to most pancake directions. First mix the dry ingredients in a large bowl, then add the wet ingredients and whisk together until the batter is smooth.
Once the batter is mixed, preheat the non stick pan (medium high heat), to make sure the large skillet is warm before placing the batter on top. When cooking keep the temperature at medium heat because high heat will cause them to burn.
Once the pan is hot, spoon the batter onto the pan (I use a spoon, but you could use a measuring cup to make equal shaped pancakes) and then you let the heat do the work.
Once the batter starts forming little bubbles it's time to flip! Cook on the other side for 1-2 minutes until golden brown.
My #1 expert tip is to be sure not to overcrowd the pan because the pancakes won't crisp up at the edges if they are too close together. So patience is necessary here.  Keeping them at least one inch apart will also give you more space to flip them.


Oat Milk Pancake Recipe Video
Are you a visual learner like me? Check out how easy this recipe comes together with this quick video.
Make Ahead To Save Time
Guess what? You can make the batter ahead of time. In fact, this mixture can keep for a few days in the fridge. The longer it sits in the fridge, the thicker the batter may get so be sure to add a splash of milk and stir before heating on a frying pan.
Not only can you make the batter ahead of time but you can also make the entire pancake recipe in advance. Once the pancakes are cooked, they can be stored in the fridge or freezer depending on when you want to reheat them.
Leftovers
My favorite part of this recipe is the fact it is freezer friendly which makes them a wonderful addition to a meal prep rotation. I'm a mom and my kids love pancakes, so I usually make a big batch, let them cool and freeze them in a Ziploc bag to be reheated when pancake cravings strike.
If you are more of a make it and eat it type of family, once the pancakes with oat milk are cooked you can store them in the fridge for 3 days.
Reheat
When you are ready to eat pancakes, reheating your leftover pancakes is easy. I typically reheat them (from frozen) in the toaster, just like you are making toast! Or you can also reheat them (from frozen) in the microwave on a microwave-safe plate for around 30 seconds.
Variations Of The Pancake Recipe With Oat Milk
Vegan
Make these pancakes vegan by replacing the egg with a flax "egg" substitute. The flax eggs actually improve the nutrition profile of your pancakes, increasing omega 3 fatty acids and fiber.
It's also important to note that not all sugar is vegan. Be sure to choose raw sugar or unrefined sugar as these types of sugar skips the refining process that uses an animal product (i.e. bone char).
Not into oat milk? Try soy milk instead, another heart-healthy and dairy-free milk substitute!
Gluten Free
Use gluten free all purpose flour to make this recipe gluten free. Substitute gluten free all purpose flour for all purpose flour at a 1:1 ratio. All other ingredients are naturally free of gluten.
Fruit Of Choice
You can enjoy the pancakes as is, or switch up the flavor based on preferences. It is easy to add your favorite mix-ins:
fruit like banana slices or fresh berries (I suggest topping each pancake with fruit before flipping)
nuts or nut butter (you can mix this into the batter)
oats, chia, or flax for extra fiber and omega 3s (I'd mix this right into the batter too)
Add The Toppings
Once the pancakes with oat milk are cooked, you can add your favorite toppings. Some of my favorites are:
apple sauce
yogurt
maple syrup
fresh fruit
Frequently Asked Questions
How Healthy Is Oat Milk?
Oat milk is just as healthy as other dairy-free milk alternatives. When purchasing oat milk it is important to ensure it is fortified with calcium and vitamin D. The only downside to oat milk is that it is low in protein compared to cow's milk or soy milk beverage, so be sure to add protein to this recipe with nut butter or a side of cottage cheese.
Can I Make These Pancakes With Water?
Definitely! This is a great alternative for individuals who are lactose intolerant or want to keep the recipe vegan. Just note that the end product may not be as airy or fluffy.
What If The Pancakes Are Too Thick?
This pancake mix will be thick! This is what makes these pancakes fluffy. But if you find it too thick to stir, just add an extra splash of milk or water to thin it out. Be careful not to over mix the batter or it can result in a chewy texture. Err on the side of caution as it is okay if the batter has small lumps.
Other Brunch Recipes
Try this delicious oat milk pancake recipe and if you love it as much as I do, please leave a star rating on the recipe card or comment below to let me know what you think!  And if you are looking for other heart health recipes, try this list of tasty oat bran recipes! ! Star ratings help to increase my visibility, which lets me make more heart-healthy content for you to enjoy!


Easy and Fluffy Oat Milk Pancakes
These uber easy fluffy pancakes are made from simple ingredients you already have at home.  From fridge to table in 15 minutes, you won't need to save pancakes for the weekend ever again.  
Equipment
1 Mixing Bowl

1 Frying Pan

1 Spatula
Ingredients
1½

cup

all-purpose flour

1

tbsp

baking powder

½

tsp

salt

½

tsp

cinnamon

1

cup

oat milk

3

tbsp

avocado oil

1

egg
Instructions
Combine the dry ingredients: flour, baking powder, salt, and cinnamon in a large bowl. Mix them well.

Add in the wet ingredients: oat milk, oil, egg. Whisk until smooth (no visible lumps).

Let the pancake batter rest for 10 minutes.

On medium-high heat, add a splash of oil into a large pan. Wait until the oil is hot, then add in a ladle of batter. Cook until the bottom side is golden brown or starts to bubble (roughly 3 minutes). Then, flip the pancake using a spatula. Cook for another 2 minutes until the other side is also golden brown.

Repeat step 3 until the batter is finished.

Garnish the oat milk pancakes with a variety of berries and maple syrup if desired. Enjoy!
Nutrition
Calories:
209
kcal
Carbohydrates:
29
g
Protein:
5
g
Fat:
8
g
Saturated Fat:
1
g
Polyunsaturated Fat:
1
g
Monounsaturated Fat:
5
g
Trans Fat:
1
g
Cholesterol:
27
mg
Sodium:
436
mg
Potassium:
64
mg
Fiber:
1
g
Sugar:
3
g
Vitamin A:
122
IU
Vitamin C:
1
mg
Calcium:
186
mg
Iron:
2
mg