Tofu toast is a super easy and delicious breakfast that is packed with protein and healthy fats. It can be an easy lunch or snack with no heating required!
Adding protein to your breakfast is a must to keep you on track with your health goals like weight loss and lowering cholesterol. However, our traditional toast breakfast of jam or cream cheese doesn't offer much protein.
Are you ready to elevate your breakfast toast to include protein with this avocado tofu recipe?
Full disclosure, Veronica Rouse is an Epicure consultant and we recommend one of their products in this post. If you click on this link and make a purchase, we may earn a commission at no extra cost to you. This money helps us continue to make great FREE content for you to enjoy. Thank you for considering.
Why Make Tofu Toast?
it's a vegan, dairy-free recipe
contains inexpensive plant-based protein
has loads of heart-healthy monounsaturated fats
contains cholesterol-lowering soluble fiber
perfect as a meal or snack
easily customizable to your palate
quick to make and oh so easy
a fabulous alternative to deli meat.
Is This Tofu Avocado Toast Healthy?
One slice of tofu toast offers:
11 grams of protein
8 grams of fiber
It is essential to include protein in each meal. Protein helps:
increase muscle mass
build and repair muscle, tissue, skin, nails, hair, hormones, and enzymes
keeps you full by reducing hunger
(plant protein) helps lower cholesterol levels
Eating two slices of tofu avocado toast for breakfast will help you meet your protein needs, and make a good dent in your recommended fiber requirements for the day.
It is recommended that women consume at least 25 grams of fiber a day, while men need 38 grams a day (1). So two slice of tofu toast bread already makes up an impressive 64% of a woman's fiber requirements and 42% for men.
And finally, what makes this avocado tofu recipe even healthier is knowing that tofu and avocados are two heart-healthy foods that will unclog your arteries!


Ingredients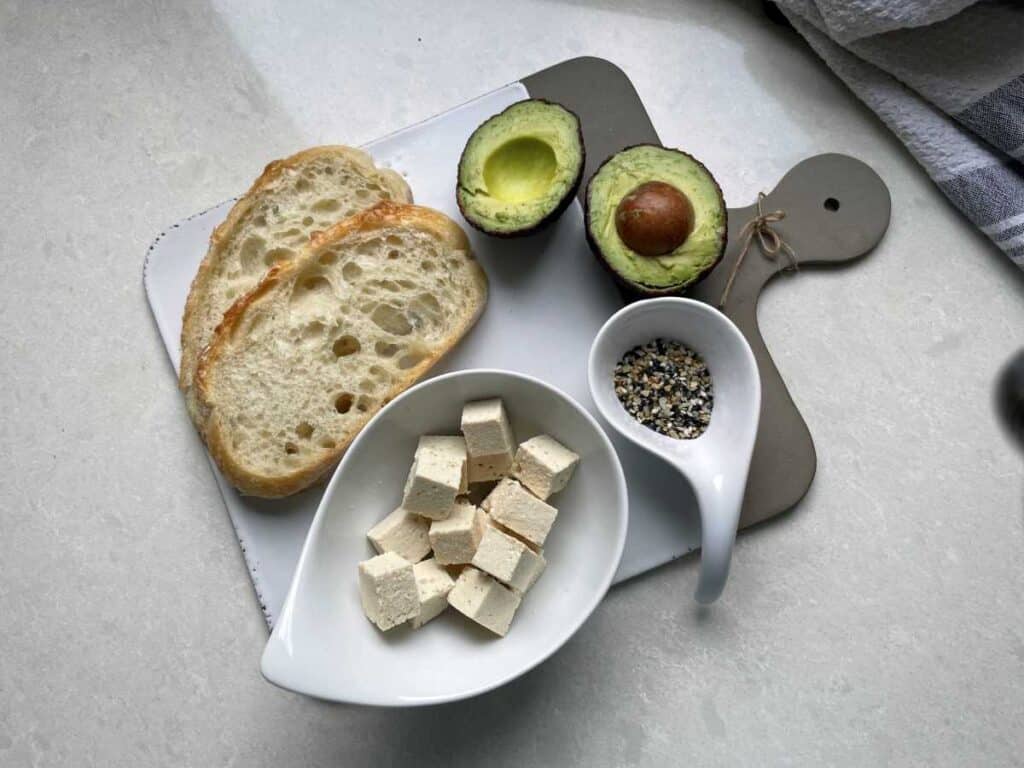 Bread – whole grain bread offers fiber and nutrients, but choose your bread of choice since tofu and avocados offer plenty of fiber.
A ripe avocado – is full of heart-healthy monounsaturated fats and soluble fiber. Mixing tofu with avocado helps to create the smooth, spreadable consistency of hummus. The hardest part of choosing avocados is their ripeness. Purchase a ripe avocado if you are going to make this recipe within 1-2 days, or an unripe one if you plan to make it later in the week. You will know it's ripe because it will be soft to the touch.
Tofu – gives you plant protein. I choose firm here, but medium tofu would work well too.
Everything bagel spice – for flavor
Purchasing Tips
When purchasing everything bagel spice, you can purchase it already combined or make it yourself.
If you purchase it premixed, be sure that "salt" is not listed as one of the first ingredients. This keeps the overall dish low in sodium (helpful if you are managing high blood pressure).
If you want to make your own spice mixture, here is an everything bagel spice recipe I love. Sometimes buying each individual spice is more costly than purchasing the premixed version. The choice is up to you!
Personally, I buy mine premixed. In fact, Epicure has an everything bagel spice that includes chia seeds, which means you still get the delicious flavor of everything bagel spice but also the health benefits of chia seeds.
Chia seeds are super heart-healthy. It can help unclog arteries and lower blood pressure. This is a great article about chia seeds vs hemp seeds if you want to learn more.
How To Make Avocado Tofu Recipe
Once you get all the ingredients on the table, the cooking part takes no more than 10 minutes. I guarantee!
Here are the steps to make tofu toast:
Start with toasting your bread of choice. This can be done in a pop-up toaster or toaster oven. Whatever you use to normally toast your bread.
Next drain the tofu container, then pat the tofu dry with a clean dish towel. Place the tofu in a large bowl and use your fingers or a fork to break the tofu into roughly bite-sized crumbles. You can also mash the tofu with a fork. Tofu is pretty soft, so this shouldn't take too long.
Next, mash up the avocado.
Mashing leaves the texture chunkier which I prefer. But if you are looking for a smoother consistency maybe try using a blender or food processor. You may need to add liquid to achieve the right consistency.
Next, mix the tofu and avocado together.
Now it's time to spread it onto your toast
Add the toppings! My favorite is everything bagel spice.
Watch How It's Done Here
How Does it Taste?
If you are new to tofu, read more about what tofu tastes like here. Basically, tofu and avocado don't have much of a flavor.
The flavor truly comes from the toppings – like the everything bagel spice suggested here. Without the toppings, it's a very nutritious spread, that's pretty bland. Maybe bland is your thing and that's okay by me, but otherwise, I'd recommend the toppings.
Variations
If you are looking for more protein you could add sliced hard-boiled or scrambled egg to the mix
Hemp seeds or chia seeds are great for extra omega-3 fatty acids (bonus, chia seeds are already added to this delicious mix).
Or if you want some color on your plate, try adding cooked spinach.
How To Eat Tofu Toast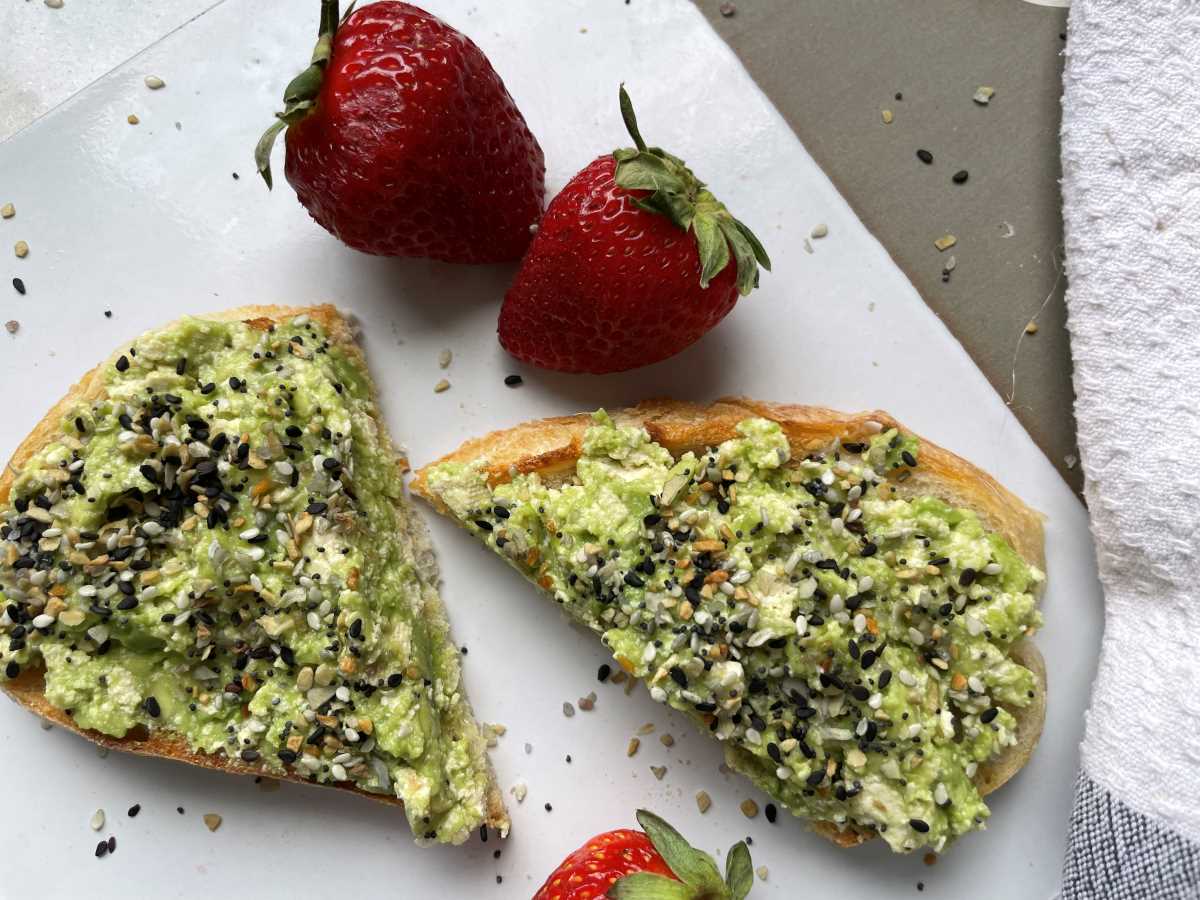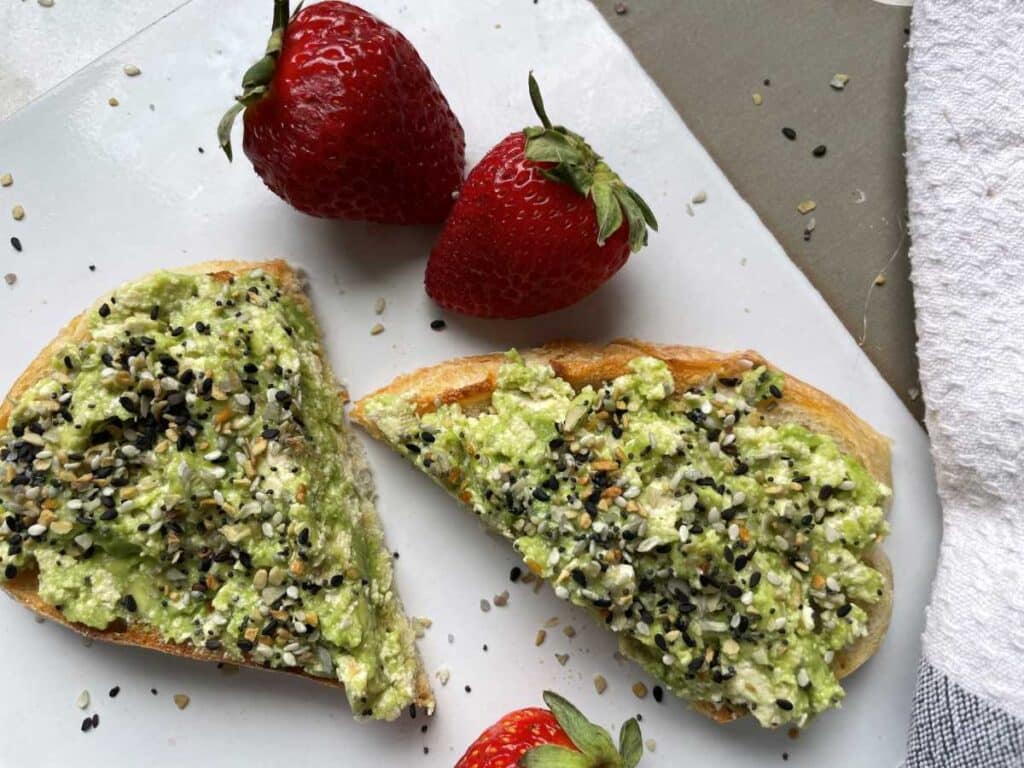 This recipe makes two slices of bread, so if you only want one slice of tofu bread I'd pair it with a veggie and a fruit to make a well-rounded breakfast.
Otherwise, you could choose to make a tofu sandwich for lunch with a glass of milk.
What Else Can You Make With Everything Bagel Spice
If you purchase an everything bagel spice for this recipe (which I recommend), you can start adding it to other dishes too! Try:
adding it to your homemade bread or bagels
Top your casseroles or mac and cheese
Add it to your scrambled eggs
Mix it into your coleslaw for added crunch
Use it in a salad dressing
Flavor your roasted vegetables
Use it on plain popcorn (one of my favorite whole grain snacks!)
Sprinkle on dips like guacamole or hummus
More Avocado Recipes
Final Thoughts
This high-protein tofu avocado toast recipe is an economical breakfast that only uses 3 ingredients. You'd never know this healthy breakfast is full of plant-based protein and soluble fiber to keep you on track with your health goals.
And if you LOVE this tofu toast recipe and are interested in other heart-healthy recipes, subscribe to my YouTube channel to be updated when new recipes are released.


Easy Tofu Toast
Tofu toast is a delicious and simple breakfast, snack, or light meal! It comes together in 5 minutes and keeps you full with fiber, protein, and healthy fat.
Ingredients
1

avocado

⅓

block

firm tofu

2

tbsp

everything bagel spice

2

slices

bread
Instructions
Toast your bread of choice.

In a small bowl, crumble tofu with your hands or a fork.

In a different small bowl, smash or mash avocado with a fork.

Mix crumbled tofu and smashed avocado together to achieve a spreadable creamy consistency.

To assemble, spread the tofu avocado mixture on the two slices of toast and garnish with a sprinkle of everything bagel spice.
Nutrition
Calories:
293
kcal
Carbohydrates:
23
g
Protein:
11
g
Fat:
19
g
Saturated Fat:
3
g
Polyunsaturated Fat:
4
g
Monounsaturated Fat:
11
g
Trans Fat:
0.01
g
Sodium:
142
mg
Potassium:
527
mg
Fiber:
8
g
Sugar:
2
g
Vitamin A:
147
IU
Vitamin C:
10
mg
Calcium:
130
mg
Iron:
2
mg