Low sodium chili is a classic dish that is anything but bland—it's a satisfying and nourishing option that you don't have to miss out on.
I'm here to prove that cutting back on salt doesn't mean sacrificing taste with my low sodium breakfast, low sodium lunch, and low sodium dinner recipes.
This low sodium chili recipe is perfect for a busy weeknight meal. It's a one-pot wonder that simmers on the stove, filling your home with tantalizing aromas.
If you're serving this flavorful creation to a crowd, here's a tip: Let them add salt as needed. It's a great way to accommodate varying taste preferences while keeping YOUR sodium levels in check. But who knows, they may not even need the salt with the additional flavor that has been added.
So, get ready to savor a classic low sodium chili that proves healthy eating can be delicious and enjoyable.
With a little time to spare, you can even let this low sodium chili recipe simmer, allowing the flavors to meld and deepen.
Let's dive into this tasty adventure and discover how this low salt chili recipe can truly be a delight for your taste buds.
How Much Sodium Should I Have In A Day?
Let's talk about the sodium game and how much you should aim for in a day. The American Heart Association (AHA) recommends keeping it at 1,500 mg or less for most adults. But hey, we get it—it can be quite a challenge!
Just to put things into perspective, one measly teaspoon of salt equals a whopping 2,300 mg of sodium, which happens to be the recommended maximum for the day. Crazy, right? And guess what? Most of the sodium we consume doesn't even come from the salt-shaker—it sneaks its way into our lives through packaged and restaurant foods.
But fear not, my friend! The AHA believes that even a reduction of 1,000 mg in the average American's diet can work wonders for blood pressure and heart health. So, it's time to take control and be mindful of our sodium intake.
Now, let's talk about everyone's favorite comfort food—chili!
1 1/4 cup of Classic Stagg Chili has 1000 mg of sodium in such a small serving. Almost your entire day's worth if you're aiming for that AHA ideal limit of 1,500 mg!
Sodium Per Serving For This Recipe
| | |
| --- | --- |
| Ingredient | USDA Amount of Sodium |
| 2 tablespoons olive oil | 0mg |
| 1 can (540ml/19fl oz) No Salt Added Six Bean Mix | 5mg |
| 1 can (796ml/28fl oz) No Salt Added Diced Tomato | 20mg |
| 1 medium-sized onion, diced | 2mg |
| 1 carrot, diced | 70mg |
| 1 medium-sized jalapeno pepper, diced | 2mg |
| 3 cloves of garlic, minced | 0mg |
| 2 tablespoons tomato paste | 70mg |
| 1/4 cup water | 2mg |
| 1 tablespoon dried parsley | 0mg |
| 1 tablespoon dried oregano | 0mg |
| 1 tablespoon ground black pepper | 0mg |
| 1 tablespoon ground cumin | 0mg |
| 1 tablespoon paprika | 0mg |
| Total Sodium | 171mg |
| Sodium per Serving (1/6) | 28.5mg |
Please note that the USDA amounts of sodium provided are approximate values and can vary based on specific brands or variations in the ingredients (1).
| | | |
| --- | --- | --- |
| | Canned Stagg Chili | This Low Sodium Chili Recipe |
| Amount of Sodium Per Serving | 1000 mg | 29 mg |
| % Daily Value (based on 1500 mg per day) | 67% | 2% |


How I Made This Low Sodium Chili
This low salt chili recipe keeps things simple. There's minimal chopping involved—just a few ingredients that come together beautifully.
Use No Salt Added Beans and Tomatoes
Choosing no salt added tomatoes and beans is crucial in maintaining a low-sodium diet. Many canned versions of these ingredients contain excessive amounts of sodium, which can quickly add up in your dishes.
Opting for no salt added varieties allows you to have better control over the sodium content of your meals.
However, if you can't find no salt added beans, rinsing them thoroughly under cold water can help remove a significant amount of excess salt, making them a more suitable option for your low-sodium recipes.
Remember, every effort counts when it comes to reducing sodium and prioritizing your health.
Use Herbs And Spices
Combining individual herbs and spices is the secret to adding flavor in this no salt chili recipe. Individual herbs and spices are sodium free. But just to be sure, it's important to check the ingredient list to ensure this is true.
Avoid Pre-packaged Spice Blends
When you buy pre-packaged chili seasoning, you may not realize that it often contains a significant amount of added salt. These pre-made mixes are convenient, but they can quickly ramp up the sodium content of your dish.
However, by making your own chili seasoning at home, you have full control over the ingredients, including the amount of salt you add.
By using individual spices and herbs to create a low sodium chili seasoning which can infuse your dish with incredible flavors without relying heavily on salt. This allows you to tailor the seasoning to your taste preferences while keeping the sodium levels in check. You'll be amazed at how vibrant and delicious your homemade chili seasoning can be!
Here's a little secret: Many of the spices commonly used in chili seasoning, such as chili powder, cumin, paprika, garlic powder, and onion powder, are naturally low in sodium. By combining these spices in the right proportions, you can achieve a robust and flavorful chili without the excessive salt.
In addition to controlling the sodium content, making your own low sodium chili seasoning gives you the flexibility to experiment and personalize the flavor profile. You can adjust the heat level, add extra herbs for freshness, or even include a touch of sweetness or tanginess with ingredients like cocoa powder or dried herbs.
So, if you're aiming to reduce your sodium intake and take your chili game to the next level, ditch the packaged seasoning and create your own flavor-packed blend. Your taste buds—and your health—will thank you!
Low Sodium Chili Seasoning
In case I didn't convince you above, check out my Epicure Review post as this line of products does have some options for a low sodium chili seasoning to purchase as an alternative to making your own from scratch.
Ingredients
This no salt chili is full of foods that will lower blood pressure and foods that will unclog arteries. It also fits in the Mediterranean, DASH diet, portfolio diet, and mind diet, which will benefit your heart health.
Ingredients include:
olive oil – an important component of the Mediterranean diet as it can lower blood pressure.
1 can of six bean medley – Use whatever beans you have around the house here. Chickpeas and kidney beans go well. I like this six bean mix as it offers a variety.
1 can diced tomato – Be sure to buy "no salt added" here. You can confirm no salt has been added by looking at the ingredient list and the only ingredient should be tomatoes.
onion, carrot, jalapeno pepper, garlic – used as flavor enhancers
tomato paste – another flavor enhancer. you may be able to find "no salt added" tomato paste, but I find this more difficult to find in the grocery stores near me.
parsley, oregano, black pepper, cumin, paprika – more flavor without salt
How To Make Chili Without Salt?
You don't need a fancy slow cooker, just a pot will do!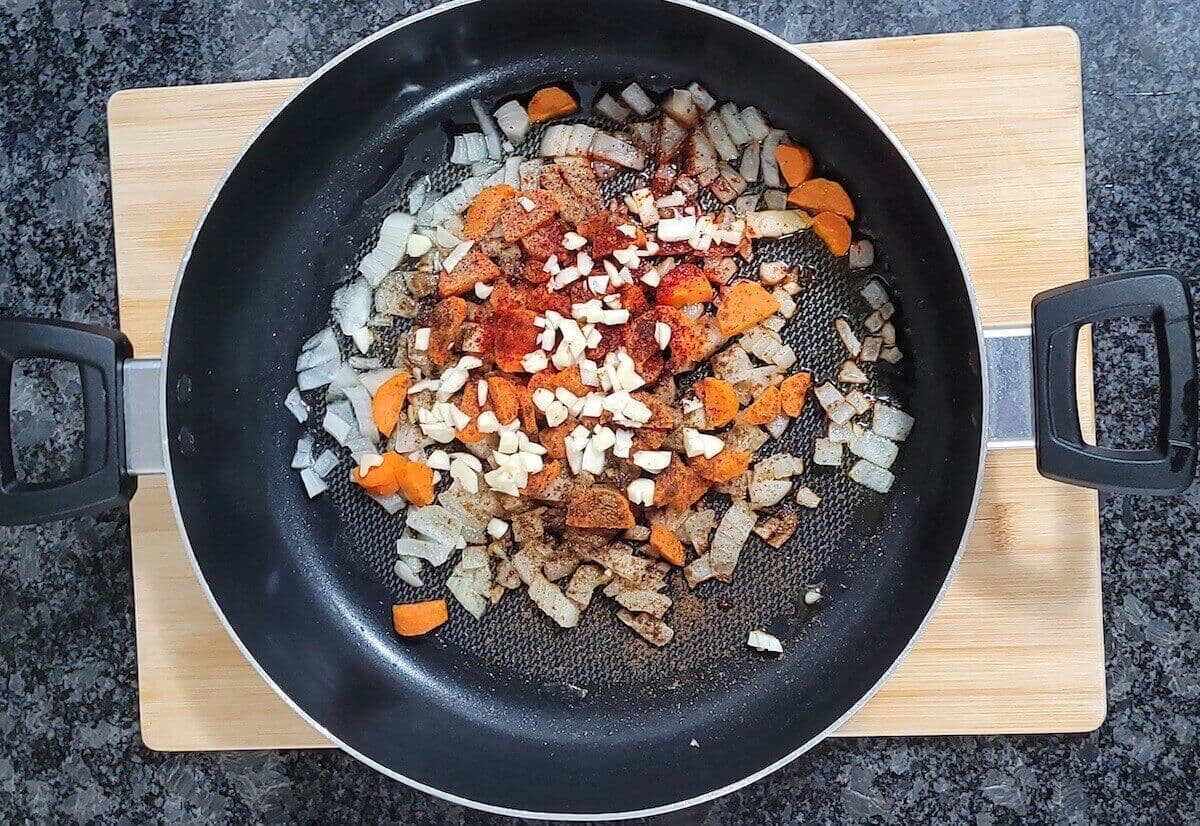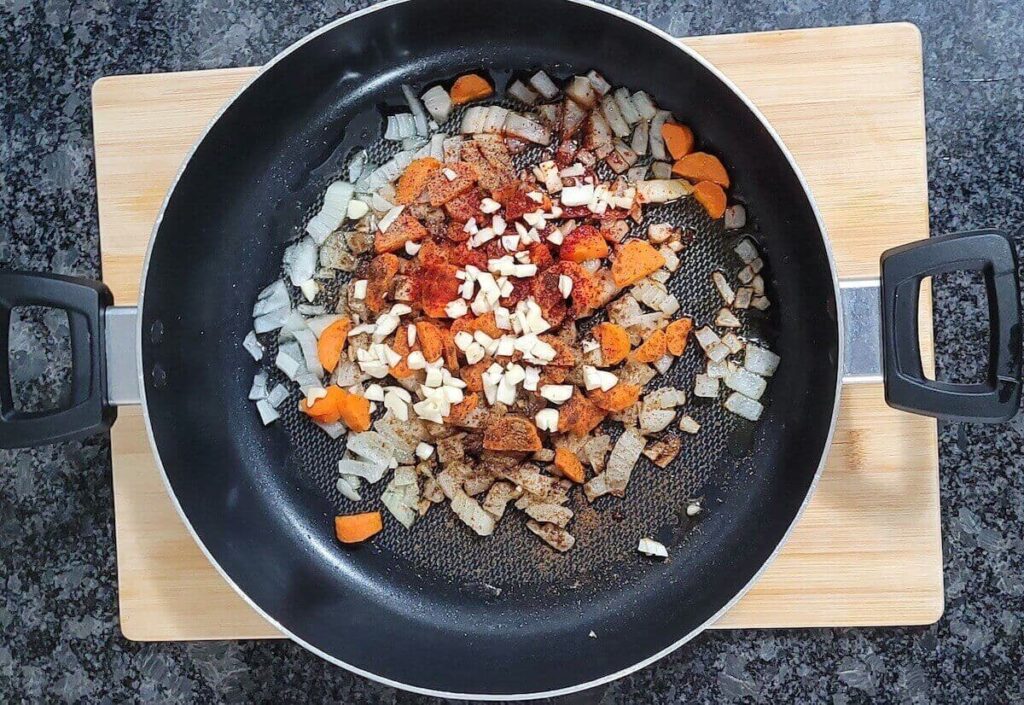 Add olive oil, onion, carrot, garlic, black pepper, cumin, and paprika. Cook on medium-high heat until the onions become transparent, stirring occasionally.
Add tomato paste, water, and jalapeno pepper. Stir and let simmer for 5 minutes
Add beans, dried parsley, oregano, and can of diced tomatoes. Bring to a boil, then reduce heat and let simmer for 20-25 minutes. You can let it simmer for longer if needed, the longer it simmers the better flavors arise.
Remove pot from heat. Let chili cool before serving with sides of choice.
Video Tutorial
Storage
This no salt chili recipe is a dish that often improves with time, and the flavors tend to develop and deepen overnight, making it even more delicious on the second day!
To store leftover homemade chili, simply transfer it to an airtight container and refrigerate it. It can be kept in the refrigerator for up to four days. When you're ready to enjoy it again, I suggest gently reheating it on the stove until it's nice and hot. This will help bring out the flavors and maintain the quality of the chili.
I also recommend doubling the recipe if you can since it freezes so well, and defrosting/reheating this chili with less sodium is just as easy as opening up a can of HIGH sodium chili.
Vegan
This low sodium chili is considered a vegan or vegetarian chili as is. Omitting the ground beef or ground turkey makes this no salt chili recipe even more heart healthy.
Gluten Free
This chili is naturally gluten free, as is.
Toppings
Enhance the taste and enjoy your low sodium chili to the fullest with these additional low sodium toppings.
Fresh Herbs: Chopped fresh herbs like cilantro, parsley, or green onions bring a burst of freshness and color to your chili.
Lime or Lemon Juice: Squeeze a bit of citrus juice over your chili to add a tangy kick without any added sodium.
Avocado: Creamy slices or chunks of avocado are a fantastic way to enhance the richness of your chili while keeping the sodium low.
Greek Yogurt: Opt for Greek yogurt to add a creamy element without excessive sodium.
Homemade Salsa: Whip up a fresh and vibrant salsa using tomatoes, onions, peppers, and spices to add a zesty punch to your chili.
Diced Tomatoes: Fresh or "no salt added' canned diced tomatoes can provide a juicy, flavorful topping without adding much sodium.
Corn: Add a pop of sweetness and crunch with fresh or grilled corn kernels.
Jalapeños (Fresh): If you like some heat, sliced fresh jalapeños can spice up your chili without significant sodium. That being said, the pickled version often has more salt.
Chopped Bell Peppers: Colorful bell peppers add a mild sweetness and crunch to your chili, plus they're low in sodium.
Grated Low-Sodium Cheese: Look for low-sodium varieties of cheese, such as reduced-sodium cheddar or mozzarella, to sprinkle on top of your chili.
Homemade Baked Tortilla Chips: Make your own tortilla chips by cutting low-sodium tortillas into triangles, baking them until crispy, and serving them alongside your chili.
Red Onion: Thinly sliced red onion adds a sharp and vibrant flavor to your chili with minimal sodium.
Hot Sauce (Check Labels): Some hot sauces have low sodium options, so be sure to check the labels and choose those with reduced sodium content.
Cilantro-Lime Rice: Prepare a side of cilantro-lime rice to serve alongside your chili. It adds a fragrant and flavorful element to your meal.
Other Low Sodium Meals
Final Thoughts
This low salt chili recipe proves that you don't have to compromise on flavor or health when it comes to your favorite comfort foods.
This classic dish shines with its simplicity, versatility, and the freedom it offers to customize according to your preferences. Whether you choose to keep it vegetarian or add ground turkey for an extra protein punch, no salt chili is a weeknight winner that satisfies both the taste buds and the desire for a nourishing meal.
Don't forget to leave a comment or rating, and feel free to share any tips or variations you've discovered when cooking this low sodium chili. Your feedback and insights are valuable to us. Let's keep the conversation going and continue on this journey towards delicious, low sodium eating!
Recipe by Ndeye Fary Diop, Nutrition Student. Article was written by Veronica Rouse, MAN, RD, CDE.
---


Low Sodium Chili For A Healthy Heart
If you are looking for a low sodium chili option with just as much flavor, then this is the recipe for you!
Ingredients
2

tbsp

olive oil

1

medium

onion, diced

3

cloves

garlic, minced

1

carrot, diced

1

jalapeno pepper, diced

2

tbsp

tomato paste

1/4

cup

water

1

can (28 fl oz)

diced tomatoes

low sodium

1

can (19 fl oz)

six bean mix

drained and rinsed
Spices
1

tbsp

dried parsley

1

tbsp

dried oregano

1

tbsp

black pepper

1

tbsp

cumin

1

tbsp

paprika
Instructions
To a pot add olive oil, onion, carrot, garlic, black pepper, cumin, and paprika. Cook on medium-high heat until the onions become transparent, stirring occasionally.

Add tomato paste, water, and jalapeno pepper. Stir and let simmer for 5 minutes.

Add beans, dried parsley, oregano, and can of diced tomatoes. Bring to a boil, then reduce heat and let simmer for 20-25 minutes. 

Remove pot from heat. Let chili cool before serving with sides of choice.

I paired my chili with avocado, greek yogurt, and low-sodium tortilla chips. 
Nutrition
Calories:
105
kcal
Carbohydrates:
9
g
Protein:
2
g
Fat:
8
g
Saturated Fat:
1
g
Polyunsaturated Fat:
1
g
Monounsaturated Fat:
5
g
Sodium:
82
mg
Potassium:
270
mg
Fiber:
3
g
Sugar:
3
g
Vitamin A:
2839
IU
Vitamin C:
13
mg
Calcium:
66
mg
Iron:
2
mg