Low sodium dinner recipes do not have to be boring or bland. In fact, they can be quite exciting and delicious, especially when it comes to meals that are good for your heart.
Did you know that a low sodium diet is one of the most effective ways to improve heart health? By reducing the amount of sodium in your diet, you can lower your blood pressure, reduce your risk of heart disease, and feel more energized and vibrant than ever before.
Let's look at how we can follow a low sodium diet at dinner time with these dinner ideas for high blood pressure.
Sodium And Health
Reducing sodium intake at dinner time is important for a number of reasons. High sodium intake has been linked to high blood pressure, which is a major risk factor for heart disease and stroke. Additionally, excessive sodium intake can lead to fluid retention, which can cause swelling and make it difficult for the heart to pump blood effectively.
According to the Centers for Disease Control and Prevention (CDC), the average American consumes about 3,400 milligrams of sodium per day, which is well above the recommended daily limit of 2,300 milligrams for most adults (1). The American Heart Association recommends an even lower limit of 1,500 milligrams per day for people who are at risk for high blood pressure, which includes most adults over the age of 50, African Americans, and people with a family history of high blood pressure (2).
Since most of the sodium in our diets comes from processed and packaged foods, reducing sodium intake at dinner time can be an effective way to lower overall sodium intake. Making simple changes to the way we prepare and cook our meals can go a long way in reducing sodium intake and promoting heart health.
Dinner and Sodium
Dinner meals can be high in sodium for a few reasons:
Processed and packaged foods: Many packaged and processed foods, such as frozen dinners, canned soups, and boxed meals, are high in sodium to help preserve flavor and extend shelf life.
Sauces and condiments: Many sauces and condiments, such as soy sauce, ketchup, and barbecue sauce, are high in sodium.
Cooking methods: Some cooking methods, such as grilling and frying, can add sodium to foods. For example, adding salt to meat before cooking or using a salty seasoning blend can increase the sodium content of the final dish.
Fast food and restaurant meals: Fast food and restaurant meals can be high in sodium due to the use of processed ingredients, sauces, and seasoning blends.
It's important to note that not all dinner meals are high in sodium, and that there are many ways to prepare healthy, low-sodium meals at home. By choosing fresh, whole foods and using herbs and spices for flavor instead of salt, it's possible to create delicious, satisfying meals that are also heart-healthy.
Reduce Sodium In Dinner Meals
Reducing sodium intake is a gradual process, and it may take time for your taste buds to adjust to the new, lower level of salt in your meals. However, over time, you may find that you enjoy the natural flavors of foods more without the need for excessive salt.
It's important to ensure your meals still have flavor, without the salt. Here are some ways to do so:
Use herbs and spices instead of salt to add flavor to your meals. Experiment with different seasonings like oregano, basil, thyme, rosemary, garlic, ginger, and turmeric.
Choose fresh or frozen vegetables instead of canned vegetables, as canned vegetables often have added sodium. If you do use canned vegetables, rinse them thoroughly with water before using them.
Cut back on processed foods, which tend to be high in sodium. Instead, prepare your meals from scratch using fresh ingredients.
Use low-sodium broths, stocks, and sauces when cooking. You can also make your own broth or stock by boiling meat or vegetables in water and adding herbs and spices for flavor.
Choose lean meats, such as chicken or fish, over processed meats like bacon or sausage, which are often high in sodium.
Use less cheese, or choose low-sodium cheese options, such as mozzarella or ricotta cheese.
Limit the amount of salt you add to your food when cooking and at the table. Gradually reduce the amount of salt you use until your taste buds adjust to the new, lower level.
Read food labels carefully to identify high-sodium products and avoid them. Aim for foods that have no more than 140 milligrams of sodium per serving or look for the terms "no salt added" or "low in sodium".
25 Low Sodium Dinner Recipes
Check out these 25 Registered Dietitian approved low sodium dinner recipes that have less than 500 mg per serving to meet your daily recommendation of around 1500-2000 mg of sodium per day for optimal heart health.
Enjoy these dinner ideas for high blood pressure and be sure to let me know which is your favorite.
Beet mac and cheese is a low sodium dinner recipe that is a twist on the classic comfort food that is low in saturated fat, sodium and cholesterol.
Looking for a salad that is filling, healthy and high in protein? Try this spring salad with lentils & veggies and pair it with fish for a complete meal.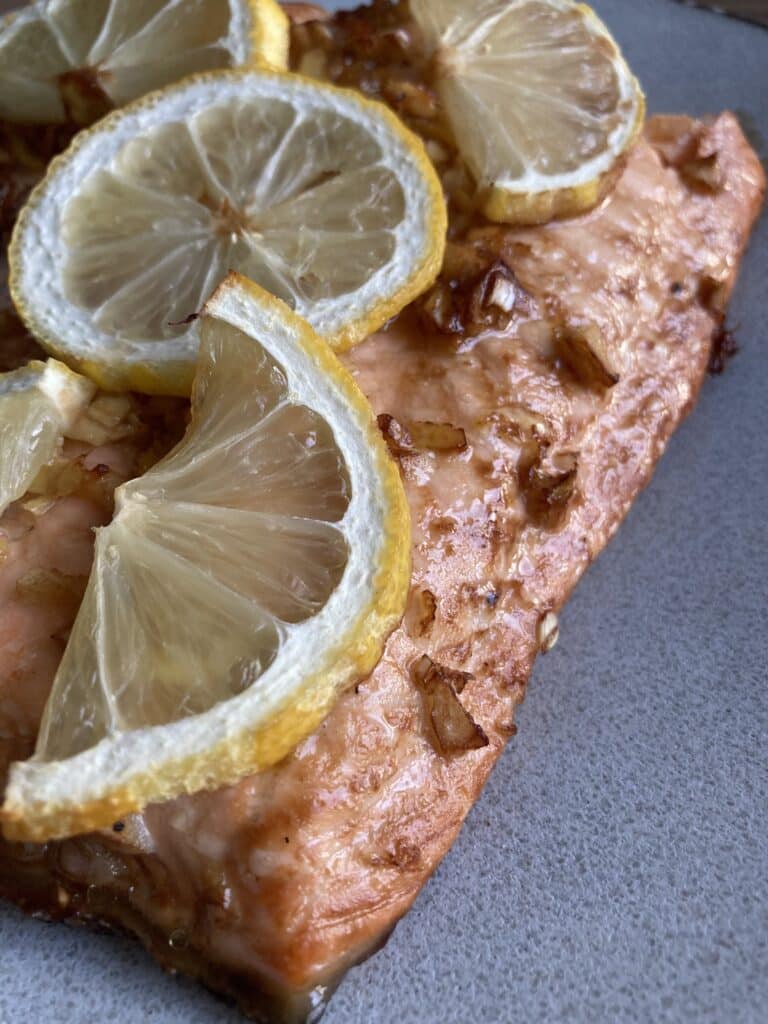 Incorporating more fish into your diet is one of the best things you can do for your heart health, and this dinner idea for high blood pressure is a perfect way to do it. With its combination of omega-3 fatty acids, zesty lemon, and warming ginger, this dish is both healthy and delicious.
These delicious eggplant pizzas are naturally gluten-free and low in sodium! The balance of tomato sauce, cheese, and eggplant creates a perfect finished dish you can enjoy on a weeknight with your family.
Try this low sodium dinner recipe that is a nontraditional take on meat bolognese. If you love pasta but are cutting down your meat consumption this vegan tofu bolognese is the perfect swap!
Do you love traditional ramen, but you're trying to watch your sodium intake? This Instant Pot Ramen is not just delicious and made super quick, but it's much lower in sodium than the processed, prepackaged stuff!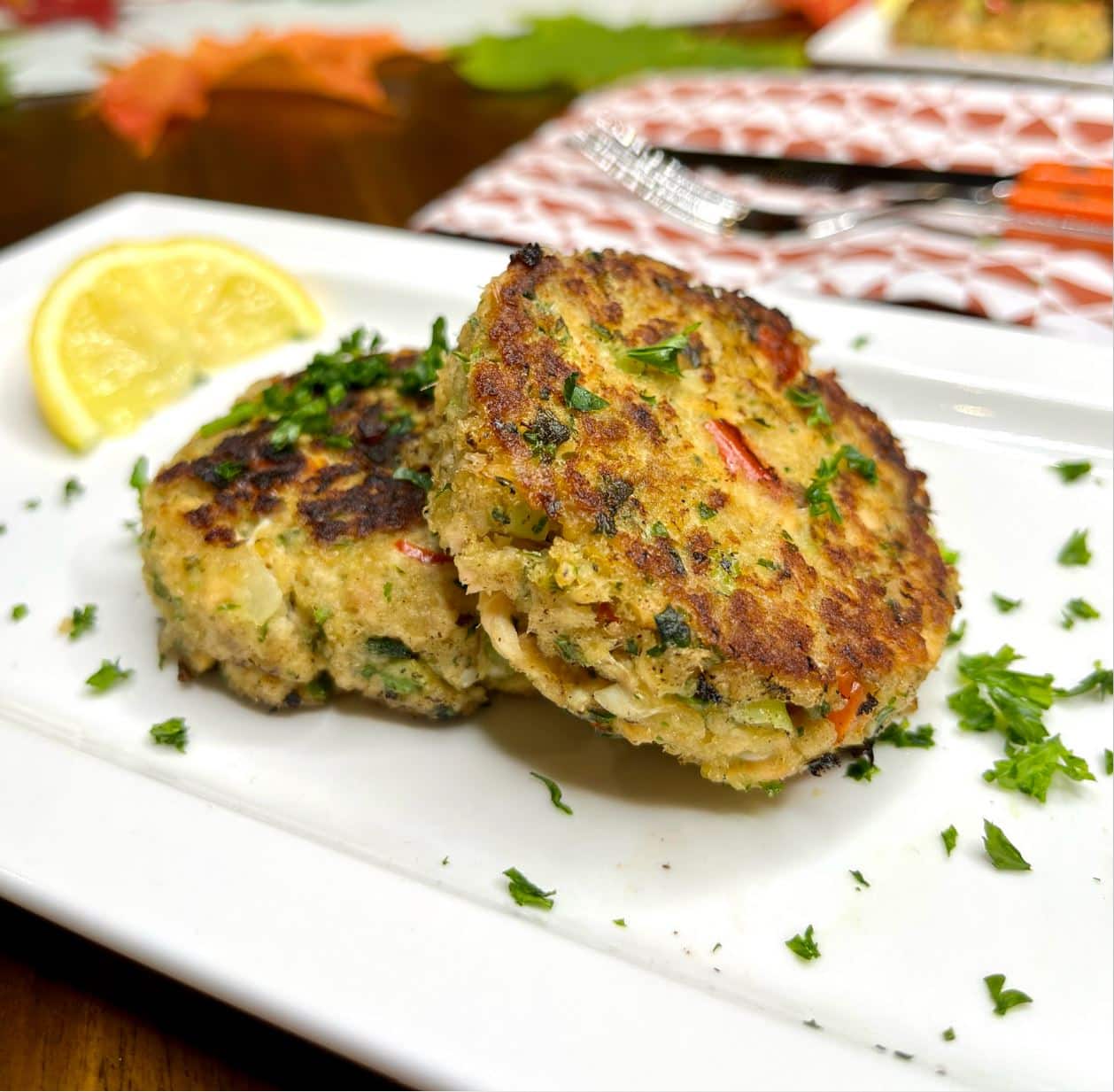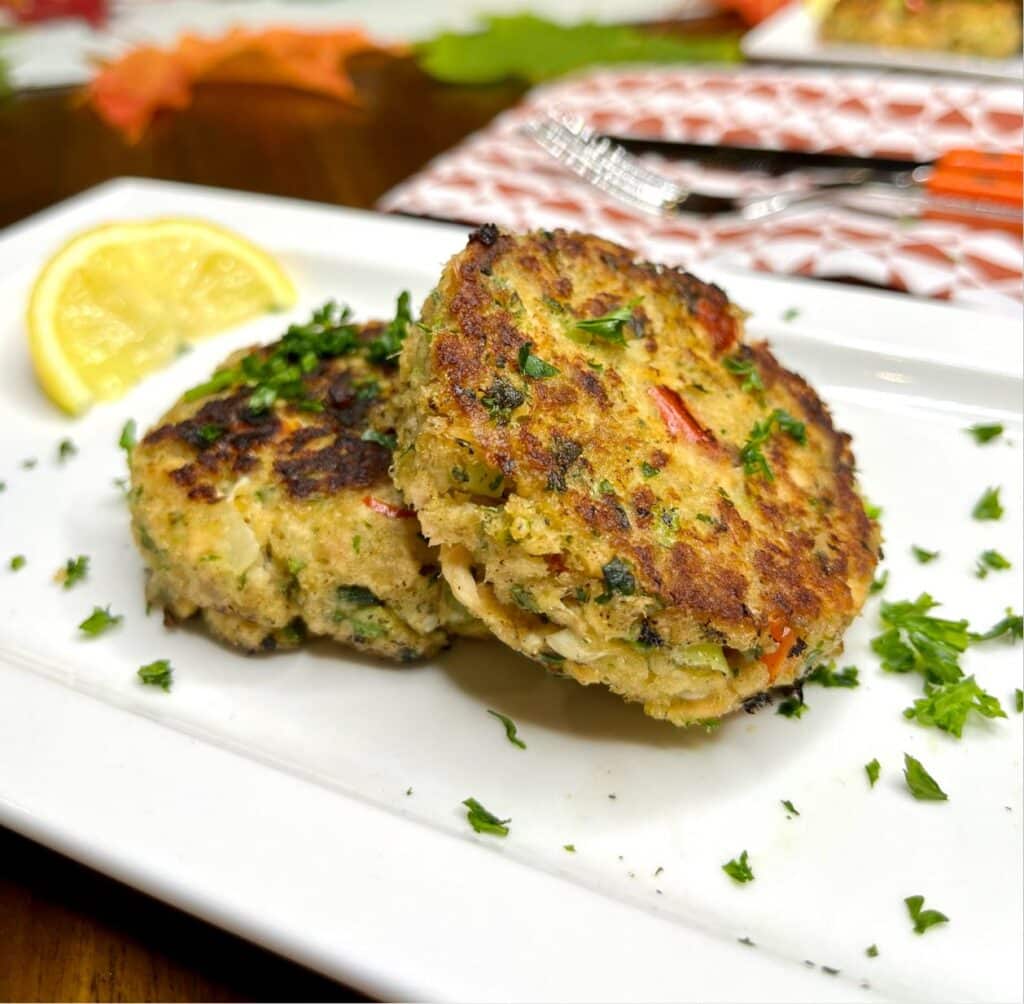 These fish cakes (without potato) taste similar to traditional salmon patties, but don't contain any potatoes. This is one of my favorite dinner ideas for high blood pressure.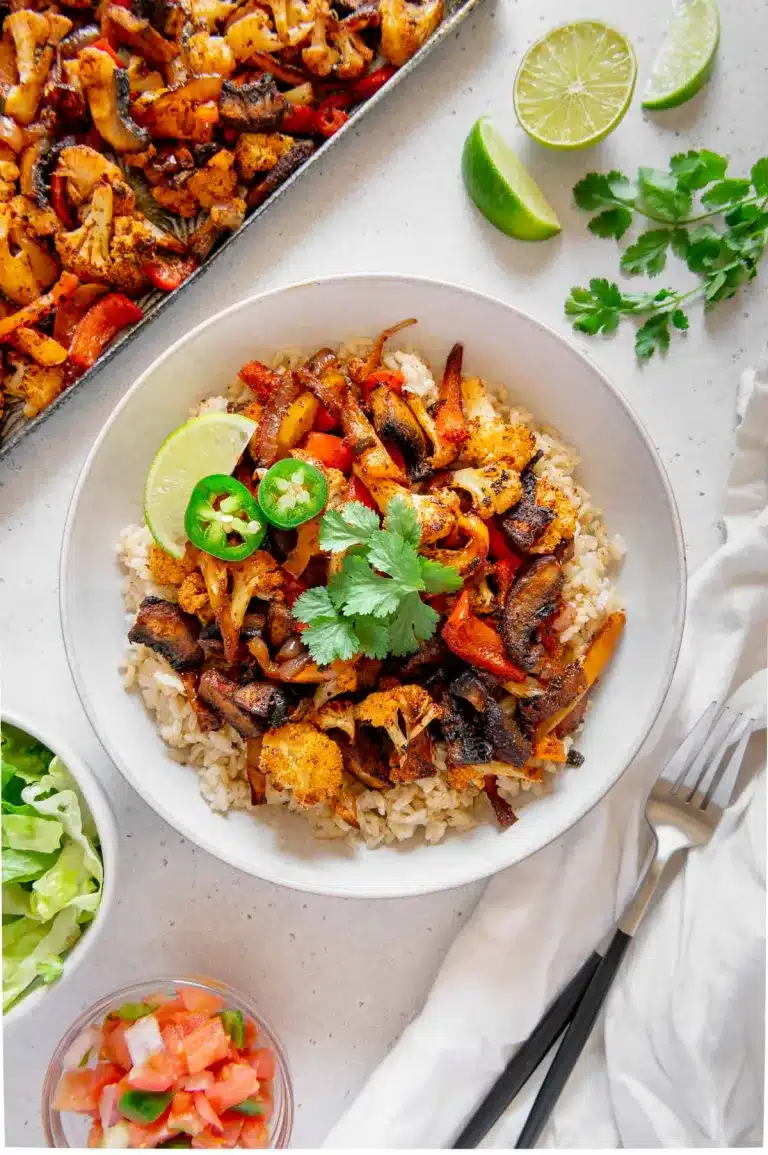 Spice up your Taco Tuesday routine with my simple recipe for a Vegan Fajita Bowl! With a satisfying mix of meaty portobello mushrooms, nutty cauliflower, sweet peppers and onions, and a homemade vegan fajita seasoning blend, this quick & easy sheet pan veggie fajitas recipe is sure to please. I'd add a can of low sodium lentils to increase the protein here, without adding more sodium!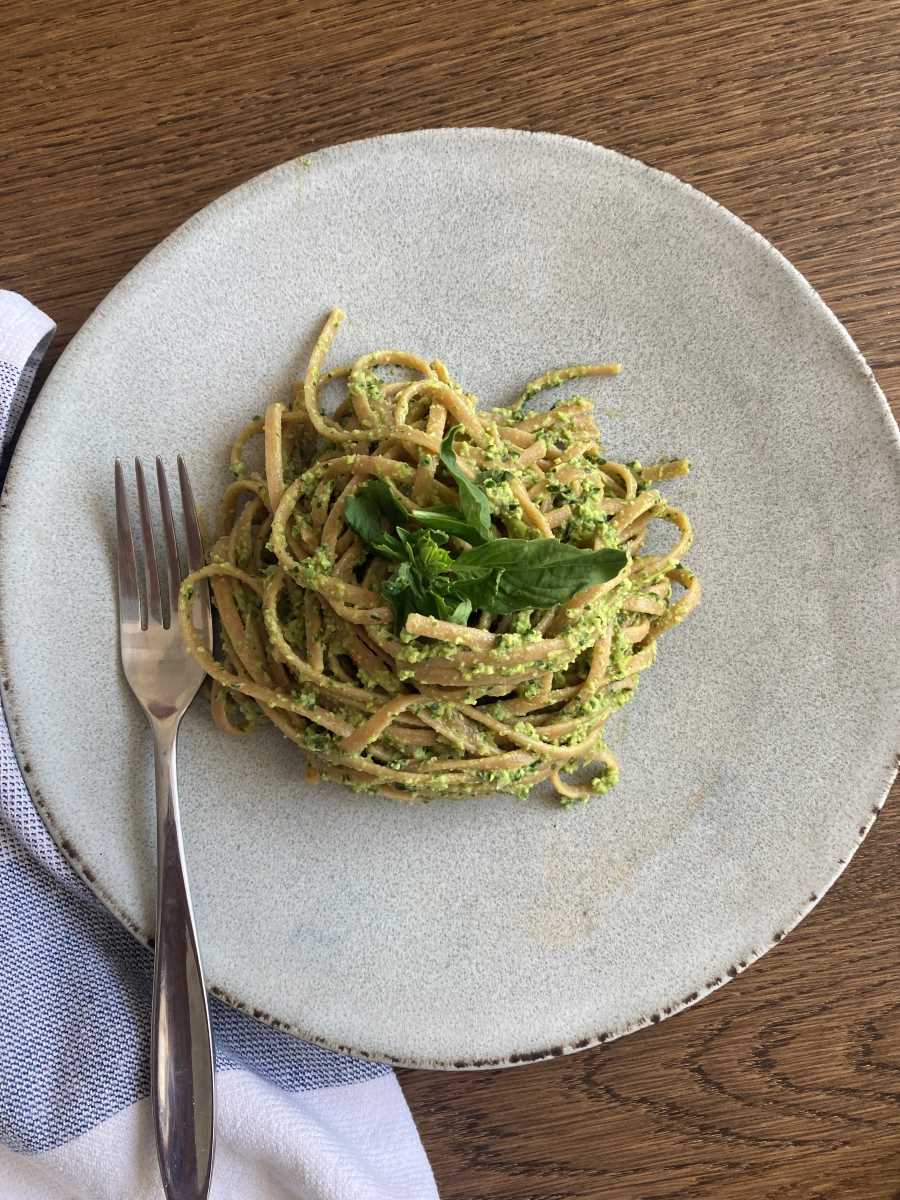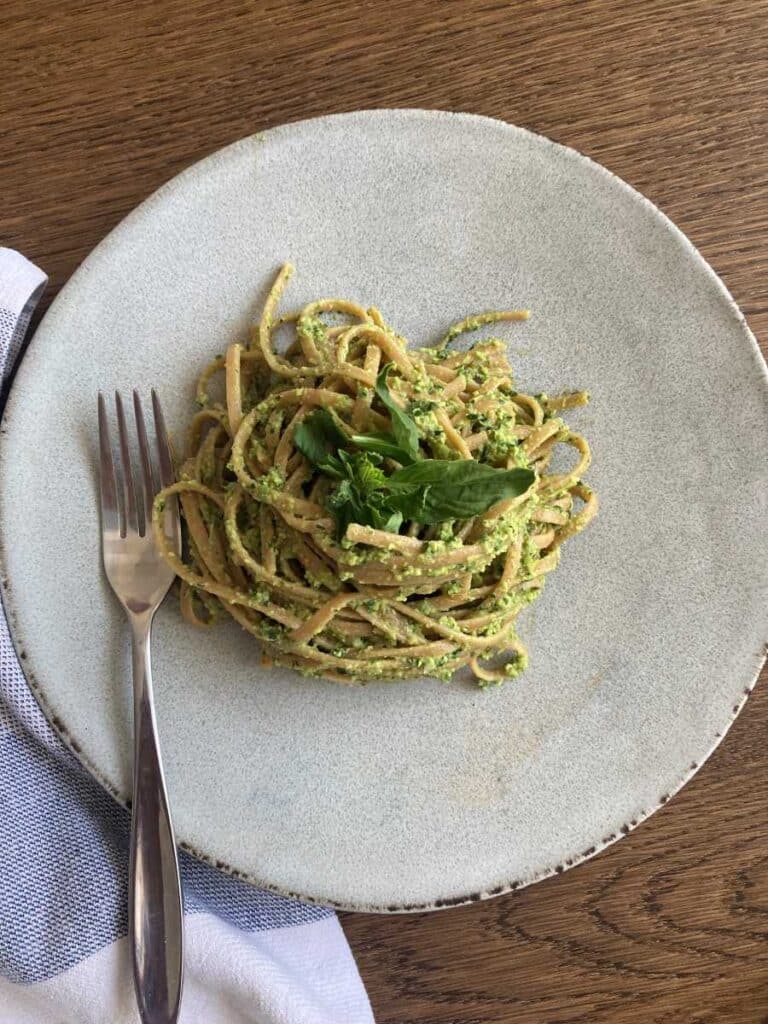 This easy and delicious low sodium dinner recipe sauce is high in plant-based protein and fiber which can help lower your cholesterol as well as your blood pressure.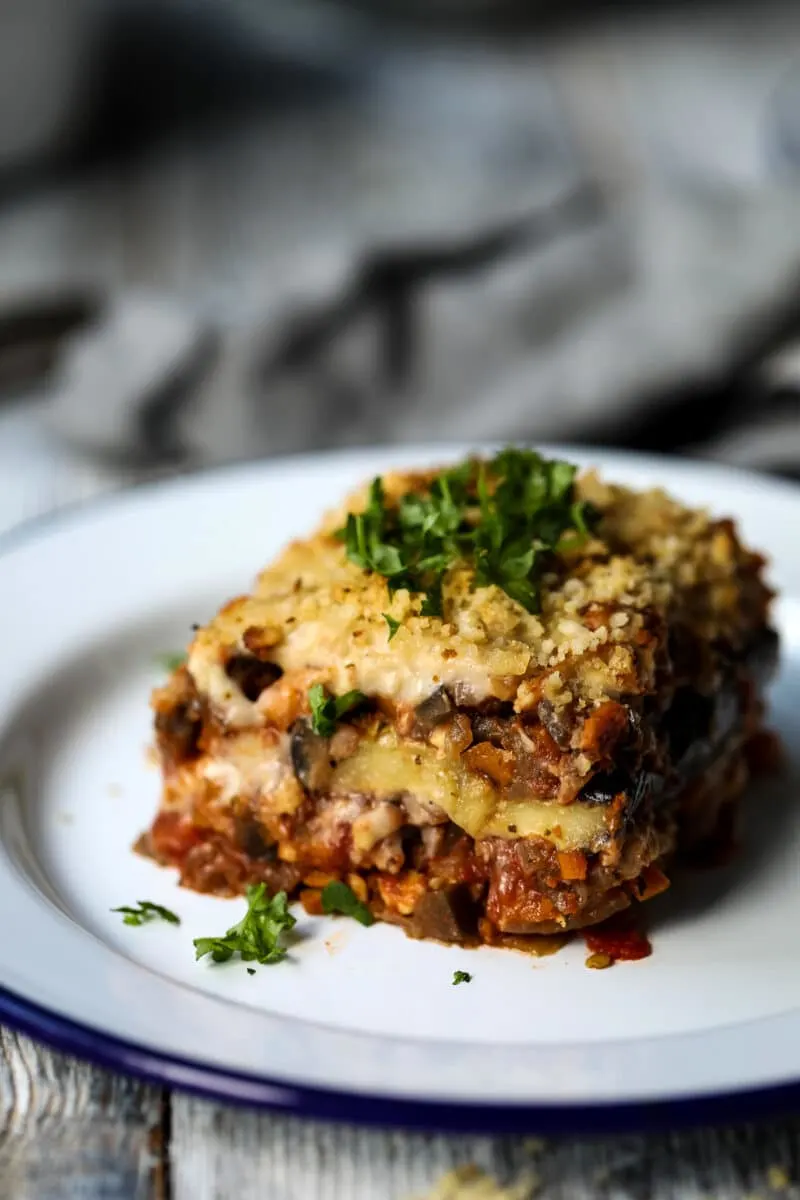 This vegan eggplant lasagna is a satisfying and hearty gluten-free main course full of Italian flavor. Made with a handful of simple ingredients, this vegetable lasagna is full of flavor and nutrients and is just perfect for a cozy family dinner.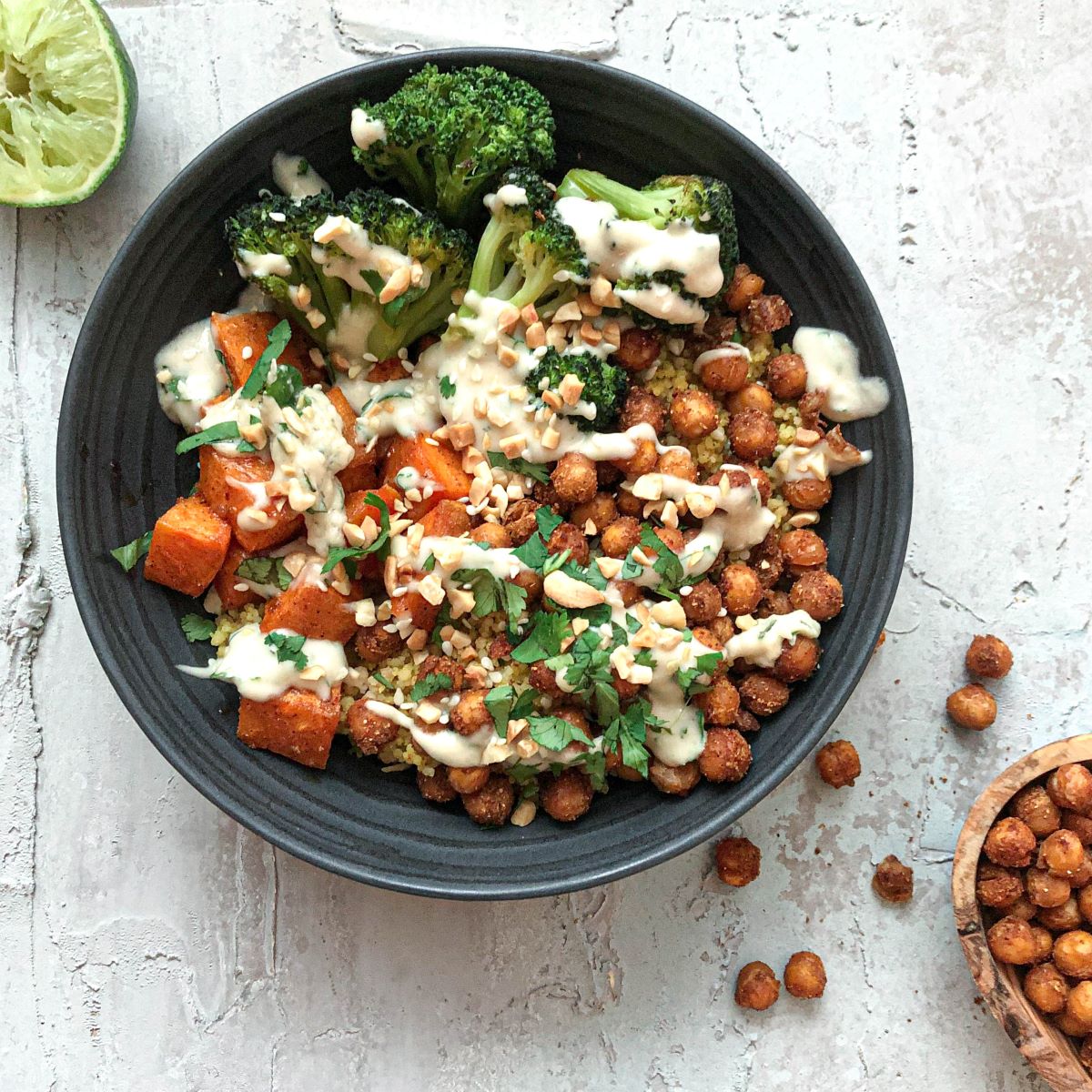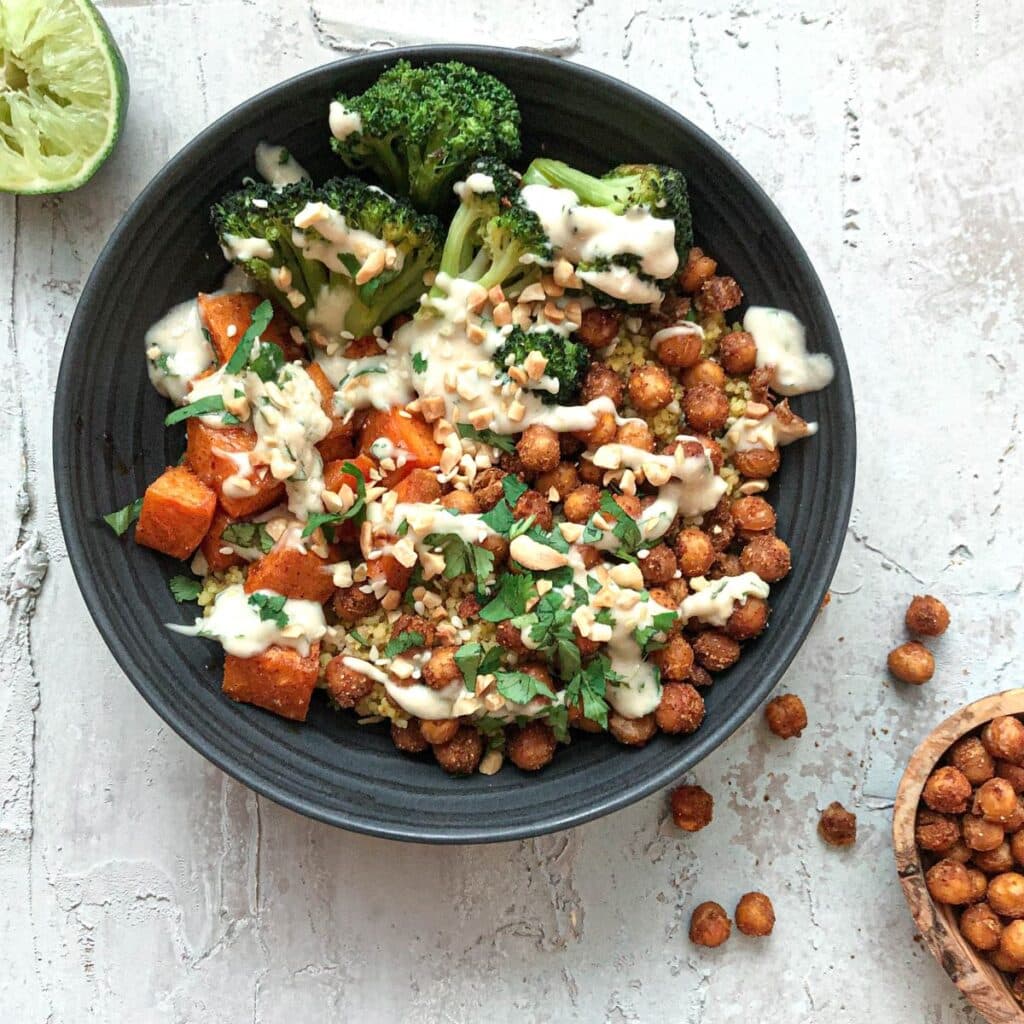 This Mediterranean chickpea quinoa bowl is full of plant based protein and fiber that is not only healthy but delicious. The crunch from the chickpeas, and the flavor of the zesty dressing make this flavorful dish a staple to any meal rotation.
This is the best high-protein Vegan Meatballs Recipe! Gluten-Free and allergy-free, these hearty meatless meatballs are packed with lentils, quinoa, and veggies! Baked, eggless, made without breadcrumbs, and perfectly seasoned with Italian herbs, this easy and kid-friendly recipe is great for a spaghetti dinner, subs or sandwiches, and paired with any sauce!
This is probably The BEST Instant Pot Chicken Drumsticks recipe ever! The result is juicy, fall-off-the-bone chicken that is moist and flavorful, thanks in large part to the Instant Pot's magic. Seasoned with a low sodium dry rub and smothered with a nice bbq sauce on top! This is just pure heaven.
Pesto butter salmon is an easy and delicious low sodium dinner meal. Not only is it flaky and juicy, but it is full of omega 3 fatty acids that can reduce inflammation, and soluble fiber that controls cholesterol. If you are looking for a heart healthy recipe to serve your guests, this is it!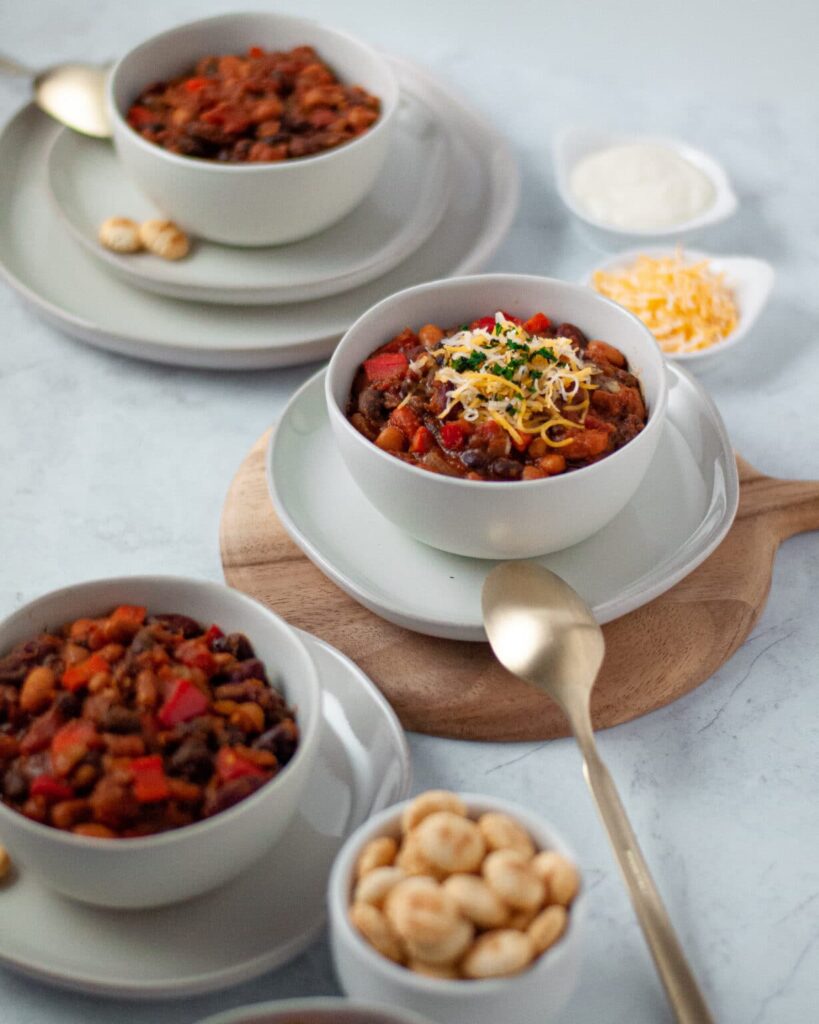 Chili is the perfect cold-weather food. It's warm, comforting, and inviting. This three bean vegetarian chili is all of that AND healthy. This low sodium dinner meal is packed with plant-based protein, fiber, and veggies.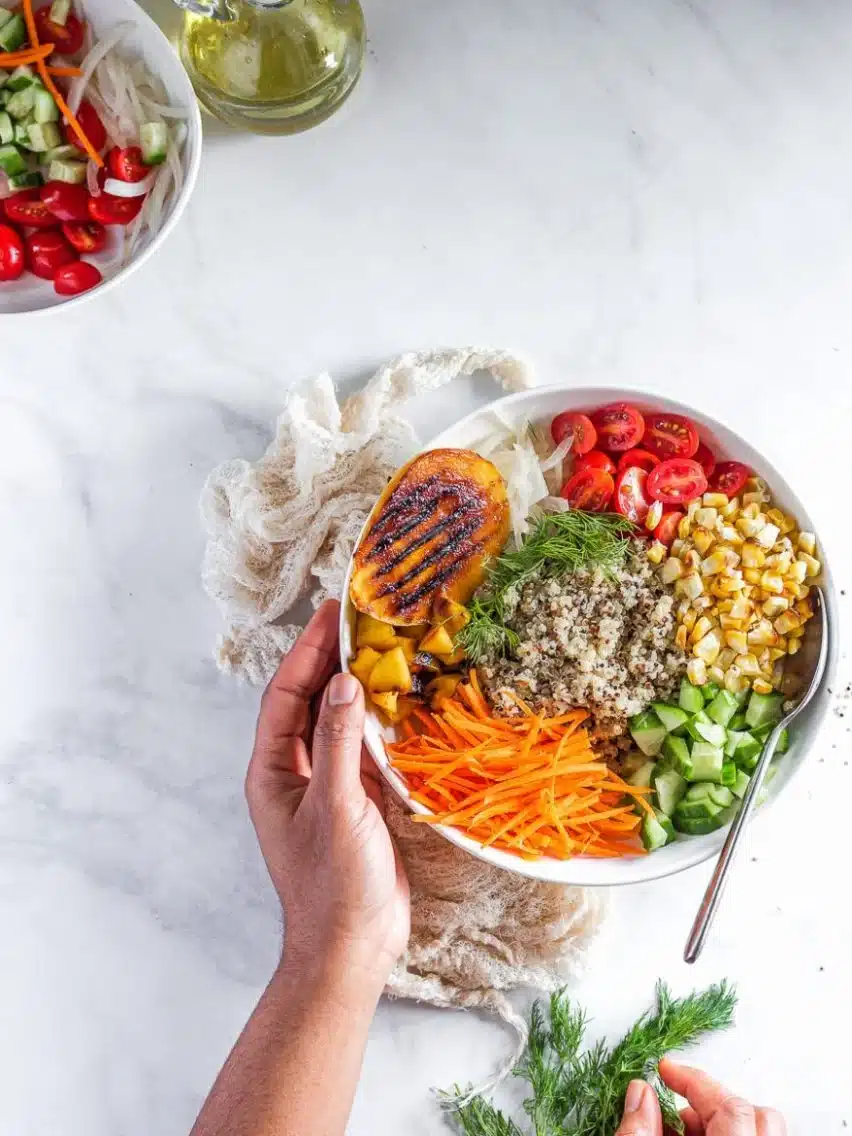 This simple quinoa bowl is delicious served as a side or make ahead for a quick midweek dinner. It is tasty and full of fresh ingredients. Add a can of low sodium chickpeas for more balanced meal of protein and plant fiber.
Low Sodium Spanish Rice and Beans pack great flavor with far less sodium than most recipes. This quick and easy recipe is ready in just 30 minutes from start to finish making it a great busy weekday choice!
These easy salmon burgers are made with canned salmon, yogurt, breadcrumbs, and a few easy-to-find seasonings. Serve them with a quick and easy avocado sauce to make a quick low sodium dinner meal!
This vegan "chicken" pot pie is the perfect comfort food on a chilly fall or winter day. Instead of classic chicken, colorful broccoli, leek, mushrooms and carrots are simmered in a smooth and nutty vegan béchamel sauce and enveloped in a flaky phyllo crust.
This easy-to-make low-sodium marinara sauce only requires a few ingredients. Rest assured is low in sodium and thus can be used in a heart-healthy, and kidney-friendly diet plans. Try this heart healthy spaghetti sauce tonight!
This insanely Easy Vegan Lentil Shepherd's Pie is made in less than 30 minutes! This hearty meatless recipe is just 10 main ingredients, gluten-free, allergy-free, featuring protein-packed lentils, veggies, and simple dairy-free mashed potatoes! Healthy and budget-friendly comfort food the whole family will love and devour.
This creamy low sodium dinner dish is made with romanesco, anchovies, raisins and pine nuts – and while it sounds like an odd combination, it actually comes together to make a delicious light yet filling family dinner.
These Pork Chops with Mango Salsa are juicy and full of flavor. Mango salsa pairs perfectly with pork for a quick and easy weeknight dinner.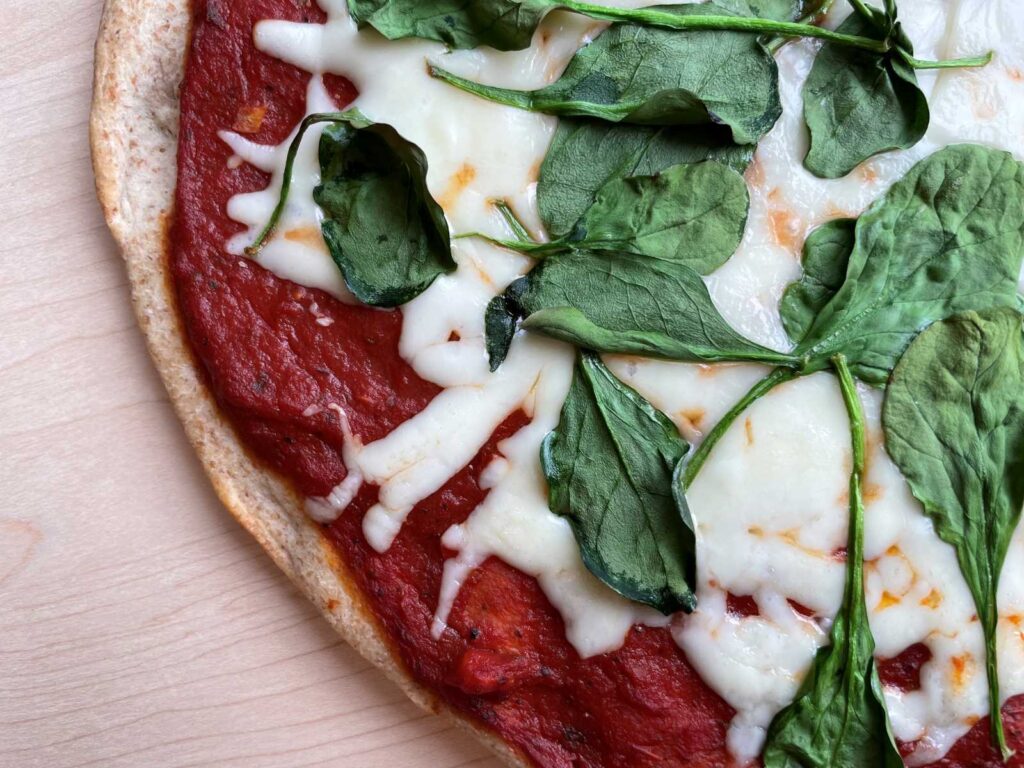 Low sodium pizza sauce is an easy-to-make, flavorful sauce for anyone following a low sodium diet.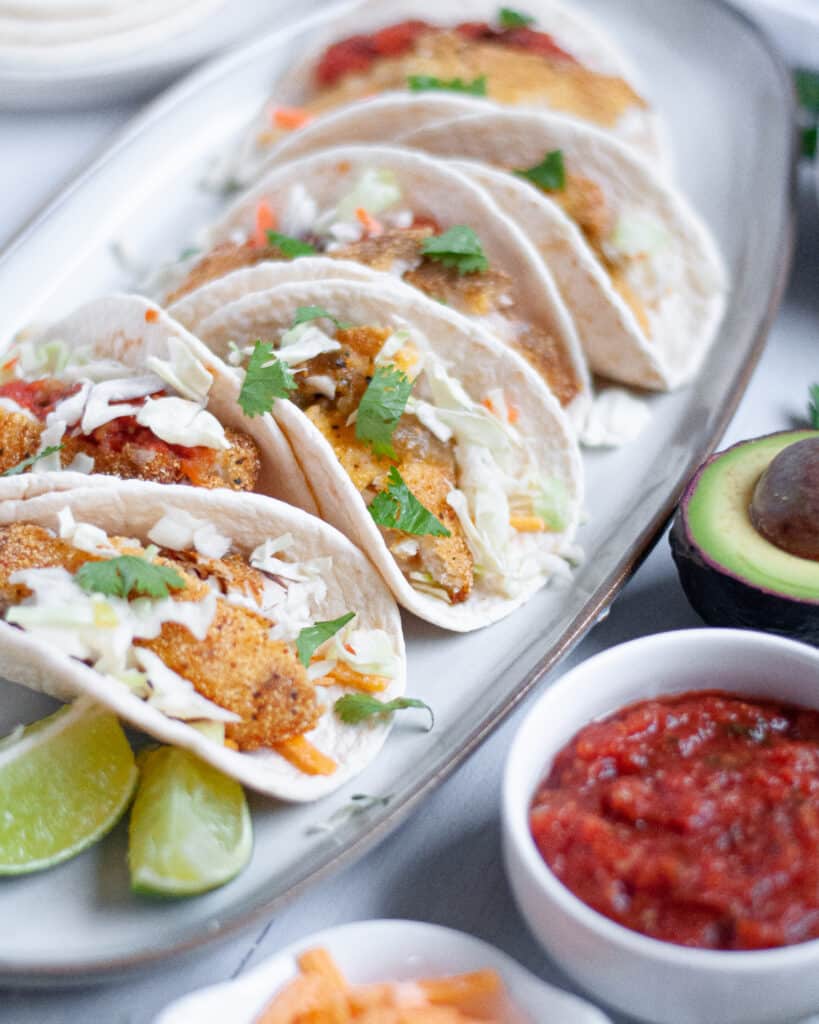 These homemade fish tacos are THE BEST. Tilapia fillets are breaded in a cornmeal crust and pan-fried to create delicious and crispy fish tacos. Serve with your favorite tortillas and toppings and enjoy!
Final Thoughts
So there you have it, folks! Low sodium dinner recipes that are not only tasty but an effective way to improve your heart health and overall well-being.
By making simple swaps and incorporating more whole foods into your diet, you can reduce your sodium intake and enjoy a wide variety of delicious dinner ideas for high blood pressure. Remember, small changes can make a big impact, so start today and make a commitment to yourself and your health.
You deserve to feel your best, and low sodium dinners are the perfect way to get there!
And if you are looking for other low sodium recipes try: low sodium mayonnaise, low sodium breakfast ideas, low sodium lunch ideas, low sodium bagels, low sodium tortillas, low sodium instant pot recipes, low sodium hot chocolate, low sodium pancakes, low sodium oatmeal recipes, low sodium salsa, low sodium hummus, low sodium taco seasoning, DASH diet smoothies, DASH diet desserts, DASH diet soups, tofu … to name a few.
Or check out these low sodium cookbooks and DASH diet cookbooks for inspiration.