Low sodium pizza sauce is an easy-to-make, flavorful sauce for anyone following a low sodium diet.
For many people, pizza is a beloved comfort food that's hard to resist.
In fact, according to data from the USDA, Americans consume a significant amount of pizza every year. In fact, pizza is one of the most popular foods in the United States, with an estimated 13% of Americans consuming pizza on any given day (1).
Americans reportedly consume about 3 billion pizzas every year, which translates to approximately 46 slices of pizza per person annually.
However, traditional pizza recipes and store-bought options can be high in sodium, which can be problematic for those who are trying to maintain a low-sodium diet.
Making a switch from regular to pizza sauce low salt pizza sauce can make quite a difference to keep sodium intake under control.
Good thing no salt pizza sauce is easy to make, and you probably have all the ingredients in your cupboard!
*Please note that this post contains clearly identified affiliate links. If you click on these links and choose to make a purchase, I may receive a commission (at no cost to you). As an Amazon Associate, I earn from qualifying purchases.
Why Make Homemade Low Sodium Pizza Sauce?
easy to make
simple
delicious
uses whole ingredients
is low in sodium
can help manage blood pressure
reduce the risk of heart disease
contains natural ingredients like tomatoes and herbs
great way to support your heart health
Why Choose Low Sodium Pizza Sauce
Reducing sodium intake can have several health benefits, including lowering blood pressure and reducing the risk of heart disease. When we consume too much sodium, it can cause our body to hold onto excess fluid, which can increase blood pressure and put a strain on our heart and blood vessels.
By reducing sodium intake, we can help lower blood pressure, which in turn reduces the risk of heart disease and stroke. Additionally, reducing sodium intake can also help improve kidney function, reduce fluid retention, and decrease the risk of developing osteoporosis.
Pizza sauce is one of the main contributors to sodium intake in pizza. Traditional pizza sauce contains a lot of salt, which can quickly add up if you eat multiple slices of pizza. In fact, according to the USDA, a single slice of cheese pizza can contain up to 730 milligrams of sodium or more, depending on the type of pizza and the amount of sauce used (2).
By choosing low sodium pizza sauce, you can significantly reduce the amount of sodium in your pizza and lower your overall sodium intake.
This can have a positive impact on your health and help you reach your dietary goals. Additionally, if you make homemade pizza, using low-sodium pizza sauce and controlling the amount of salt you add to the recipe can help you better manage your sodium intake.
What Is Low Sodium Pizza Sauce
Low sodium pizza sauce is a type of pizza sauce that contains a reduced amount of sodium compared to regular pizza sauce.
Typically, commercial pizza sauce that is labeled "low sodium" will contain 140 milligrams or less of sodium per serving, according to the labeling guidelines.
The reduction in sodium can be achieved through various methods such as using low-sodium ingredients, reducing salt, or by using natural flavor enhancers like herbs and spices to add flavor without adding salt (3).
Difference Between Low Sodium and High Sodium
According to the United States Department of Agriculture (USDA) FoodData Central database, a typical serving size of pizza sauce is 1/4 cup (about 61 grams) and can contain anywhere from 200 to 700 milligrams of sodium (4).
| | | | |
| --- | --- | --- | --- |
| | Regular Jarred Pizza Sauce | Low Sodium Pizza Sauce | This Low Sodium Pizza Sauce Recipe |
| Serving | 1/2 cup | 1/2 cup | 3/4 cup |
| Sodium | 500 mg | 120 mg | 1 mg |
| %Daily Value Of Sodium (based on 2000mg of sodium per day intake) | 25% | 6% | 0% |
* Approximate amounts based on grocery store inventory March 2023
Ingredients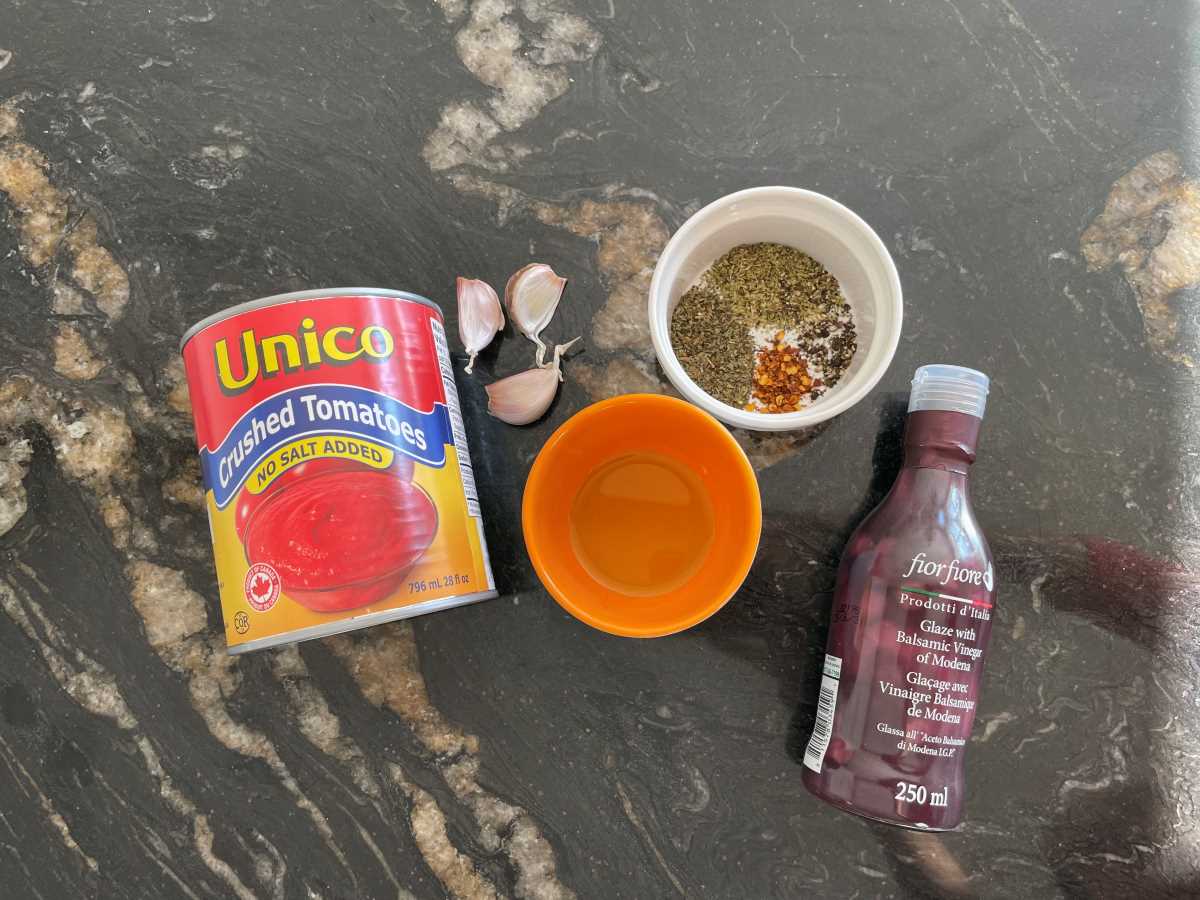 This low sodium pizza sauce recipe is full of foods that can lower blood pressure and unclog arteries. It can fit into the DASH diet, low sodium diet, Mediterranean diet, Portfolio diet, and Mind diet ways of eating.
Olive oil – olive oil can reduce blood pressure, and provides a depth of flavor. Check out these heart healthy olive oil substitutes
Garlic – Use fresh here, it is a staple in the DASH diet and Mediterranean Diet, and adds a lot of flavor
Crushed Tomatoes – If you can find San Marzano tomatoes, I would purchase these. These tomatoes are grown in the Campania region of Italy and meet specific criteria and can be labeled as San Marzano. They have a fantastic sweet and savory flavor that is unique to these tomatoes, which will help this pizza sauce burst with flavor, without the added sodium. I discuss this in more detail with the low-sodium marinara sauce recipe post.
Herbs – dried or fresh work well here, up to you. If you are using dried, just make sure they aren't over a year old for maximum flavor.
Balsamic vinegar – provides a sweet note to the sauce and balances out the acidity of the sauce.
How to Make Your Own Low Sodium Pizza Sauce
There are definitely low salt pizza sauce options available, but they are difficult to find and in my opinion, they don't taste great. That's why I created this recipe! It's quick, and only has 5 mg of sodium per serving. Making this an almost no-sodium pizza sauce.
All you need to do is saute the garlic in olive oil. Add the tomatoes and herbs. Simmer for 10-15 minutes until thick and voila! You have made low sodium pizza sauce.
Watch How It's Done
Storage
Thislow salt pizza sauce recipe makes enough for 2 pizzas. So you can store the remaining sauce in the fridge for 5 days, or the freezer for 6 months – just make sure to let cool completely and store it in an air-tight container or freezer bag.
Other Flavor Tips
Use herbs and spices: to your pizza sauce can add a lot of flavor without adding salt. Popular options include basil, oregano, garlic, onion powder, and black pepper.
Add umami-rich ingredients: Umami is the savory flavor that comes from glutamate, an amino acid found in foods like tomatoes, mushrooms, and anchovies. Adding umami-rich ingredients like tomato paste or dried mushrooms can boost the flavor of your sauce without adding salt.
Use citrus: A squeeze of lemon or lime juice can add brightness and acidity to your sauce, balancing out the sweetness of the tomatoes.
Try alternative sweeteners: If you're concerned about the sugar content of your pizza sauce, try using alternative sweeteners like honey, maple syrup, or agave nectar to balance out the acidity of the tomatoes.
Experiment with different types of tomatoes: As discussed above, San Marzano tomatoes are a popular choice for pizza sauce, but you can also try using other types of tomatoes, like cherry tomatoes or heirloom varieties, to add unique flavor to your sauce.
Get the texture right – try to aim for a very thick and spreadable low sodium pizza sauce. In order to achieve the desired thickness, you can cook this on the stovetop for longer to boil off some water, or store it in the fridge overnight to thicken.
What Else Can You Do With Pizza Sauce
Dipping sauce: Use pizza sauce as a dipping sauce for breadsticks, mozzarella sticks, or even vegetables.
Pasta sauce: Pizza sauce can be used as a quick and easy pasta sauce. Simply heat up the sauce and toss with your favorite pasta.
Casseroles: Add pizza sauce to casseroles for added flavor. It can work well in lasagna, baked ziti, or other Italian-inspired dishes.
Meatballs: Use pizza sauce as a sauce for meatballs. It can add a delicious tangy flavor to your meatballs.
Sandwiches: Use pizza sauce as a spread on sandwiches instead of traditional condiments like mayonnaise or mustard.
Eggs: Top scrambled eggs or omelets with pizza sauce for a breakfast with a twist.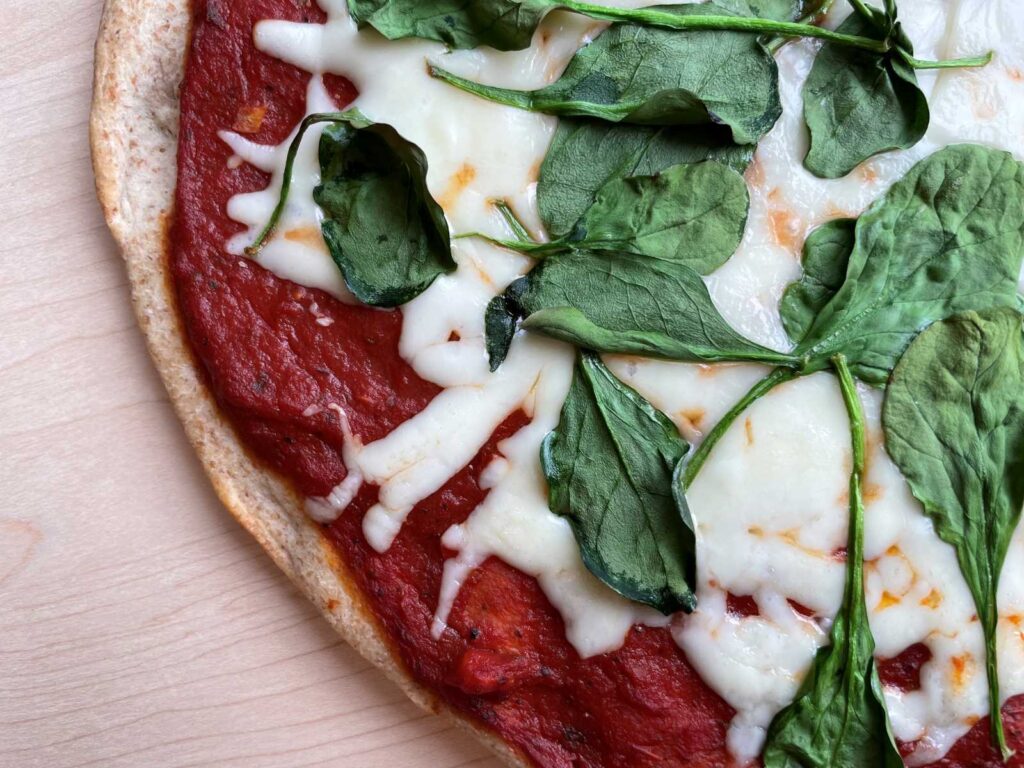 Why Is It Challenging To Find Low Sodium Pizza Sauce
Finding pre-made no salt pizza sauce in stores and online can be challenging for several reasons.
First, many pre-made pizza sauces are loaded with sodium as it's often used as a preservative to extend shelf life. This makes it difficult for those on a low-sodium diet to find suitable options.
Second, not all stores carry low-sodium pizza sauce. It can be frustrating to spend time browsing the aisles of grocery stores searching for a low-sodium pizza sauce only to come up empty-handed.
Lastly, even if low-sodium pizza sauce is available in stores, the options may be limited or expensive. It may be difficult to find a low-sodium pizza sauce that fits personal taste preferences, dietary restrictions and budget.
What To Look For When Buying Low Sodium Pizza Sauce
Serving size: Pay attention to the serving size listed on the label, as the sodium content may be listed per serving. Be sure to compare the serving size to the amount you typically consume to get an accurate picture of how much sodium you'll be consuming.
Sodium content: Check the sodium content per serving to ensure that it's within your desired range. According to the American Heart Association, a low-sodium food contains 140 mg or less of sodium per serving, while a very low-sodium food contains 35 mg or less per serving.
Ingredients: Look for pizza sauces that are made with natural ingredients and no added preservatives, as preservatives often contain sodium. Avoid sauces that list salt or other sodium-containing ingredients high on the list of ingredients.
Where To Buy Low Sodium Pizza Sauce
Check out your local grocery store, or try these low sodium pizza sauce brands from Amazon.
| | |
| --- | --- |
| Product Name | Sodium per Serving |
| Rao's Homemade Pizza Sauce | 120 mg |
| Muir Glen Organic Pizza Sauce | 120 mg |
| Don Pepino Pizza Sauce | 140 mg |
Frequently Asked Questions
How Do You Reduce Sodium In Pizza?
To reduce sodium in pizza, make your own using fresh or no salt added canned tomatoes and herbs. Additionally, reduce the amount of cheese and processed meats used as toppings, and incorporate fresh vegetables and lean proteins for added flavor and nutrition.
Does Pizza Have Low Sodium?
Pizza is generally not considered a low-sodium food, as it often contains high levels of sodium in the crust, cheese, and toppings. However, some pizza restaurants and frozen pizza brands offer low-sodium options, and it is also possible to make your own low-sodium pizza at home using fresh ingredients and reduced-sodium toppings.
Other Recipes
I have a few low sodium recipes on my site that I encourage you to look into if you are watching your sodium intake. They include: low sodium mayonnaise, low sodium hot chocolate, low sodium marinara sauce, low sodium pancakes, low sodium oatmeal recipes, low sodium salsa, low sodium taco seasoning, tofu Bolognese, beet mac and cheese… to name a few.
I also have lists of low sodium foods like these low sodium breakfast ideas, low sodium lunch ideas, low sodium pasta recipes, low sodium bagels, low sodium tortillas, low sodium instant pot recipes, low sodium dips, low sodium hummus, DASH diet smoothies, DASH diet desserts, DASH diet soups.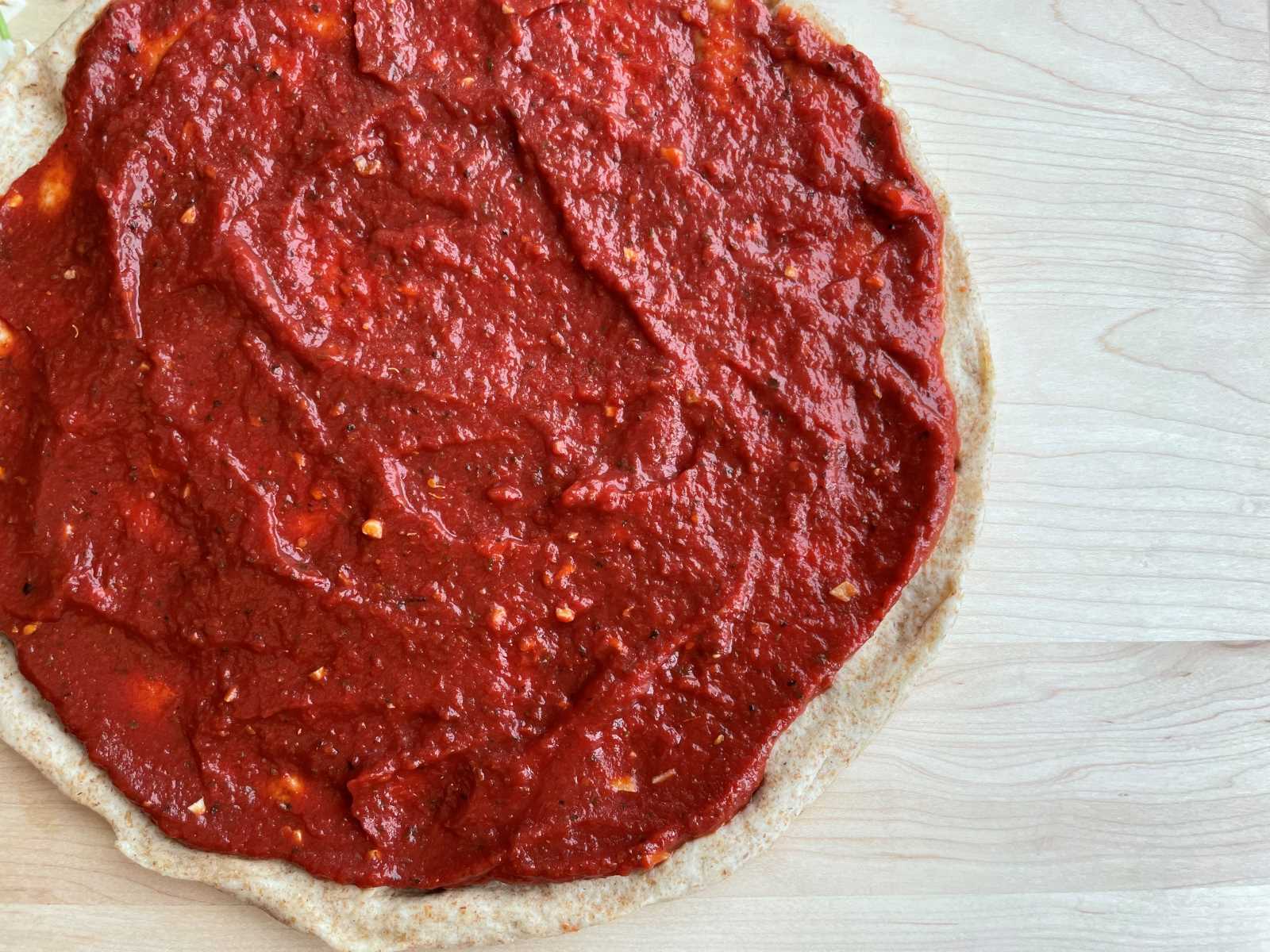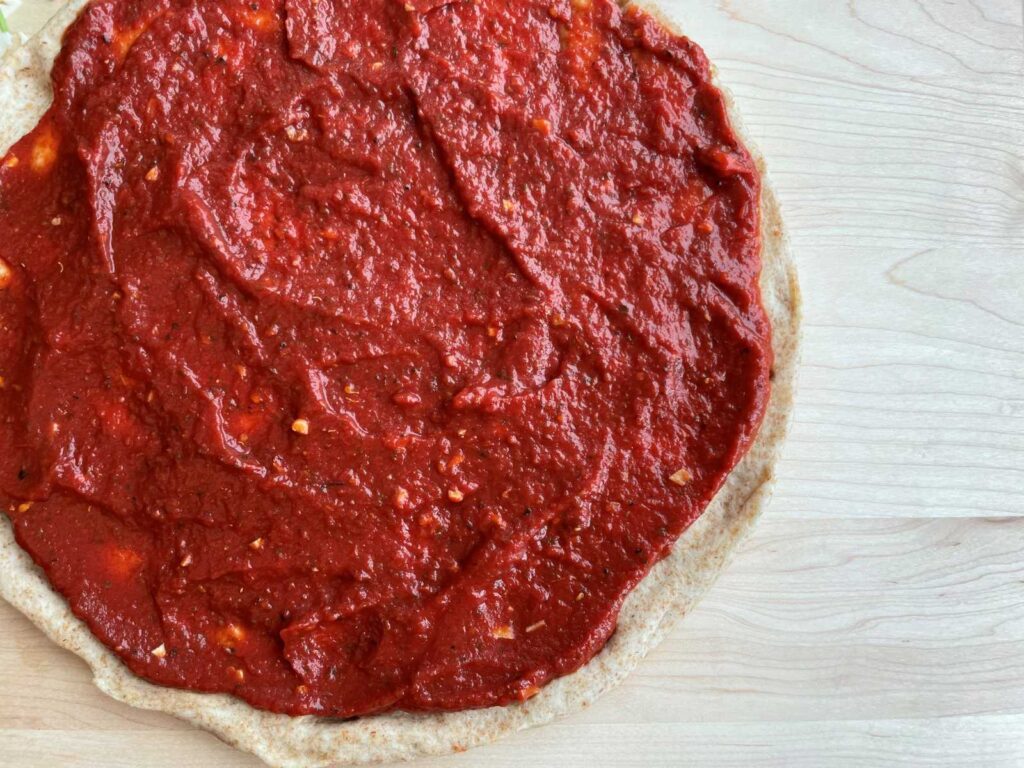 Pin It Now & Make It Later!
Final Thoughts
Low-sodium pizza sauce is a great option for anyone who wants to enjoy pizza without the added sodium.
By making your own pizza sauce or seeking out pre-made low-sodium options, you can enjoy the flavors you love without sacrificing your health.
With a little bit of effort and creativity, you can make your own delicious low-sodium pizza at home and impress your friends and family with your cooking skills. So go ahead, give it a try, and enjoy a healthier, tastier pizza experience!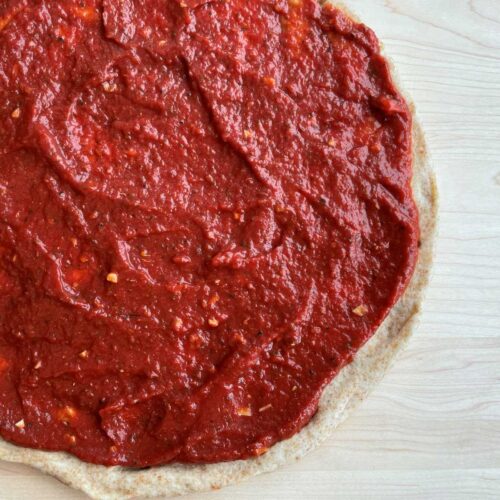 Low Sodium Pizza Sauce
Low sodium pizza sauce is an easy to make, flavorful sauce for anyone following  a low sodium diet.
Ingredients
1

tbsp

olive oil

3

cloves

garlic

minced

1

can

no salt added crushed tomatoes

1

tsp

dried oregano

1

tsp

dried basil

¼

tsp

black pepper

1

tsp

balsamic vinegar

¼

tsp

red pepper flakes
Instructions
Heat the olive oil in a medium sized saucepan over medium heat

Add minced garlic and cook for 1-2 minutes, stirring frequently until fragrant

Add the can of crushed tomatoes to the pan and stir

Add the dried oregano, basil, black peppers, balsamic vinegar and red pepper. Stir to combine.

Bring the sauce to a simmer and cook for 10-15 minutes, stirring cocasionally until the sauce has thickened.

Taste the sauce and adjust the seasoning as needed. If you prefer a sweeter sauce, add a pinch of maple syrup.

Remove the sauce from the heat and allow it to cool slightly before using it as a pizza sauce.
Notes
Note: The recipe makes enough sauce for two 12 inch pizzas. If you don't need all the sauce, you can store the leftovers in an airtight container in the refrigerator or the freezer. 
Nutrition
Calories:
17
kcal
Carbohydrates:
2
g
Protein:
0.5
g
Fat:
1
g
Saturated Fat:
0.1
g
Polyunsaturated Fat:
0.1
g
Monounsaturated Fat:
1
g
Sodium:
1
mg
Potassium:
81
mg
Fiber:
1
g
Sugar:
1
g
Vitamin A:
65
IU
Vitamin C:
3
mg
Calcium:
11
mg
Iron:
0.4
mg