These low cholesterol muffins are a staple in my house – kids, parents and neighbors alike gobble them up! They are simple to make, and I've listed loads of substitutions below to vary it to your family's likeliness.
Have some fun lowering your cholesterol with these muffins!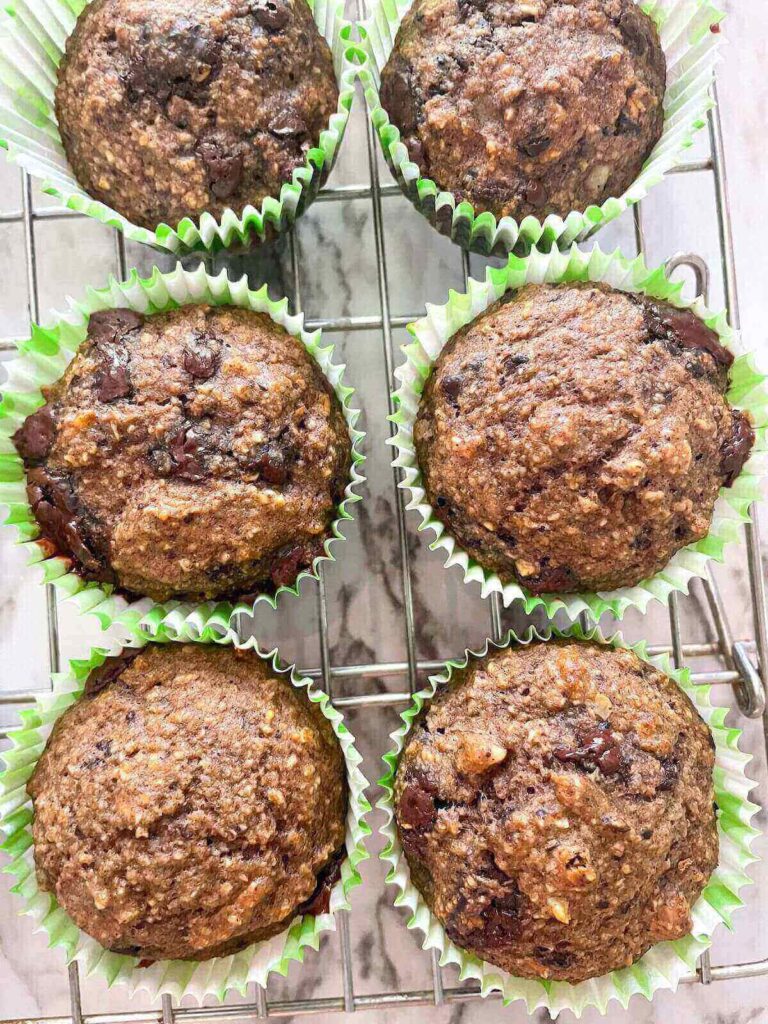 High Cholesterol Levels
Our body needs cholesterol for some functions. There are two main types: LDL ("bad" cholesterol) and HDL ("good" cholesterol). High LDL can cause plaque in blood vessels and increase heart risks, while high HDL helps reduce such risks by removing cholesterol from the body (1).
When cholesterol is too high it can cause heart attacks, strokes, and even stent placements.
Food Can Lower Cholesterol
Diet can lower cholesterol levels! Choosing dietary patterns like the Mediterranean diet, DASH diet, diet after stent placement and the PAD diet can be helpful.
Nutrient wise, it's important to limit saturated fats and include foods that have soluble fiber and unsaturated fats to lower LDL-cholesterol and increase HDL-cholesterol.
Check out these other recipes to lower cholesterol and these low cholesterol cookbooks for more information.
Do Muffins Have Cholesterol?
The amount of cholesterol found in muffins largely depends on their ingredients. If made with whole eggs and butter, they can contain cholesterol. However, many commercially prepared muffins prioritize unsaturated fats and may not be significant sources of dietary cholesterol, but it's always essential to check the nutritional label for specifics.


Why Make Low Cholesterol Muffins?
As a dietitian, I think it is very important to enjoy the food you eat to keep things sustainable and bring your joy!
Which means lowering your LDL and cholesterol levels does not mean you have to have a boring, plain diet. Make this low cholesterol muffin recipe for a loved one or as a self-care treat! It makes a great gift for individuals with heart disease or stroke. Yummy does not always equal unhealthy.
Also, these low cholesterol muffins are:
Nutrient-rich – packed with vitamins, minerals, and fiber from ingredients like fruits, nuts, and whole grains.
Keep you full with ingredients like fiber and protein which can help you feel full and satisfied, reducing the need for unhealthy snacking.
With ingredients like oats and walnuts, they can help lower bad cholesterol levels.
Using whole grains and limited sugars can provide a steady release of energy, avoiding blood sugar spikes.
The flavor and nutritional profile can be easily varied by using different fruits, nuts, seeds, and flours. Making them extremely versatile.
(And my favorite reason) convenience – low cholesterol muffins are portable and can be a quick grab-and-go breakfast or snack option.
Ingredients
Ripe banana – for added sweetness!
Eggs – don't be worried about dietary cholesterol to lower your blood cholesterol levels, focus on reducing saturated fat instead (i.e. butter)
Oat flour – the powerful lower cholesterol ingredients
Cinnamon – for flavor!
Baking powder & baking soda – essential for muffin making
70% dark chocolate or 1 cup of 70% dark chocolate chips – makes this recipe tasty, while adding some heart healthy benefits
Chopped walnuts – an essential part of Portfolio diet recipes
Oats
Oats are one of the top 39 foods to lower cholesterol levels. They contain two types of dietary fiber, soluble and insoluble. Soluble fiber is essential to lower cholesterol.
Oat flour is just as good as adding oats to a recipe, as it is just ground whole oats and contains oat fiber.
In particular oat flour contains beta-glucan, a specific soluble fiber that helps reduce cholesterol levels by promoting its removal and conversion in the livers (3).
Bananas
The pulp of bananas is known to lower cholesterol due to its soluble and insoluble fiber content (4). It is also one of the top 39 foods to lower blood pressure, a win-win for heart health.
Chocolate
Cocoa and chocolate are rich in flavanols, which may help reduce the risk of heart disease. Some studies suggest eating lots of cocoa and chocolate can help lower blood pressure and other heart disease risks. The benefits might come from flavanols, which act as antioxidants (5).
Nuts
Walnuts are good for the heart because they have healthy fats that help lower bad cholesterol and raise good cholesterol. They also have omega-3s, which can help prevent some heart problems, and arginine, which can help blood flow better (6).
No oil
For the banana bread, no oil was used because it can raise bad cholesterol. Instead, we used eggs and mashed bananas to keep it moist.
How to Make Low Cholesterol Muffin Recipe
Follow these steps to make these delicious (and easy!) low cholesterol muffins!
Preparation
Preheat oven to 350°F and line a muffin tin with liners.
Mix Wet Ingredients
In a large bowl, mash ripe banana, then mix in 2 eggs.
Add Dry Ingredients
Gradually add oat flour (blend oats if you don't have oat flour) to the mixture. Incorporate cinnamon, baking powder, and baking soda.
Fold In Add-ins
Chop 70% dark chocolate and walnuts, then fold them into the batter.
Bake
Fill the muffin liners with batter and bake for 16-18 minutes, or until a toothpick comes out clean.
Cool
Let muffins sit in the tin for 10 minutes, then transfer to a baking rack to cool completely.
Storage
Fridge
Once the low cholesterol muffin recipe is made, wait for them to cool before storing them in the refrigerator.
Once cooled, lay them in a plastic bag between paper towels, and when you want to enjoy a muffin, take one out and let it come back to room temperature before eating.
If stored properly, these muffins can be enjoyed for 5-7 days.
Freeze
If you want to keep your low cholesterol oatmeal muffins for longer, store them in the freezer. Individually wrap the muffins in either a plastic food wrap or aluminum foil. When you want a muffin, defrost one before eating. If stored properly, muffins in the freezer can last up to 3 months.
Other Substitutions
If you are looking to make different variety of low cholesterol oatmeal muffins, consider the following:
Choose heart healthy oils like olive oil, avocado oil and canola oil
Egg white instead of eggs to reduce dietary cholesterol from foods
Incorporate whole grains like whole wheat or almond flour
Limit added sugar as excessive sugar can negatively impact the heart. Try using applesauce or mashed bananas instead, or sugar substitutes if desired.
Add more fruit and fiber rich ingredients like oat bran, barley flakes, or psyllium husk (like Metamucil to lower cholesterol)
Add omega 3 fats through chia seeds, hemp seeds, or flaxseed and linseed
Greek yogurt for added protein and as a bonus, it also keeps it moist
Use other chopped nuts, seeds as these contain heart healthy fats that can help lower cholesterol levels according to the Portfolio diet.
Try incorporating oat water
Another way to switch up the variety of these low cholesterol muffins are to make mini muffins or try to bake it as a loaf for variety!
Frequently Asked Questions
Are Muffins Low In Cholesterol?
The amount of cholesterol found in muffins largely depends on their ingredients. If made with whole eggs and butter, they can contain cholesterol. However, many commercially prepared muffins prioritize unsaturated fats and may not be significant sources of dietary cholesterol, but it's always essential to check the nutritional label for specifics.
Is There A Lot Of Cholesterol In Muffins?
Muffins can contain cholesterol depending on the ingredients used, like eggs or butter. However, the primary concern with muffins is often their saturated and trans fats content, as these nutrients negatively impact cholesterol levels in the body more than dietary cholesterol.
Is Blueberry Muffin Bad For High Cholesterol?
Blueberry muffins, like other types, can be bad for high cholesterol if they are high in saturated and trans fats, regardless of the presence of blueberries.
Other Lifestyle And Diet Tips For Cholesterol Management
Other Low Cholesterol Recipes
Final Thoughts
Hopefully you learned about some ingredients to eat more often to lower cholesterol, and if you try this specific low cholesterol muffin recipe, please leave a comment or rating below. I'd love to hear your thoughts!
This article was written by Sarah Burns, Nutrition Student, and Veronica Rouse, MAN, RD, CDE.  Recipe developed by Zoe Wilson.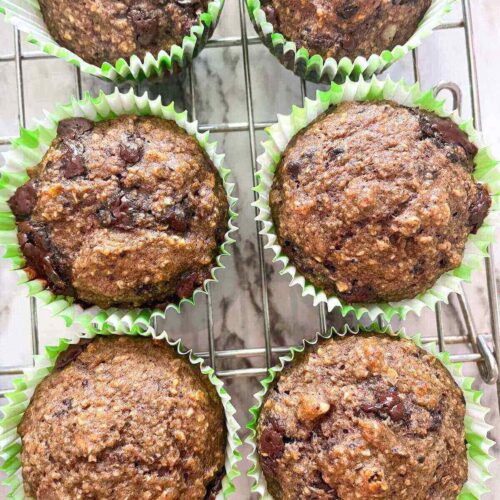 Low Cholesterol Muffins Recipe With Banana & Chocolate Chips
These low cholesterol muffins are healthy and simple to make, and will quickly become a staple in your house.
Ingredients
1

banana

ripe

2

eggs

1 1/2

cups

oat flour

1

tbsp

cinnamon

1

tsp

baking powder

1

tsp

baking soda

1

cup

dark chocolate chips

(or 1 bar dark chocolate)

1/3

cup

walnuts

chopped
Instructions
Preheat the oven to 350°F.

Mash up your ripe banana in a large mixing bowl.

Add in the 2 eggs and mix well until combined with the banana. 

Once mixed, proceed to slowly add and mix in your oat flour. (Quick tip: No need to go out and purchase oat flour! If you already have oats in your pantry, put them into the blender until they are finely ground, and you'll have oat flour!)

Mix in your cinnamon, baking powder, and baking soda. 

Chop up your bar of 70% dark chocolate and walnuts into desired sized chunks and fold them into the mixture.

Line a muffin tin with muffin tin liners so the muffins don't stick to your pan. 

Distribute the final mixture into the muffin tin liners and place them in the oven. Allow them to bake for 16-18 minutes or until you can insert a toothpick into the center, and it comes out dry. 

Allow them to sit in the muffin tin for at least 10 minutes before removing to ensure that they hold their shape. Allow them to finish colling on a baking rack.