Pecan pie smoothie can meet your health goals while tickling your taste buds and keeping you full until your next meal, thanks to healthy fats, fiber, and protein.
I recently posted a pecan pie overnight oat recipe that's basically a dessert for breakfast. That made me wonder, how this flavor combination would work for a heart-healthy dessert smoothie. Read on to find out!
Pin It Now & Make It Later!
Why You Should Make A Pecan Pie Shake?
Wondering why you should choose this pecan pie smoothie to reach your health goals?
It's a filling satisfying breakfast that will keep you full
it's a vegetarian and gluten-free
contains inexpensive plant-based proteins
has cholesterol-lowering soluble fiber
is quick to make
is simple to execute
tastes like a dessert
has no refined sugar
contains easy-to-find ingredients
It's also a no-cook, fast to prepare breakfast or snack when you are in a hurry.
This recipe is vegetarian and gluten-free.
Health Benefits Of This Butter Pecan Smoothie
This recipe contains healthy fats, protein and is a very good source of fiber.
In fact, this smoothie contains:
Healthy Fat: 16 grams
Protein: 9 grams
Fiber: 6 grams
And it is full of ingredients that will unclog your arteries and lower your blood pressure.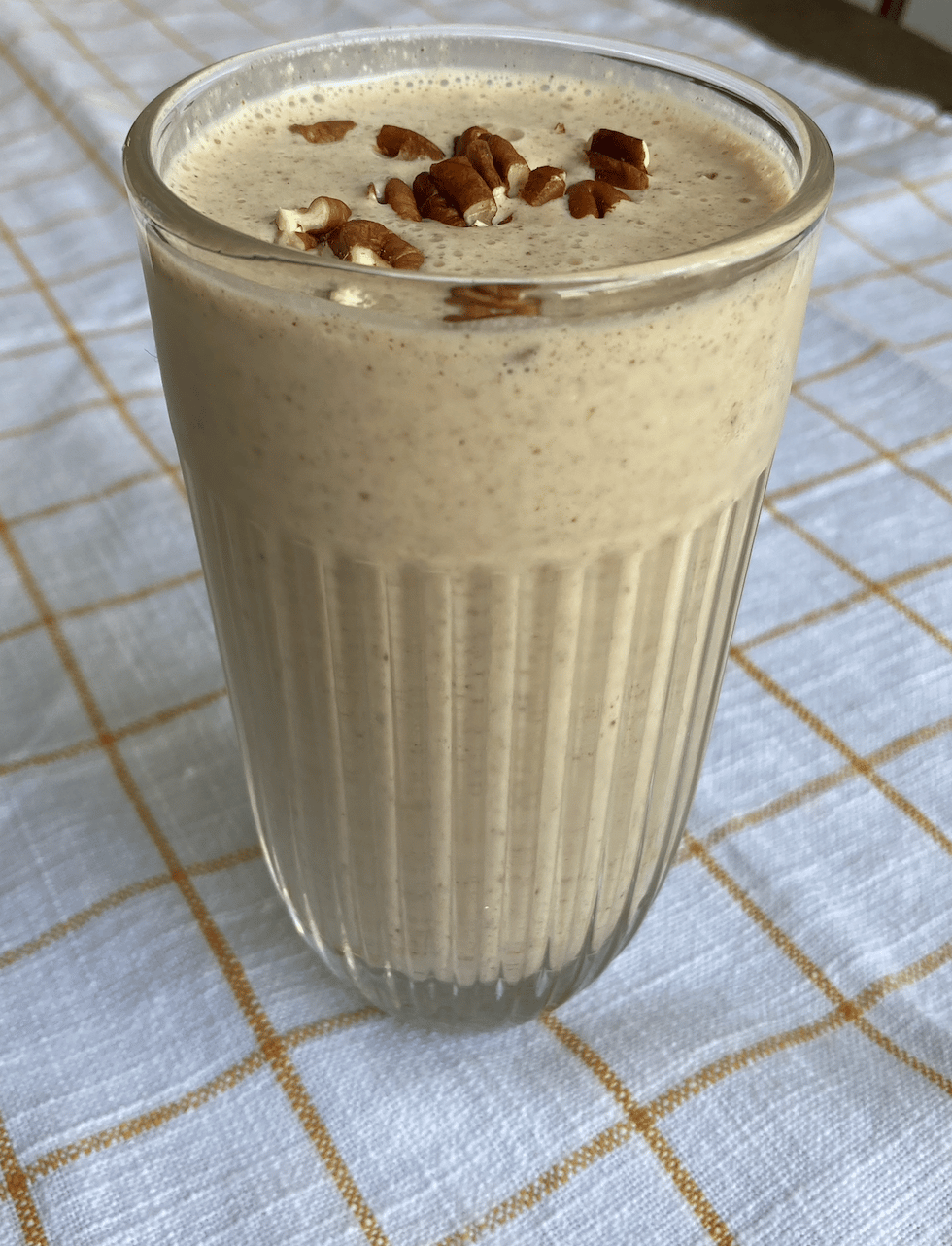 Ingredients
banana – full of potassium that helps lower blood pressure, and adds some natural sweetness to this drink
pecans -are rich in heart-healthy fats and minerals like potassium, magnesium, and calcium
ice cubes – don't skip this step! this is how the pecan pie shake becomes thick and creamy
dates – a natural sweetener that is rich in potassium and magnesium. They don't have to be Medjool, whatever you find in the grocery store will work well.
rolled oats – a smoothie thickener because of its rich soluble fiber that maintains healthy arteries and aids in weight management and better blood sugar control (1)
cinnamon and vanilla – used to create that pecan pie flavor
almond butter – I chose almond butter here, but any unsweetened natural nut butter would work
Greek yogurt – For more protein, and added blood pressure lowering calcium
soy milk – for more plant-based protein and cholesterol-lowering properties
Myth Busting On Other Pecan Pie Smoothie Recipes
Maple Syrup Is Refined Sugar
Although maple syrup is less processed than other added sugars like white sugar, it is still considered an added sugar. Refined sugar can still be from a natural source, like maple syrup. This also includes honey and agave too.
Instead of refined sugars, it is suggested to eat sugar when it's attached to fiber (like in a fruit form) so it will not cause swings in blood sugar and insulin which can influence our hunger and weight.
The sweetness in this pecan pie protein shake recipe comes from dates that have both naturally occurring sugar and fiber, unlike other butter pecan smoothie recipes I've seen that use maple syrup.
Are Pecans Good For Smoothies?
Pecans are good for smoothies because they are a great source of healthy fat, protein, dietary fiber, and nutrients like potassium, magnesium, and calcium. They help make your smoothie filling and satisfying, not to mention yummy tasting too.
Don't forget to top your pecan pie shake with extra pecans for a crunchy texture.
How To Make It
It's simple. Add all of the ingredients – in no particular order – and blend!
You got it.
This pecan pie smoothie shouldn't take longer than 5 minutes to whip up.
When To Eat it?
This pecan pie shake makes one large smoothie or two smaller snack-sized smoothies. Therefore, share it for a snack or double it for a filling breakfast.
It is best to serve it immediately. The thickness of the shake is created from the ice, and if you let it sit then the ice will melt making it watery.
Video Tutorial
Take a minute to watch the video where I show you how quickly this recipe can come together.
Variations Of Pecan Pie Protein Shake
Vegetarian
As is!
Vegan
Make this breakfast smoothie vegan and dairy free by removing the yogurt and adding hemp seeds for protein and 1-2 tbsp of ground flaxseed for thickness.
Gluten Free
All ingredients are naturally gluten-free, but you will need to ensure that the oat products have been processed and packaged in a gluten-free facility to ensure there is no cross-contamination.
Other Add-Ins
Hemp seeds or pea protein powder could be added for extra protein
Ground flaxseed can be used to increase thickness and more omega-3 fatty acids
Other flavor combinations could be pumpkin pie spice, espresso powder or even nutmeg.
Since we aren't using maple syrup here, you can achieve the maple pecan flavor without the sugar found in maple syrup, if you have it on hand.
Chocolate, because no one says no to a chocolate pecan flavor.
Use less liquid to make this a pecan pie smoothie bowl
Other Smoothie Recipes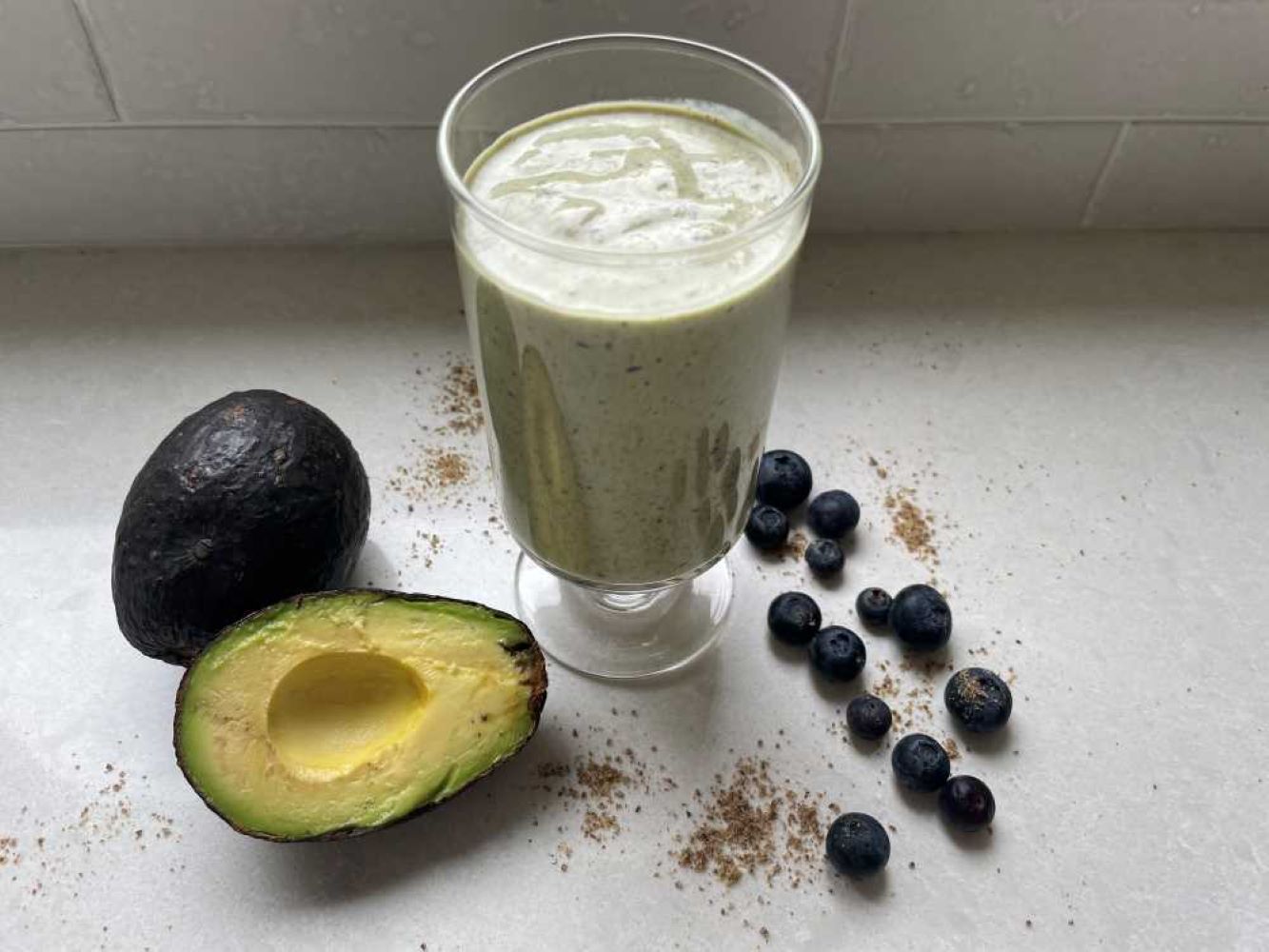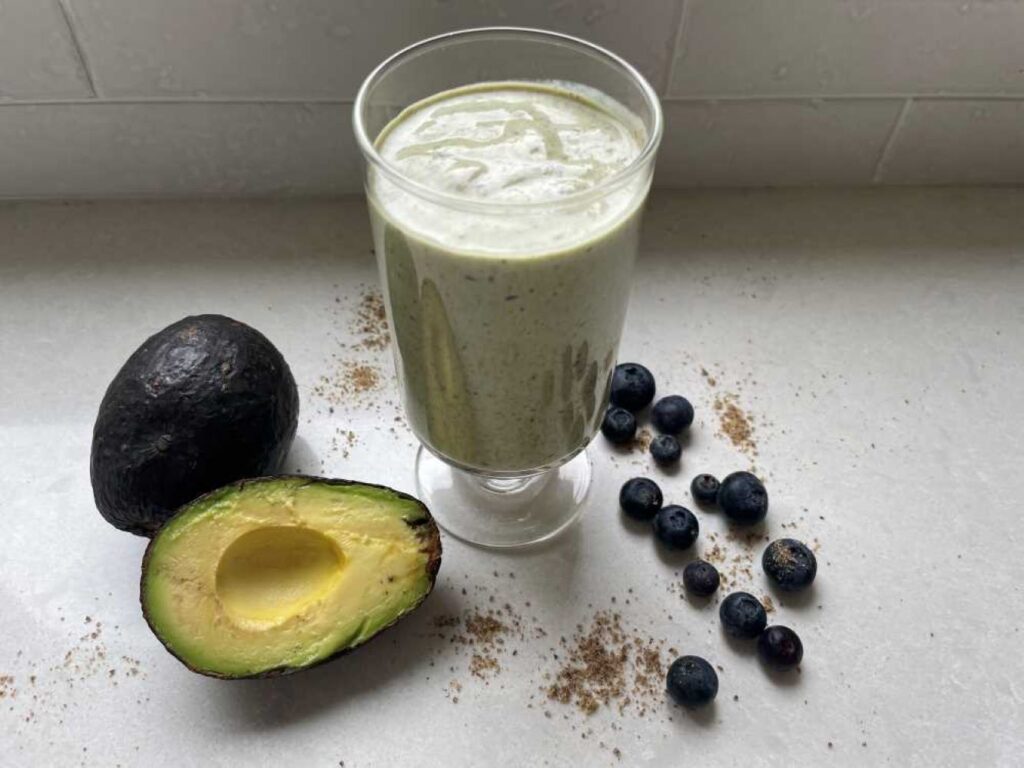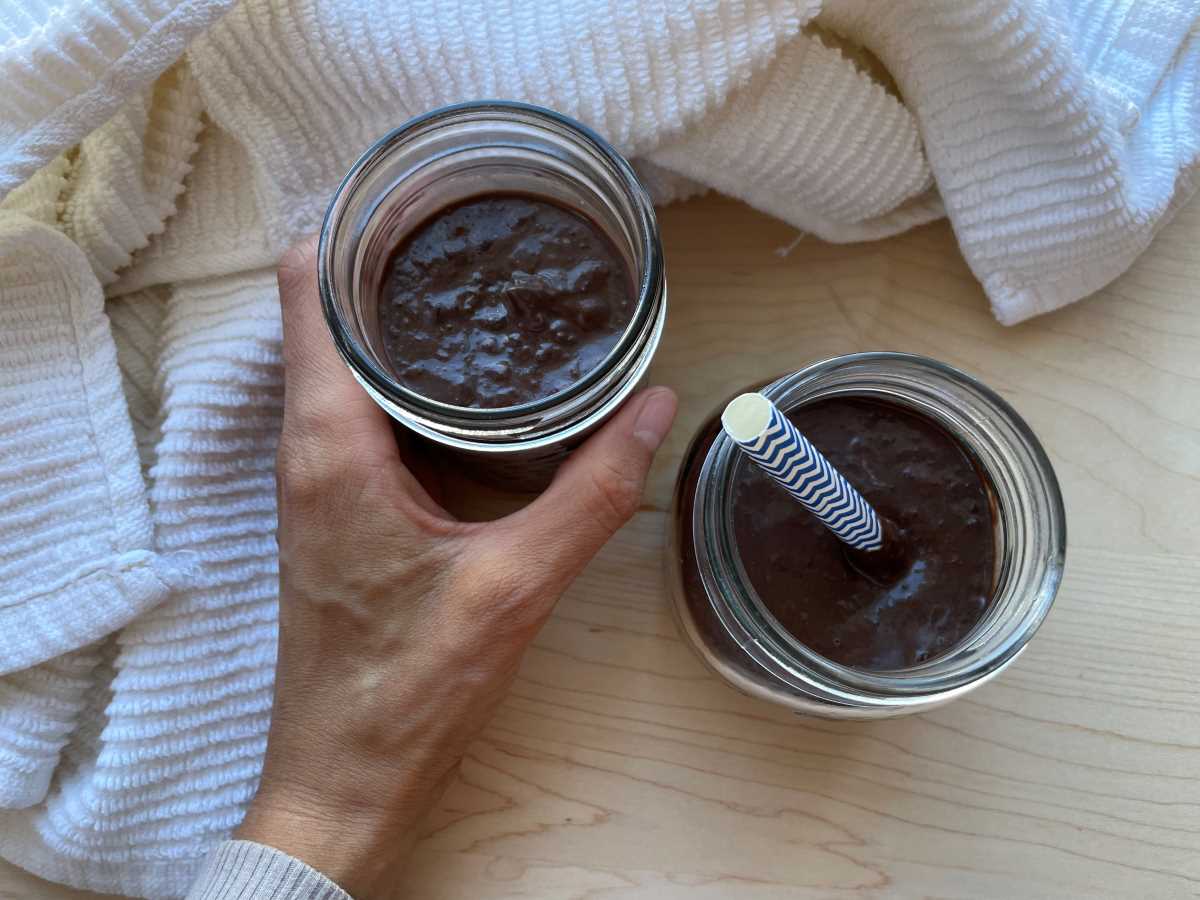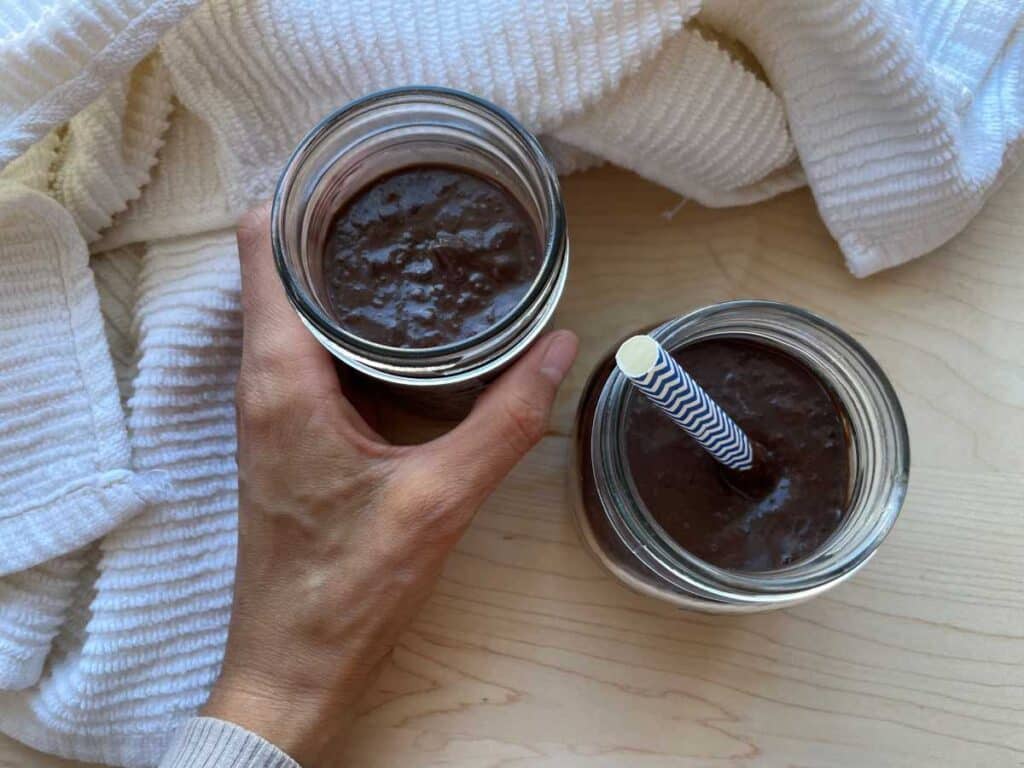 Final Thoughts
Tell me you are going to try this guilt free, creamy, pecan pie shake? Remember, it will meet your health goals too!
Recipe by Marissa Frodsham, Nutrition Student. Article was written by Veronica Rouse, MAN, RD, CDE.


Pecan Pie Smoothie Recipe
Pecan pie smoothie can meet your health goals while tickling your taste buds and keeping you full to your next meal, thanks to healthy fats, fiber and protein.
Ingredients
½

banana

3

ice cubes

¼

cup

pecans

3

dates

pitted

¼

cup

rolled oats

½

tsp

cinnamon

½

tsp

vanilla

1

tbsp

almond butter

2

tbsp

Greek yogurt

¾

cup

soy milk
Instructions
Add all ingredients to a blender and blend until smooth.

Pour and enjoy while cold!
Nutrition
Calories:
305
kcal
Carbohydrates:
37
g
Protein:
9
g
Fat:
16
g
Saturated Fat:
1
g
Polyunsaturated Fat:
5
g
Monounsaturated Fat:
8
g
Cholesterol:
1
mg
Sodium:
35
mg
Potassium:
557
mg
Fiber:
6
g
Sugar:
22
g
Vitamin A:
64
IU
Vitamin C:
3
mg
Calcium:
193
mg
Iron:
1
mg